Imbibe Live: You might have heard of it. You may even have been along to it. It's one of Europe's top drinks trade shows where trends are spotted and ideas shared. Want to know what you'll be drinking next? Our Henry headed to Imbibe 2018 to find out…
There's always a moment when I first arrive at a trade show where I feel like a rabbit in the headlights. I am sure this would happen to me at Photocopier Expo but at Imbibe Live, one of Europe's largest on trade shows, I was particularly overwhelmed with the bibulous possibilities on offer. Thank heavens then for Pol Roger, which had a quiet tent offering bacon sandwiches and its vintage 1999 Champagne – just the thing at 10 in the morning. While I nibbled, chairman of Pol UK, James Simpson, told me about a stash of ancient bottles that they had just discovered in a cellar that collapsed 118 years ago. Apparently they are in great condition. I am now waiting for an invite out to Epernay to try one. Watch this space.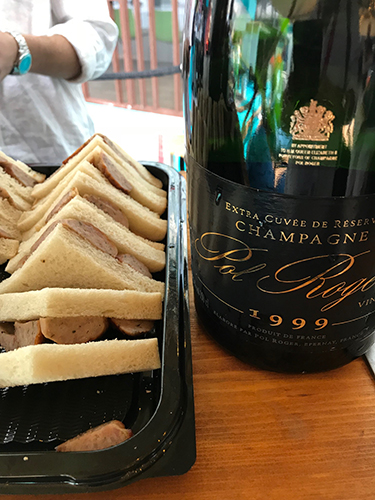 Imbibe 2018 breakfast of champions
Suitably fortified, I headed out with a mission to discover whether we have reached peak gin yet. Despite mutterings from one producer that people were suffering from gin fatigue, at Imbibe 2018 it would seem otherwise. There was Tuscan gin, Cornish Gin, gin from Edinburgh, gin from Manchester, flavoured gin, aged gin and So. Much. Pink. Gin. Some didn't taste like gin at all. Because of all the gins out there that don't taste of juniper, Hayman's has launched a campaign to 'Call Time on Fake Gin'. The team was doing a roaring trade signing people up to their cause.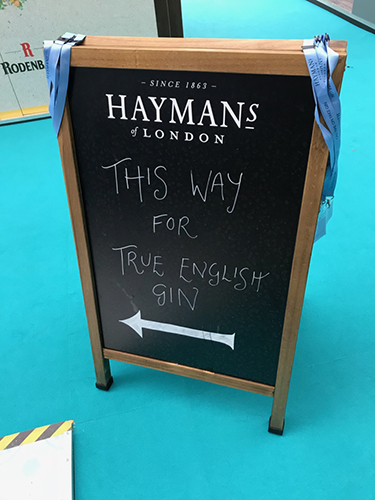 Campaign for Real Gin
I am sure Hayman's would approve of the London Dry gin from Greensand Ridge (the nearest distillery to Master of Malt's Kentish HQ). The juniper leads, but there's also an amazing creamy texture from using cobnuts in the recipe. There's also offer a rye barrel-aged one which the team tells me is spectacular in a Negroni. There's a Pedro Ximenez sherry-aged gin in the works too. I also loved the Bloody Shiraz Gin from Four Pillars – an Australian take on sloe gin.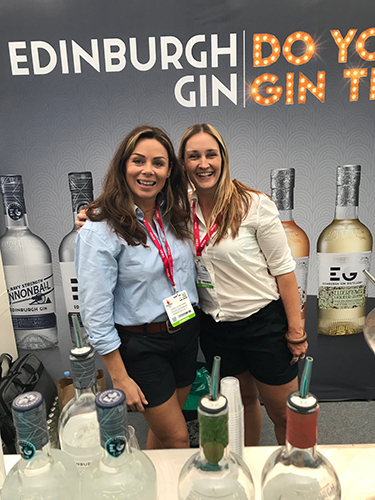 They love gin up in Edinburgh!
My interest was piqued by the "Everything you know about Irish whiskey is wrong!" seminar, presented by Kevin Hurley. From the eye-catching title I was rather hoping to learn that Irish whiskey is actually made by specially-trained squirrels from moss and other things found on the woodland floor. But much to my disappointment, the event was more of an entertaining debunking of myths that consumers might have and a look at the sheer variety of whiskeys available from Ireland. Perhaps most interesting of all was the potential Irish whiskey has to experiment with different casks and different wood types, such as acacia wood and chestnut. This is thanks to careful wording from the Irish Whiskey Association which states that Irish whiskey must be stored in barrels made from wood such as oak – a notable distinction from the rules Scotch whisky makers must play to.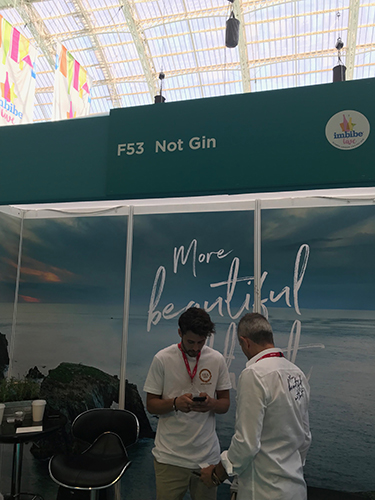 Not gin
The prize for the liveliest Imbibe 2018 stand went to Cask Liquid Marketing which at 11am was blasting out Funky Town by Lipps Inc at full volume while tasting Quiquiriqui Mezcal. Head honcho Stuart Ekins then gave me some Woltz's Rose Petal Vodka made in conjunction with Tony Conigliaro that was officially launched on Monday. They also do rhubarb and horseradish versions: the latter being rather fierce. "You gotta know what you're doing with it," Stuart told me.
If Cask felt like 2am at a Notting Hill Carnival after-party, the Piazza Italia room was a leisurely lunch in Milan with vermouths of all sorts served alongside olives and crisps with free espressos from Illy. Very civilised. The Martini Riservas tasted sublime but I also tried some more unusual brands such as one from Tomaso Agnini, which was aged in old balsamic vinegar casks, or the impossibly moreish vermut rojo from sherry producer, Lustau. Vermouth seems to be the in thing amongst bartenders this year; Philip Duff's lively vermouth masterclass was standing room only.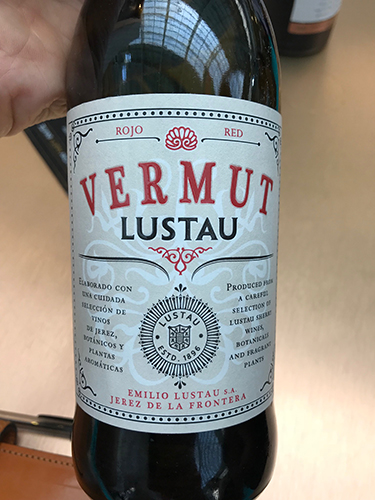 Fantastic vermouth
Alongside vermouth, the other long-neglected drink that was having a moment was cider. At Imbibe 2018 I talked with the magnificently-moustached Gabe Cook aka the Ciderologist who was spreading the gospel of proper English cider. Arguably the world's greatest cider maker, Tom Oliver's events were packed, while Felix Nash from the Fine Cider Company was offering some gems from a new wave of home-grown talent. I was particularly taken with a cider from Starvecrow in Sussex that tasted like a cool cave on a hot day. It's aged in qvevri, or clay jars, just as with traditional Georgian wines.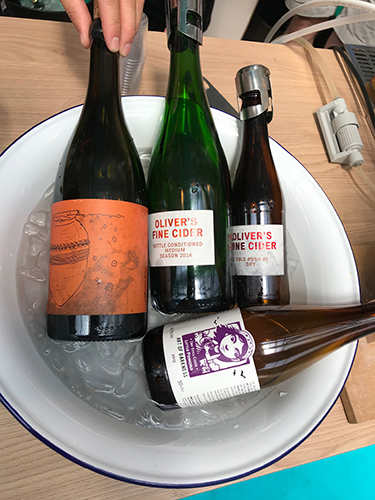 Excellent ciders
Talking of qvevri, I managed to catch Simon J. Woolf's fascinating orange wine masterclass – no, not wine made with oranges, but white wines made with skin contact like reds so they take on an amber hue. Many of these are made in qvevri and the results can be startling, combining the refreshment of a white with the body of a red. Simon was kind enough to let me see an early copy of his forthcoming book, Amber Revolution, which I have to say is completely brilliant.
Unlike similar wine shows where there are spittoons everywhere, at Imbibe nobody spits (apart from me) so by 4pm on the final day things were, shall we say, lively. I decided to retire to the Pol Roger tent to go through my notes with a quiet glass of Champagne. It was absolutely heaving. Time to head home my mind full of exciting drinks but with the nagging feeling that I had probably missed something amazing. Thank you everyone at Imbibe. Next year I'll come for the full two days.