Earlier this year we headed up to Cumbria to check out The Lakes Distillery, the National Park's first legal spirits producer. It would have been rude not to catch up with Dhavall Gandhi, whisky-maker-in-chief, to find out more about his plans for the (shortly to come of age!) whisky, the distillery's wood programme, and how the former-Macallan man got into whisky full stop…
Dhavall Gandhi is a busy chap. We were planning to chat in person when Team MoM travelled to The Lakes Distillery earlier this year. We were on a mission to check out the production area, the award-winning Bistro (it's gooooood) and even meet the on-site alpacas (top tip: they're fluffsome but not the friendliest. But head up on certain days and you'll be able to encounter them up close). Gandhi was called away to the US just before the visit – there were casks to check out. His trip sums up the intense focus on wood – more on that later – and meant that when we caught up on the phone shortly afterwards, there was a lot of ground to cover.

Recent visit aside, it's pretty full-on at The Lakes Distillery these days. For such a tranquil site, located on the banks of the River Derwent and bathed in glorious spring sunshine for our trip, there's hustle and bustle. Visitors come through in their droves, even in the so-called 'off' season. It's a working distillery, complete with the sounds and smells of full production. With the magic three-year mark hitting just about now, its whisky is coming of age. And while the peace of the Lake District remains impenetrable, the buzz is real. Even for Gandhi, who let's face it, has been immersed in the Lakes Distillery excitement for far longer than most. Luckily for him, his office makes the most of the serene river views.
He'll need to take in all the tranquility he can. It sounds like distillery life is about to get all-out hectic…
MoM: So tell us a bit about your Americas trip…
Dhavall Gandhi: America was great. I go there once or twice a year. This time I had two reasons: I had a few meetings with my suppliers, mostly bourbon cask suppliers and cooperages. Because I take quite an active role in selecting the casks rather than just buying from a third-party supplier, I go there and I decide the casks I want, the type, the quality, the toasting levels. And then I was also attending the American Institute of Distilling (ADI) Craft Spirits Conference & Expo. It's very good; it's actually quite focused on very, very small producers; people who've just starting distilling or have a very, very small plant, or just produce a few thousand litres a year. It gives a good idea of what's out there and what's going on in the American industry.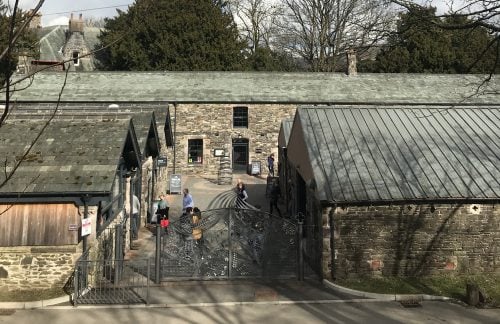 Welcome to The Lakes Distillery!
Because the American craft distilling industry… you just can't keep up with it! There are so many new things popping up, so many new ideas, so much innovation; it's such an engine room for global whisky.
Yeah, I think what they do there is amazing. It can't be completely translated to the UK, or to Scotch whisky or English whisky, because our whisky is much lighter in style. So when we use virgin oak like they use in America, our whiskies can get very overpowered and very sweet and very tannic. But yes, they are doing a lot of experimentation with different raw materials. It's no longer just bourbon! I think that helps the global industry; there's more competition, there is more innovation.
I think with whisky we want to try everything. So I guess there's quite a collaborative vibe between distillers, rather than being purely competitive?
Yeah absolutely. And I think it's a very, very fine balance. What you don't want is to create something that is very one-dimensional so it's a little bit of an outlier in a way. What you want to do is create something that people enjoy time and time again. Having a consistent flavour profile with a style that is not too one-dimensional. So I think that's where we need to watch it because I tried some products in America which were a bit too much. I thought they were too focused; they were not very balanced.
And America is where your love of whisky really started, right?
Yeah, yeah, it was in Kentucky. Just outside Maker's Mark Distillery. I was sitting on the footsteps when I was visiting there and that's when I decided I wanted to make whisky! It was a long journey from America to Scotland and back to England when I first started working at Heineken, so yeah. Everything started in America for me.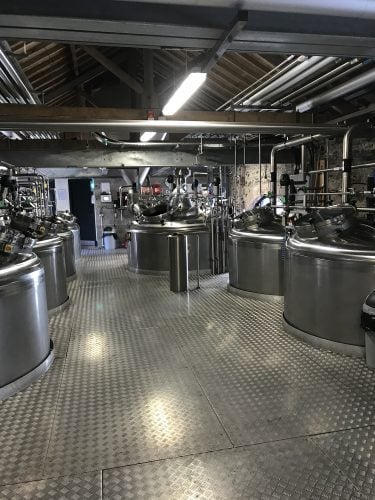 Where the whisky magic happens
It's amazing – very few people say 'I'm gonna stop one career and put everything into a whole new one and learn how to make whisky'..!
Yeah! I did my MSc in Brewing and Distilling at Heriot-Watt, so it was an intensive programme. I came from a finance background; I had studied corporate finance and economics! For me, studying thermodynamics and biochemistry and bits of chemical engineering, it was not easy. But it's what I was determined to do. I wanted to make whisky for a living. And I didn't want to just become a distiller or work in a production, I wanted to become a blender. Even then, I was very focused on what I wanted to do. I always say to people, if I can do it, you can do it for sure!
And you've come to Lakes Distillery from The Macallan; from a really established brand with an established character to pretty much a blank slate. Talk us through that whole process…
So I think it is very, very exciting. And like you said, it's a blank canvas for me. While at Macallan, I loved it, I learned a lot and there are certain areas that no one does better than Macallan; whether it's maturation in wood, or their research in wood and the focus on quality. It's one of the best in the industry and that's why they're known for it. For me, when I speak to people, most say that craft or innovation only happens at smaller producers or new producers. But in fact, you know, the bigger producers invest a lot of time, energy and resources into making things perfect. It's about pushing the limits, pushing the boundaries, making it better, slowly, slowly. It's like with Formula One; milliseconds matter. So they'll look at every small detail to try to get that one millisecond extra in racing time. And that is the level of focus and attention that I'm bringing to The Lakes. Because The Lakes is, compared to Edrington [The Macallan owner], very, very small. But we are trying to put the same mindset of attention to detail, just focusing on quality. So that's why it's very exciting. And the best thing is that we're very agile. We can make decisions. If I know right now that making a small change in how I filter, how I distil, will have an impact on quality, I will make the change within hours. And that is the beauty of working in a small company. There are not many hoops that I have to jump through to get to a decision. For me that's very, very key. And we are innovating and experimenting, but within the boundaries of clear regulations. Even though we are in England and we can pretty much create our own style if we want to, and a lot of other distilleries are doing that and good on them, our strategy is to be focused pretty much like Scotch-style. Our founder, Paul Currie, came from Scotland; he set up the Isle of Arran Distillery, and one of our directors came from Diageo. I came from Macallan. So the whole team was pretty much trained and they cut their teeth in Scotland so our strategy is to just follow the Scotch Whisky Associations (SWA) regulations, but we can add our own twist to it.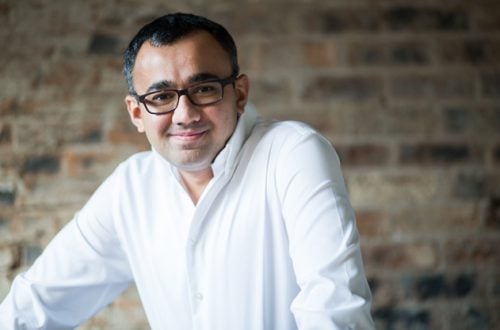 Dhavall Gandhi, The Lakes Distillery's whisky-maker with an obsessive attention to detail
Do you think there is enough space to innovate within those boundaries? I mean, you're choosing to play within them, to adhere to a certain style, but are you finding there is enough room to play and create?
Oh yeah, there is so much room. Let's look at maturation, for example – because that's where there's so much innovation. People think it's about bourbon casks. So let's take bourbon casks. We do fill bourbon casks but not as much as we do sherry. But most companies would say 'OK, we fill bourbon casks, and we order bourbon casks from American suppliers'. But at The Lakes, we fill bourbon casks and we have different kinds of bourbon casks. Right now I have eight to ten types of bourbon casks, from different suppliers, different toasting levels, whether they are air-seasoned, or kiln dried, 24 months, 26 months… And every one will give me a slightly different flavour profile. It won't be a difference of night and day, but there will be enough considerable difference where I can create different styles. So there is innovation. Also we put together every whisky in a very unique way. We have a philosophy called 'maturation with intent'. By 'maturation with intent', we no longer are among the people who distil the spirit, put it into casks and then in three years' time hope something turns out good and that they can sell. What we do is focus on exactly what flavour profile we are trying to get to, and then focus on maturing the spirits in those types of casks, those treatments, toasting levels, charring levels… All those variables are pretty much controlled, so then the end result is what we intended it to be, not 'hopefully it turns out good'. So that's the main difference at The Lakes.
You're super-hands-on! That's way more than blending…
Yes. I am responsible for everything on-site; all the way from raw materials intake to the bottling plant. I have two roles within the business: the whisky maker, the blender, but then mid-last year I took over the role as operations director, so I manage everything. And even though I am a blender, as a lot of blenders will tell you, you need to learn a bit about distilling before you become a blender. I am very, very heavily involved. Of course, I have a team of distillers who are running the thing on a day-to-day basis, because I can't distil and blend and do the other operations!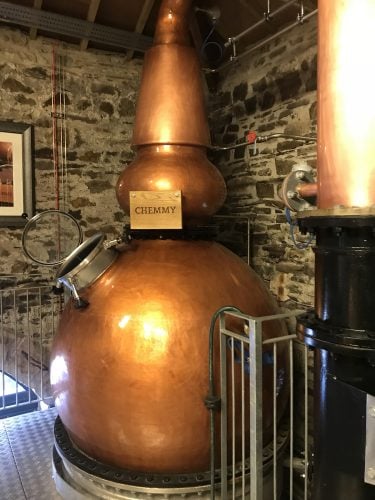 A still named Chemmy (yes, after brand ambassador Chemmy Alcott)
Going back to casks, and when we visited we learned that you're doing something with orange wine casks! Can you tell us a bit more?
So these orange wine casks were from Andalusia, Spain, and the wine's made from Seville oranges. They can be made from different treatments, different oak styles, so there is no one standard orange cask – you can have different ones. So I'm trying with a few different orange wine casks. It gives you a very distinctive flavour, I would like to call it a chocolate orange flavour. So we have different experiments going on. We have matured spirit in it, and this gives you a different flavour profile. It's very exciting – you need to watch this space because there's something coming up soon!
Brilliant. That is exciting.
The orange wine is just one thing. Like even for maturation, for sherry, a lot of distilleries use sherry casks but we use different kinds of sherry cask in different kinds of wood. Different kinds of sherry, different sizes of cask, because you know, the size matters as well. But more importantly it's about identifying what kind of spirit you have, the new-make spirit, and then trying to find what kind of wood is beneficial to that spirit. Let's say there are two distilleries, A and B, but they have different new-make styles. Just because Distillery A gets an orange wine cask and it works doesn't mean it's going to work at Distillery B, because the new-make spirit might not be suitable for that kind of cask. And it's like finding the essence of the distillery. It takes about eight to ten years for your distillery character to really shine out and settle on one style. What you need to do as a distillery in the initial stages is try and find things, experiment with things, see what works and then try to find something suitable. But it's a long process. And sometimes the distillery itself will tell you what style it wants to make, rather than you forcing the distillery to create some style. Your job as a blender is to try and enhance that character rather than completely change it. And that's what we are working towards.
We've talked quite a lot about whisky, you look after the other spirits as well, right?
Yes, everything. So after I got here I developed the Salted Caramel Vodka Liqueur, the Elderflower Gin Liqueur, the Rhubarb & Rosehip Gin Liqueur. I'm involved in the gin process as well, but our main focus of the distillery is single malt whisky; that's what we make seven days a week. We love making gins as well, so we are tweaking the gins at the same time.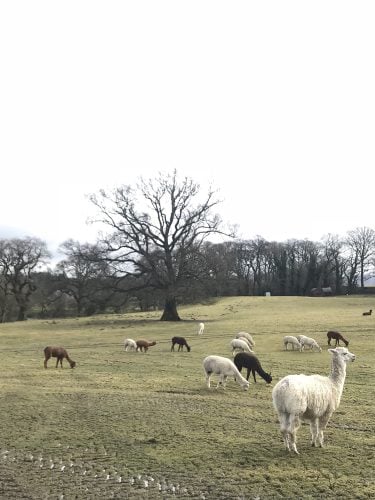 Those fluffy alpacas!
Back to whisky, I understand that you're going to have Lakes whisky in The ONE for the first time. What does that mean for you, the fact that the English whisky in the blend is now The Lakes?
The ONE is a great concept, set up by our founder Paul Currie, to take whiskies from different parts of the British Isles and blend them together. And this year it's going to be exciting because The Lakes is going to be a part of that English whisky. And I have already tweaked the recipe of The ONE so that people won't find a difference. That's the job of the blender; you have to tweak it in a way that it transitions so smoothly that if you don't know. But it's very exciting, for me, for The Lakes to be the core malt in that bottling. It's very, very exciting.
And to round off, what excites you the most about the future of The Lakes whisky, and English whisky in general?
There is so much happening. For me, the most exciting thing is the number of distilleries that are coming up in England. Our first whisky is coming out and I can't wait for people to try it, and of course there are different styles coming out. Our main flagship is still a little way away but we are coming out with different styles, and these are much more intense in character, and very, very sherry-orientated. So if you like sherry bombs you are going to like the initial releases of Lakes Distillery! So it's a very, very exciting time. I think, because of course we started distilling recently, putting England on the map of world whisky will be a worthwhile achievement for the company.
Paul Currie, The Lakes Distillery co-founder, talks us through life at the distillery