Scotch whisky fans, listen up: Grant's has overhauled its core range and it's VERY different. Say hello to Grant's Triple Wood, Grant's Triple Wood Smoky (yes, PEATED!), Grant's Rum Cask Finish and Grant's 8 Year Old Sherry Cask Finish!
Remember when we snuck up to Girvan a couple of weeks back? Yes, it was to check out the Girvan distillery (there's still a blog post to come on that). But there was also a secret reveal (and another non-disclosure agreement. How exciting). The time has come to disclose the details: blended Scotch whisky brand Grant's has a new look, four new core expressions, and what feels like a brand new cask-focused philosophy to match.

First up: the core expression. Grant's Family Reserve has been replaced by Grant's Triple Wood, a new name that reflects the ongoing, existing formula of virgin oak, American oak and refill ex-bourbon casks (it's not quite allllll brand new).
Why the three types? Virgin oak is said to impart a spicy robustness, while American oak imparts a more subtle vanilla flavour. The refill bourbon? A sugary sweetness. As a blend there's Girvan (and other single grains – blended whiskies can contain liquid from 40 or more distilleries) in the mix, plus a whisper of something smoky ("perhaps 2%", master blender Brian Kinsman told us on the trip) but largely undetectable. It's meant to be super flavoursome, while being super drinkable. And that bit won't change.
What is new is the much more overtly peated blend: Grant's Triple Wood Smoky. It's made according to the same cask recipe as the first Triple Wood, but with clearly discernible peated spirit in the recipe.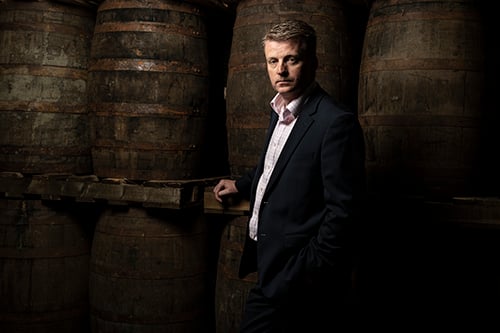 Brian Kinsman is one of the brains behind the range
Grant's: A new cask approach
The other two new products show something of a precise focus on cask-finishing. We've seen lots of this before (Ale Cask, anyone?) but this time it's more pared back, precise in its aims, and of course, permanent. The duo forms the streamlined Grant's Cask Editions.
First up: Grant's Rum Cask Edition follows the same format before undergoing a finishing period in casks that have previously held rum. The result is a whisky bursting with tropical fruit flavours, warming spices, and would work seriously well in an Old Fashioned. And all manner of cocktails, really.
Then we've got Grant's 8 Year Old Sherry Cask Finish – an age statement AND a cask finish! This one undergoes eight years of maturation before it is finished in oloroso sherry casks. It's rich like a Christmas cake, unctuous like stewed fruit, but also has a vanilla lightness to stop things getting too much.
"The Triple Wood process is at the very heart of what we create here," says Kinsman. "As a result of ageing our whiskies in three different casks our Triple Wood is distinctive to taste, with a balance of qualities drawn from the character of the wood. I love the complexity of spice, smooth vanilla and the sweet edge gathered from that combination of three casks."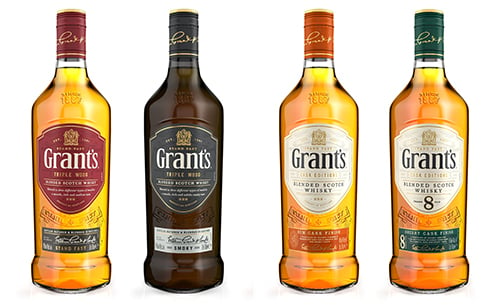 Shiny new things!
A shiny new look
The new expressions come with a new look for the Grant's bottles: it's sleeker, more paired back, and a stronger use of colour defines the different expressions. There's a new campaign too, The Maker, The Muscle and The Master, which honours the stillman, cooper and master blender, who combine knowledge and resources to create the brand's liquid.
"Grant's believes that great things happen when working together and it is through this power of collaboration and shared passion that Triple Wood is made," a statement at the launch reads.
Expect the new range to arrive at MoM Towers later this summer!