Our Bourbon Series concludes with Maker's Mark, one of the world's most beloved wheated bourbons. Rob Samuels, chief operating officer – and grandson of the brand's founder, Bill Samuels – shares Scottish roots, 'ageing to taste', and the story behind the bottle's iconic red wax seal.
Founded in the 1950s, Maker's Mark may be among the youngest of the traditional bourbon brands, but there are old hands behind the stills. In fact, the Samuels family has been distilling whiskey for more than 500 years.
While plenty has changed since the first barrels of Maker's were decanted and bottled, the company has remained resilient in its approach to whiskey-making. Maker's Mark may have gone global, but the distillery's small-batch, hand-crafted ethos rings true to this day.
Rather than scaling up stills and fermenters when the bourbon boom struck, the company decided to build a second distillery, identical to the first, right next door. Every bottle is still hand-dipped in red wax, the labels are still hand-torn, and the whiskey is still made 19 barrels at a time.
"Every drop of whisky that's ever been in one of our bottles, we made," Samuels tells us, as we taste through the range. "And every drop of whisky made in our distillery has never been anywhere other than in a bottle of Maker's Mark."
You've heard from Jim Beam's master distiller, Freddie Noe, and his son, Freddie – here's what Samuels had to share about his family's incredible whiskey-making history…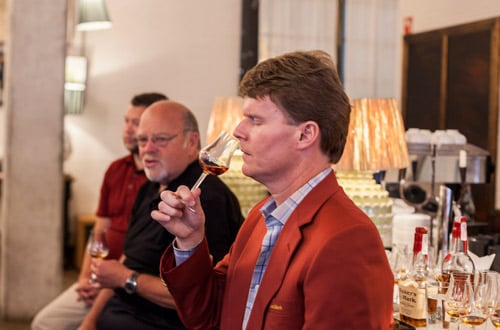 Rob Samuels!
My father, Bill Samuels, was president of Maker's Mark for more than 40 years. Last year he gave me a Christmas gift that I will forever cherish. Our family lived on Whiskey Row next to the Beams for 90 years. Colonel Jim Beam was my dad's godfather… [and he] used to wear a three-piece suit every day with a beautiful diamond-studded tie pin. He gave it to my grandparents, who created Maker's Mark, as a wedding gift. They were married the year Prohibition was repealed – 1933. When my dad turned 50, my grandfather gave it to my dad, and it sat in his safe for 28 years until this last December, when he gave it to me.
Our family first started making whisky in Scotland, distilled from grain in the late 1500s. We distilled from rye in Pennsylvania for a century, and it was actually my namesake, Robert Samuels, who settled on a land grant [in Bourbon County, Virginia] in 1784 – before Kentucky even existed. It was his grandson, Taylor William Samuels, who built our family's first commercial distillery. That distillery, T.W. Samuels, was passed down through the generations and it was the distillery that my grandparents inherited when they were very young.
My grandparents brought the T.W. Samuels distillery out of Prohibition, it was the fifth distillery to reopen. They led it for a handful of years before they decided to sell it, because they weren't inspired by the distillery. In many ways, they viewed it as a commodity, very deserving of the bottom shelf. After selling the T.W. Samuels distillery, [my grandfather] floundered around. He failed as a banker, he failed as an automotive dealer, and it was my grandmother who whispered in his ear that he ought to think about getting back into the whiskey business. When he agreed, he said it was going to be on his own terms.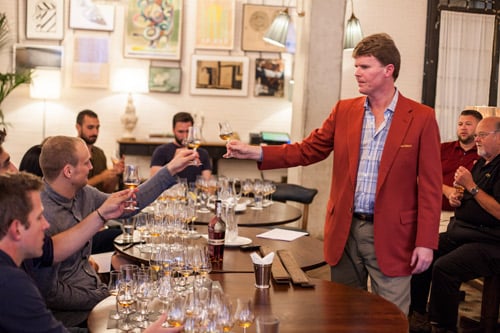 Cheers, Rob Samuels!
They acquired 1,000 acres in 1952 for $40,000, and he poured his heart and soul into the distillery. Each and every step of his process – from the water to the grain, the cook, the distillation, the type of barrel, how it would be aged – would be different, unique and special from any other distillery in Kentucky, with his taste vision of soft, rich, creamy, full-flavoured and balanced. As he focused on the distillery, in many ways it was my grandmother who did everything else. He put her in charge of creating the name and designing the bottle, and she took that responsibility seriously. Since the beginning, every single label has been printed and torn by hand at the distillery and it was her suggestion to hand-dip each and every bottle in red sealing wax.
In the beginning, our tasting panel at the distillery was one man: my grandfather. Today, we have 18 women and seven men. Maker's Mark is produced 19 barrels per batch, and we taste every batch five times on average. Our tasting panel tells us when to bottle. Of course we talk about what you taste – caramel, vanilla, raisin, chocolate – but we spend a little more time talking about where you taste. Everybody in the world tastes bitterness on the back of their palate, sour along the sides and sweet towards the very front. Our founder's taste vision was to dance right on the very tip of the tongue. We've never bottled younger than six or older than seven and a half. If we leave Maker's Mark in the barrel for too long, even just a handful of months, it starts to drift towards the back.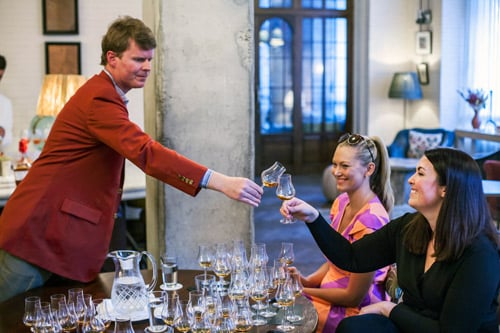 Cheers Rob Samuels! … Again!
Eight years ago, as my father was nearing retirement, he began to think, 'if we were to create something new, what would it taste like?'.Up until that point, Maker's Mark was the only distillery in the world to make one product. We identified the 15 flavours that live within Maker's Mark and started experimenting, collaborating with the Boswells – who make all of our bourbon barrels – and talking about the characteristics we wanted to amp up. Maker's 46 begins as fully-matured Maker's Mark. When it comes together with 10 seared French oak staves for nine weeks at 50 degrees or cooler, that's where the amplification comes in.
In addition to the Maker's 46 finishing stave, we created four additional finishing staves as part of our custom barrel programme. They're all cut differently, cooked differently, treated differently, and uniquely accentuate the flavours and characteristics that live within Maker's Mark. If there are five different finishing staves, and 10 staves in a barrel, it means there's more than a thousand different combinations. Even if you change one particular finishing stave, the average palate can pick up the difference. Keeneland Race Course purchased the very first case of Maker's Mark that was ever created in 1959, and they also made the very first custom barrel.
My last conversation with my grandfather is one I will never forget. In 1992, as I was heading off to University, he took me to lunch at the Pendennis Club, where the Old Fashioned cocktail was invented in the 1800s. After we sat together in the dining room, he gazed out the window and talked about what he had created. He was in business for seven years with employees and distillery overheads before he sold the first case, and he waited another 20 years before there was any demonstrated demand for his whiskey outside the commonwealth of Kentucky. There was a hell of a lot of pressure put on him to go where the market was, but he wouldn't budge. He talked about how proud he was that he stayed true to who he was and where he started.
Many thanks to Rob Samuels! If all this talk of bourbon (and the hot weather) has got you a bit thirsty, give a Maker's Mark StarHill Spritz a try!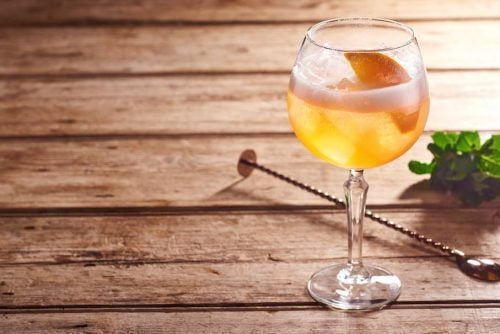 Maker's Mark StarHill Spritz
25ml Maker's Mark
25ml Aperol
12.5ml fresh lemon juice
12.5ml passionfruit Syrup
Top with sparkling wine