Happy Fake Friday, one and all! (And apologies for our smugness to those not about to embark on a four-day weekend…) It might be a short working week over here in the UK, but we have a tip-top edition of The Nightcap for you, featuring a major rebrand from a whisky favourite, distillery builds and anniversaries, and very special news indeed for dog lovers. There truly is something for everyone.
But first, it would be remiss of us not to take a moment to recall the week that was. We kicked off events with a Q&A with the one and only David Stewart MBE, malt master at The Balvenie, and met Allison Parc, founder of distinctly French whisky Brenne. We also explored the iconic photographs that line the walls of The American Bar at The Savoy with legendary photographer Terry O'Neill, and we even unveiled the subject of our latest caption (catshun?) competition: a rather fine, if potentially ferocious, feline.
Right. That's all well and good, but let's get caught up on the rest of this week's happenings from the world of booze…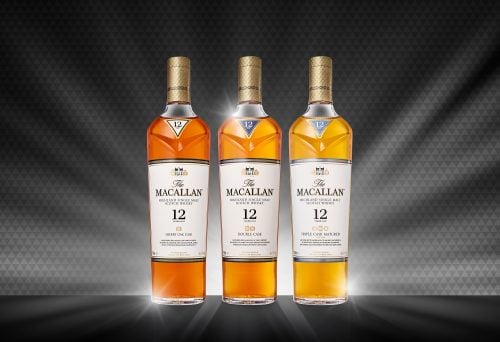 New and shiny things
1824 no more: Macallan shakes up its core whisky range
News reached us this week that Speyside Scotch whisky distillery The Macallan was overhauling its central range. Bye bye Gold, Amber, Sienna and Ruby. It's been emotional. With the four The Macallan 1824 lines out, what would replace them? A cask-focused trio all with an age statement, that's what. Sherry Oak 12, Double Cask 12 and Triple Cask Matured 12 form the new flavour-focused "core" portfolio, all of which boast fancy anti-refill and anti-counterfeiting tech, too. Technically Gold is still hanging about, and will morph into Double Cask Gold to sit neatly under that section of the proceedings. There's no word yet on Ruby's whereabouts. The revamp heralds in a new design too, with packaging based on The Macallan Rare Cask and Rare Cask Black editions. Why all the fuss? In a release, the distillery says the move comes "following feedback from customers and consumers" and that "there are plans to release higher strength and higher age variants in the future." Now that is exciting.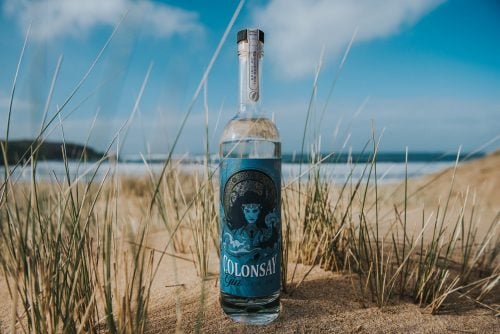 Wild Thyme Spirits distilling comes to Colonsay!
Colonsay's Wild Thyme Spirits gets set for stills!
Colonsay is a tiny Scottish island to the north of Islay. Its land mass covers just 40km2 and with a population of 130-ish, it is safe to say it's a lesser-visited Hebridean jewel. But this could all be about to change once spirits fans get wind of the latest development on the island. Yes, Colonsay distiller Wild Thyme Spirits is about to fire up its stills, kicking off its sirit production! Gin will made using botanicals hand-foraged from the Colonsay Estate, ultimately crafting a hyper-local spirit distinct to the island. Colonsay Gin is currently produced by Strathearn, one of Scotland's smallest distilleries, but the first 'island batch' could run from the still by the end of May. Fabulous stuff!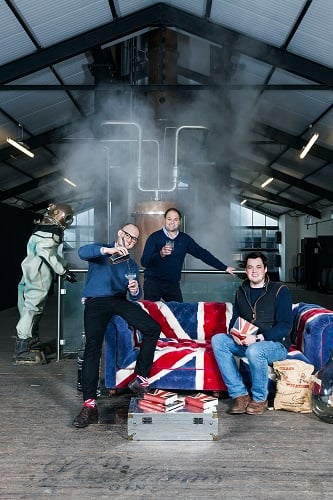 Spud obsessives
Chase Distillery 10th Anniversary
This weekend quintessentially British, potato-obsessed Chase Distillery will mark its 10th anniversary! It was way back in 2008 that founder (and Tyrells crisps creator) William Chase took delivery of a copper pot still nicknamed Fat Betty, and the tallest copper rectification column in the world, called Maximus. The spirits – which today include vodka, gin and liqueurs in an array of flavours – are all made from scratch from the spuds; no neutral grain spirit here. "People are always amazed when we tell them that a bottle of Chase Vodka is simply made from around 250 potatoes," says Chase himself. What's next? Continued international expansion and keeping up the focus on provenance. Roll on the next 10 years, and congrats to the whole team!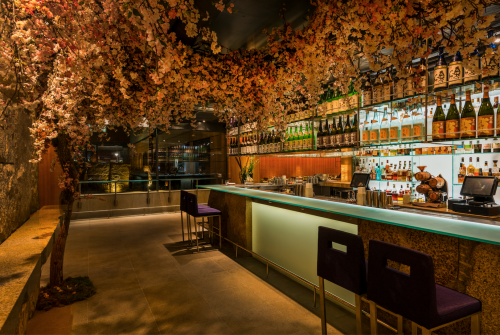 Spring has sprung
Cîroc and Zuma celebrate sakura in style!
Japan's cherry blossoms are a world-famous phenomenon, and this year's sakura spring season has come early, drenching the country's valleys and forests in a swathe of soft pink. Keen to make sure even those in drab, rainy London can experience the technicolour end of winter, vodka brand Cîroc has teamed up with Zuma Knightsbridge to host an immersive activation featuring real-life trees, filling the bar with delicate blooms. Accompanying the floral masterpiece is a six-strong cocktail menu created by bar manager Pawel Rolka and his team. Serves include the Hanami Sour, which sees Ciroc Vodka mixed with aloe vera, jasmine and rose yoghurt, almond syrup, yuzu and lemon juice for a concoction which remains true to its plant-based roots. Elegant and tasty.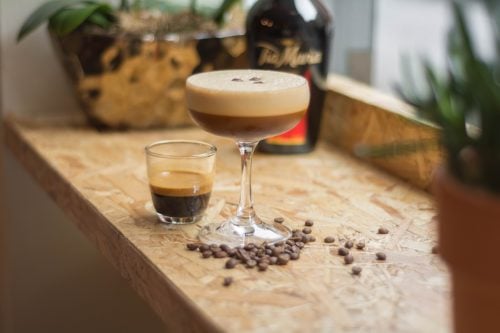 Buzzing
Tia Maria Serves Up Inspiration with Coffee Cocktail Month
Something a little perkier now, and liqueur Tia Maria, sussing out our need for all things caffeine-based, has announced its very own Coffee Cocktail Month. Running from 1 April, the activity aims to highlight the wonders of coffee as a cocktail ingredient, showcasing serves including the Espresso Martini, Flat White Russian, Tia Coffee Tonic and Tia Iced Popcorn Frappé. While the focus is initially on the UK, we see no reason why you can't mix yourself up something tasty in celebration of the humble coffee bean wherever you are in the world. Shakers at the ready!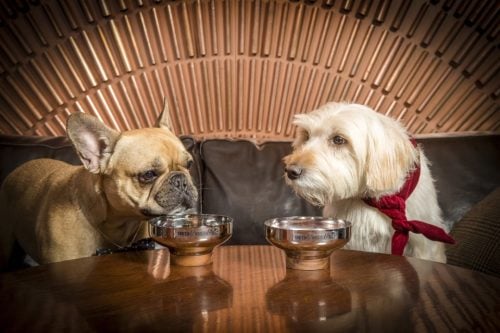 Pampered pooches of Mayfair
And finally… one for pampered pooches everywhere. Canine cocktails are go!
Love going for posh drinks but can't bear to leave your fluffy, four-legged friend behind? You need never choose between your beloved pup and a Paloma ever again, thanks to Mayfair bar Smith & Whistle. To mark National Pet Month, the bar has introduced a 'dogtail' menu, London's first permanent drinks list created just for your mutt. Serves include the Poochie Colada, Hound's Hops, G&T: Ginger Tails, and Bubbly Bow Wow. Not only has the menu been developed by both the bar's mixology team and David Jackson, a specialist canine nutritionist, but each 'dogtail' also comes in four sizes, catering to the stature and appetite of each pooch. Puppy personalisation at its finest.
Well, there we go. Whether or not you have a long weekend, make sure you make the most of it. See you next week!