When we heard that The Balvenie's David Stewart was in town to launch a prestigious single malt collection at one of London's most luxurious hotels, we jumped at the chance to meet him. He's the world's longest-serving malt master, and his services were recognised when he was awarded an MBE on the 2016 New Year's Honours list. We get a snapshot of his life in Scotch whisky…
Last month, The Lanesborough introduced 2018: The Year of the Single Malt – an artfully-curated single malt collection that boasts some of the most coveted whiskies around, from classic Speyside drams to super-rare bottles. In doing so, it became the only place in Europe to serve The Balvenie 50-year-old Cask #4567 and DCS 1961 55-year-old whiskies, which, we're sure you'll agree, is a pretty sweet boast.
Stewart flew in from Glasgow to officially launch this most excellent collection, and made time in the midst of his hectic schedule to meet with MoM. As he celebrates 56 remarkable years in the Scotch whisky industry, Balvenie's legend talks humble beginnings, favourite Balvenie bottlings and meeting royalty…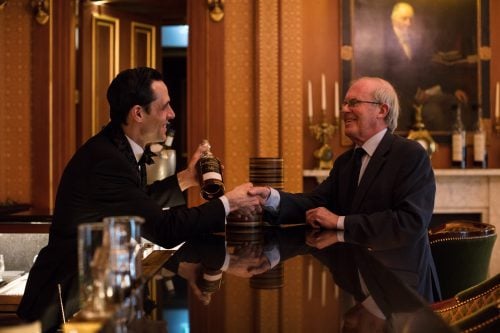 You'd smile too if someone was handing you a bottle of 50yo whisky that literally has your name on it
I started at William Grant and Sons as a whisky stocks clerk
in September 1962, straight from school. I was lucky that my boss was the master blender at the time – Hamish Robertson. For the first couple of years I did clerical work, updating the stock ledgers – this is before computerisation and things! – and passing invoices. After two years he started to bring me into the sample room, just to get me nosing some of the samples that were coming through. Gradually I got to do more and more, he would show me how whisky evolves at three [years], at five, at eight, at 12 and beyond, and American oak casks and Spanish oak casks and different expressions. There weren't that many at that time; just one
Glenfiddich
and eventually one Balvenie and our blended whiskies. I did that for ten years, gradually selecting casks to create
Grant's
blended whisky and Glenfiddich, which was an eight-year-old pure malt – a 'straight malt' it was called – in those days. In 1974, he decided to leave the company for
William Lawson
at Coatbridge and I was left to keep things going. The family were looking around to see if they could bring in another master blender. I was 29 then and they maybe thought I wasn't experienced enough. But they didn't find anyone so eventually they said 'we'll give you the job'. That was at the end of 1974. I became the master blender for William Grant and Sons, looking after Glenfiddich and Balvenie and Grant's. I just work on Balvenie now – I gave up Glenfiddich and Grant's in 2010. Brian Kinsman, our master blender, looks after everything else. So I've really been with Balvenie right from the start. Round about 1973-74 we launched the very first Balvenie, which was an eight-year-old Founder's Reserve. Now we've got 20 different expressions!
I do quite a lot of travelling, whether it's for the launch of a new expression, or meeting journalists, or doing a core range tasting. When I'm not travelling, I meet people at the distillery, or I go into our offices near Glasgow where our sample room is. I still do a lot of nosing. I select all the single barrels for the single barrel range. I look through all the finishes until we're happy that it's DoubleWood, that it's Caribbean Cask, it's PortWood. So there's quite a varied workload.
The aforementioned Balvenie Caribbean Cask
I've always been encouraged to innovate
. That's how we have got so many different expressions. We've always got things in the warehouse that may or may not become – or create – another expression. I've been encouraged to bring in different cask types and we've done a few trials at the distillation stage with roasted malt and things. Obviously if you do things at distillation, you're going to have to wait 12, 15, 17 years for it to actually get into a bottle. Most [of the experimentation] has been around cask finishes. Some have worked, some haven't worked. We've brought in brandy casks and Armagnac casks and wine casks that haven't really worked with Balvenie. We've had some failures along the way, but we've had a lot of success with our 17-year-old limited editions; the
Madeira
, Port, sherry and
peated
finishes. We did the vintages as well, Balvenie Rose,
Tun 1401
,
Tun 1509
… We've done a lot over the years.
At Balvenie, we take quite a long time to develop things. For something like Peat Week, we would have been keeping an eye on that for over a decade to decide when we felt it was right to actually release to market. We've never really jumped onto trends, a lot of stuff has come about really organically because we've had stock and because we've always been experimenting behind the scenes. Usually, over the years, if we're doing a limited edition it's been 14 or 17 years old, that tends to be the Balvenie choice of age – but we don't add new stuff to our range all that often.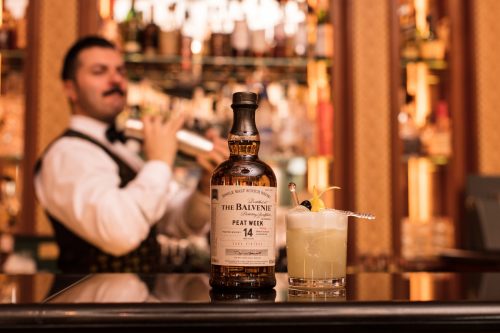 Balvenie's Peat Week
My biggest achievement with Balvenie
is certainly
Balvenie DoubleWood 12 Year Old
. It's not often that you've got one whisky that's lasted for 25 years. That's really our main seller. It launched in 1993 and we're still making it today and it's really the mainstay of the Balvenie core range. That's when this current bottle was used for the very first time – so that bottle [shape] is 25 years old.
Since I started working in whisky, there's fewer companies in the industry, with all the mergers of Allied and Chivas, and [the likes of] Pernod and Diageo. I remember Buchanan's and Dewars and Black & White and White Horse were separate companies when I started. The industry has contracted, although it's a much bigger industry now. There's also probably greater interest from people who drink our whisky now. There's a bigger demand for education. If you go back 25 years, people didn't know the difference between a single malt and a blended whisky, [and] they weren't really interested. But now there is a big demand for people like myself to tell people how we've created that particular whisky, from all over the world.
We know more about what happens in the cask now than we did 25 years ago. We monitor our casks so we know how many times a cask has been filled – [up to] three times for a [standard] barrel; you may get four fillings out of a sherry cask. If you go back 20, 25, 30, 40 years, the casks may have been emptied and filled and emptied and filled [repeatedly]. We've been fairly lucky with some of our stock at 40 and 50 [years old], I've seen the odd one here and there hasn't been great, but generally we've seen pretty good examples. We've got trained coopers at our distillery who are always checking our casks and making sure that we're using good quality casks. They will recommend that a batch needs to be regenerated; they'll say 'we'll take about four ml off the inside of the cask and then we'll char it again'. It means we don't have to scrap it, we might get another 12 years or 17 years out of that cask. Wood is really the key. If you can make the new spirit consistently correct, as long as you're putting it into good quality casks then you can be very confident about what eventually goes into the bottle.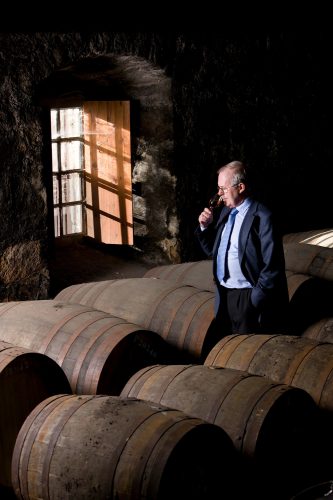 David Stewart, in a room that dreams are made of
In terms of casks I'd like to experiment with
, there are some white wine casks that we haven't tried yet. Some really sweet wines like Sauterne or Barsac or Masala. Balvenie works better if it's a sweet or fortified wine cask. I've got a few in the warehouse at the moment that I can't say too much about. So just watch this space!
Putting The DCS Compendium* together was quite difficult at times. We selected them over an 18-month period in 2014. There was a lot of to-ing and fro-ing with our teams in Richmond, trying to get what they were looking for, what I was looking for and what ages we should be focusing on. We structured them into chapters so I knew to focus on distillery style, or what oak or different wood does to the flavour of Balvenie. The next five will be launched in October this year. Chapter Four is [titled] 'Expecting the Unexpected' because now and again you say 'gosh, why did that Balvenie end up like that?' It's a little bit different. That cask looks the same from the outside, the spirit is the same, so why has that whisky turned out like that? That's what that chapter is all about; where I've seen something a little bit different from the norm. There is a peated one in there which shouldn't taste peated!
Balvenie PortWood 21 Year Old is my favourite bottling. That has been on the go for 23 years. It's the combination of the age of the whisky and the Port casks; it's a lovely after-dinner dram with a cigar or cheese or with dessert. It's not something I'm drinking on a regular basis, it's a very expensive bottle! Occasionally I'll bring the bottle out of the cupboard, but generally I'm drinking DoubleWood or Caribbean Cask.
I've met the Queen and Prince Charles on different occasions. I met Prince Charles when he opened our Ailsa Bay distillery in Girvan back in 2008 – we gave him a sample of the new spirit from the spirit safe, so I had a short conversation with him. That was quite fun. And then in 2016, I met the Queen in Holyrood Palace to get my MBE. It was a big shock; I'd had one or two industry awards but I didn't expect I'd be getting that. Meeting the Queen and having a short conversation with her was a big standout moment. She asked what being a malt master involves, so I said, 'I spend a lot of time in the sample room nosing whisky, sniffing it', and that made her laugh a little bit. I don't think she realised that we were sniffing the whisky instead of tasting it. She asked, 'can you tell much from sniffing it?', so I said, 'that's what we're trained to do at the end of the day'.
*A collection of 25 rare single cask Scotch whiskies which will be released in five different 'chapters', each with five whiskies, over a five-year period.