As new cocktail menu 'Every Moment Tells a Story' launches at the American Bar at the Savoy, MoM speaks to bar manager Declan McGurk to learn about its formation, and hears from Terry O'Neill, the man whose photographs inspired the drinks.
It may have been established in 1889, but the longest-surviving cocktail bar in London, The American Bar at the Savoy, has demonstrated time and time again that it's more than simply a classic name. Voted The World's Best Bar in 2017 and Hotel Bar of the Year at the Class Bar Awards 2018, on 3 April it will release a new cocktail menu based around the era-defining black and white images that line the bar's walls.
These pictures are all examples of legendary British photographer Terry O'Neill's work. A key figure in pop culture since the 1960s, the man himself was invited to the American Bar to celebrate the menu's launch. He spent the morning, as bar manager Declan McGurk put it, 'regaling us with some yarns'… and these really are some yarns. He's more raconteur than photographer these days, with endless stories to tell and plenty of names to drop. Rock stars, royalty and all manner of icons from stage and screen have stood the other side of his lens.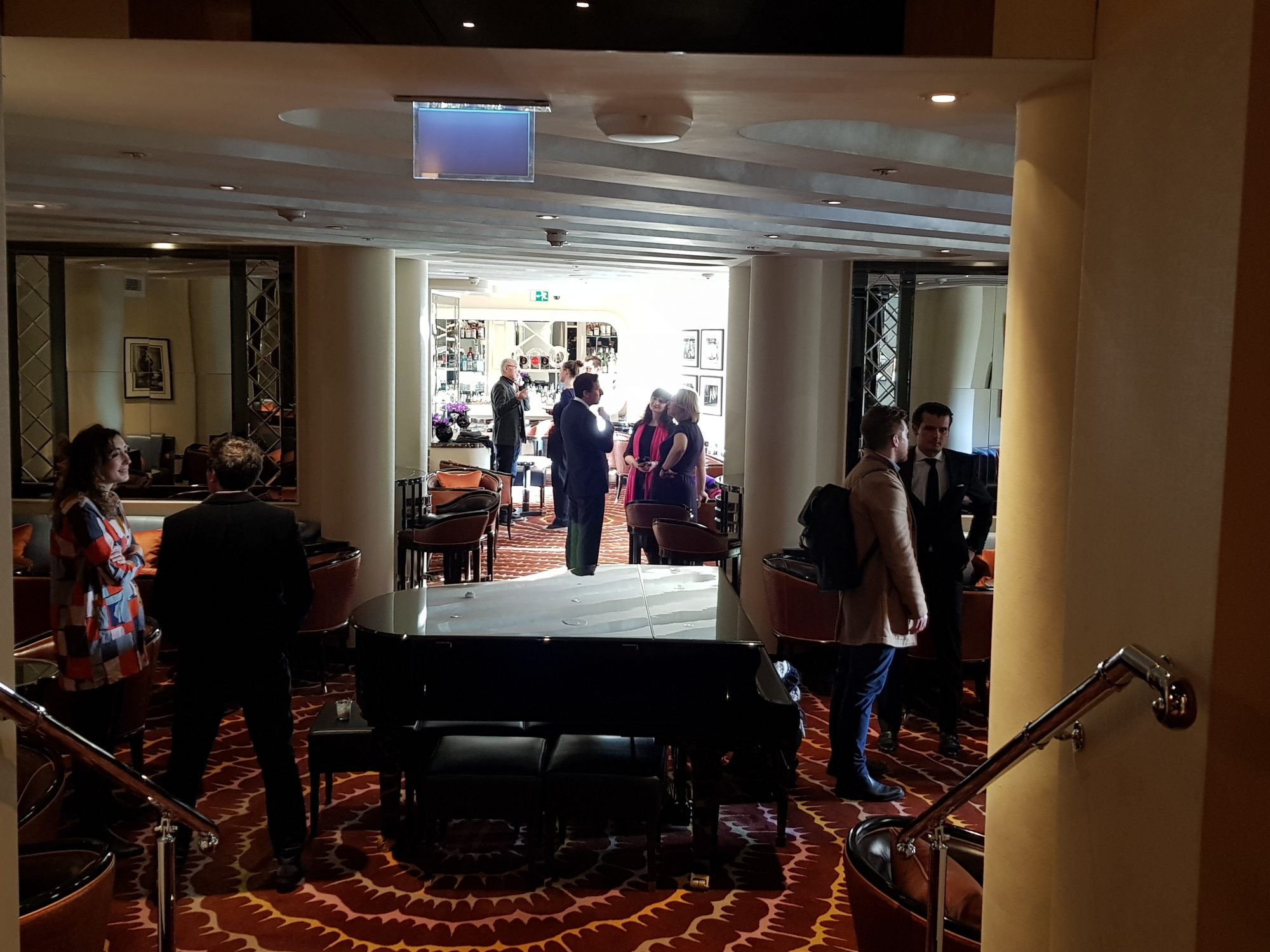 The American Bar looks picture perfect
Picture the concept
A total of 21 Terry O'Neill photos line the walls of The American Bar. Supposedly only Elton John has a greater collection (as he would). The process of assembling such a lineup began in the 1980s when the then-general manager Willy Bauer and head bartender Peter Durelli purchased a large selection of O'Neill's work. They became a welcome and standout part of the furniture at the American Bar, a feature regularly remarked upon by guests and cherished by staff.
As the bar reached the stage when it needed new ideas for a fresh cocktail menu, for McGurk there was an obvious choice of inspiration: "These walls are just exciting, and preserving what's on them has always been something I thought about." The concept was intended to take a piece of history that McGurk believed would "communicate really well with the guest."
This ultimately sums up much of what has defined the successful approach that has rejuvenated The American Bar in recent years. While there are plenty of modern, cutting-edge practices and manners, it's no cocktail museum. The institution itself is tremendously proud of its history and is understandably keen to highlight and champion it.
This history is very much intertwined with the raft of O'Neill's photography that graces the walls of The American Bar. McGurk himself put it best when he remarked, "What better way for a bar to bring these photos to life than with cocktails?"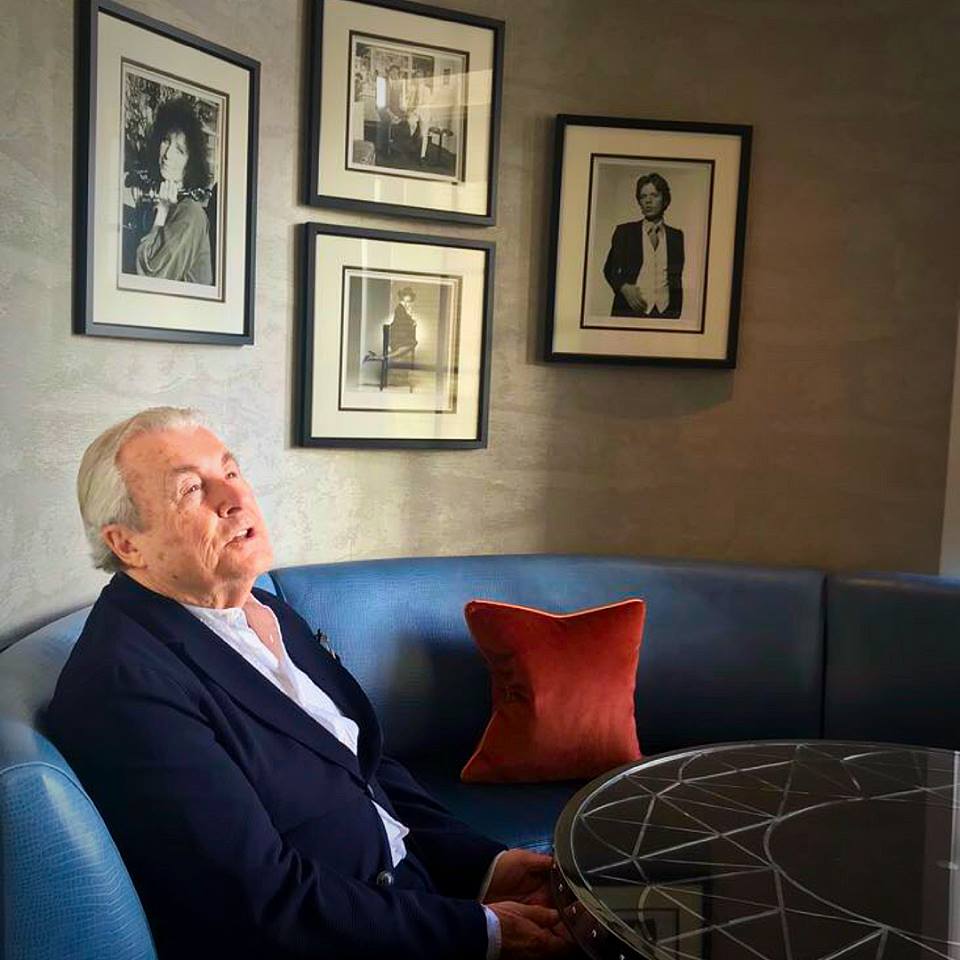 O'Neill and a selection of his photos at The American Bar
Pictures and a thousand words at The American Bar
To better understand the art that inspired the new Every Moment Tells a Story cocktail menu, O'Neill was in attendance at The American Bar to talk a fascinated crowd through his life and work. He explained how he was first hired to snap the stars after the editor of the Sunday Dispatch caught a glimpse at a chance photograph O'Neill took of what turned out to the Home Secretary Rab Butler, asleep in an airport surrounded by African chieftains. O'Neill became the youngest Fleet Street photographer ever at that moment. "There I was at 20 years odd of age," he tells us with a smile. "I started at the top and never looked back."
Despite the fact that he never cared for the Hollywood life – "I hated it," he admitted at one point – he was a significant fixture of it for decades. He is the only photographer alive to capture every single James Bond (Sean Connery was his favourite, although he has a kind word for Daniel Craig too), he regularly snapped Frank Sinatra, he worked for a week with Nelson Mandela for his 90th birthday, his last photograph was of football legend Pelé, and for a time he was married to Academy Award winner Faye Dunaway. Only Marilyn Monroe was the one he felt "escaped him". When he is asked if can remember it all, he responds: "Yeah I can – because I've got all these photographs."
Sadly, there's not likely to be any more original snaps by O'Neill. While speaking about one of the many celebrities he worked with, he remarked: "They don't make movie stars like that anymore; there were all these great looking men – and suddenly they don't exist." (This was slightly insulting as I was standing directly opposite him). He's ultimately a romantic of the eras he framed.
Now, this era and his work are being reimagined in the form of a cocktail menu, a fact that he is very happy about. "I love it! It's fabulous. My only problem is I stopped drinking a couple of years ago, so I won't be able to enjoy it!"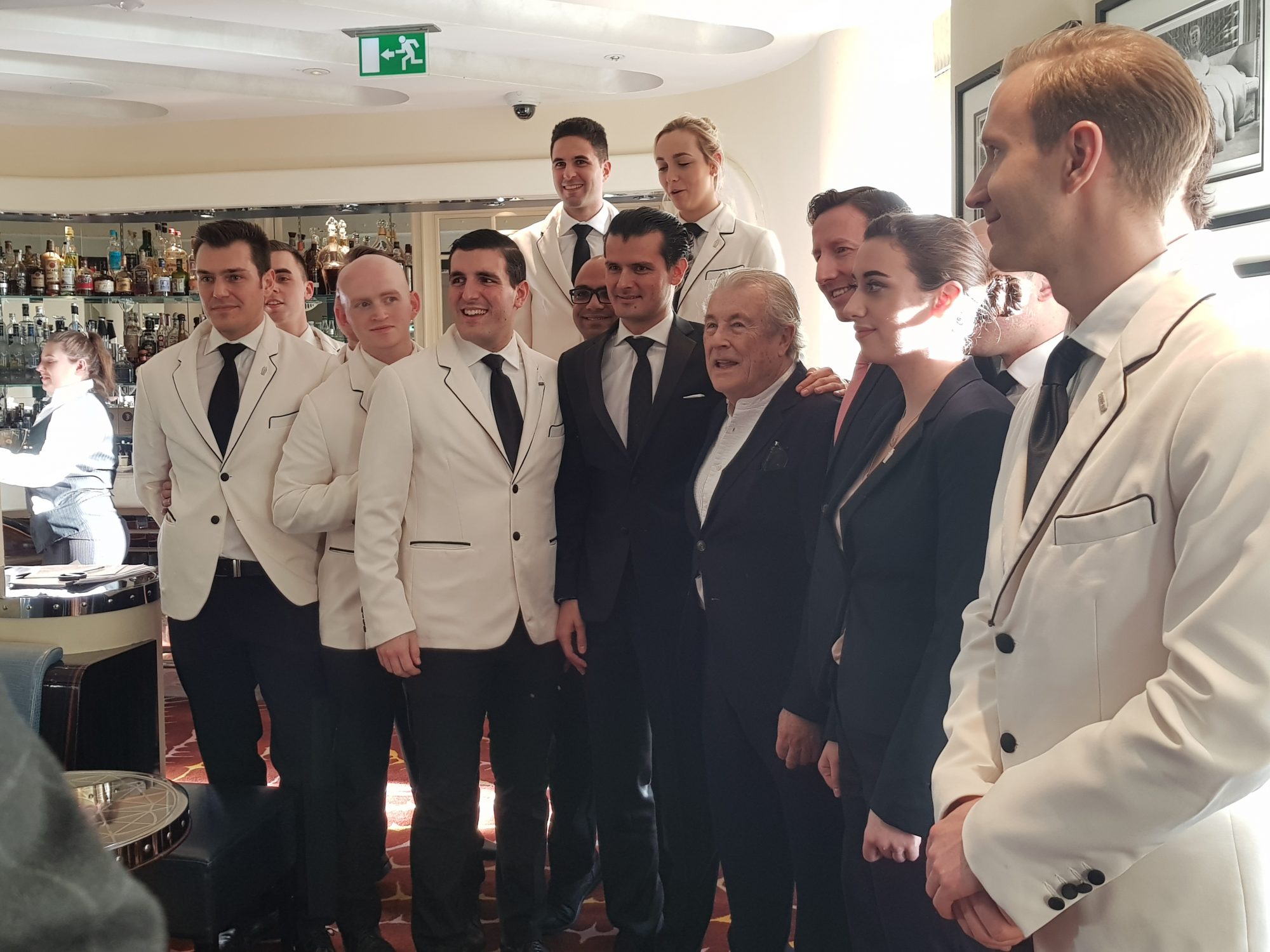 O'Neill and The American Bar staff
The new American Bar cocktail menu has a story of its own
Every Moment Tells a Story will feature 20 cocktails in total, each taking inspiration from an individual image. The drink will be centred around the photograph itself and what it conveys, rather than the subjects. The menu itself will detail the how the chosen photo fits into the drink's profile, describing a detailed flavour journey – 'a passage regarding the flavour and style of drink' as McGurk puts it – that communicates the classic photography and cocktails in true American Bar style.
While the project was led by the head bartender and famed drinks virtuoso Erik Lorincz, a collaborative process ultimately decided which cocktail profile matched the chosen photo. McGurk explains: "We had a bartender meeting of everyone who's contributing a drink to the menu and walked around the photos debating what spirit base we think there should be and what style of drink it should be." Each stage of the menu was meticulously planned, even down to the bespoke unit every drink will be served in, "so we can preserve that moment, like an act of photography."
To give you a better idea of what we're talking about, we present a Master of Malt exclusive sneak peek of one of the concoctions you'll find on the new menu, complete with the corresponding photograph.
An 'Every Moment Tells a Story' sneak-preview…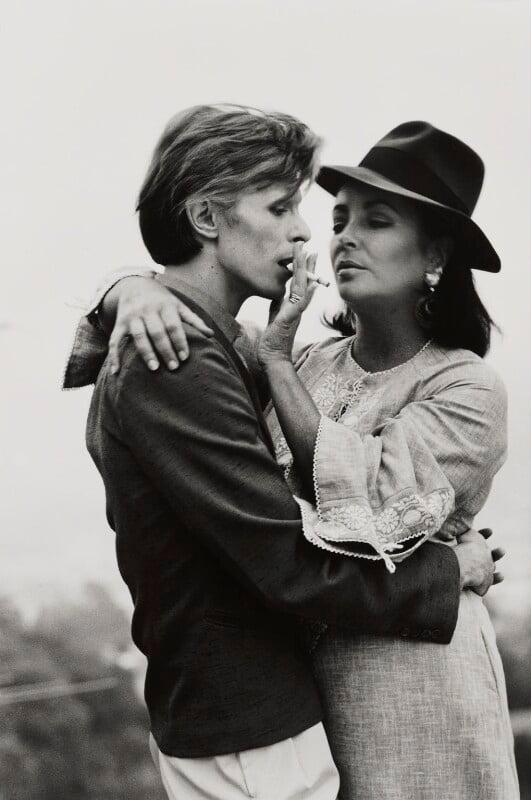 David Bowie and Elizabeth Taylor
First Impressions (David Bowie and Elizabeth Taylor)
The cocktail: Based on the photograph of David Bowie and Elizabeth Taylor, this is the first drink on the menu. "It's got a gin base, and I think with Bowie's background up in London that's perfect," says McGurk. "The name of that drink is a reference to the fact that it was the first time they met, and it will appropriately be a very light, fresh start into the menu."
What O'Neill said of the photo: 'I was working with Bowie in LA, and Liz Taylor rung me up who I got to know on an earlier film, and said she'd love to meet David, can you bring him over to lunch? She had in the back of her mind she wanted to put him in a film she was going to do. He shows up four hours late so we only had about 10 minutes to do some pictures. She totally took hold of him. To be honest I think he was coked out of his head at the time. He never got the part in the movie. I said: don't be late for Liz Taylor.'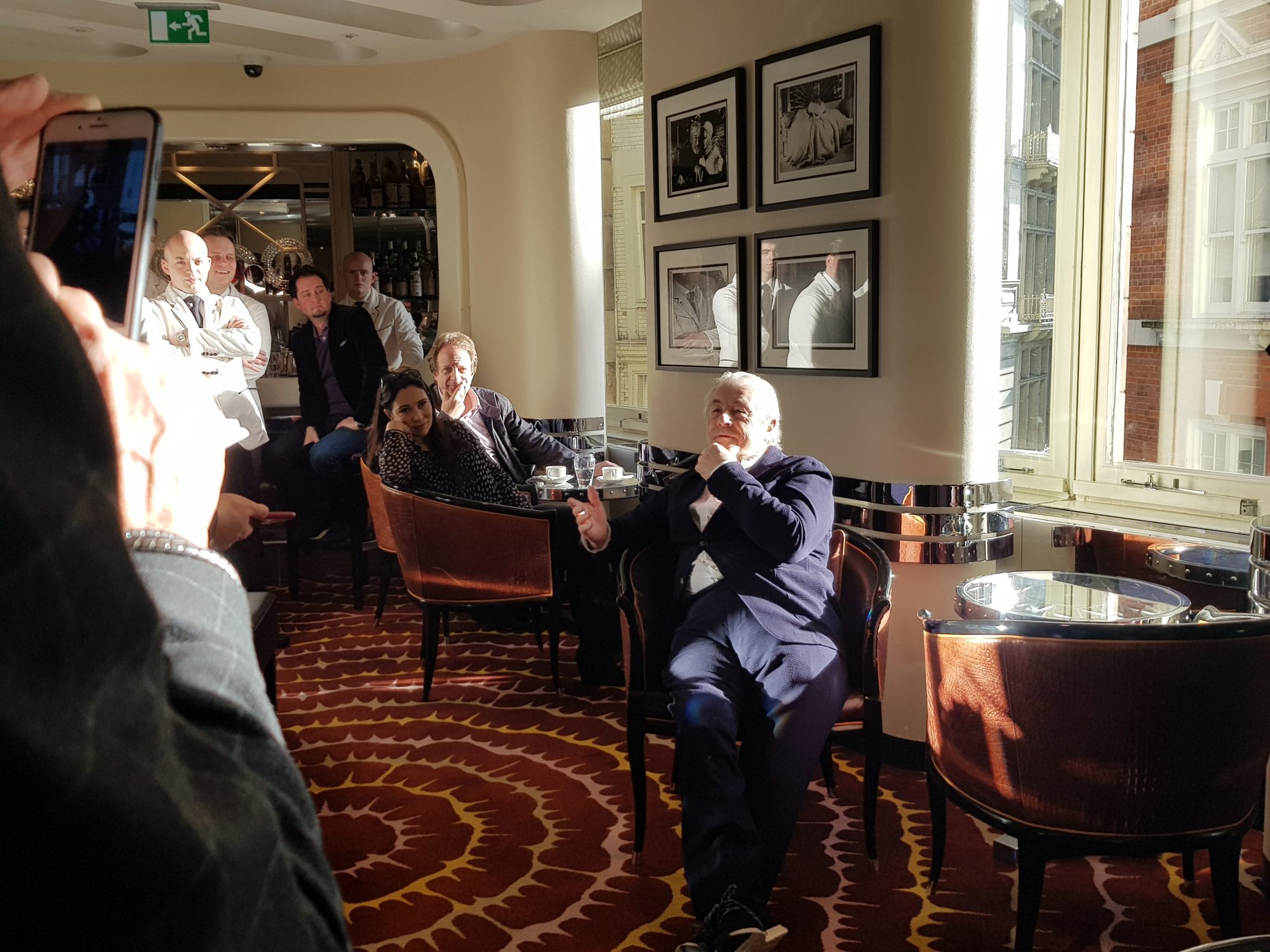 'I've had a fantastic life I can't complain' – O'Neill tells his story
Every Moment Tells a Story
This is just an example of the kind of bar-wizardry you'll see from the American Bar post-3 April. When the menu launches, you're sure to find one that's perfect for you. For Terry O'Neill, however, when it comes to his photos there are no favourites. "I like them all. It brings back all the memories… my whole life is on these walls," he says.
Ultimately, this is what Every Moment Tells a Story is all about. The bridge from the past to now, from photos to menu, O'Neill to us. It's about the ways in which we can communicate these stories in personal, exciting new forms. O'Neill's himself once remarked that "I always wanted my pictures to tell a story." He tells a pretty good one himself. Now The American Bar will attempt to do the same.