Down those tools and pick up a dram: it's Friday, folks! And with the last day of the working week comes your regular round-up of delicious developments from the wonderful world of booze. It can only be The Nightcap!
Happy Friday, team! We made it. Perhaps you've been following all the highs and lows of the World Cup (soz, Germany) and are relishing today as a football-free period of recovery. Or maybe you've eschewed all things FIFA and have been basking in the summer sunshine instead (it's been SIZZLING here in the UK). Either way, there's a high chance some of this week's biggest stories might have passed you by. Which is why we're here to help!
So before we dig into the main Nightcap round-up, let's look back over the last seven days of all things booze…

On Monday we had a Johnnie Walker-focused morning, not only catching up with the legend that is master blender Jim Beveridge, but announcing the winner of our Formula 1 Grandstand tickets competition, too! We then shared footage of the sizeable warehouse collapse at the Barton 1792 distillery in Kentucky, which saw around 9,000 barrels tumble to the floor. A sad loss for bourbon fans everywhere.
Tuesday saw us go behind the scenes at the beautiful Art of Campari exhibition when we presented a sneak peek from the must-view show at London's Estorick Collection. Do head down if you can – it promises to be a striking day of art for Negroni fans (basically everyone then). We also caught up with Annie for part 2 of her Bourbon Series, this time featuring Freddie Noe, actual Jim Beam's great-great grandson. It turns out whiskey know-how runs in the family!
Also on Tuesday, Henry stepped up and helped us all out by getting to grips with the Great C02 Shortage of 2018, as it will forever be known. If you're wondering why it's harder to get hold of your favourite drink with fizz (beer, tonic water and sodas are all affected) then check out his guide.
Wednesday brought with it news from two lesser-known drinks categories: Annie made the case for Kombucha, while Sam investigated the fêted baijiu boom as Diageo announced it was mulling upping its stake in fancypants brand Shui Jing Fang. Fun times all round!
On Thursday we received word that Halewood Wines & Spirits is building a dedicated distillery for Liverpool Gin (yep, in Liverpool), and Adam met Andrew Auwerda, the president of Philadelphia Distilling, which makes Bluecoat Gin. It was a good day all round!
Then this morning we put our heads together and came up with the ultimate Wimbledon drinks list. You know what to do if you're getting set to follow the action!
PHEW! After all that, best crack on with the actual Nightcap..!
Booze Brexit update: GIs 'critical', says SpiritsEurope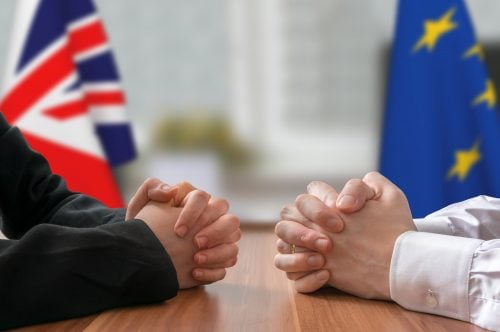 It's crunch time for spirits GIs
Yep, it seems The Nightcap has been cursed by all things politicsy of late, and this week is no different. No news of further tariffs this time (hurrah!), instead it's the turn of the Brexit negotiations to encroach on our peaceful, happy world of tasty tipples. Ahead of the Mega Summit (technical term) that took place this week, trade association SpiritsEurope issued a warning that unless leaders sort themselves out soon, the Geographic Indications (GIs) that help govern specific drinks categories could be at risk. A GI is the set of rules that defines what gives a product a local characteristic (Scotch whisky being made to certain standard in Scotland, for example), and in the words of Ulrich Adam, Spirits Europe director general, they are a "a key pillar, asset and facilitator of trade in high-value spirits". They are also recognised at EU level in agreement with other countries, so when the UK leaves the EU, there's a lot to sort out. "This is particularly true for the three much-cherished All-Ireland GIs: Irish whiskey, Irish cream liqueur and Irish poitín," Ulrich continued. The trade association is calling on the UK to "provide at least the same level of protection for EU GIs as they hold today" and vice versa. Also up for discussions are the free trade agreements that drinks like Scotch enjoy with other countries. All super uncertain. Watch this space for further developments in the coming months.
Douglas Laing reveals 40yo(!) XOP Platinum Single Cask bottling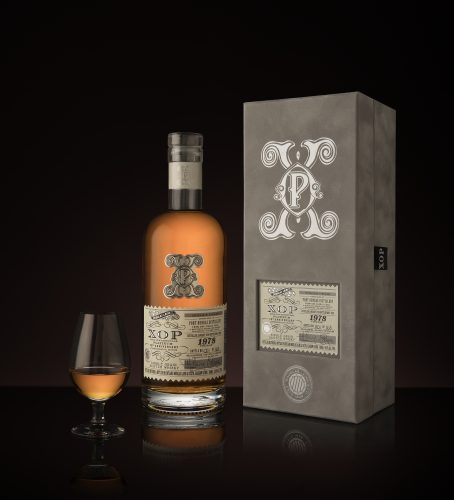 Heeeeyyy fancy whisky
Glasgow based Scotch whisky specialist Douglas Laing continues to commemorate its 70th anniversary in style – this time by unveiling its Port Dundas 40 Years Old Single Grain Single Cask bottling! It's all part of a commemorative series of single casks, one released each quarter of 2018. Port Dundas is the second in the series, which kicked off with Ardbeg 25 Years Old in March. It looks fancy too, housed in a moleskin hinged box with a label and accompanying certificate signed father-daughter duo Fred and Cara Laing (yes, of the Laing founding family). Port Dundas 40 Year Old is bottled at natural cask strength (59.1%), without any additional colouring or chill-filtration, and offers with notes of gingerbread spicy sweetness, dark fruits and home baking. "Back in the 1970s, my father probably anticipated this cask of Port Dundas packing a 12 Years Old blend, so all those years later, it's great to see and taste it being bottled as part of our, really his, Platinum Anniversary series," said Fred Laing, the company chairman.
European football fans can drink in stadiums again!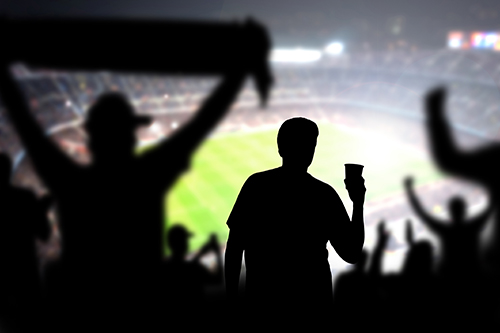 Pints return to the stands!
If the World Cup excitement wasn't enough, here's some more good news for football fans. It emerged this week that UEFA, the body that manages European football, has overturned a long-standing ban on drinking alcohol in stadiums. Football Supporters Europe (FSE), a fan organisation, released a statement welcoming the move. "For a long time football supporters have felt unfairly treated in comparison with fans of other sports like rugby, to say the least," said Ronan Evain, the group's CEO. "It is not the sport you follow which makes you behave better or worse." He also noted the double standards: booze had always been allowed in corporate hospitality areas, just not for the 'regular' fans. "Supporters felt that the alcohol banning policy was paternalistic, as there is absolutely no evidence or research to suggest that banning alcohol in a stadium has any bearing whatsoever on preventing or curtailing football-related disorder in and around it," he continued. Let's raise a glass to enjoying a pint with the football across Europe!
Jura completes limited edition series with One For You
One for You. Literally.
Island Scotch distillery Jura has released the final instalment in a limited edition series designed to celebrate community spirit and the Diurachs, the inhabitants of Jura. The 18 year old expression is fittingly named One For You and completes the three-piece collection started in 2016. Previous editions include One For The Road, a commemorative bottling to mark the retirement of Willie Cochrane, Jura's former distillery manager, and One And All, which was created to honour Jura's community and its team of distillery workers. One For You, which will be available in select markets with an RSP of £130, was matured in hand-selected American white oak ex-bourbon barrels and finished in virgin American white oak quarter casks before it was bottled at a cask strength 52.5% ABV without any additional colouring or chill-filtration. The producer's tasting notes for Jura One For You suggest there's aromas of mango, pear, honey and vanilla and white chocolate, almond, caramel and fudge on the palate. "This special limited edition expression has been created with our extended community in mind and is the perfect whisky to toast those who embrace the Jura spirit worldwide," said Graham Logan, Jura's distillery manager.
Drinkaware extends its 'It's OK to Ask' anti-harassment campaign to festivals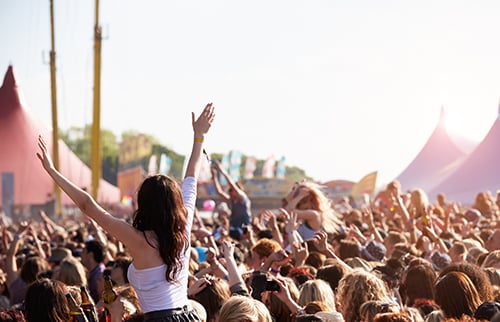 Let's make sure festivals are ALWAYS fun – and It's OK to Ask if they're ever not
A super important one now, and this week Drinkaware, the UK charity that works to reduce alcohol harm, announced it is extending a key campaign to tackle sexual harassment and assault to include festivals. Already part of its Good Night Out initiative across pubs, bars and clubs, It's OK to Ask encourages bystanders to intervene (if safe to do so) if they spot inappropriate behaviour. And the campaign comes in three handy steps: 'Spot it – Is something dodgy happening? Check it – Is it safe to step in? Speak out – If it's safe to do so, check in with the person being targeted: Are they OK? If not, try staff or security'. "For far too many people, drunken sexual harassment is now part and parcel of a night out or being at a festival," says Elaine Hindal, Drinkaware chief exec. "Being drunk is no excuse to grab, grope or make inappropriate comments to strangers in public places after a few drinks. Bystanders have an important role to play in helping to challenge unwanted and drunken sexual harassment but it can be difficult to know exactly what to do." Hopefully the campaign can do something to change that. According to Drinkaware, 52% of women and 42% of men who attend festivals said they'd witnessed inappropriate or sexual comments or touching at a festival, but only 31% asked the victim if they were OK, compared to 47% who did in a pub, club or bar.
Cooper King Distillery releases first gin!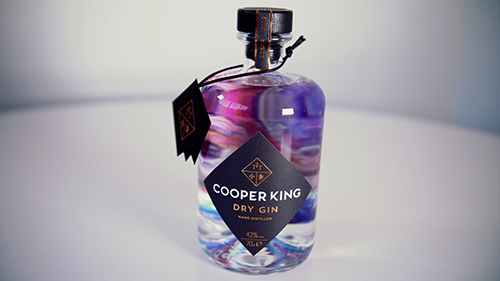 Hello inaugural Cooper King gin!
Huge congratulations go out to Dr Abbie Neilson and Chris Jaume, AKA the duo behind Yorkshire's Cooper King Distillery. After years of research and construction (literally by hand), the distillery's first gin is ready! Cooper King Dry Gin is hand-distilled using a range of local ingredients and botanicals, including honey from the duo's family beehives, lemongrass, and a smidge of locally-grown lavender. It's made in micro-batches using vacuum distillation in the stable-block-turned-distillery, and is also bottled and labelled on-site too. "We are extremely excited that we are finally able to share our gin with the world!" Neilson said. "Having begun this journey more than four years ago and given up our careers to chase this dream, it is truly amazing to see the support we receive day in day out." Back in September we travelled up to Cooper King to meet the pair and have a nose round the [then!] construction site. It's incredibly exciting that the plan is coming to fruition. Next step: Tasmanian-style whisky!
Highland Park immerses commuters in Grand Central activation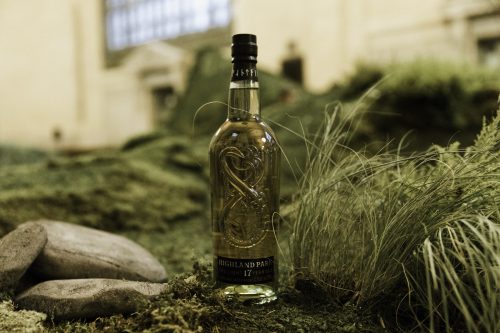 New York or Orkney?!
Spotted something suspiciously rural at Grand Central Station? That would be the work of single malt Scotch whisky brand Highland Park, which partnered with acclaimed landscape designer Lily Kwong and renowned composer Gary Gunn bring its Orkadia installation to the landmark New York station. The outside was literally brought indoors, transforming the space inside the major commuter station. The celebration marked the longest day of the year on the unique, remote, archipelago of Orkney, which is situated off the far north coast of Scotland and is where Highland Park calls home. The installation also referenced the distillery's Nordic ancestry by mirroring the Viking practice of honouring nature. "Studio Lily Kwong's mission is to bring the natural world into the urban environment, and for this project we moved mountains directly into the heart of New York City," explained Kwong. "The 8,000 square feet of moss and 220 flowering heather plants, in the midst of one of the most iconic urban landmarks in the world, offer an opportunity to reflect on our environment and our role in shaping it,". The installation also coincides with the launch of The Light, Highland Park's counterpart to the edition it launched on the winter solstice of 2017, The Dark.
Bacardi declares July Rum Month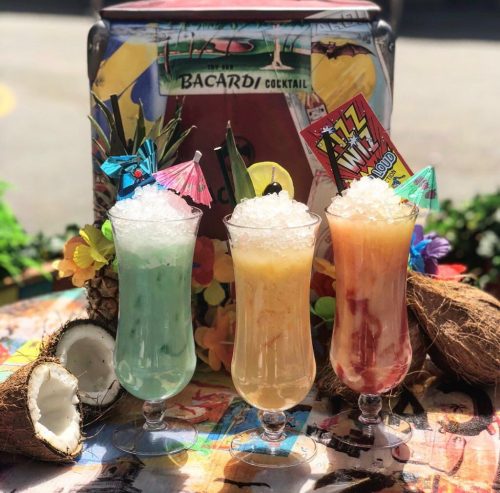 A month of rum? We're IN
This July don't try and get any work done. Instead, clear your diary now and prepare to pull a massive sickie because Bacardi has designated the entire month Rum Month. This has come about because the special days for top rum-based cocktails (the Piña Colada, Mojito and Daiquiri, if you didn't know) all fall in July, so folks at Bacardi thought what the hell, let's just take the whole damn month off and drink rum. As a result, there will be more than 40 events taking place around the country including in London, Manchester, Edinburgh and Glasgow. These will involve Mojito Bikes (sounds dangerous!), Piña Colada discos (if they don't play Club Tropicana I'm leaving) and Daiquiri tours (now these sound fun. A black cab will take you around some of East London's best bars including Discount Suit Co, Cocktail Trading Co, Super Lyan and Sager & Wilde). For more information go to the DrinkUp website. The only thing that Bacardi hasn't thought of is squaring all this time off with your employer.
Congratulations to Arron Grendon the 2018 Chivas Masters Global Champion!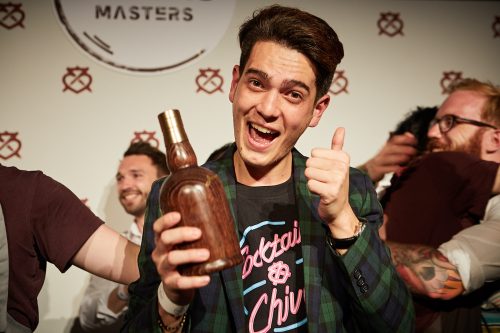 Congrats to Arron!
This week saw the grand final of the Chivas Masters global cocktail competition, which saw bartenders from around the world descend on London (and Strathisla) to shake stir and present their way to the title. At the end of it all, Thailand's Arron Grendon was crowned the 2018 Chivas Masters Global Champion! He wowed the judges, including Bea Bradsell, daughter of the great Dick Bradsell, with his Thai-inspired cocktail the Grind. But the competition, which took place at the Strathisla Distillery and the Oval Space in London, wasn't just about skill behind the bar – that would be too easy. The gruelling final lasted five days and with each bartender's leadership, stamina, and teamwork skills tested to the max. Tasks included setting up a pop-up cocktail bar, which was then judged by members of the public. Richard Black, global marketing director at Chivas Regal, said: "Arron demonstrated originality, skill, leadership and, most importantly, a real sense of community throughout the final week." Arron wins an all-access trip to Tales of The Cocktail 2018 in New Orleans as well as the chance to travel the world spreading the Chivas word – though a well-earned rest first might be in order.
Britain and Ireland's most popular pub name revealed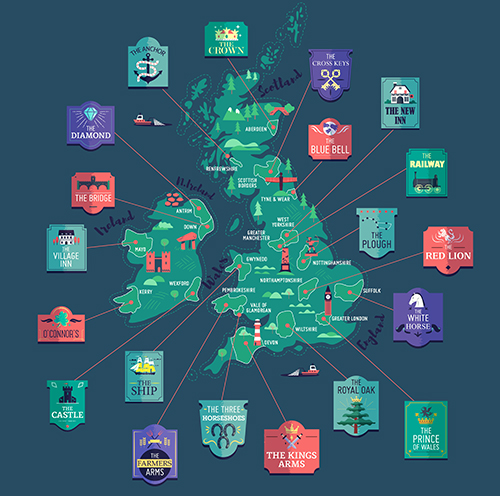 Is your local on the list?
And finally… If you've ever tried to meet someone for a drink but you've gone to the wrong Coach & Horses in Soho or the other Red Lion near St James's Street then you'll be aware that us Brits like a traditional pub name. Just to show us quite how unimaginative we are, this week hotel group Jury's Inn published a list of Britain and Ireland's most popular pub names from over 58, 000 establishments. The winner was the Red Lion with 517 pubs followed by the Royal Oak with 403. What's interesting is that those number-crunching sorts broke it down regionally. In some places the most popular name makes a lot of sense, like The Ship in Cornwall or The Colliers Arms in Port Talbot. Not so elsewhere: The Prince of Wales is the most popular name in London. Why? Who can say. The Irish are rather different as their pubs tend to be named after the proprietor: O' Connell's (someone tell our Adam), O' Brian's, or O' Donnell's, to name just three. Or they are just called The Village Inn. Much simpler, unless of course your village happens to have two Village Inns.
That's a wrap for The Nightcap, folks. Have a great weekend!