He looks after more casks than there are people in Scotland, leads a blending team of 12, and creates the world's best-selling blended Scotch whisky… Meet Johnnie Walker's Jim Beveridge!
Newsflash: Johnnie Walker, already the most popular Scotch whisky name in the world, has returned to triumphant growth. According to Brand Champions figures, released by trade magazine The Spirits Business this month, the brand saw volume sales soar by 5.2% to 18.3 million 9-litre case sales in 2017. That's a LOT of whisky. And it's the most the brand has shifted since 2013. In other words, Johnnie Walker is ON.
The secret to its success? It's impossible to narrow it down to just one. But the team producing the stuff, led by master blender Jim Beveridge, should get a shout out. They preside over millions upon millions of casks, maturing all across Scotland, and it is their expertise that brings expressions such as Black Label, Blue Label, the experimental Blenders' Batch releases and even the luxurious Odyssey to life.
We catch up with Beveridge to find out how he keeps his eye on so many expressions at once, get the lowdown on recipe development, and make him pick out just one Johnnie Walker dram…

MoM: Give our readers an insight into a typical day on the blending team…
Jim Beveridge: There's a small team of 12 whisky-makers who are responsible for all of the whiskies in the Johnnie Walker portfolio. On any given day, there are a range of projects on the go so it's hard to describe a 'typical' day, because many of those projects are at different stages of completion. Some blenders will be nosing or innovating with samples from our stocks of over 10m casks to choose the right malts and grains for our new and experimental whiskies, while others will be working on our established range. Others could have meetings with brand ambassadors or Johnnie Walker colleagues to discuss things as diverse as tasting notes, research and development, upcoming events, new product initiatives, and media enquiries. Or we could be on the road visiting our wider teams in distilleries and warehouses the length and breadth of Scotland. Our priority is making exceptional whisky and nowadays, to do that, it takes all these jobs and more.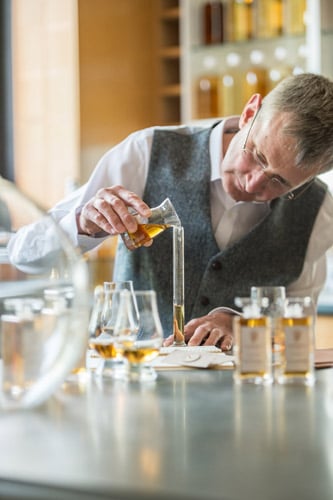 Precision stuff…
How is the team structured? Do some of you look after different expressions/areas of NPD, or do you all pitch in on every project?
I lead a team of 12 very passionate and skilled people, who bring a tremendous amount of craft and knowledge to the table. So, it's very much a collaborative process and as a team we nose hundreds of samples in a week, sharing ideas and building knowledge together. Each member of the team has their own interests, which I am always keen to encourage, but ultimately we work as a team exploring flavour – always trying to push the boundaries of what is possible in whisky.
How many casks do you have an eye on at any one time?
We oversee the development of more than 10 million casks from over 30 distilleries in every region across Scotland. That's more casks than there are people in Scotland!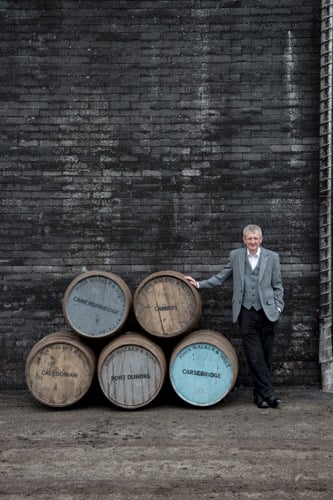 Some of the ingredients for a classic blend
How do you balance stock from so many distilleries simultaneously?
I try not to think about the numbers. It's hard to appreciate until you see casks in a warehouse, to see the space that it takes up. Instead, the way we approach things is to concentrate our minds on the pursuit of flavour. When you come from that point of view it's a lot more manageable.
How do you develop a new recipe for a Johnnie Walker blend? Do you have certain distilleries in mind, or do you work back from having a finished character in mind?
Whatever we do is always in the pursuit of flavour – sometimes we have a very clear picture of what we want to achieve when we begin. Then at other times it is the process of experimentation that opens new flavour routes. So, I suppose it's a bit of both really.
What's your go-to Johnnie Walker expression?
I love them all but if pushed, right now I am enjoying Johnnie Walker Black Label. It goes so well in a Highball, Johnnie Walker Black Label and soda, it's a very refreshing drink but what I like about it most is that it showcases the whisky. It's a brilliant way to taste the richness of Johnnie Walker Black Label.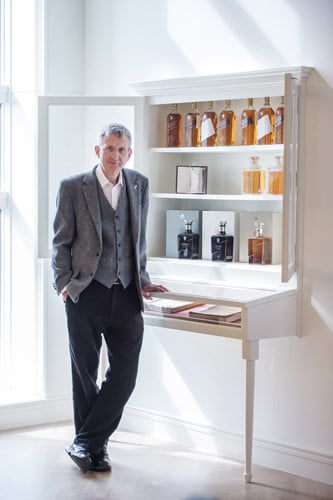 Jim and some of his creations
Interest in premium-plus blended Scotch whisky is having something of a resurgence. What do you think is driving the renewed interest?
Whisk(e)y is on fire right now – there's a real surge of interest and that's great to see. People want great tasting whisky that has passion and expertise behind it, whether it is premium or otherwise. They're keen to know the provenance of what they're consuming. Happily, our focus has always been on taste, the authenticity and the quality of our Scotch. We've always been immensely proud of the craft that goes into creating each one of our whiskies. It's wonderful to see people appreciating great whisky more than ever.
How will you communicate your blending work at the new Johnnie Walker visitor centre? It's incredibly exciting!
Like you, I'm incredibly excited about the new Johnnie Walker Experience. When it is complete, it will tell the story of the art of whisky making, from distilling to blending, bringing to life the unique people, heritage and places that goes into making great Scotch whisky. Johnnie Walker is made up of the finest Scotch whiskies from a wide range of distilleries. So, while it is a Johnnie Walker experience, it will also build knowledge and engagement with the world of Scotch whisky more broadly. Unfortunately, I can't tell you anymore just yet, but I can't wait for people to see it!