Is Springbank the world's most admired whisky? Who is The Balvenie's new malt master? Why is The Tucci making Martinis? The answers are revealed in this week's Nightcap…
Happy Halloween, everyone! Next time we Nightcappers see you the spooky season will have concluded so this is our last chance to wish you all the best or to give you a frighteningly late reminder that you really should have sorted your costume by now. We've tried to think of the scariest thing possible to go as this year, but we're struggling to make catastrophic rises in the price of whisky into a costume. Suggestions welcome.
Anyway, in blog land, there was no shortage of creativity as we reported on a 60-year-old Balvenie whisky, the 2022 Antique Collection from Buffalo Trace, a new slew of our own bottlings, and a new meaty blend of aged Islay whisky and bourbon. It really was an unreal week of whisky releases, which we celebrated, but not before we also launched a new musical competition with Horse With No Name and whipped up a bunch of cocktails including a sciencey Champagne Cocktail, some Grand Marnier classics, and a host of Halloween serves.
Now onto The Nightcap: 28 October edition!
Springbank voted World's Most Admired Whisky 2022
Drinks International has compiled an annual top 50 list to find out which is the world's most admired whisky, and this year's winner is Springbank. The Campbeltown-based distillery finished ahead of American whiskey brand Michter's which took the runner-up spot, while last year's champion Yamazaki had to settle for third. The Most Admired Irish whiskey went to Redbreast for consecutive years. The way the list works is an academy of independent whisky experts from across the world vote for their 10 most admired brands, considering quality and consistency, price-to-quality ratio, and the strength of branding and marketing. "Launching this project has been a great way to see which brands around the world are best regarded by our trade," said editor and founder Shay Waterworth. "The Drinks International Most Admired series is becoming one of the most influential within the industry and congratulations must go to Springbank for coming out on top – although to even feature in the list is a great achievement." 
The Macallan celebrates coffee with new Harmony Collection whisky
The Macallan has unveiled the new whisky that forms the second edition of The Harmony Collection, this time inspired by the Ethiopian Arabica coffee bean. The Macallan whisky maker Steven Bremner created intensely flavoured whiskies to pair with coffee, learning from the best after hosting a masterclass with world-renowned coffee experts at The Macallan Estate like Ethiopian coffee grower Kenean Asefa Dukamo, Scottish coffee roaster Lisa Lawson, and leading coffee historian Professor Jonathan Morris. Bremner selected a combination of American and European oak casks to achieve the distinctive notes offered by the single malts, creating Intense Arabica which is said to be reminiscent of a sweet yet strong espresso coffee, and Smooth Arabica, which was made to convey the flavours of a gently spiced and soft americano. The latter has been earmarked for global travel retail, while both feature hybrid packaging was made from repurposed and recycled materials including discarded coffee bean husks.
Whiskey facing 'serious' supply chain issues
There's troubling news from the Irish Whiskey Association (IWA) this week. The organisation's International Trade Report 2022 revealed that 92% of Irish whisky producers have said supply chain delays have negatively impacted their recent production output, and will likely impact future production output too. Increasing cost pressures have been piling up with malt prices, energy, general business costs and delays in international shipping posing serious supply chain concerns. Two-thirds of respondents strongly agreed that increased delays in the delivery of materials had resulted in delays to product launches, while Russia and Ukraine being cut off as a market has cut what was with cumulatively 7% of all Irish whiskey sales in 2021. "Irish whiskey is facing many serious international trade and supply chain challenges, and the fact is that not all brands will grow this year. It is notable that the reported supply chain difficulties are being experienced equally by both large and small producers, and it is likely that the serious impacts will be felt hardest by SME producers," says William Lavelle, director of the IWA. He does have good news though, with Irish whiskey exports expected to grow again in 2022 after a rebound year in 2021 which saw a record 14 million cases sold around the world as Irish whiskey sales increased 21% in 2021 when compared with the same period in 2020.
The Balvenie announces Kelsey McKechnie as malt master
We already noted this in our feature on The Balvenie Sixty Years but it's worth shouting this from the rooftops again: Kelsey McKechnie is now officially a malt master for The Balvenie. This is something we're particularly proud to say because we were at the unveiling of McKechnie as legendary malt master David C. Stewart MBE's apprentice just four years ago. She first joined as a technical graduate in 2014 after graduating from The University of West Scotland as well as Heriot-Watt University before becoming one of the youngest people globally to achieve the sought-after position next to Stewart at the age of 26. "My apprenticeship at The Balvenie taught me many things, but particularly about patience, collaboration, and perseverance. Continuing our craft is a privilege and I look forward to seeing The Balvenie through the generations to come as a malt master," McKechnie says. She added that, over the past few years, her relationship with Stewart evolved from a teacher to a mentor and "now a friendship," and says that she looks forward to building her own legacy within the whisky industry, "shaping and innovating, whilst honouring the tradition that The Balvenie is built on." We have no doubt she'll be a great success. Slange Var, Kelsey.
Super Lyan launches new menu inspired by Netherlands waters
Mr Lyan's Amsterdam-based bar, Super Lyan, has just launched a new menu, Below Sea Level. Inspired by the history of the Netherlands and motivated by concerns about the continuously rising sea levels, the new menu is split into four sections each referencing a different aspect of living below sea level: The Delta Works, Thinking Forward, Reclaiming Land from the Sea, and Dutch Waters. Cocktails include the Salt Farm French Martini, a tropical twist featuring Ketel One Vodka combined with pineapple, sweet onion, and tomato wine, which creates a boozy and spicy flavour explosion, or the Crandy-Shandy, a refreshing, floral and malt-based drink that mixes Tanqueray, Belvedere, and cranberry soda. It's sure to be as sublime as everything Lyan is so if you're based in Amsterdam or heading there soon do check it out.
Callooh Callay launches new menu
Our own Sam Shirley was only too happy check out another new menu at Callooh Callay this week called To Whom it May Concern. Here's her report from the field: if you're looking for an evening of poetry-inspired cocktails, hidden rooms and unique decor, look no further than Callooh Callay Chelsea. Behind a graffiti painting (created by an artist from Soho), you'll find yourself in a room with low seating, awesome artwork and yet another hidden room behind a ubiquitous red phone booth. With a well-rounded menu, there is something for everyone: gin, whisky, rum or something a bit more exotic with tequila and mezcal. The menu is a love letter to cocktails, influenced by poets like Edgar Allen Poe and Lewis Carroll, all priced at £14 (which is very reasonable for Chelsea!) On arrival, we were treated to an Ink Pot which is a fabulous mix of Berkshire Botanical Dry Gin, St Germain, Muyu Jasmine Verte Liqueur, Bruxo X, and jasmine tea cordial which adds a lovely fragrant note. Personally, we highly recommend the NORWICH. Maker's Mark, Jim Beam, and Jagermeister combine to make this code-named cocktail, but can you guess what NORWICH stands for? Also served are delicious small plates which include Korean fried chicken (this author's personal favourite), fish tacos and an aubergine hummus with a spicy kick!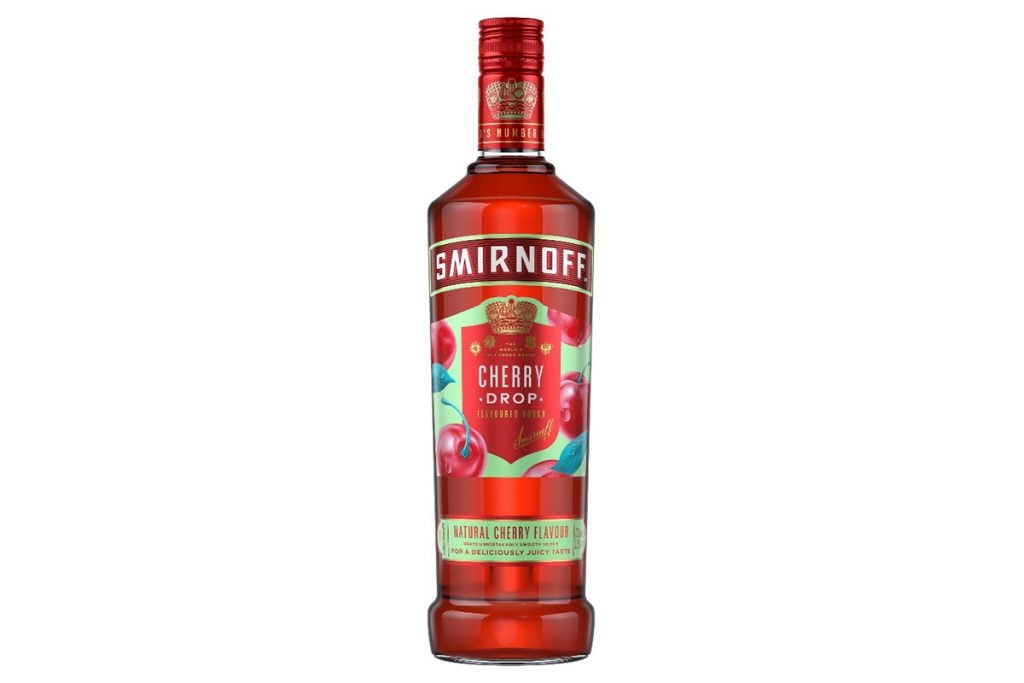 Smirnoff creates cherry-flavoured vodka
Smirnoff has added a new flavour to its growing flavoured vodka portfolio. From February the world's number one vodka brand will be selling Smirnoff Cherry Drop, following the success of Smirnoff Raspberry Crush, Smirnoff Mango & Passionfruit, and Smirnoff Berry Burst. Made with sweet, sun-ripe red cherries, the press release tells us the latest product launch tastes best in a tall glass over ice with lemonade or cola. The marketing bumf also notes the flavoured vodka segment is currently the fastest growing within spirits and that cherry is a top 10 flavour profile amongst consumers, so it seems like a surefire hit. "The launch of Smirnoff Cherry Drop has been hotly anticipated by all of us at Diageo and it is great to be able to bring it to market," says Mark Jarman, head of Smirnoff GB. "We know that cherry is a trending flavour and the popularity of vodka is only increasing, so this launch further establishes Smirnoff's position as a leader in the category and taps into key trends."
And finally… Stanley Tucci invites you to "make it a Martini night" 
We do love a bit of Stanley Tucci. Yes, we and the rest of the drinks world had a bit of fun at his expense when he made a pretty shoddy-looking Negroni, but his Searching for Italy show is great and given he's always at home mixing cocktails for social media, there's no denying his love for great booze. That's probably why Tanqueray snapped up him up to be a global brand partner and they're putting him to work in a new digital campaign. In it, he invites you "make it a Martini night" by using Tanqueray No. Ten (no arguments here, great Martini gin) with the following recipe: Pour 1.5 oz. (about 45ml, but just use 50ml. It's an American recipe) Tanqueray No. Ten into a shaker with ice and add .25 oz (just over 7ml, you can round-up to 10ml we reckon) of dry vermouth. Stir until perfectly mixed using a bar or teaspoon. Strain into a chilled Martini glass and garnish with a twist of grapefruit peel. "I'm a big fan of the Martini – there is something about a its simplicity and classic elegance while being modern at the same time," said movie star Tucci. "Made with No. Ten, a Martini rises in stature and that's why bartenders like to use it."