We received huge news this week from Speyside Scotch whisky creator The Balvenie: Kelsey McKechnie will become the brand's apprentice malt master!
The Balvenie had only just released a new celebratory, limited edition single malt Scotch whisky. Now the brand has named a malt master that will eventually succeed the legendary David C. Stewart MBE.
Introducing: apprentice malt master Kelsey McKechnie!
The Balvenie chose to mark the important milestone in the history of the Scotch whisky distillery with an event titled 'A Moment In Time'. It included a tasting of rare Balvenie liquids at Greenwich Planetarium. So, we did the decent thing and got an interview with Stewart and McKechnie – we need to know more about The Chosen One (I don't think that's pushing it!).
Introducing: apprentice malt master Kelsey McKechnie
The Balvenie appoints apprentice malt master
Making an absolute shambles of all of our respective professions and livelihoods, it turns out that there is genuinely a job where someone gets to shadow the longest-serving malt master in Scotch to eventually take charge of whisky-making at The Balvenie.
The Speyside brand announced that it has given the enviable task to Glasgow native McKechnie, who was born just 10 miles from Girvan Distillery*). Stewart previously mentored Brian Kinsman (master blender at William Grant & Sons) for eight years. He will continue to work while McKechnie learns and refines her trade, much like Stewart did when he tutored Kinsman.
McKechnie and The Balvenie Distillery
McKechnie has a degree in biology and biological sciences from the University of West of Scotland and will graduate this year with an MSc in Brewing and Distilling from Heriot-Watt University in Edinburgh. McKechnie began to work with William Grant & Sons in August 2014 while still studying, taking up the role of technical graduate and whisky technologist. In this period she collaborated with Kinsman on spirit development for the company's roster of brands including Glenfiddich, Monkey Shoulder, Tullamore DEW and Milagro Tequila.
The role of apprentice malt master is complex. McKechnie will help to ensure The Balvenie maintains its standard of excellence and consistency. She will also make sure the spirit maturing in the distillery in Dufftown, Scotland, stays on track. Furthermore, McKechnie will assist Stewart with developing whisky innovation, sampling and launching new expressions. It's basically the role of a lifetime. But it's one McKechnie started in secret months ago.
The mark of the malt master's apprentice has already been seen without many of us realising. McKechnie worked with Stewart in the creation of Balvenie Peat Week Aged 14 Year Old – 2003 Vintage, as well as new expressions The Balvenie DoubleWood Aged 25 Years and Balvenie Fifty: Marriage 0962. So if you know anybody who starts to pretend they notice a difference in any Balvenie expression straight away, you can call them out for being the lying liar that they are.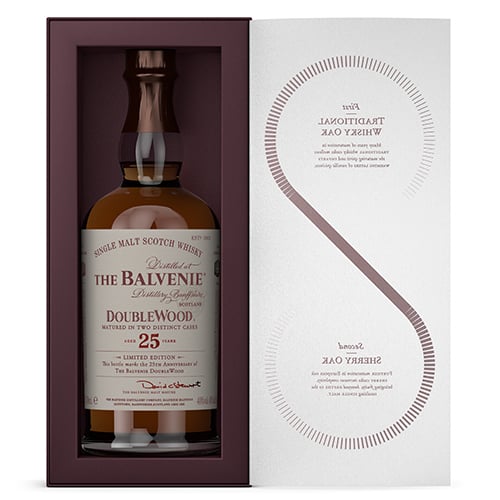 The Balvenie DoubleWood 25 Year Old
Legacy, innovation and a moment in time with The Balvenie
It's news that draws a direct parallel with the launch of The Balvenie DoubleWood 25-Year-Old, the 25th-anniversary celebration of 'double wood' cask finishing. It was pioneering work that was responsible for bringing an extra dimension of flavour, depth and complexity to whisky. It also led to The Balvenie releasing what was the Balvenie Classic in 1983 before it was rebranded as DoubleWood in 1993.
This process is one of Stewart's finest contributions over half a century of dedication to Scotch whisky with William Grant & Sons and The Balvenie. It's a great compliment to him that cask finishing has become commonplace. It's a fine legacy for someone who was just 17 when he was first hired by William Grant & Sons on 3 September 1962 as a whisky stocks clerk. His work eventually earned him a distinction from Queen Elizabeth II as a Member of the Order of the British Empire (MBE) in 2016**.
How will the brand innovate and grow in the future? How will McKechnie succeed the esteemed Stewart and his remarkable legacy? Yes, whisky fans are wondering, but there is something quite reassuring that while we welcome the release of a new 25-year-old expression created primarily by Stewart, The Balvenie announces a new 25-year-old malt master-apprentice in McKechnie.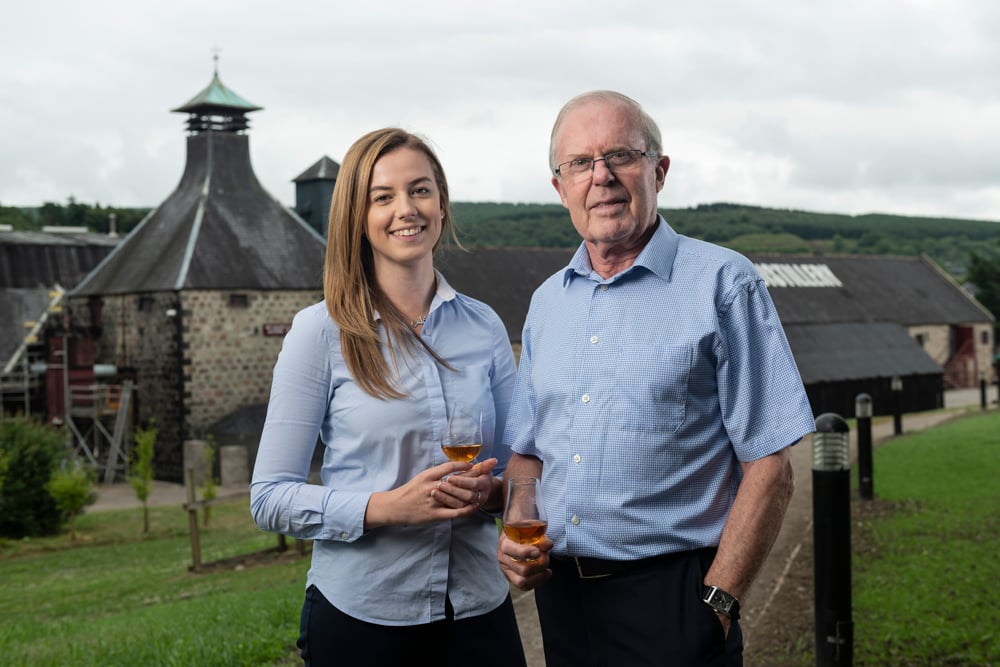 David C. Stewart MBE and Kelsey McKechnie
Why was McKechnie right for this role and The Balvenie?
David Stewart MBE: Well, she was an obvious choice pretty much from the start. Kelsey has worked in Girvan and up at Glenfiddich and she spent six months in whisky stocks working with Brian Kinsman [master blender at William Grant & Sons]. She then moved to Glenfiddich and got a whisky technologist job, almost two years ago now, where she worked in whisky stocks with Brian and me in the nosing room. So there's no one else who got that training in our company, especially when it comes to nosing. We know Kelsey's got a good nose and can describe whisky, so it was an obvious choice. I've had chats with Brian over the last few months about Kelsey as we were looking for someone to work with me because I can't be around forever! So we need to have plans in place for someone who can look after The Balvenie in the future and Kelsey was the obvious choice. Brian had no hesitation in recommending her as well.
What was your reaction when you got the job?
Kelsey McKechnie: Because I work with Brian and David so much, doing the blending across all of William Grant & Sons' portfolio, and we had the opportunity to work together on so many Balvenie variants already, it was quite natural, actually.
DS: Kelsey's known about this for quite a while now but we just had to try and keep it secret. We've got another eight or ten people in the team up in whisky stocks, so we had to keep it quiet from them so it didn't come out to the rest of the company.
KM: We used to meet in the canteen and pretend we didn't know each other!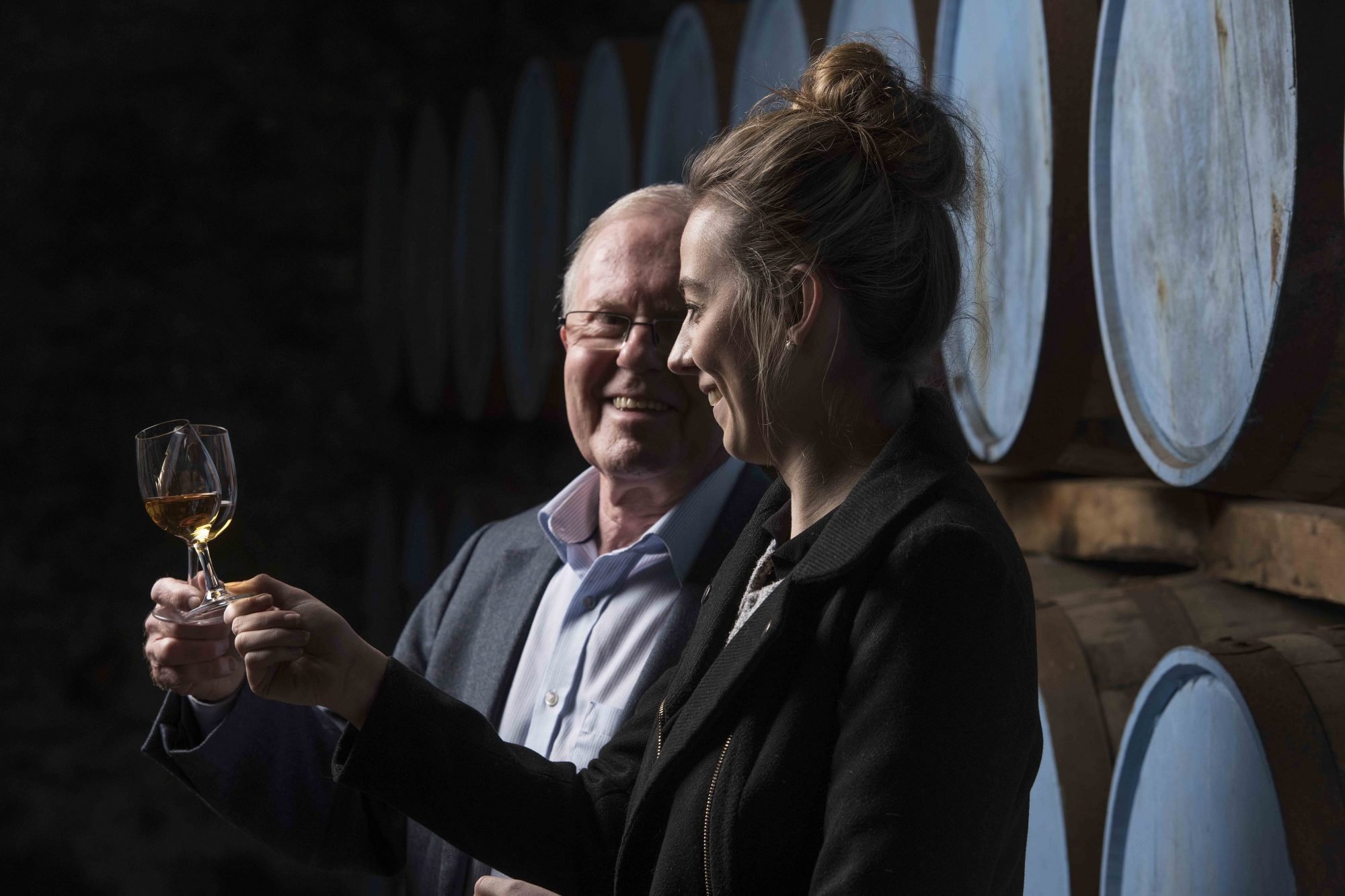 The student becomes the malt master
How long do you think the handover process will take?
DS: We'll take things year by year like I did with Brian. Gradually he would do more and more as I was stepping back from Glenfiddich and Grant's. That's probably what we'll do with Kelsey here – just gradually take it year by year. New innovations and new expressions will be completely done with Kelsey, with me just in the background. There's no definite plan that Kelsey is going to take over in 2020 or 2021 or something.
What will you bring to the role, Kelsey?
KM: At the moment there's a big focus on making sure Balvenie is absolutely perfect. That means learning about that sweet spot when it's absolutely perfect. How do we take it out of cask? How do we balance out those different flavours? There's a long learning experience ahead of us but I think for me the passion is innovation and creating new and exciting things. We want to keep people's taste buds tingling in more than one way and have people excited by the Balvenie and all these new variants that we come out with. David's apprenticeship was 12 years long, Brian's was eight so I'm hoping that I'm going to slice a few years off it as well – in the spirit of competition!
What do you think your style as a distiller and blender is like right now?
KM: Anything that I know has been developed from Brian and David, so there's been an information cascade if you like. It's gone from David to Brian as his apprentice and now I've become David's apprentice so we all work in a really similar way, if I'm honest. When I was brought in I was a blank canvas, so everything I know has been passed on from Brian and David. The way that I work is very similar in the sense that we take our time with the spirit, we're very patient and we allow it to have enough time to intermingle with the wood to develop all these ripe flavours. It's all about really understanding when is the right time to blend the spirit together and vat it.
Two malt masters and The Balvenie
What will a typical day look like for you in this role?
KM: A typical day is a lot of nosing! As soon as we get in we'll do a lot of our new-make nosing. Then we'll focus on mature spirits, so we'll do our vattings and all of our different blends that we've set up. We do that intermittently throughout the day so we'll set it up, we'll leave it, nose it and then we come back to it. In between setting up our blends so we're selecting the highest quality casks.
DS: Kelsey is still involved with Grant's and Glenfiddich as well as our other whiskies, from aged blends to all the different Glenfiddich variants on top of Balvenie. It means she'll get all that experience from nosing the new-make from all our distilleries, grain and malt, and creating all the Glenfiddich and Balvenie expressions and blending for Grant's as well. So there's a lot of experience there which can only benefit her role in looking after Balvenie.
There's such a huge variety of education there. What would you say were the main lessons you've taken from your time so far?
KM: One of the main lessons that David's passed on is to be patient with the whisky. Nothing happens overnight; we need to allow it enough time to take on these flavours. I'm learning how we balance all these flavours so that I know that DoubleWood, for example, is absolutely perfect when we get that little sherbet tingle in the nose. I've learnt how to better focus on these flavours and how to pull them out and fine-tune my nose.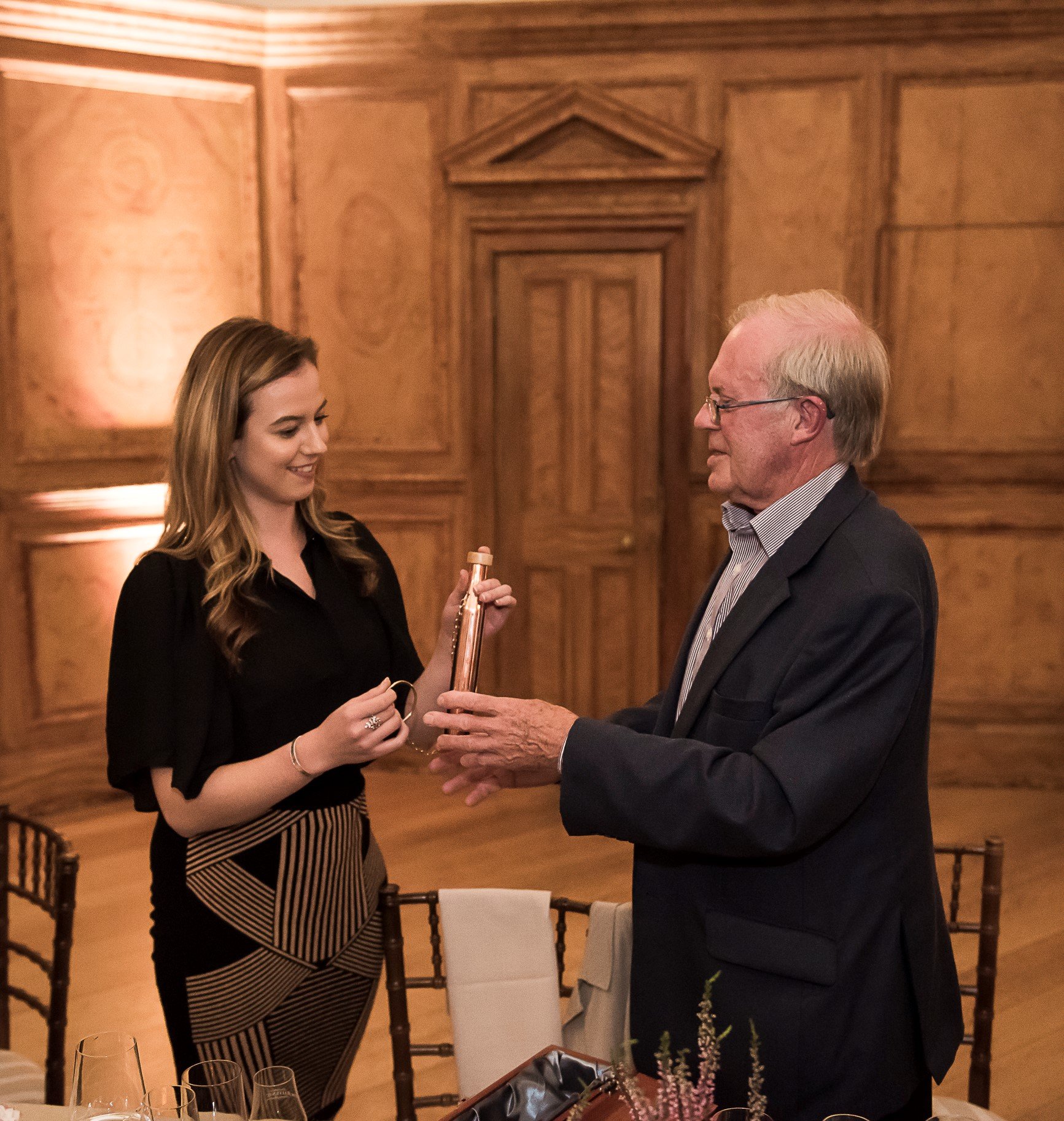 Stewart ceremoniously passes the torch (copper dog) to McKechnie
What were your first experiences of whisky?
KM: In my family no one's actually involved in the whisky industry, but they're whisky fans. My grandad loved a dram or two so when I think of being younger and running around the house and the smell being in the air, I get an almost knee-jerk reaction of 'this is a really happy, lovely time'. Although I'm a scientist by trade, I've always enjoyed the emotional response that whisky can bring. When I started in the lab I always loved the smell of whisky because for me it was the smell that just straight away evoked an emotion of happier times. It made me so keen to understand 'how do you actually make this?' I wanted a peek behind the curtain of how we do it.
What do you think Balvenie's unique distillery character is?
KM: Balvenie is that toffee, butterscotch, note. It's that mouth-coating syrupy sweetness. Off the back of that, you get a lot of spice coming through and honey tones. For me, it's a really rich dram, it's complex. To me, that embodies everything about the character of Balvenie whisky.
DS: The 12 year old single barrel is a good example of this. It shows all the adjectives and descriptors that Kelsey mentioned. Once you add sherry wood to it then it makes it a little more complex, like the triple cask, but even then still the major part of it is still the American oak but just with that extra little bit of spiciness.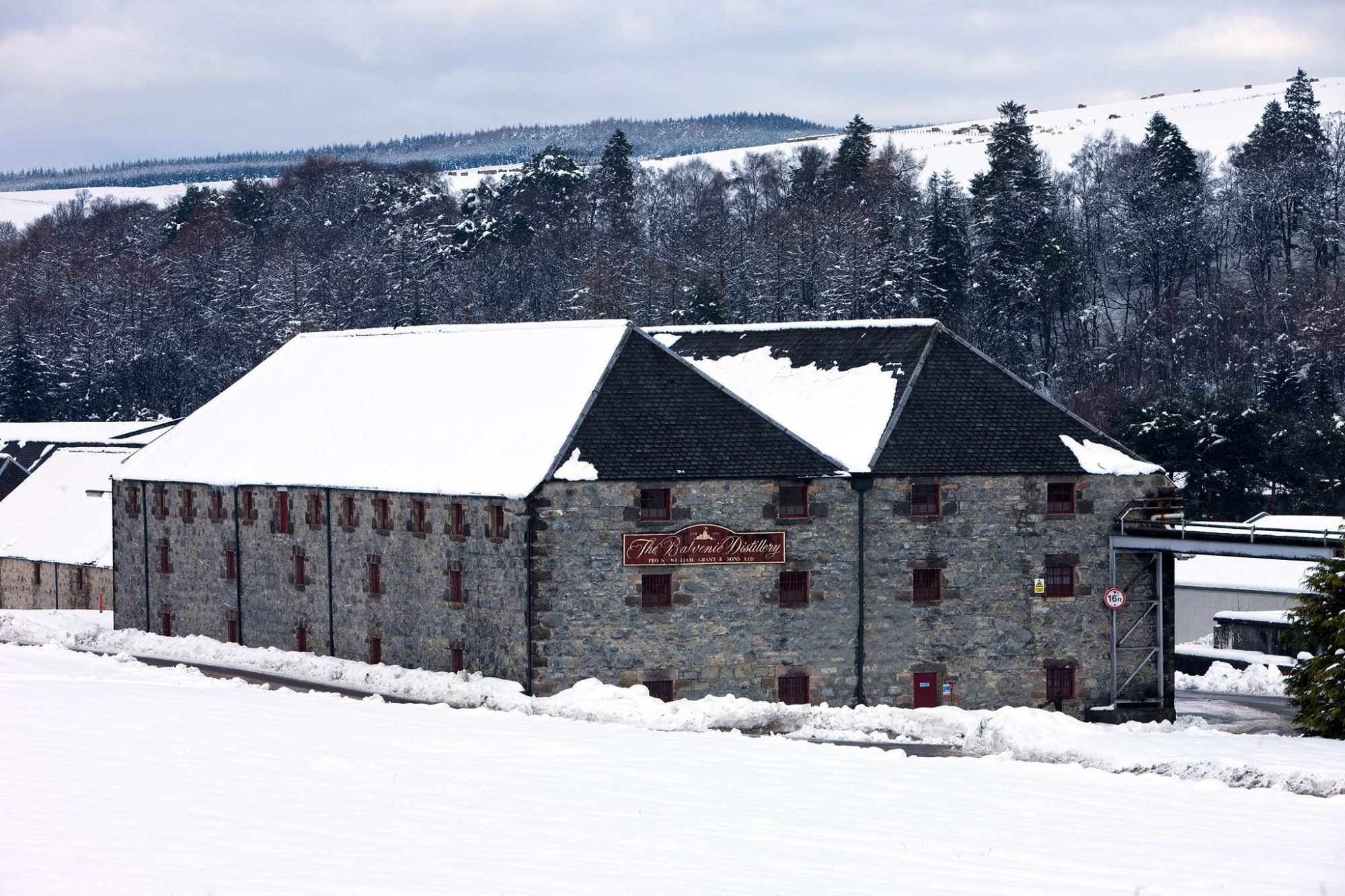 The Balvenie Distillery
What kind of innovation do you think we'll see with whisky in the next few years?
KM: If you think that when David started [56 years ago] there were just one or two Balvenie variants. Now we've grown to 20 and in the next few years, you can see it growing more. People have more of an appetite to learn how whisky is made and love knowing the ins and outs. As time goes on I could see people doing more innovations in terms of cask finishing. As well as that, how we make the spirit. A lot of people are focusing on different fermentation techniques.
DS: There are a few no age statement whiskies out there now, that's more innovative – even Glenfiddich has got some no age statements. This gives the master blender a bit more flexibility in mixing different ages of whisky together, rather than concentrating on a 12-year-old, for example. We have to work within the SWA rules as well. There are certain woods we wouldn't be allowed to use, fruitwoods and certain things that are added to the whisky, so that's not going to happen. We need to still keep the tradition of nothing to be added to Scotch whisky really.
What are you looking forward to most?
KM: It's definitely our innovation side of things. Who doesn't want to look at a product and know that they were there when it was just a concept and you're potentially one of the first people in the world to nose and taste it? Already I've been really lucky in being able to work on Balvenie 50, Peat Week, 25-year-old DoubleWood. Things like that and the excitement that comes with it, getting to see everyone's expressions and asking how it's made and being the person that knows it. For me, that's the best part.
DS: Kelsey will also get to travel the world as well over the next ten, 20, 30 years. We do end up in a lot of great situations just because of the job we do. We travel the world and meet a lot of interesting people that are so enthusiastic about our whisky. There's always something to look forward to. I've been very lucky – I have the best job in the company and Kelsey's getting one of the best jobs in the company as well.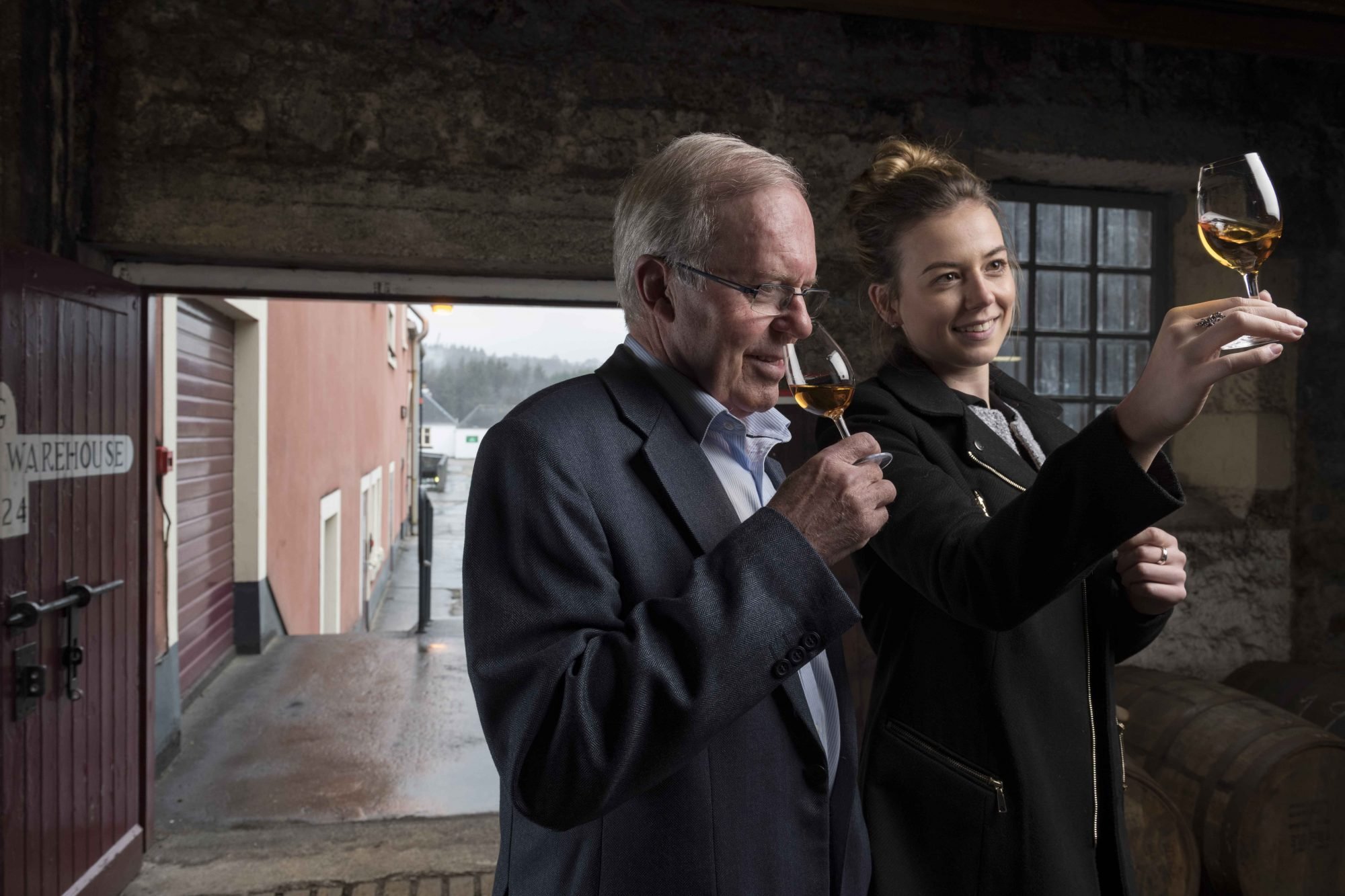 Well, who wouldn't enjoy this job?
What's your go-to Balvenie expression?
DS: I would pick the 21 year old PortWood. It's always been my favourite. It goes very nicely with cheese or dessert.
KM: If it wasn't the PortWood it would probably be the 15 year old Single Barrel, the sherry finish on it I think is lovely. It's Balvenie in the sense that it's really rich, it's all those typical flavours, but the sherry cask obviously gives it a lot of extra spice, it's quite toasty. I think it's a toss-up between the two!
*Note to self: ensure any potential children are born near distilleries.
**Stewart talks more about his life and career in this feature.