Pride is back in a big way this year. So for those venturing into London to party on 2 July, Sam Shirley has picked five Soho bars to celebrate Pride including such legendary venues as Freedom bar, Comptons, and others. Have fun!
June is Pride Month, and what's more, the capital celebrates 50 years of Pride in London on Saturday 2 July. The very first Gay Pride London march took place on 1 July 1972 in response to the Stonewall Riots, where police raided a gay inn in New York in 1969. After a two-year-long hiatus, we can't wait for the festivities to return. So much so that we're not going to wait, because this is the perfect time to show support to London's LGBTQ+ community and enjoy delicious drinks in some of the capital's finest queer havens. 
My name is Sam Shirley and this is my debut on the Master of Malt blog. I work as an operations administrator here at Master of Malt. I am also a proud bisexual woman, and this June marks 10 years since coming out. For me, gay bars are a haven where I won't be judged for being who I am or loving who I love. Plus amazing dance moves, loads of glitter, disco balls, and colourful cocktails, which are some of my favourite things.
So I wanted to take this opportunity to showcase some of the most legendary LGBTQ+ bars that Soho has to offer and of course, to celebrate Pride. Why Soho? Because, as Freedom Bar manager Louis Smith says, it's "gay central. It's the heart of London". Comptons of Soho general manager Matthew Evans concurs: "The gay scene has transformed and continues to evolve constantly. The important thing is Soho remains a place where LGBTQ+ people can come and feel connected. I hope that never changes". 
A glitzy cocktail lounge and nightclub, Freedom Bar was founded over 30 years by – according to manager Smith – Marc Almond's boyfriend (you know, Tainted Love). Now the destination of choice for many West End performers, it has light, fun, and welcoming atmosphere and is armed with popular cocktail menu filled with classics like the Pornstar Martini (its signature) or the Strawberry Daiquiri (Louis makes a mean one), supplemented by original serves crafted by its own cocktail specialist. The downstairs bar also plays host to cabaret and themed drag nights which include Kinky Cabaret, Soul Night, High on Heels, while the staff makes a point of treating you like family. Love is the vibe here. 
Originally built as the Swiss Hotel back in 1890, this now iconic gay pub on Old Compton Street has been a crucial part of London's gay scene since June 1986. A Victorian-style venue set over two floors, Comptons of Soho is all about atmosphere. It's rare to not see a fine crowd of people with pints in their hands soaking up the cracking music and enjoying the company of a staff that makes you feel comfortable and appreciated. From being a welcoming beacon through the difficulties of the late '80s and '90s, it remains today as one of the beating hearts of gay Soho. 
One of London's longest-running and most glamourous gay venues, Rupert Street is popular enough with the after-work crowd but really comes into its own after Friday. It's a legendary local weekend spot thanks to its creative array of cocktails, striking interior design, and a constant stream of some of the capital's best queer DJs and performers. If you're looking for a vibrant club with a diversity of people and friendly staff, then Rupert Street is the place for you.
If dancing to '80s and '90s bangers while nobody is watching in a kitschy, hidden, and intimate gay bar is your idea of a good time, then the Friendly Society should be your next night out. The bland back-alley you walk down just off Wardour Street to get there only makes the vibe of one of Soho's most idiosyncratic drinking dens strike you more when you get there. Enter a room full of eclectic lights where black & white movies are projected onto a back wall and Barbie dolls hang from the ceiling and tell me your cameras aren't at the ready for the 'gram. This could be Soho's best-kept secret.
The Village has been lighting up Old Compton Street since opening in 1991. One of Soho's original gay venues, its seemingly endless floors, and bars mean there's something for everyone, all contained under one fabulous roof. From cheesy pop to deep house & tech in the basement club, this bar defined what gay Soho weekends mean as much as anyone. Although if you want a cheeky bargain drink during the week don't overlook the Village!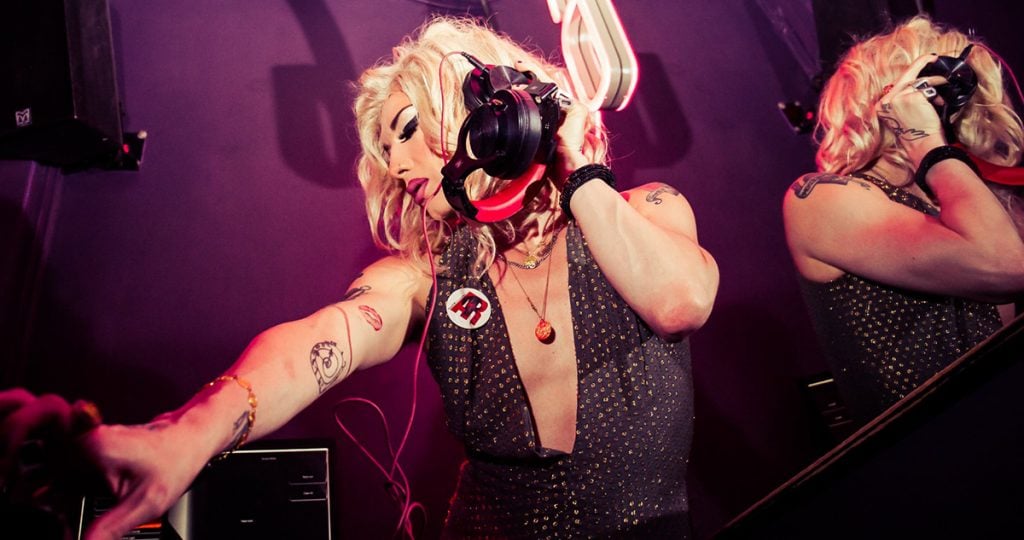 Happy Pride month!
That's a wrap! Don't forget the Pride itself takes place on Saturday 2 July, which I will be attending, so if you see me, come say hi! All info can be found here. We'll leave you with the wise words of Compton's Evans. "Pride has grown and become an enormous festival for the whole of London. It started as a protest and as a way to demand social and political change, some of that has fallen away a bit but as a beacon in the world, Pride events are just as important as they ever have been".