The Nightcap is back once again to circulate the latest in booze news. This week we look at the Whisky Illuminati, how the Budget affects the drinks industry, and an actual whisky vending machine!
We have arrived in November, though we're still cleaning up surplus jack-o'-lanterns and discarded fake vampire teeth (at least we hope they're fake). As you prepare for a weekend of stockpiling woolly gloves and bobble hats for the coming frost, fill your head with the news of the booze with another edition of The Nightcap!
Firstly, let's have a recap of the goings-on here on the MoM Blog. Our Annie took a gander at Martell, one of France's oldest Cognac houses, then asked some top bartenders to do their best Mystic Meg impression and predict some future cocktail trends. Henry showed us where to get spooky for Halloween with a selection of terrifying cocktails, while Adam looked ahead to Bonfire Night with a bundle of wonderfully warming tipples. Kristy headed west to check out the awesome Aber Falls distillery in North Wales. Also, #WhiskySanta got in again and this time he's got £250,000-worth of whiskies, gins, rums and more to give away!
And so, news!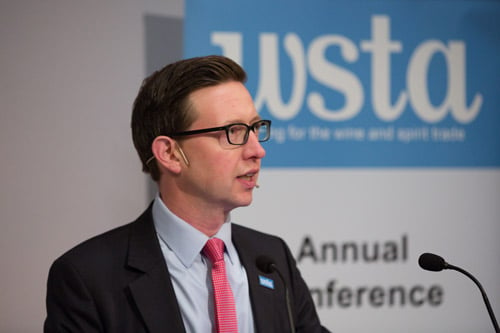 Miles Beale!
The Budget: Good news for spirits, bad news for wine
The Chancellor gives with one hand and he takes away with the other. There was encouraging news on Monday for home-grown drink producers as the duty on spirits, beer and cider was frozen. Miles Beale from the WSTA said: "The freeze in duty on spirits announced today will be hugely welcomed by the hundreds of producers across the UK, and over 280,000 people employed across the spirits sector." But as expected Philip Hammond raised the duty on a bottle of wine in line with inflation. Beale described the 7p rise in duty as "a hammer blow to this great British industry". Over 190,000 people are employed in importing, transporting, and selling wine from abroad, as well as working in Britain's burgeoning vineyards. Adam Lechmere from the IWSC thought that the budget was something of a missed opportunity. "It's a shame that the Chancellor has failed to recognise how embedded wine is in Britain's drinking portfolios up and down the country," he commented. With the drop in the value of the pound and further Brexit uncertainties on the horizon, it's an industry that can ill afford more bad news.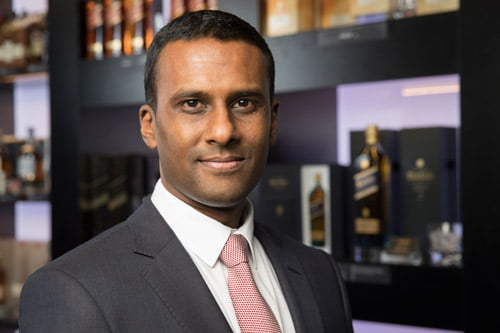 Dayalan Nayager!
All change at Diageo GB as Charles Ireland steps down
After 21 years with the company, Charles Ireland will be stepping down as head of Diageo GB, a position he has held since 2016. His replacement is Dayalan Nayager who currently heads up Diageo's travel retail side, and will become MD for Great Britain, France and Ireland from January 2019. John Kennedy, president of Diageo Europe, Turkey and India, said: "I would like to thank Charles for the substantial contribution that he leaves behind, not just in GB but in many countries around the world." He went on to say, "I would like congratulate Dayalan on his appointment and welcome him to the European Executive Committee in his new role." Never a dull moment at Diageo.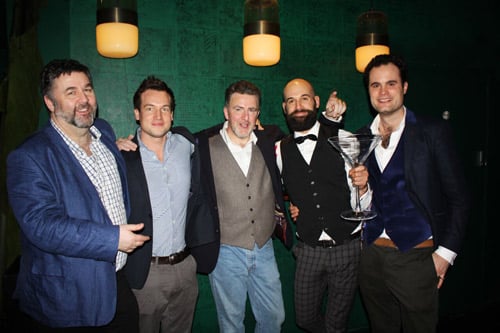 It's like Alan Partridge's big plate, but a Martini glass…
Take a Martini Tour of London
You've heard of a pub crawl but what about a martini crawl? This year as part of the World's Best Martini Challenge, different gins brands, including Fords Gin, Portobello, Tarquin's Cornish Gin, Silent Pool and Marylebone Gin, will be collaborating with some of the capital's best bars. And you can get involved in judging the Challenge by taking a Martini Tour and then posting your favourite on social media using #MartiniTour and @WBMChallenge. Participating bars include Callooh Callay, Every Cloud, Reverend JW Simpson, The Cocktail Trading Company, Quaglino's, and Fontaine's. The top five will meet in a grand final on 15th January at 100 Wardour Street. Don't worry, you don't have to, nor should you attempt to, try all the martinis in one night. That would be lunacy. The Martini Tour runs from the 6th to the 20th November so you have plenty of time to sip and judge at your leisure.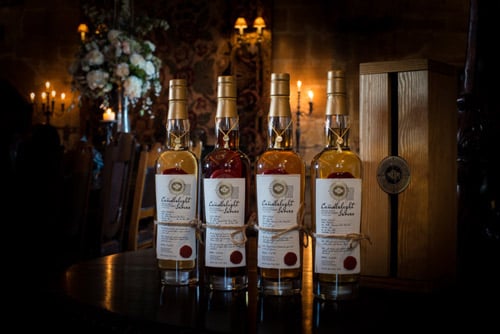 These four whiskies control the world… or something…
Whisky goes all Da Vinci Code with the launch of mysterious new club
Scotch meets Dan Brown with the arrival of a new rare bottlings company called Whisky Illuminati. Their website is full of pictures of dark gothic cellars and arcane symbols. There is even a section barred to the uninitiated with the legend: "Only the chosen few, united by their unlimited passion, can enter our world of sought-after malts." Oooh mysterious! The Illuminati's first range is called the Candlelight Series and it consists of four single cask Speyside whiskies: a 1988 Spanish oak sherry butt from Mortlach, a 1997 American oak hogshead Clynelish, a 1988 American oak hogshead Linkwood, and a 1997 American oak barrel from Glentauchers. Each for around £260 a bottle. One would hope that the people behind such an esoteric operation would be called Balthazar Castiglione or Jose Maria de Toledo y Muntaner but actually they're call Keith and Steve, Keith Bonnington from Colonsay Beverages and his business partner Stephen Gorman. And they choose the whiskies for inclusion using not a cadre of rogue Jesuits but with help from "the most discerning and respected noses and palates in the whisky industry." A bit disappointing. Still the whiskies sound great.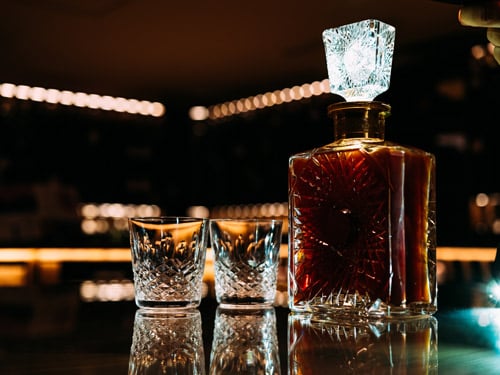 A appropriately fancy decanter for a fancy whisky
Super-exclusive G9 Whisky Society kicks off with 53yo Glenfiddich
It seems mysterious whisky clubs are like buses – wait a while and two come along at once. This time it's the G9 Whisky Society, and the folks behind the billionaire-friendly venture are high-flying execs Bernard Yeung and Fergus Fung, and general whisky buff Harry James Downer. They are the dream team, it would seem – they've only gone and got their mitts on an actual 1964 Glenfiddich cask, with the first expression a 53 year old bottling! Not a bad way to kick off proceedings. As you may have gathered, G9 Whisky Society is an ultra-exclusive club. Forget standard bottles: here you've got fancy pants Cristal Benito flacons in 1.5-litre and 750ml options. And they won't just sit your dusty old shelves, either. The trio have recruited uber-luxe French cabinet maker Rinck for the ultimate in dram storage. And, if that's not enough, each flacon will be hand-delivered by a liveried Bentley driver (ooo!) wherever you reside in the world. All this flash, what about the cash? Well… the magnums carry a hefty £88,000 price tag. Oof. But what we do like is that while the whiskies might be at the vertigo-inducing end, the whole premise of the G9 Whisky Society is that the whisky is actually enjoyed. Yep, that's right. The philosophy of this super high-end club is for these whiskies to actually be drunk rather than hoarded. The flacons will even be whisked back to Scotland to be refilled with the Society's next expression. "We want members to open the cabinet and enjoy the whiskies," a spokesperson said. It's the whisky club of dreams… See g9whiskysociety.com for more.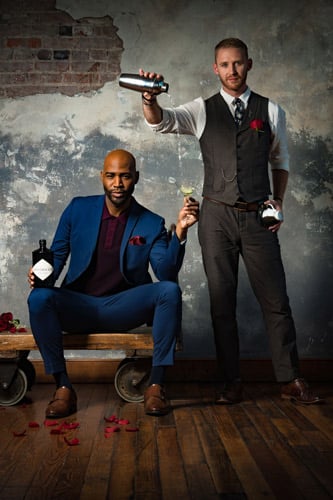 Karamo Brown and Mattias Horseman!
Hendrick's Gin teams up with Queer Eye's Karamo Brown
Hendrick's Gin has announced a new partnership with culture expert Karamo Brown from hit show Queer Eye. If you haven't seen it (we highly recommend that you do), Brown is tasked with helping the "culturally challenged" to confront and grow beyond the internal issues holding them back. The American presenter, psychotherapist, and activist, who is also the first openly gay African-American cast member in the history of reality TV, is well-regarded for his unique, expressive style which Hendrick's saw as a natural fit for its brand. The partnership is the first of its kind for Hendrick's Gin; it has released an array of digital content which features Hendrick's gin ambassador, Mattias Horseman, and Brown. Over a variety of Hendrick's Gin-based drinks, the two talk cocktails, personal style and bond over the first time they had Hendrick's (where they stumble upon an amusing conclusion). If you're interested in seeing the photo and video content, it will appear on Hendrick's Gin and Brown's social channels. Now go and watch Queer Eye!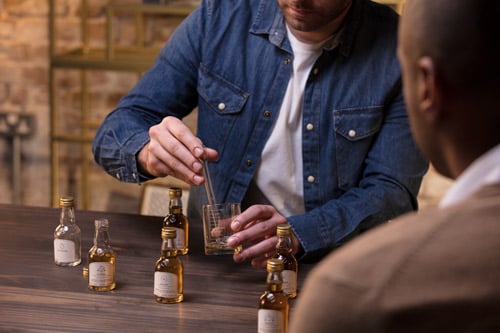 Think you could be a whisky blender?
Fancy yourself as a blender? Chivas has just the thing
Ever sipped on a blended whisky and thought, I could do this better? Us neither. The pro noses of the industry have got this blending malarky honed to a far greater degree than we ever could. But that said, we have often pondered what our prowess might be like given the chance. Step in Chivas and its glorious new Blending Kit (RRP £25). The handsome box contains four different single malts, one single grain, a pipette, beaker, an empty glass for your creation, and a 5cl miniature of Chivas Regal 12, surely for inspiration. "At Chivas we believe that blended is better – in life and in Scotch," said Sandy Hyslop, director of blending at Chivas. "Every day I get to indulge in my greatest passion, experimenting with the world's finest malt and grain whiskies to create something extraordinary when blended together – and this passion is something I want to share with other whisky fans." If you want to try your hand (or are looking for a Chrimbo pressie for someone who does) the kits will land a MoM Towers in the next couple of weeks!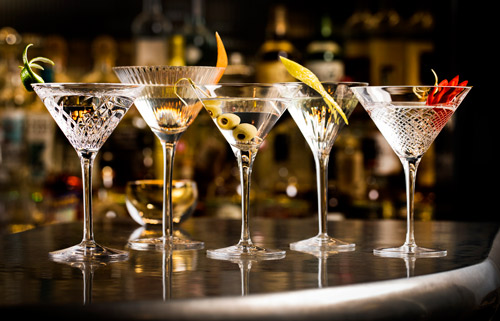 A selection of Martinis from Anthracite
King's Cross' first Martini lounge, Anthracite, set to open!
Mark the date in your diary: on the 14th November the Great Northern Hotel by King's Cross station will officially open the area's first Martini lounge, Anthracite. Located on the hotel's first floor, the three-roomed lounge is named, in a nod to the hotel's railway heritage, after the high-density coal used for fuelling steam trains. Guests will be able to choose from an extensive selection of vodkas, gins and vermouths as well as favourite cocktails such as the Espresso and Breakfast Martini, all of which will be expertly mixed by head bartender Balazs Nagy and team. There will also be a number of bespoke Anthracite serves, including the Coastal Martini made from Samphire infused gin, cured lemon-infused Mancino extra dry, black pepper tincture, pumpkin, chilli oil and a garnish of seaweed crisp. One cannot live on Martinis alone, so there are delicious snacks available such as caviar selections, a range of charcuterie and cheese boards and luxury products such as Jamon Iberico Bellota. Owner-operator, Jeremy Robson said of the opening, "Standing at the gateway to the newly-regenerated King's Cross, I wanted to bring something to the area that builds upon the Great Northern Hotel's timeless elegance, whilst offering a darker edge of glamour and subversion. A sophisticated and alluring drinking destination, Anthracite will serve visitors and Londoners alike." We'll drink (a very dry gin Martini with a twist) to that.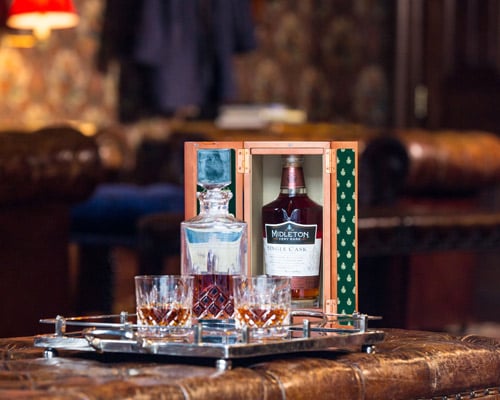 Yum…
Midleton teams up with Ashford Castle for latest Very Rare
Ashford Castle, probably Ireland's swankiest hotel, has announced the release of a rather marvellous whiskey produced in collaboration with (the aptly-named) Midleton Very Rare Whiskey. The results of the partnership, five years in the making, was created by Master Distiller Brian Nation and the owner of Ashford Castle, noted whiskey connoisseur Stanley Tollman. Behold! We have here a single pot still whiskey aged in a first-use virgin American oak cask. Using virgin oak rather than an ex-bourbon barrel means that there's whole host of wood influence in the whiskey. All this luxury doesn't come cheap, though, and the expression weighs in at €2200 a bottle. But that does include a Waterford (naturally) crystal decanter with matching tumblers, so you won't have to drink it out of the bottle.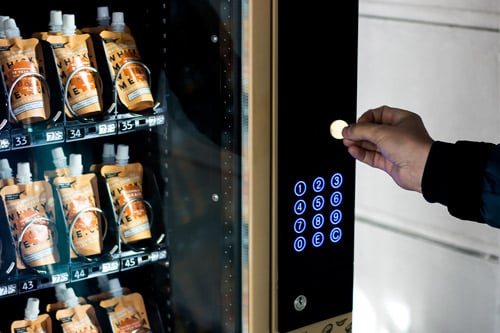 Sort of a bit like that pizza vending machine, but whisky
London now has a whisky vending machine!
And finally… Who doesn't love the idea of receiving a tasty tipple at the touch of a button? That's exactly what you'll get from a new Scotch-whisky-dispensing vending machine! The project is the brainchild of Whisky-Me founders Thomas Aske and Tristan Stephenson, who are also co-owners of consultancy Fluid Movement and the brains behind groundbreaking Shoreditch whisky bar Black Rock. The duo came up with the idea as a way to celebrate the first birthday of Whisky-Me, a subscription service which delivers a 50ml pouch of single malt to your home every month. 'But which whiskies is the vending machine stocked with?!' we hear you cry. Well, thirsty customers will have a choice from a range of tasty Scotch expressions from distilleries such asMacallan, Royal Lochnagar and Aberfeldy, as well as a special 'birthday whisky'. The whisky vending machine will be installed in front of the Napoleon Hotel, near Liverpool Street Station, from 1 November until the end of December this year. Whisky lovers can purchase £7.95 tokens for the machine from 5pm at the hotel's upstairs bar Devil's Darling and use them in the machine any time between 10am and 2am.