As we collectively hurtle towards 2019, our minds can't help but wonder what the coming year has in store. We need not wonder. Diageo, one of the world's largest distillers, has enlisted Jack Sotti, UK Senior Ambassador for World Class and Tanqueray Gin, and competitor Daniel Warren, to report the trends from the cocktail competition's global finals. Here's what they had to say…
You might've heard of World Class, one of the world's biggest cocktail competitions. As Sotti explains during a talk at London's Black Rock bar, the final offers a snapshot of the biggest trends in the global drinking scene. "The UK, one of the biggest cocktail hubs in the world, often leads those trends," he adds.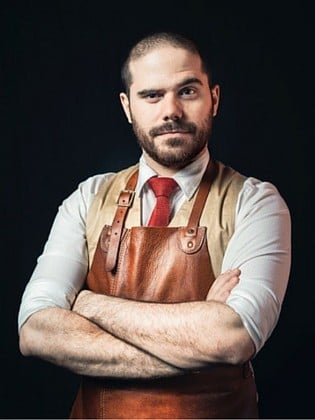 Jack Sotti!
He's joined by bartender Daniel Warren, who came second at the Berlin-based event (he lost out on first place by one point!). Over the last 10 years, Warren has tended a whole host of bars, from The Savoy's American Bar in London to Jason Atherton's Social Company in Dubai. The man knows his way around both a cocktail and a globe.
After tasting Warren's creations, it's clear he is a bona fide whizz behind the sticks. I mean, the man knows how to make drinks coasters out of actual milk. Milk! He passed some around for us guests to feel (and sniff, if we felt so inclined. I did). If turning dehydrated whey into furniture doesn't impress you, nothing will.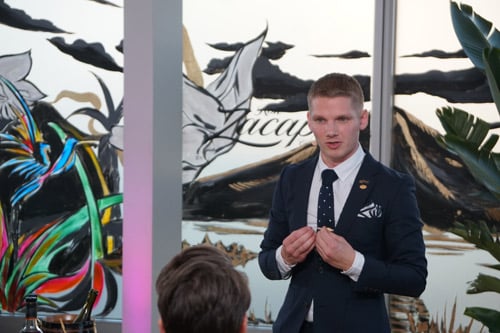 Daniel Warren!
But I digress. You're here for the trends, and I'm here to dish them out. Here's what Warren and Sotti had to say – along with a few tidbits gleaned from my tactical (read: nosy) post-presentation questions. Chocks away…
No-low
While the burgeoning no-low alcohol trend might not be entirely new, it's starting to pick up some serious traction. Perhaps you don't fancy sipping a Martini on a Wednesday, and that's okay (though if you do, that is also okay. No judgement here). In any case, we're all drinking "less but better", opting for sessionable serves to sip all night long.
Warren says his World Class interpretation, a "simple twist on the classic English gin and juice", started life as gin and Fanta. The cocktail, named The Monarch (after a butterfly), is made from Tanqueray 10, Belsazar Summer Riesling Vermouth, and sparkling orange juice.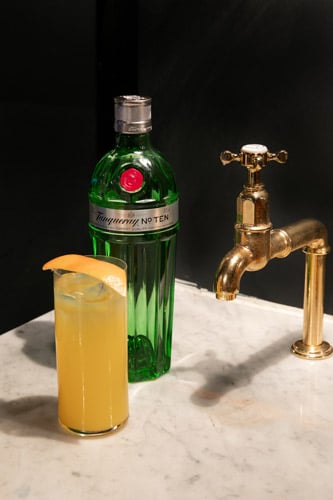 The Monarch
"One problem that bartenders face a lot is to create a really complex tasty drink from ingredients that everyone has access too, because bartenders rely on shocking people," he explains. "This drink was designed to be made at home. People are much more educated about what they're drinking these days, and they're focusing on quality rather than quantity when it comes to cocktails."
Sustainability
It's the reason your G&T (quite rightfully) comes with a paper straw these days. But sustainability is more than just ditching plastic and wasting fewer fresh ingredients. It's about ingredient sourcing, Sotti says – is the bar buying local, or flying in oranges from Spain? – as well as conserving energy, and using less water.
"Are they utilising ice in a cocktail, or pre-diluting it and mixing it up in a milkshake frother?," he asks. "That's really important. If you think about the journey of a cocktail, it gets shaken over ice, the excess gets discarded, then its poured over fresh ice, and when you finish the drink, that gets discarded. If you can pre-dilute with the perfect amount of liquid and serve [the drink] cold from the freezer, you're instantly saving energy and resources."
Warren's cocktail, a twist on an Espresso Martini, explores the concept in a slightly different way: with a community focus. The Groundskeeper is made from distilled milk and cold-brewed coffee grounds; ingredients that would otherwise go to waste – at a cost to the cafe.
"We have a really high percentage of independent roasters up in Nottingham that supply to the rest of the UK," he explains. "Waste milk counts up to millions of litres per year. I wanted to create a drinks programme that would give one of those cafes a different revenue stream."
Foraging
There was a time when using wild ingredients from two miles down the road would be considered trashy, cheap, and perhaps even a little unscrupulous. These days, it's called a foraged cocktail. But before you draft a letter to your local MP, appreciate the creativity that goes into making what is, essentially, a terroir-driven drink.
Warren's creation, Urban Fox, contains earthy flavours and ingredients from his Nottingham home: acorns, fig leaves, branches and soil. (Yes, he distilled soil). It's absolutely delicious. Imagine being served an Old Fashioned by Treebeard, that's what Urban Fox tastes like.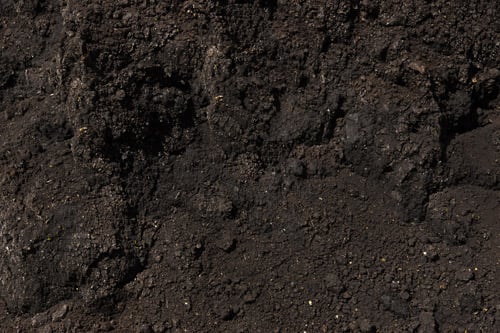 Yeah, you can probably distil that and whack it in a cocktail…
"If you want to include an earthy flavour into drinks, you have maybe potato or beetroot or mushroom available. But you can [distil] the source, where all these ingredients get their earthy flavour from – the soil. You get something that looks like a glass of water with this intense aroma of petrichor."
Petrichor is basically the smell of rain on dry soil. Warren has made a drink that smells like rain.
Looking ahead…
Though I was content with the array of impressive drinks set out before me – who wouldn't be? – the journalist within yearned for more. I wanted niche trends, ones that I could repurpose as my own predictions and drop into conversation with my nerdy bartending friends. So I asked about emerging trends for 2019.
The first is 'going back to basics'. In what has rapidly become the age of the rotary evaporator, Sotti reckons it's time to step back and master the essentials; particularly those who are new to the craft. It's a cliche all right, but you've got to learn the rules before you can break them.
"People are running before they can walk," he explains. "They're using incredibly complex ingredients but simply not balancing the cocktail. Making a banging Daiquiri, or a Gin and Tonic with the perfect amount of ice, these simple things are getting lost."
Simple long drinks made with "high quality ingredients that aren't alcohol" (i.e. incredible botanical mixers, tinctures, cordials and tonics) are also about to dominate menus, Warren adds. The Scotch and Soda is coming back in a big way, people, but with a contemporary twist.
Soda at the ready
The trend that excites me the most, however, is 'fun'. A new wave of Tiki, the return of seventies and eighties-style cocktails, and, as fellow guest Simon Difford of Difford's Guide put it, "people remembering they go in a bar to have a good time rather than sit there talking about what bitters someone's used". Hear hear.
"That's an agenda we're pushing forward through Talisker," added Sotti. "It's a smoky Scotch that everyone takes seriously, but we're calling it 'tartan tiki'. It's got so much complexity that we thought it could be used in fun, flamboyant drinks."