We took a trip to Aber Falls to discover North Wales' first whisky distillery in over 100 years – and found incredible landscapes, a deep-rooted passion for the region, and an abundance of delicious gins along the way, too!
"Look at Japan, what they've done. Welsh whisky could really come forward with a bit of a similar model to those guys," James Wright, Aber Falls managing director, is not lacking in ambition. It's a bold claim, especially when you consider the international following that Japanese whisky has. Such is the demand that age statements are now a rare and very expensive thing. Could Welsh whisky ever really reach such heights?

Wright is confident that it can. And while the Aber Falls Distillery, located just south of Abergwyngregyn between the A55 and the Menai Strait, has only been producing new-make spirit since January, it's already making waves. Its flavoured gins and liqueurs have won both awards and column inches. The distillery team even made headlines earlier this month when the team trekked up nearby Mt Snowdon, gathering botanicals en route, to distil a gin 1,085 metres above sea level. The resulting Summit Gin: Mountaineers Cut is the first (and currently only) gin made at the mountain's summit, and it will be auctioned off shortly to raise funds for the Welsh Air Ambulance.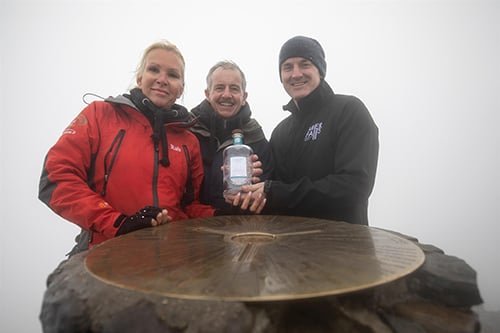 Up Snowdon – they deserve a G&T after that
Aber Falls is already comfortable in the spotlight. And now it seems Wright is hoping to fix Wales, with its four distilleries (Penderyn, Dà Mhile and Dyfi, alongside Aber Falls), firmly on the world whisky map.
Setting up shop
Considering Aber Falls Distillery sits in a rural area a good 300 miles away from MoM HQ, it's surprisingly easy to reach; just two-and-a-half hours from London by train and a painless journey from both Manchester and Chester. But arrive at the distillery and it is a world apart from the hustle and bustle of the big cities. On the drive from nearby Conwy there's dramatic rock faces and towering mountains to the left with stunning views out over the beaches and the sea to the right. We're right on the border of the Snowdonia National Park and the air is clear. The distillery is directly downstream of the 120ft Aber Falls waterfall that gives it its name. Here we meet Wright, Aber Falls' managing director. He's worked at parent company Halewood International for over 10 years, and having met him in previous roles within the drinks group, it's immediately clear he's at home out here in deepest, darkest Wales.
"Wales has got a landscape that's second to none," he says as we catch up over a cup of tea upstairs in the office, perched above the distillery itself. The building is a converted slate works, and on the way in we passed a temporary structure housing the interim visitor centre and shop.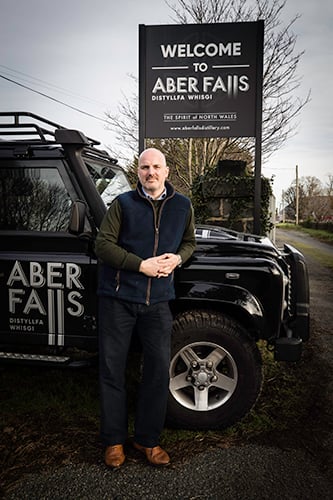 It's James Wright!
"In North Wales especially we've got diversity from great beaches, to wildlife, to mountains, to outdoor activities – it's probably next best to New Zealand," he continues. This passion for the local area has informed a vital part of his vision for the distillery. While producing whisky, gins and liqueurs is clearly paramount, so too is bolstering the surrounding area. After all, the distillery takes its very name from the local waterfall which attracts more than 50,000 people every year.
"I think one thing that's very important, especially for a business like ourselves that's looking to actually take on provenance of the area, is collaborating and working with lots of little businesses and also with the government," he explains, adding that a core objective is "dialling up Brand Wales". This encompasses everything from regional PR and tourism to working with the local farmers' union to look into crop sustainability. "Not only does that benefit us but it also benefits the hundred breweries in Wales and also the other three distilleries."
Exploring Aber Falls Distillery
But what about Aber Falls Distillery itself? How did it come about, and what kit is squirrelled away in that recently refurbed building? We take a tour to have a nose about, and Wright, who has a background in landscape architecture, is only too happy to show it off.
"The water comes literally from the river and we use that for everything from boiler right through to going into our actual product," he explains, as we start proceedings round to the rear of the building. "From the whisky side, all our water in our mash tun right through the process is from the Falls and the same with our gin distillation."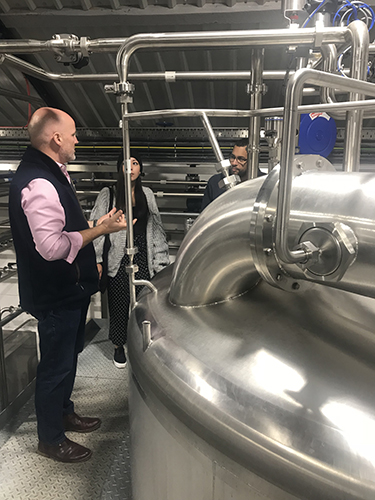 James showing Team MoM round Aber Falls
And Brand Wales comes through especially strongly with raw material sourcing for the whisky. "We're the only distillery in Wales that uses a hundred percent Welsh malted barley," he says. "However, I pay £200 more a tonne than English." We check out the shiny new, custom-built, 30-tonne malt silos where this fancy grain first resides. "I'm putting my neck on the line saying we want to drive this but it's about sustainability. So I'm working with the Farmers' Union about a diversification and growing schedules." It all starts with malt, and there's a lot of effort going in to shore up local supplies.
We move on inside where we meet the crimson Aber Falls malt mill, which processes one tonne of that Welsh malt every single day. There aren't currently any Welsh malters, so part of the process is to send the Welsh barley over the border into England, and then get it back post-malting. Wright hopes this will change as the Welsh whisky category develops.
Next up is mashing, where three waters (65°C, 75°C and 85°C) produce a sweet wort and one one-tonne mash is handled per day. This seems like a future pinch point, but Wright is adamant scaling-up has been planned for in the original build and is unconcerned.
Then there are six stainless steel fermenters, all hard at work. Two upright 5,000-litre vessels have a heating option, while four more conventional, slightly squatter 5,000-litre tanks look more traditional. The minimum fermentation time? 72 hours.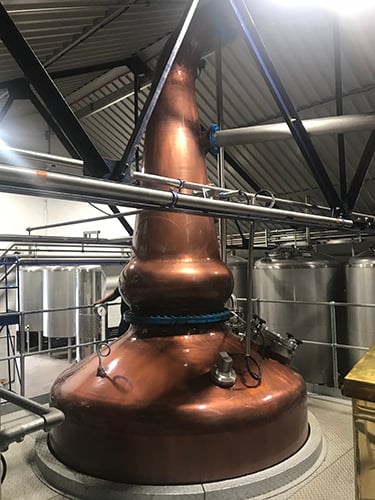 Meet Gwirod!
Onto the pair of column pot stills, shiny and gleaming. The 6,500-litre wash still runs for 5-6 hours, before the 3,500-litre spirit still takes over. What's intriguing here is the reflux jacket fitted to the exterior of the neck – yet to be experimented with, Wright insists, although the distilling team seen keen. As in many distilleries, the pair of stills have names: Golchi and Gwirod, in this case. I ask him what the names mean. "Oh, it's just 'wash' and 'spirit' in Welsh!" He laughs.
Across the way on the other side of the distillery building is the gin still, complete with botanical basket. I can't tell if it has a name ('gin' is simply 'jin' in Welsh, after all), but it certainly works hard. There are two gin runs each day, with some botanicals in the aforementioned basket, and others in a hessian sack in the still itself. And two seems small: with three gins and three gin liqueurs currently in production, there's a lot of juniper goodness to produce.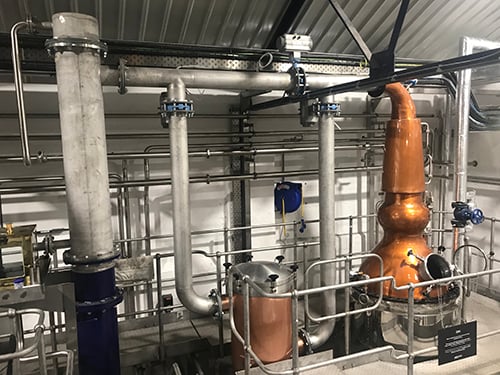 The Aber Falls gin set-up
Adjacent to the still house is a small cask filling and bottling area, and then out and underneath the production site is a small but atmospheric warehouse for whisky maturation. It's almost full, lined up to the rafters with all kinds of casks, some labelled 'orange' (ex-orange wine), others 'OLO' (ex-oloroso) and some it's tricky to tell. And there proudly sits the first cask filled known, logically, as Cask No. 1. Wright confirms there are plans to secure more space. About time too – young whisky is being produced at a rate of 15-20 casks per week.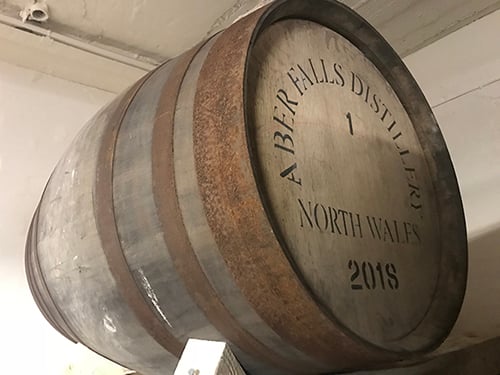 It's actual Cask No.1!
For a new, relatively small distillery, there's a lot to take in. And there's also a good deal more to come. "The vision is to be a keystone business for Wales," affirms James. And the Aber Falls Distillery Visitor Centre, set to be built on the space opposite the distillery, is critical to that.
"In the main visitor centre you'll walk into the lobby, there will be a reception area, a shop, there's lots of different tours so you can do a basic tour, more advanced tours…" he explains. "But we also have a museum area and a cinema." Expect big things from this corner of North Wales when the plans come to fruition next year.
The boozes
The distillery is up and running and the visitor centre coming on. What of the Aber Falls Distillery produce itself?
Whisky first: the distillery started producing earlier this year, so working to a three-year minimum age, clearly spirit has not come of age yet. But we got a sneak preview in the Aber Falls lab, and can confirm there is tastiness afoot.
And while Wright didn't disclose a huge amount about the intended flavour profile of the whisky, there is a focus on age statements.
"We don't want to really show all our cards but very top line is, we're looking to make a very strong eight-year-old and 12-year-old release," he explains. "We're also looking to bring out a roundabout four-year-old with some interesting character notes around it. To actually say 'this is Aber Falls, have a look at this and if you don't believe it, try it and see what you think'." He adds that he's "fascinated" by the process of laying whisky down to mature. "I love the fact that it's got a legacy piece as we go through the process. And it also gives us that flexibility knowing that we're laying stuff down for that length of time."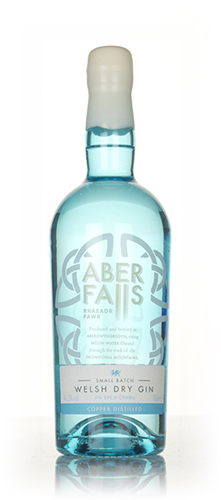 Aber Falls Welsh Dry Gin
And the experimentation starts now. "There are other flavour profiles that we're looking at-, maybe looking at rye and some other things. So we know what we want to achieve." Is he already looking at rye? "Might be!" He bounces back.
He won't be drawn any further, so we move on to the gin portfolio. Aber Falls already markets a Welsh Dry Gin (made to the same specification as a London dry style), Orange Marmalade Gin and a Rhubarb & Ginger Gin. Then there's the liqueur trio: Coffee & Dark Chocolate, Salted Toffee, and Violet Liqueur, which massively tapped into the summer's enormous trend for violet expressions. Is he pleased with the portfolio?
"I've been very happy with the way that the brand has grown in the eight months we've been producing it," he says, confirming that sales are exceeding forecasts. It's a great place to be for a new brand.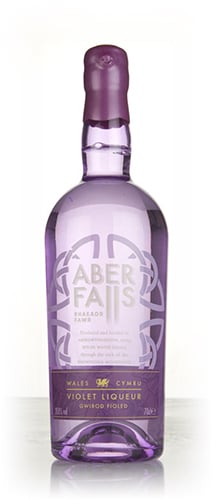 Aber Falls Violet Liqueur
What does he think has driven the enormous trend for flavoured gins and liqueurs, a zeitgeist Aber Falls has so successfully specialised in?
"I think some of it is just down to people wanting to try and experiment a lot more," he reckons. "I think the trend in cocktails and mixing certain drinks has actually helped that, and I think when people have a drink experience, because they're not going out and drinking the old traditional five pints, they're wanting value within value." In other words, we don't just want a good drink, we want to enjoy it, and it needs to be a moment. "I think what we've done with this portfolio is very much create something that actually everybody can tap into and identify and work with."
This is where the vision, about growing Brand Wales, goes full circle. Yes, Wright wants to "produce a liquid that can stand the test of time", it's also about making sure "anyone who has a touch point with this business has to have a positive touch point with another Welsh business". One easy example is raw ingredient sourcing. The Salted Toffee liqueur uses the renowned Halen Môn sea salt, produced just down the road in Anglesey. He acknowledges it's easier with whisky, given the Welsh malt sourcing policy, but gin is trickier, especially given that a distillery the size of Aber Falls simply can't make its own neutral grain spirit.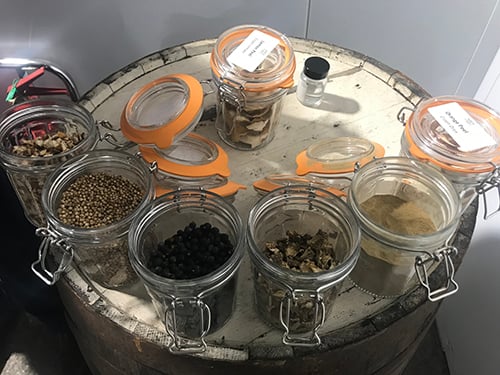 Botanicalsssss!
"Welsh whisky is a hundred percent Welsh," he confirms. "You can never make a hundred percent Welsh gin because of the botanicals and the ingredients and all that. But we will distil everything onsite and we use Welsh water and all that. So as much as we can put into the gin to be Welsh we will do."
It's not about a get-rich-quick approach, either. "We will not cut corners at Aber Falls, hence the reason why we're using Welsh malted barley, for which paying considering more than the English!" He continues. "But it's putting our stake in the ground and going 'this is what we want to do' and this is part of the reason why we're working with the Welsh government and all that because I cannot do it alone and that's why there has to be a collaborative approach. It will be beneficial not just for North Wales and for Wales itself, but it also helps on an economy scale for employing people."
Future forward
It's undoubtedly an exciting time for everyone at Aber Falls. In 2019 the team will be kept busy 'tweaking' the site and the distilling equipment onsite, and building the brand's international presence. Aber Falls is already in China, Thailand, Sweden and Germany, but Wright has his sights on the US in the coming year.
"Then the other bit in 2019 is carrying on driving the foundations for my growing schedule for our grains, working with the Farmers' Union on that," he says, adding that barley trials are already under way. "It's also about building the brand in Wales and further afield and making sure that those foundations are there for the next five, ten, 15, 20 years."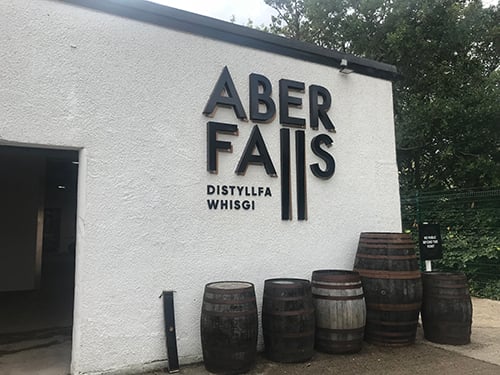 Aber Falls Distillery
And what about that earlier prediction, that Welsh whisky can get as big as its Japanese counterpart? "The Welsh category can get as big as it wants to with the right investment and the right vision," he is adamant. "Anything can get to a scale if it has the right investment, it has the right supply chain and also has the right structures in place. Whether that's messaging, whether that's making sure that we can actually produce consistency and quality of the product.
"I think what's great is Wales has a lot more to offer, especially in the whisky category. And it's so exciting because there's four of us at the moment doing this stuff. We've all got very different expressions but I think as a category we could actually be a really interesting country."
Meet Aber Falls' head distiller, John Buchanan!
While we were up at Aber Falls Distillery, we caught up with head distiller John Buchanan, who chatted us through a day in the life at the new whisky-maker.