Remember, remember the Fifth of November fondly this year with these cracking tipples…
Bonfire Night, or as those who own cats and dogs presumably call it, National Scare the Crap out of My Pet(s) Day, has come around again. This is great news because Bonfire Night is brilliant. Countless fireworks lighting up the sky. Heaps of amazing autumnal food. Plus there are the actual bonfires, carrying that fantastic scent and welcome heat through the crisp night air.
For some people, it's all about the festival atmosphere at parties and displays. For others, it's all about wrapping up warm and snug at home, enjoying the spectacle from afar. Ultimately, we're all going to take advantage of another perfectly good excuse to indulge in some spectacular seasonal spirits. Right?
For those nodding enthusiastically in agreement, we've decided to round up some of the best Bonfire Night boozes and fireside beverages, each with an appropriately smouldering serve. Enjoy!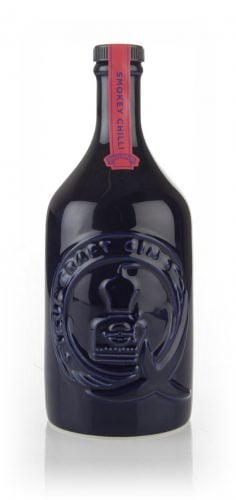 McQueen Smokey Chilli Gin
McQueen Smokey Chilli Gin
Why not use the Bonfire Night excuse to up your gin game with this intriguing bottling. McQueen Smokey Chilli Gin was produced in Scotland using chipotle and smoked chilli, along with lime and Bulgarian juniper. It's packing a spectacular blend of spice and smoke, wonderfully balanced by sweet citrus and bright juniper notes. Trust us on this, it's a brilliantly fun booze.
Smouldering Serve: Smoky G&T
Bring together ice and fire Game of Thrones style in this Smoky G&T. Add ice, lime juice and 45ml of McQueen Smokey Chilli Gin to a Collins glass. Then top with as much tonic water as you desire and stir gently. Garnish with coriander leaves and roar like the badass dragon you are. Then apologise to your guests for roaring in their company. Then do it again. You're a badass dragon with a badass G&T, for crying out loud!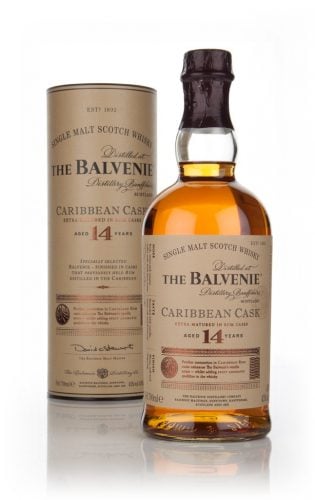 Balvenie 14 Year Old Caribbean Cask
Balvenie 14 Year Old Caribbean Cask
Warming, spicy and utterly delicious, Balvenie 14 Year Old Caribbean Cask is just what you want on Bonfire Night! This single malt Scotch whisky was matured for 14 years in traditional oak casks before being transferred to Caribbean rum casks. It's sure to bring a touch of the tropical to the cold winter evening.
Smouldering Serve: Smoked Rob Roy
The Smoked Rob Roy is a seriously spectacular way to celebrate Bonfire Night. Before we begin, it's worth pointing out that you don't have to smoke this cocktail. It's a great Rob Roy on its own without the visual effect. However, if you are up for it, it's worth watching a couple of videos of how to create a smoked cocktail online first.
If you fancy the challenge, then set out a non-flammable surface to begin. Light the end of an applewood chip (other woods will work if applewood is too difficult to procure) just until it begins to blacken and starts to smoke. Cover the woodchip with a clear decanter, allowing the smoke to collect inside, and then seal the glass (a decanter with a lid is ideal here, but you could improvise with a glass vase and something to seal it with).
In a separate mixing glass add 50ml of Balvenie 14 Year Old Caribbean Cask, 25ml of Martini Rosso and a dash of Angostura Bitters with ice. Stir, then strain into the smoked decanter or vase. Shake it up to blend the smoke and the cocktail and then pour into a chilled Coupe or Martini glass. Garnish with a maraschino cherry and serve to your guests mimicking this exactly:
And voilà!
FAIR. Café
FAIR. Café
FAIR. Café is a coffee liqueur that was created using Mexican coffee beans from the volcanic mountains of Huatusco. Given that a bonfire is basically just a big volcano (I'm pretty much a volcanologist, which is a word I genuinely didn't just invent) this bottling just seemed a terrific thematic fit. Plus, while you're enjoying its coffee-based delights, you can feel good about yourself, too. That's because the FAIR. range of spirits is all Fair Trade certified. Wonderful stuff all around!
Smouldering Serve: Espresso Martini
FAIR. Café is delicious on its own over ice, but we can do better than that. Try using it an Espresso Martini. Just add 25ml of Reyka Vodka, 35ml of FAIR. Café and 35ml of fresh espresso (for those with a sweet tooth, add more liqueur to taste) to a cocktail shaker with ice. Shake for 20 seconds, strain into a chilled Martini glass and top with coffee beans. Try not to look to smug at how understated and cool you are.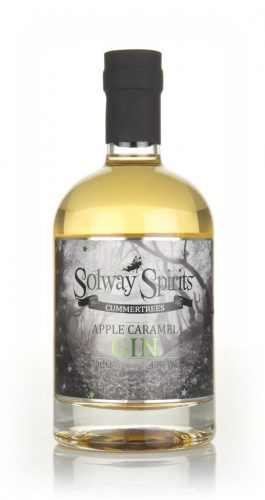 Solway Apple Caramel Gin
Solway Apple Caramel Gin
Who honestly doesn't love the fantastic flavour combo of apple and caramel? The Solway Spirits folks know that the good people want delicious flavoured gins and have responded in kind. Hence this Apple Caramel Gin! It's quintessentially autumnal and very, very tasty. Get yourself a toffee apple and have them at the same time. Now you're living.
Smouldering Serve: Gin Apple Pie
A homey, comforting and classic flavour brought to life in a superb gin cocktail. To create this autumnal treat simply combine 25ml of Solway Apple Caramel Gin, 25ml of apple juice and 15ml ginger beer in a cocktail shaker with plenty of ice and shake well. Strain and pour over ice into your glass. Garnish with apple slices and a cinnamon stick. Just like momma used to make!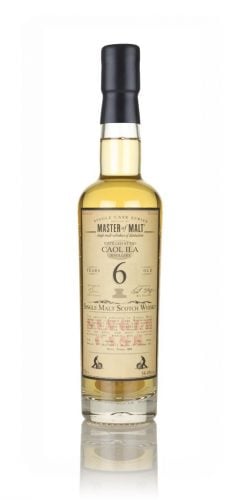 Caol Ila 6 Year Old 2011 – Single Cask (Master of Malt)
Caol Ila 6 Year Old 2011 – Single Cask (Master of Malt)
This peaty treat was distilled by the good folks at Caol Ila, who are masters at showing off that classic Islay-style smoky single malt. This edition was distilled in May 2011 and left to mature in a single ex-bourbon cask until September 2017. It was then independently bottled at cask strength without any chill-filtration or additional colours by Team Master of Malt, who sound like a really lovely bunch. I bet they hire really handsome writers too. Ahem.
Smouldering Serve: Smoky Martini
A twist on a classic, the Smoky Martini will bring a little class to proceedings while staying strictly on trend. To create, simply add 70ml Bathtub Gin and 7ml of Caol Ila 6 Year Old 2011 to a mixing glass and fill with ice. Stir and strain into a Martini glass. Garnish with a lemon twist on the rim of the glass. Serve to grateful company and proclaim it's "smoked, not stirred" to groans and much eye rolling. You are now James Bond… ish.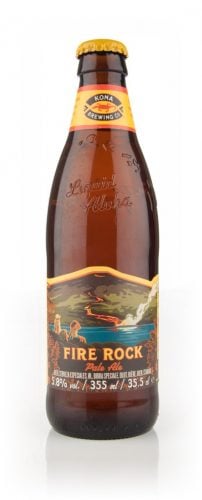 Kona Fire Rock Pale Ale
Kona Fire Rock Pale Ale
If you're not a particularly big spirits fan and beer is more your speed, then perhaps you'll enjoy this light, fruity pale ale from the Kona Brewing Company. It was crafted using Millennium and Cascade hops and a unique blend of speciality roasted malts. This gives Kona Fire Rock Pale Ale a distinct autumnal caramel sweetness and rich earthy tones which make it simultaneously warming and refreshing.
Smouldering Serve: Fire and Brimstone
Give this beer a true Bonfire Night makeover by pairing it with the smoky complexity of a distinctive bourbon in this smouldering, sumptuous delight. To make, first pour 170ml of Kona Fire Rock Pale Ale into a chilled Collins glass. In a cocktail shaker, combine 55ml of Balcones Brimstone, 20ml of lemon juice and 15ml of demerara or simple syrup with ice. Shake vigorously and then strain the bourbon mixture into the beer. Garnish with a lemon twist. Try to ensure conversation among guests doesn't drift toward judgment and eternal damnation.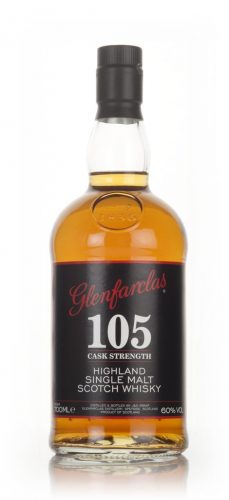 Glenfarclas 105
Glenfarclas 105
Richly spiced, delicately sweet and downright delicious, Glenfarclas 105 is a superb cask-strength whisky. The original incarnation of this single malt can be can be traced to 1968. Glenfarclas became the first distillery to release a barrel proof single malt whisky when the initial edition was released that year. So, this beauty is not only stylistically an ideal winter warmer, but it's a historic tipple for a historic night. Neat.
Smouldering Serve: Hot Toddy
Warm up with this easy-to-make classic hot toddy cocktail recipe that benefits from the sweet and spicy nature of Glenfarclas 105. Start by bringing ¾ cup of water to simmer in a teapot or saucepan and then pour into a mug. Add 45ml of Glenfarclas 105, 2 teaspoons honey (or maple syrup for a vegan alternative) and 2 teaspoon lemon juice to the mug. Stir until the honey has disappeared into the hot water. You can add more honey or lemon juice to taste. Garnish with a lemon rind and cinnamon stick. Then sink into a comfy armchair (or pop it into a flask ready to brace the cold at your local fireworks/bonfire display) and enjoy!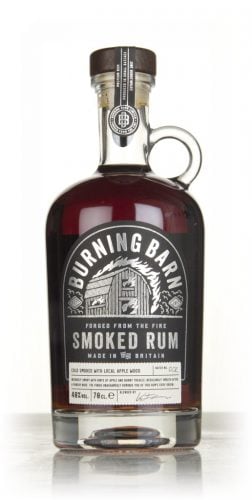 Burning Barn Smoked Rum
Burning Barn Smoked Rum
Rich and smokin', this rum is essentially Hugh Jackman in spirit form. From the superbly named Burning Barn, this expression was created by cold-smoking rum with local applewood. That means alongside a beautiful underlying sweetness this tipple is teeming with bonfire embers and smoked meat notes. How fitting and fabulous, if we do say so ourselves.
Smouldering Serve: Firework Inferno
This is a slightly more complex cocktail then we'd usually suggest, but if you pull it off it's sure to add sparkle to your already popping night (I know that seems like a terrible joke, but it will make sense when you get the end of this recipe. It won't get any better. It will just make more sense). To create, pour 25ml of Cîroc Apple, 25ml of Burning Barn Smoked Rum, 50ml of pomegranate juice and 12.5ml toffee syrup into a mixing glass with ice and shake. Pour the shaken ingredients into Hurricane glass. Then add 30ml of pineapple juice and 5ml of sugar syrup to the now empty shaker and shake vigorously until they become frothy. Pour this mix into your Hurricane glass to produce a foamy head. Garnish with a pomegranate wheel and a sprinkle of popping candy (the joke above now makes sense. It's still crap, obviously) on top. Serve to appreciative guests and then ruin their night by trying to explain my already far too laboured 'popping' joke.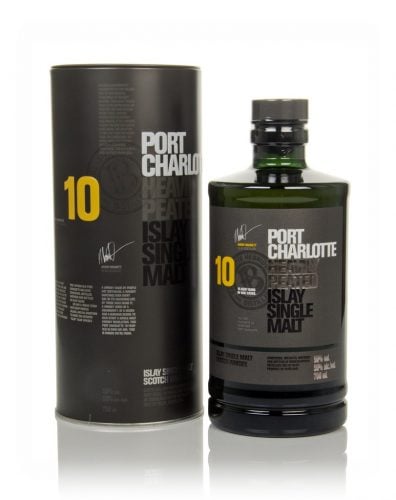 Port Charlotte 10 Year Old
Port Charlotte 10 Year Old
We just can't enough of peated whisky, and this baby is peatier than a bloke called Pete Peterson who's repeatedly fallen into a peat bog. Port Charlotte 10 Year Old was released in 2018 by the brilliant Bruichladdich on Islay. It was peated to a hefty 40ppm and drawn from a combination of first-fill American whiskey casks, second-fill American whiskey casks and second-fill French wine casks. It's a fantastically warming tipple that's ideal on these cold winter nights.
Seasonal serve: Neat!
Port Charlotte 10 Year Old needs no addition, apart from a roaring fire. By which I mean enjoy it in front of a roaring fire (or screensaver alternative). Don't try and pour a roaring fire onto your dram. That would be a disaster.