It may be one the oldest of the great Cognac houses, but Martell isn't scared of a little innovation. Quite the opposite: fearlessness is the backbone of its philosophy. MoM headed to its Cognac HQ for a dig around the founder's historic home…
Even by spirits industry standards, Martell is super old. Not wartime old, nor Prohibition old. We're talking about centuries of Cognac heritage. In fact, if you were to lay the historic documents and letters in Martell's vast archive end-to-end, they would stretch for five kilometers. The company employs a full time archivist to look after them all.
You might assume that preserving hundreds of years of eaux-de-vie history would make a house stuffy, out of touch. Not so. Martell's sleek, chic visitor centre in the heart of Cognac is a multi-floor cultural space, complete with interactive art installation and convivial rooftop bar that boasts breathtaking views of the town.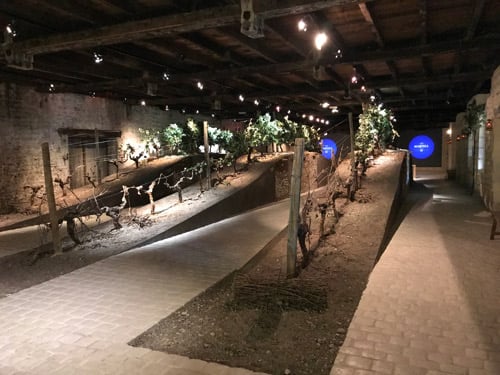 The incredibly neat visitor centre
Its latest release is so unorthodox, it's not technically Cognac; a finishing process in ex-bourbon barrels (heathens!) means Blue Swift must adopt 'spirit drink' status. As brand education ambassador Margot Stagni explains, innovation is "super important" for Martell because of the house's rich history – not despite it.
The liquid was created in honour of the brand's long-standing relationship with the United States, one of its biggest export markets. "Martell sent the first Cognac barrels there in 1783, to Philadelphia, so Blue Swift is a tribute," she says. "We wanted to bring the very best of Cognac and give it a bourbon twist. Cognac lovers love it, and bourbon lovers love it as well."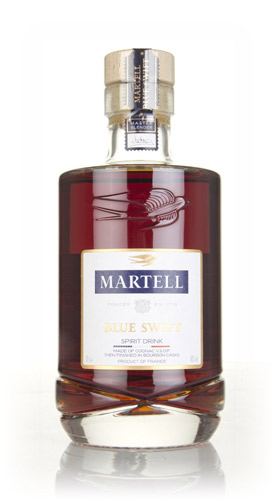 Martell Blue Swift – available on masterofmalt.com
Martell's multinational owner, Pernod Ricard, has no doubt played a huge role in the house's 'yin and yang' approach to tradition and trends. But I rather like to think that its experimental philosophy stems from the buccaneering roots of founder Jean Martell.
Martell was born into a family of merchants on island of Jersey in 1694 and left for France at the age of 21, trading a number of commodities before specialising in eaux-de-vie. He forged his own way, using his family's coat of arms as the logo for his fledgling business.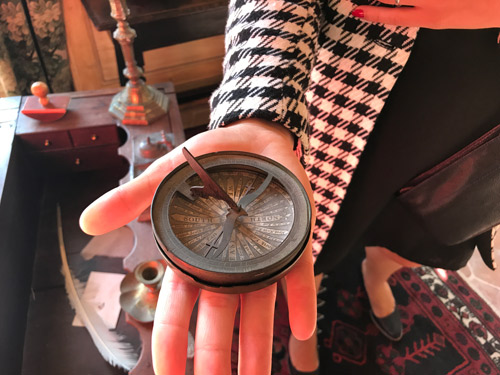 This compass probably helped him forge his way, too
His home lies within the grounds of the visitor centre site. Standing in the courtyard, you can visually witness the business expanding over the years. It's like an architectural timeline. The house, which dates back to 1838, is surrounded by former warehouses, which were built in the 19th century. Beyond that lies the cultural centre, a former bottling plant, which was constructed in 1928.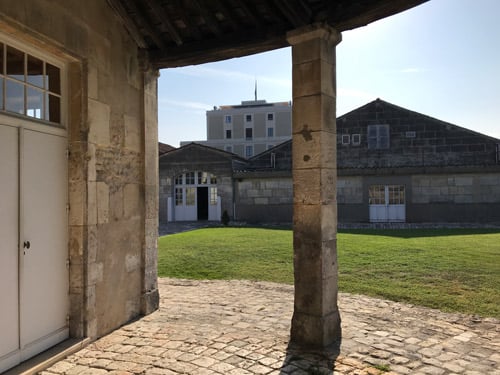 A view from the house
Though the Martell family no longer owns the business, the house continues to work with its wine-growing descendants. "We buy their eaux-de-vie," says Stagni, "we are very proud to keep the link with them".
The Cognac
In terms of terroir, the house focuses on Borderies, Grand Champagne, Petit Champagne and Fins Bois: the four main crus at the heart of the AOC.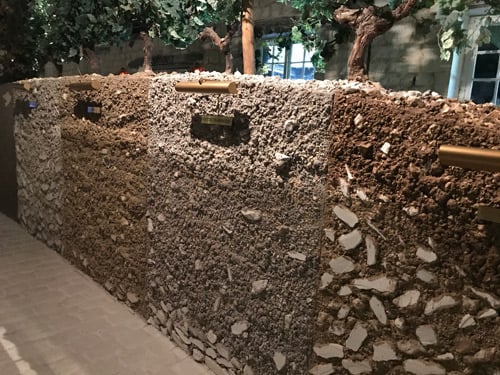 The visitor centre offered a handy cross section of these crus
The house is one of the biggest estate owners among the Cognac houses, having commandeered the equivalent of more than 430 hectares. But even with such a big domaine, "it only provides around 4% of what we actually need in terms of wine," adds Stagni.
To bridge this rather sizeable gap, Martell has a partnership with around 1,200 local winegrowers, some of which sell wine, others, eaux-de-vie. The longest-standing arrangement is with a family that has supplied the house since 1735.
What makes Martell's liquid different from the other houses? For starters, it only distils clear wine. No lees here, thanks. "It's not a matter of quality," explains Stagni. "Some other Cognacs use the lees, it's just a matter of choice and style. For Martell, we want elegance that you can't get if you distill with the lees."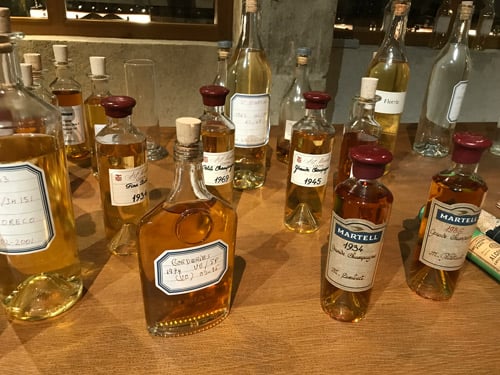 A Martell blending table
As for separating the heads, hearts and tails: Martell has its own rules. Rather than redistilling the heads and tails with the first distillate – known as brouille – as many other houses do, it adds them to the wine. "We have a really selective approach," she admits, "it's even more demanding. We don't want those vapours to influence the final result."
When it comes to wood – specifically, the choice between wide grain oak and fine grain oak – Martell goes fine grain all the way. "As we distill without the lees, using a wide grain oak means the woody aromas would be too much," Stagni says. "We don't want the tannins to be dominant, we want that fruity, elegant taste."