Potential gin droughts and whiskey made with beavers. It's all kicking off, isn't it? The Nightcap is here to fill you in on this week's booze news.
Look at a calendar. Or your phone. Or the bottom right/top right corner of your computer screen (dependent on what operating system you're using). Notice that today is Friday. Revel in the joy of Friday, for it ushers in a new edition of The Nightcap, with all its booze news goodness. Revel in it. Go on. We'll wait.
Done? Wonderful.
Before we get in to the stories that make up that sweet, sweet click-bait-esque strapline, let's have a gander at what's been happening on the blog this week. We were joined by our brand new features editor Henry Jeffreys and in honour of Father's Day this Sunday he gave us a look at how whisky shaped the bond between him and his dad. Expect plenty more articles from Henry very soon. Kristy caught up with Loch Lomond master blender Michael Henry to find out more about the ambidextrous distillery, while Annie chatted to David Brown, managing director of John Crabbie & Co. about the past, present and future of Crabbie Whisky, and got the lowdown on the Kentucky Bourbon Trail Welcome Center.
There was also some exciting awards news here at MoM Towers. On Tuesday night we hightailed it to the Guildhall in London for the Grocer Gold Awards and came home with the Consumer Initiative of the Year trophy! Earlier that day, though, we weren't accepting awards – we were giving them out for our entirely-not-scientific-at-all, totally-subjective-in-every-way MoM Fèis Ìle Awards 2018.
And with that, on with the booze news!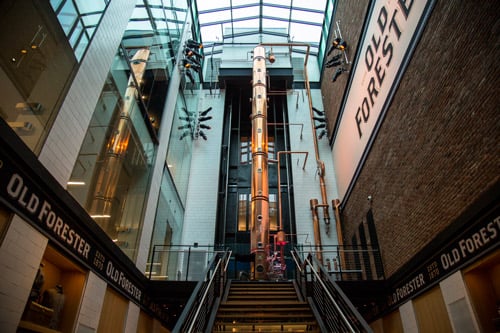 Old Forester's Whiskey Row home
Old Forester Bourbon comes home to Whiskey Street
Once upon a time when whiskey came only in barrels, you'd walk into a saloon through those swing doors, gun a-rattling and spurs a-jingling order a glass of finest Kentucky sippin' bourbon and you'd more than likely be given something rough flavoured with caramel. That's if you were lucky. This all changed in 1870 when George Garvin Brown, a young pharmaceutical sales rep, launched America's first bottled bourbon, Old Forester, with the slogan: "there is nothing better in the market." Bottling guaranteed authenticity and the fame of his whiskey quickly spread. He set up shop at 119 Main Street Louisville Kentucky, a street known as Whiskey Row. Yesterday the company that bears his name, Forman Brown, opened a $45 million, 70,000 square foot distillery and visitor centre at the same address. Campbell Brown, Old Forester President and Fifth Generation Brown Family Member, said: "Today marks yet another chapter to a story that has survived Prohibition, world wars and the changing palates and tastes of consumers across the globe." The first bottled bourbon is back home in Whiskey Row, yee haw!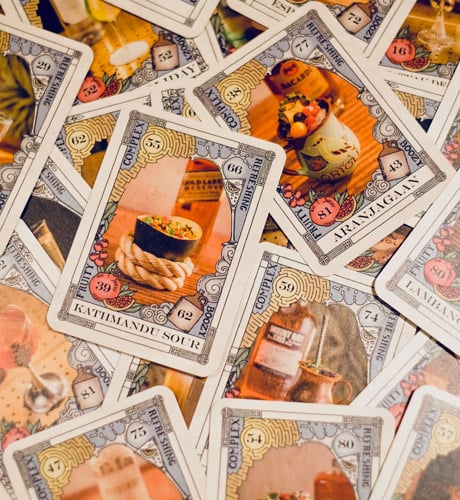 Pick a card, any card
London bar announces a card game you can drink
If there was ever a Top Trump of Top Trumps then surely a game of Top Trumps that you can drink would trump all the other Top Trumps, even dinosaur Top Trumps. Well at the Oriole Bar in Smithfields they have just launched a menu that combines cocktails and cards in just this way. Each drink comes with a card where it is rated by four criteria: Refreshment, Booziness, Complexity and Fruitiness. So for example a Kathmandu Sour (Johnnie Walker Gold Label, Kummel cordial, Cao Guo Syrup, Lemon Juice and Lotus Aquafaba) scores a strong 62 for booziness (hurrah!) but a lowly 39 for fruitiness (haroo). It would be thoroughly bested by an Aranjagaan (Bacardi Carta Ocho Rum, Campari, Mauby & Guava liqueur, Sea Buckthorn Cordial and lemon juice) which packs a mighty 81 in the fruitiness department. The drinks menu created by Luca Cinalli and Gabriele Manfredi is divided into New World, Old World, and the Orient reflecting the wealth of exotic ingredients used. Now most of us will have no idea what many of these are (Cao Guo syrup anyone?) so the rating system also helps explain how your drink will taste.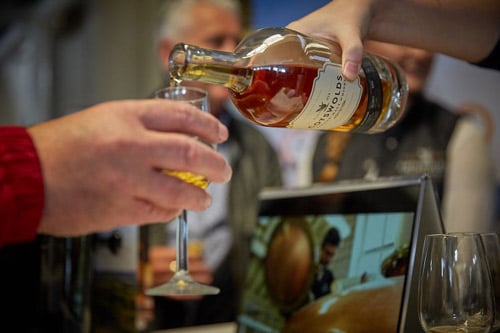 The Cotswolds Single Malt Whisky has become a popular pour already
The Cotswold Distillery Crowdfund Expansion
You probably don't associate the Cotswolds with spirits. Pubs, sheep and towns with lots of hyphens in the name – yes. Distilling – no. Yet since it opened in Shipston-on-Stour in 2014, the Cotswold Distillery has been winning awards left, right and centre and last year released its first single malt whisky to some acclaim. Now this week the team announced that it has raised £3 million to expand operations. A combination of crowdsourcing through Crowdcube and private investors saw the distillery smash its target of raising £2 million in a week. Dan Szor, founder and CEO, said: "We are overwhelmed by the enthusiasm of our new investors and the belief they've shown in the distillery. The total raised will transform the business, but we're equally delighted to have gained over a thousand new shareholders…" With all that cash the plan is to open a new visitor centre, tasting room, exhibition space and café. Last the distillery had over 30,000 visitors making it one of the top visitor attractions in the Cotswolds, even more popular than the mechanical musical instrument museum in Northleach.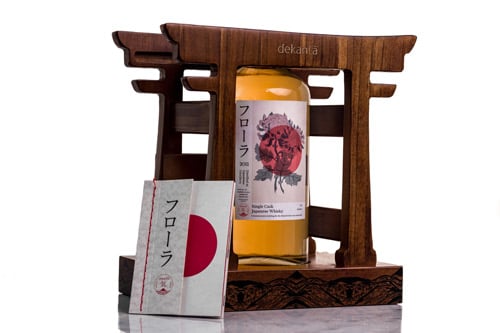 The Eigashima 2011 Kikou
Port Ellen cask-finished Japanese whisky
This week at Sexy Fish restaurant in Mayfair, a unique whisky was launched that unites two great seaside distilleries in one bottle. It's a special bottling from Dekantā, the online retailer that specialises in rare Japanese whiskies. The Eigashima 2011 Kikou is a single malt from one of Japan's smallest distilleries. What makes this one super fancy and desirable is that it has been finished in casks that formerly held Port Ellen whisky. Rather cheekily, Dekantā director Makiyo Masa refers to Port Ellen as "the Karuizawa of the Scotch whisky world". Eigashima Shuzo has some serious pedigree too, it was the first Japanese distillery to be granted a license to produce whisky in 1919. With a staff of only five, it makes minute quantities of highly desirable spirit. As you'd expect, volumes of this new release will be severely limited (300 bottles, to be precise) with each carrying a hefty though not excessive price tag of $650. Surely a collector's item of the future, if you can resist opening it.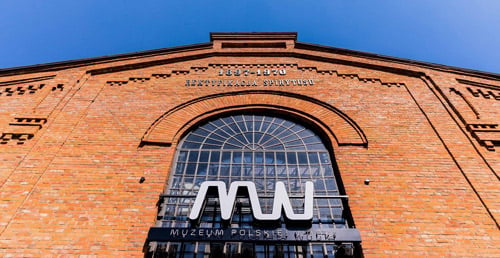 The Polish Vodka Museum is now open!
The Polish Vodka Museum opens in Warsaw
As a spirit with an incredibly long history, the world has been crying out for a museum dedicated to the glory of Polish vodka. Well, you can now stop waiting, because The Polish Vodka Museum opened in Warsaw on Tuesday! Housed in a 19th century distillation and rectification plant in Warsaw's Praga-Północ district (fun fact: Wyborowa was previously produced there), the Polish Vodka Museum features themed exhibitions, multimedia installations, short film screenings and… vodka, obviously. The Vodka Academy Bar is also housed within the museum, where visitors can enjoy a tasting as well as educational workshops on vodka and food pairing. Should our plans for world domination come to fruition, we'll make sure that there are museums like this for every spirit.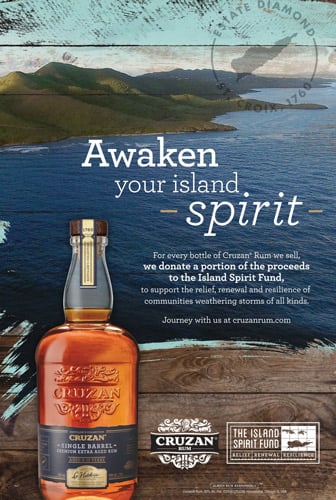 The Island Spirit Fund is established
Cruzan Rum launches Island Spirit Fund to support disaster relief efforts
St. Croix-based rum brand Cruzan, part of Beam Suntory, has established the Island Spirit Fund in the aftermath of 2017's Hurricane Maria to help support disaster relief efforts across the the US Virgin Islands and the United States. Named for the unwavering resilience of the Crucian people in the face of this natural disaster, the Island Spirit Fund was created in partnership with Global Giving, and will be issuing grants to local organisations in affected areas. Cruzan Rum has committed to donate $1 from each case of its rum sold to the Fund.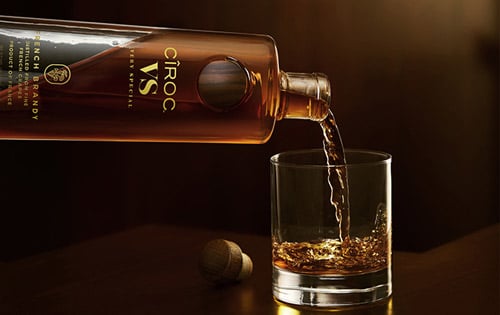 Cîroc takes a step into brown spirits
Hip-hop vodka Cîroc moves into brandy
Cîroc has expanded its portfolio in order to take advantage of the current strength of the brown spirits market with Cîroc VS Fine French Brandy! Master distiller Jean-Sébastien Robicquet produced the expression in the south of France using a selection of harvests which were then distilled in traditional alembic copper pot stills, matured in French oak barrels and blended with aged brandies. The resulting spirit is said to be "rich with notes of fresh fruit, vanilla and a hint of French oak" and is packaged with the brand's iconic orb rendered in a wood grain effect. My good friend, the rapper and Cîroc partner Sean 'Diddy' Combs, commented: "I thrive on opportunity. Cîroc consumers drink aged brown spirits alongside Cîroc Vodka, so it was obvious that it was time to take Cîroc further than it had ever gone. Cîroc VS is changing the game". An eight-city tour beginning on 18 June in New York will kick off the launch and continue through summer. Sounds like Puff Daddy is going for Hennessy as hip-hop's brandy of choice.
Johnnie Walker adds new campaign to 'Keep Walking' series
A fresh installment in Johnnie Walker's award-winning 'Keep Walking' series has arrived! The brand wants to celebrate what happens when brilliant whiskies and wonderful people are brought together, as it mirrors the way Johnnie Walker whiskies are crafted, by blending expressions from the Highland, Island, Speyside and Lowland regions. A series of feel-good films will form the core of the multi-media campaign, which will be brought to life around the world across TV, digital and out of home media. A multi-million pound investment from Diageo's Global Travel will support the initiative, with creative content set to feature prominently at Edinburgh airport, across all Heathrow terminals, in the BA lounge in Heathrow, on the cover of BA's in-flight magazine 'High Life' and across the in-flight entertainment on British Airways flights. The global takeover will run until September 2018, so get yourself a bottle of Johnnie Walker and get into the spirit of things (pun intended)!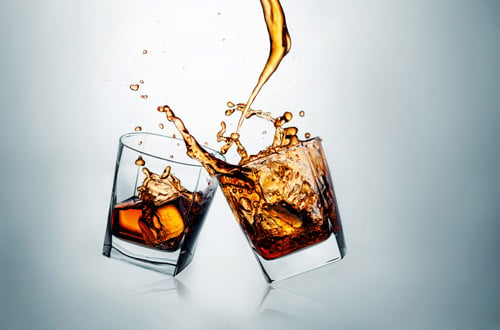 Cheers to that (though not quite as vigorously – you'll make a mess)
Reaction to rum's incredible £1bn sales
Did you know that rum sales have topped £1 billion pounds for the first time, ranking it alongside whisky and gin as one of the nation's favourite tipples? Leading experts at the International Wine & Spirit competition (IWSC) do. Naturally, it had its say on what this means for the industry. Adam Lechmere, IWSC general manager, commented: "This is an incredibly exciting time for rum. It won't take over from gin anytime soon, but you're going to see it more and more behind the bar and in your favourite wine merchant." Peter Holland, creator of The Floating Rum Shack and expert judge on the IWSC panel, concurs: "The increased interest will surely result in more genuinely quality options coming to market, while the increased desire to support brands that are both sustainable, and ethical in their business practices will give small producers real opportunities. I'd hope we can create more excitement about rums with genuine markers of quality." Now, if only there was place you could get your hands on such quality rum…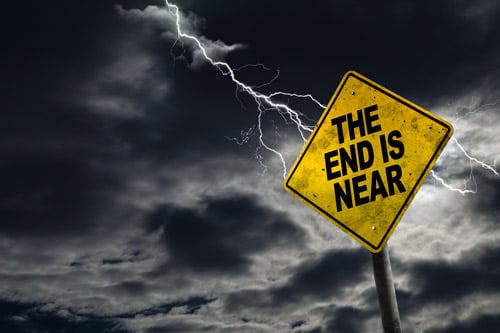 A bit dramatic? Nah…
No-deal Brexit could equal less gin
Terrible news just in from The Wine and Spirit Trade Association (WSTA), which warns that Britain could be faced with a gin drought in the scenario that a no-deal Brexit is pursued. It argues that, because British distillers rely on tonnes of juniper and other common botanicals being shipped to the UK each year, the possibility of a no-deal Brexit will lead to issues at ports which affect goods coming in, which in turn will mean that some of the UK's smaller craft gin distillers will be facing extremely testing times. The WSTA also says that wine businesses face similar nightmare scenarios, as 99% of the wine sold in the UK is imported. Miles Beale, chief executive of the WSTA explained: "'Doomsday' Brexit could have a catastrophic impact, certainly on some of the smaller gin distillers, who are likely not to have the capacity to buy in and store reserves to make their products. This could lead to a shortage or even wipe out your favourite craft gin." I think I speak for all of us when I say: Noooooooooooooooooooooooooooooooooooo!!!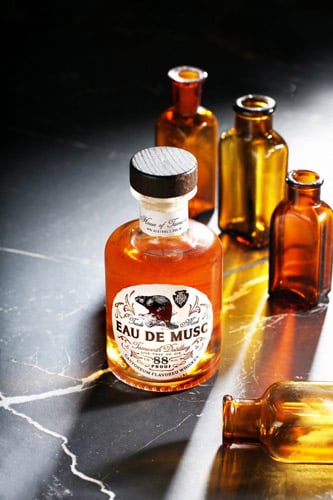 Eau de Musc is a thing that is real
And finally… Beaver-flavoured whiskey. Yes really.
Vegetarians and readers who disapprove of flavoured whiskey look away now. Tamworth Distilling New Hampshire has just launched its Eau de Musc, which consists of bourbon flavoured with beaver. Stop sniggering at the back! It's actually much weirder than that sounds because the folks there don't just put a beaver tail or ears in their whiskey. Instead it is steeped with something called Castoreum. We immediately went on wikipedia and discovered that this is "the yellowish secretion of the castor anal sac". Mmmm… delicious! Beavers don't give up their glands willingly so yes, some furry animals have been harmed in the manufacture of this product though we should make it clear that Tamworth are using a byproduct from beavers that have been culled to keep the population at a sustainable level. The Eau de Musc isn't only flavoured with beaver bottom; other ingredients include raspberry, Canadian snakeroot (doesn't contain any snake, you'll be pleased to hear), fir needles, birch bark and maple syrup. With those ingredients this whiskey, despite being made in America, sounds like the most Canadian thing since Joni Mitchell duetted with Neil Young in 1976.
That's it… Oh and don't forget to buy your dad a bottle of something delicious on Sunday or for the man who has everything. How about a guitar made by Lowden out of old Bushmills barrels and stills? A snip at £9800.