Some very exciting news from #WhiskySanta himself – while he couldn't be there on the night to collect the accolade, our favourite supernatural, omniscient, festive, heavily-bearded being only went and won Consumer Initiative of the Year at the Grocer Gold Awards! This is the closest thing to an acceptance speech we could lure from him while he's away on his holibobs…
You better watch out, you better not cry… *ahem*, I may be getting slightly ahead of myself (I've still got a good few months of extended holiday to go in my beachfront holiday residence after all) but I hear the spirit of #WhiskySanta was certainly in town last night for the Grocer Gold Awards!
My pals over at Master of Malt tried to lure me back with promises of brandy and mince pies for the occasion, but the beard isn't quite ready for its first outing yet (it helps with the disguise to shed it all post-Chrimbo, you see…). But I would have been there with (jingle) bells on. I gather the setting at the Guildhall was quite magical.
What was also magical was to have my work (dishing out £150k's-worth of free deliciously boozy gifts from MoM HQ, granting your wishes, generally meddling behind the scenes with my super-awesome Super Wishes and check-out gifts, you get the picture) shortlisted alongside some of the biggest names in retailing. Tesco was on that list (I know it's a big deal; it's one of the few places that can keep my busy reindeer in carrots all festive season-long). Iceland, too. But then…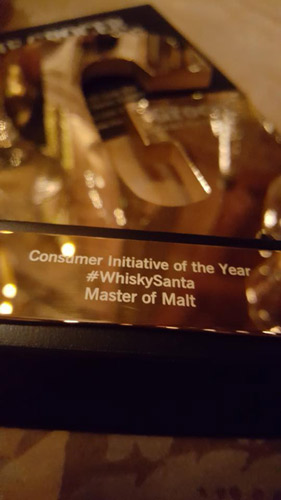 It turns out The Grocer team like a festive tipple as much as I do!
I was named Consumer Initiative of the Year (Omniscient Being of the Year would be more fitting, but I'll take it) and it really was the most wonderful merriment-filled surprise. Thank you from the bottom of my bowl full of jelly-like belly for helping me doing what I love all Christmas long – spreading festive cheer, joy and all those spirits. All those wishes last year kept my sleigh flying (well, along with my reindeer), shattering a Santa's sack and a half-load of records in the process. So thank you!
Now. Enough of this. I'm still on my extended summer break so away with you. It's not quite time to start making that list and checking it twice yet, so all of you calm back down and let me get back to my cocktails…