Five months after resurrecting the historic John Crabbie & Co. whisky brand with the launch of two single malts, Halewood International revealed plans for an Edinburgh distillery – the old stomping ground of Crabbie himself. Despite his Scotch kudos, surprisingly little is known about this influential character. MoM delves into the past, present and future of Crabbie Whisky…
When Halewood announced plans to invest more than £7 million in a new Crabbie distillery in Leith, industry ears pricked up. Though best known for its green ginger wine and ginger beers, the brand's roots lie in whisky: it was founded a few short years after Blair Athol and Highland Park. Now, it's the third contender in a race to build the first new distillery in Edinburgh for almost 100 years.
"Like Edinburgh buses, you don't get any and then three come at once," cracks David Brown, managing director of John Crabbie & Co. "Happily, we're all doing quite different things, and I'm quite encouraged by the fact that we're creating a real interesting mix of distilleries for people to visit."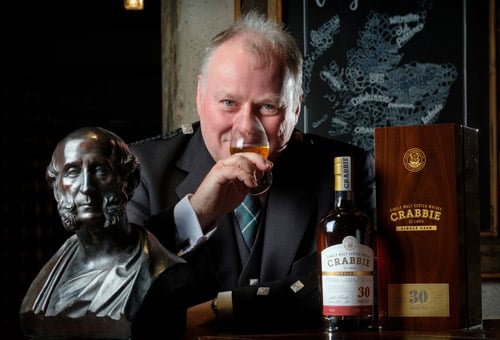 John Crabbie & Co.'s David Brown
The Crabbie model is particularly compelling because there are two strands to the business. As well as its very own single malt, the distillery will continue to buy aged single malt casks from unnamed distilleries across Scotland and bottle them under the Crabbie name, just as the man himself once did.
John Crabbie – like many pioneers in the early 1800s – owned a grocery and tea-blending business. This just so happened to be around the time that the Phylloxera beetle devastated Cognac vines, leading to the subsequent rise and rise (and rise!) of Scotch whisky. An entrepreneurial Crabbie started buying malt whisky casks from more than 70 distilleries around Scotland and bottling the contents.
Due to the natural inconsistencies between the casks, pleasing his customers proved testing. Thanks to a suggestion from Crabbie's wife, a seasoned tea blender and cordial-maker, he and his good friend Andrew Usher began blending the whiskies together, evening out the alcohol strength and regulating the flavour.
In the mid-19th century, Crabbie acquired a brewery in Leith and set up his own distillery, producing his own whisky, gin, and fruit-based cordials, while at the same time blending and maturing casks from other sites. The site became well-known for its green ginger wine, which was made in Leith until the 1980s, when the family business was acquired by Macdonald & Muir (later renamed The Glenmorangie Company). Halewood International bought the brand in 2007.
That's not to say Crabbie's legacy was completely cut short. In fact, Crabbie founded Edinburgh's North British Distillery in partnership with Usher and William Sanderson, whisky blender at Vat 69. The trio created grain whisky for blending in a bid to cut costs and make a smoother end product. The distillery (which still operates to this day) has gone on to produce approximately 230 billion litres of alcohol, Brown estimates. Not too shabby.
The distillery: John Crabbie & Co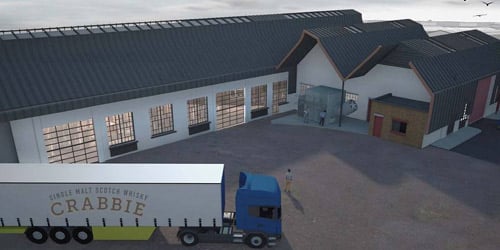 The future home of John Crabbie & Co.
Planning permission permitting, the proposed distillery site contains its own slice of whisky history. It's the site of Bonnington's distillery, also known as The Leith Distillery, which was founded in the late 1700s and bought by John Haig in 1804.
This time around, it'll be fitted with a two-tonne mash tun, four 10,000-litre fermenters, a 2,500 litre spirit still and a 5,000 litre wash still. Brown expects the distillery will be able to produce around 200,000 litres of alcohol per year, with the potential to double production in years to come by adding another pair of stills.
By comparison to its peers – Port of Leith, with its cutting-edge vertical distillery model, and the 'experimental' Holyrood site – Brown admits John Crabbie & Co will place less emphasis on pushing the envelope. However, that's not to say they'll follow the traditional route either.
"I don't expect the SWA [Scotch Whisky Association] will be breaking our door down saying, 'you can't do that', but equally we don't want to be part of the old guard," he explains. "I don't want us to be categorised with the established brands that have been around for 200 years, because we don't have 200 years of continuous distilling behind us. We want to be very much part of the new wave of people doing really interesting things with flavour."
The distillery won't have a house style, for starters. "We're not going to be pigeonholed into being peated or unpeated, or being a light and floral Lowland whisky. We will do everything and everything," he says. The new venture is not centred on replicating Crabbie's recipes and ledgers (all of which have been dutifully preserved in an extensive archive) but rather "paying homage to the great man and respect to the way he did things".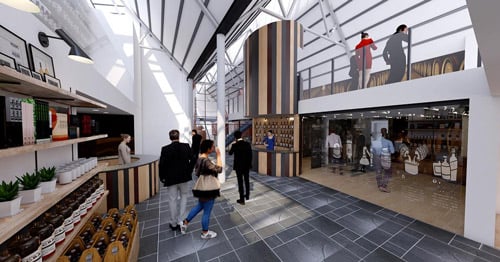 Within the future home of John Crabbie & Co.
Wood experimentation is an area Brown and his distilling team – headed up by Mark Watson, formerly of Eden Mill St Andrews – are keen to explore. "We own a wine business called Barwell and Jones, which gives us access to some absolutely amazing casks," he states. "I spoke to them the other day and they said 'would you like some Pomerol casks?'. That's going to be fun for us."
Like Crabbie, the team will also produce gin. Production will take place at the company's cask warehouse in Grantham until the main distilling hall in Leith (expect to open in early 2019) is primed to receive their 500-litre still.
"He was quite a prolific a producer of gin," enthuses Brown. "We found two original recipes and we're going to see what they turn out like. I can't imagine there are too many gins that have a 200-year-old recipe. They're written in Crabbie's handwriting!"
As you'll likely already know, the independent bottling side of the business is already in full swing. So far, John Crabbie & Co has release an 8 Year Old (a homage to Crabbie's signature blend), a 28 Year Old and a 30 Year Old, which sold out immediately. "A number of releases" are primed for launch this year; the first is a 12 Year Old bottling slated for the end of the month. Which distilleries they source from will remain a closely guarded secret.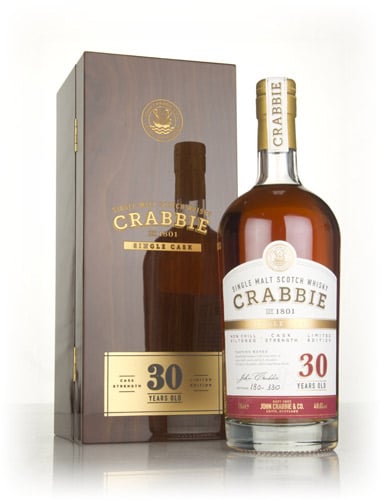 Crabbie 30 Year Old
"When we launched the 30 Year Old in Las Vegas, we had a lot of people trying to guess what it was," chuckles Brown. "I said, 'never mind what it is. What do you like about it?'. It forced people to really think about what they were tasting.
"You don't have any preconceptions because you don't know what a 30 Year Old Crabbie whisky tastes like. And the next whisky might well be completely different from the last one you tried, because they're from different casks and different distilleries." An enticing prospect indeed.