There were drams, live bands galore (often the same one), much merriment and more epic dogs than you could even try to count. Yes, folks – Fèis Ìle happened. And now, partly as an excuse to relive the best bits, partly to give mega kudos to the star performers, behold: we present the entirely-not-scientific-at-all, totally-subjective-in-every-way MoM Fèis Ìle Awards 2018!
Well. We've just about sort-of recovered. Fèis Ìle 2018 was an absolute riot of whisky geekery, drams of much deliciousness, and of course, incredible, incredible people. We had a proper blast on Islay, and we're still wading through the reams of content, video footage, and social posts from the week at the pinnacle of the whisky calendar.
And as we reminisced all the action, debating heatedly at MoM HQ as to which tip-top tour was the most tremendous and which masterclass was most masterful, it suddenly became clear: The MoM Fèis Ìle Awards should be a thing!

So we continued debating some more. And some more again. And what we came up with is below: our lowdown of Fèis Ìle 2018's finest moments, and the list of recipients of the inaugural MoM Fèis Ìle Awards!
Full disclosure: we are a small team so we just couldn't get to every event on every distillery day throughout the Fèis Ìle schedule. These are very much the MoM Awards, decided by the team here only. But that said, we want to hear your best bits, too! Let us know who you think deserves to win in each category in the comments below or on social media. Whether you agree with us or not!
So. All set? Dram in hand? Let's go.
*Drumroll*
Best Fèis Ìle Distillery Tour
And the winner is: Bunnahabhain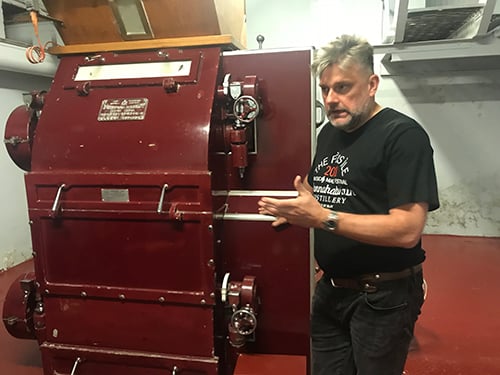 Stephen doing his epic thing
Team MoM LOVES a distillery visit. So much so that we've been on many a tour, many a time. Open a distillery (we won't even wait for an invite) and we're there with bells on. As such, we've spent a fair amount of time nosing our way around tun rooms and still houses in the company guides various. And facilities manager Stephen Woodcock's tour at Bunnahabhain stood out universally for the incredible detail he went into, his openness (warts (worts?) and all) about the distillery, and just how marvellously engaging he was, making the processes accessible for whisky geeks and novices alike. Hats off to you, sir.
Best Fèis Ìle Masterclass or Tasting
And the winner is: Bruichladdich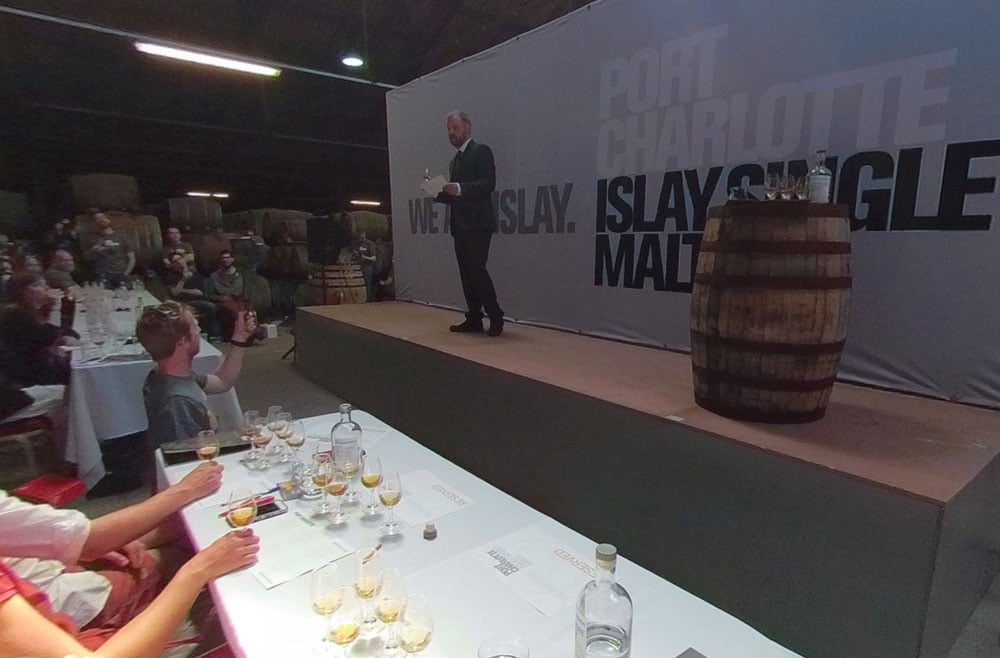 Adam struts his stuff
This one was an absolute treat. We were with head distiller Adam Hannett, and WOWZERS did he have some liquid delights for us. The new Port Charlotte 10 Year Old was there, along with the 2018 Fèis Ìle bottling, plus Port Charlotte Black Art, a quadruple-distilled 2007 Octomore and a 1988 Bruichladdich. THEN there was a mysterious little number known as BPO. Not commercially available and something of a delectable oddball, this esoteric dram comprised the following: Bruichladdich 1990 vintage finished in PX sherry casks; Port Charlotte 2003 vintage finished in Oloroso sherry casks; and Octomore 2002 Sauterne cask-finished whisky. Just divine.
Best Fèis Ìle Cocktail
And the winner is: Smokey Cokey, Lagavulin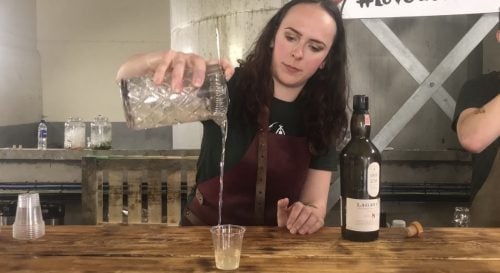 Lagavulin deliciousness (Old Fashioned pictured here, but you all know what cola looks like)
A tricky one, this. Cocktails were EVERYWHERE on Islay and Jura. People are waking up to the rather excellent truth that single malt whisky is a cracking base for a decent mixed serve. And while not all of them on offer were particularly complex, most were definite easy sippers. Two stood out, and our surprise winner was the Smokey Cokey at Lagavulin. Take 16 Year Old Lagavulin, pair it with Coke. Whaaaaaaaaaaaaaaaaaaattttt, we hear you screech. And we were very much in that camp until we tried it! To quote our Annie: "As a person who loves neat whisky and, generally speaking, hates fizzy drinks I was dubious. I'll say nothing more than this: it blew my mind." For its convention-defying deliciousness, we have a winner. Also highly commended was Jura's Highball made with Jura Journey, spiced apple and ginger beer. A delightful refresher.
Best Fèis Ìle Distillery Game or Activity
And the winner is: Kilchoman Maltings Experience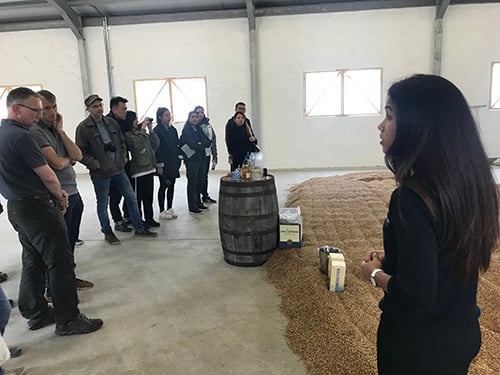 Learning about all things malt!
This was a tricky category, and one that resulted in near-argument at MoM Towers. Most distilleries pushed the boat out to offer accessible, entertaining and educational activities to whisky geeks and newbies alike. And the games side of the proceedings were strong. Even the least competitive could be found obsessively trying their hand at Hoopla the island over. But in the end there was one stand-out activity: Kilchoman's Maltings Experience. A masterclass in malting, the team took us through, in fine, fine detail, the 100% Islay maltings process at the distillery. It was lively, engaging and informative, and we were enthralled. And the cost? Nada. Great work, Kilchoman!
Best Overall Fèis Ìle Distillery Day
And the winner is: Ardbeg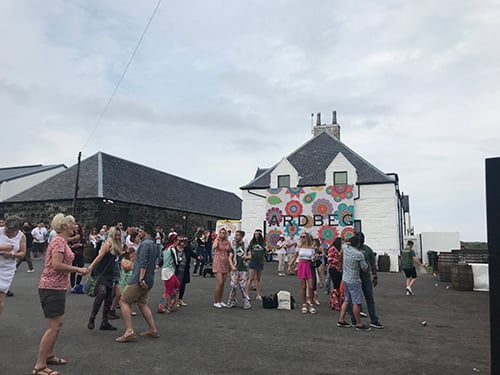 Grooooooving at Ardbeg
All eight days were fantastic. But one stood out for its full-on immersion in all things groovy. It was basically time travel. We are of course talking about Ardbeg Day. The final date in the Fèis Ìle calendar saw the festival out on a high – and we don't mean high on the Arbroath Smokies fumes. There was music. There was malt. There were also space hoppers and yoga classes. Tree hugging, dancing, epic outfits, and flowers. Alllllll the flowers. A pot-luck locker game provided some really very special drams, the distillery team were out in force in a VW camper to be quizzed by Fèis-goers, and of course, distillery Mickey Heads, whose outfit featured a medallion with a gravitational field all of its own. If you make one Fèis Ìle day, make it Ardbeg. We're still recovering.
And that's that for the inaugural MoM Fèis Ìle Awards. Congrats to all the winners, thank you to all the distilleries, and roll on 2019!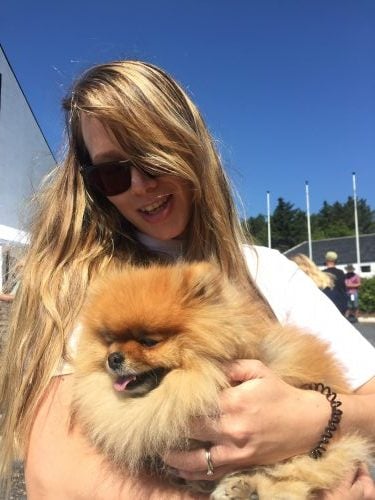 Schmoozing with celeb pupper Sirius Starlight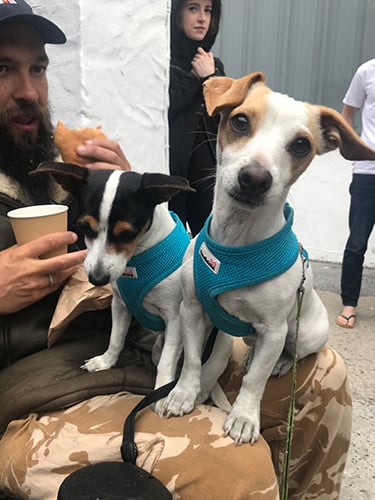 Thelma and Louise at Kilchoman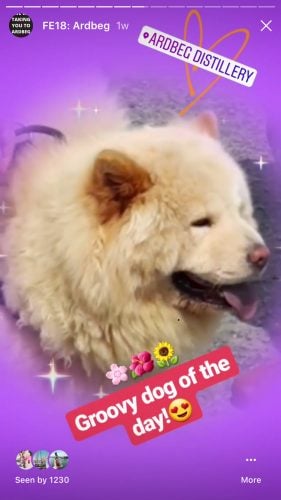 The Ardbeg Bear. Answers on a postcard if you know their name
PS – we thought long and hard about the amazing poochies we met and selecting a Dog of the Year. A Fèis Ìle Crufts, if you like. From Sirius Starlight to Thelma and Louise (AKA Kilchoman's guard dogs) and the absolute BEAR we met at Ardbeg Day (and alllll the others), there were just too, too many excellent dogs to choose from. So you are ALL winners (a let-off, we know. But just LOOK at those faces!)