On The Nightcap this week we've got news of gin's big 2019, why 2,000 weddings will be getting free Aperol Spritzes and Campari's virtual reopening of three of the world's best bars.
It's World Gin Day tomorrow, folks. We'll be seeing in the global celebration of all things gin by making a host of cocktails like The Hanky Panky, The Clover Club and The Gimlet. Or we may end up just making some G&Ts, though, because it has just come to our attention that tomorrow is also International Axe Throwing Day and we'll need to dedicate some time to this historical pasttime (how could that go wrong?). Then Sunday is somehow both Juggling Day (luckily not on the same day as International Axe Throwing Day, that could have got messy) and Cupcake Day. That's a lot of daily celebrations to keep up with. We don't know how we're going to juggle them all. Might be an idea just to do a little light reading and catch up on what's going in the world of booze. Yes, it's time for. . . The Nightcap!
On the MoM blog this week we reminded you that Deals of the Day are back for the weekend before Kristy introduced Bathtub Gin 2020, a Master of Malt exclusive that we'll donate £20.20 for every bottle sold to help those affected by Covid-19. For Annie, this week meant reporting on modern gin according to ye olde recipes and then provided handy instructions for how to add some sweetness to your serves, while Henry spoke to Logan Plant from Beavertown about beer, and yes, his famous dad, before asking a selection of people from Master of Malt and the wider Atom family what they will be buying their fathers for Father's Day 2020. Adam then broke the news that Midleton Distillery had announced a new master distiller, Kevin O'Gorman, tried some particularly delicious Panamanian rum and a Cosmopolitan, which was our Cocktail of the Week. Just a reminder that you can still win a VIP trip to Tobermory Distillery.
We'd also love to give Susan Callander a virtual high-five because she's the winner of last week's virtual pub quiz! Once again thank you to all who entered. You can check out the answers to last Friday's quiz below and this week's edition of MoM pub quiz will be on our blog from 5pm as always. Get those drams poured and those thinking caps on!
UK toasts record gin sales in 2019 
If you're looking to raise a glass to World Gin Day tomorrow, the chances are you've already got a bottle of delicious juniper-based goodness to hand, at least according to the WSTA's latest insights (if you haven't, go and treat yourself here). The organisation has reported that Brits bought a record-breaking 83 million bottles of gin last year worth over £2.6 billion, almost doubling in value in just two years from 42m bottles in 2016. The WSTA report details that gin sales have been rising since 2013 and that the biggest change in a single year was 2017 to 2018, as we went from buying 51m bottles to 73m, a 42% increase in volume. This trend, unsurprisingly, has led to a huge increase in distillers, from 152 in 2013 to 441 by 2019. The WSTA points to this increased interest in gin as being key in helping cocktail culture grow which in turn helps other branches of the great British distilling family like English and Welsh whisky. Perhaps most impressive of all is that the latest HMRC figures indicate that we exported £672 million worth British gin in 2019, taking total gin sales, at home and abroad, to over £3.2 billion. "Gin sales continued to grow throughout 2019 despite a number of predictions that the bubble will have to burst soon," said Nightcap legend Miles Beale. "We knew that growth in the gin category would slow eventually, it was always inevitable given the incredible numbers we were seeing from 2016 onwards. We remain optimistic that British gin will continue to create a stir at home and abroad as our innovative distillers continue to produce new colours, creations and botanical masterpieces". While we don't know yet how Coronavirus pandemic will affect this, we do know even in lockdown, we still can't get enough gin. It's become Britain's best-selling spirit across online platforms since March. Beale added that, provided spirit makers can survive the ongoing economic uncertainty, "it's clear that gin's success can be maintained at home and replicated abroad as our distillers look to export". If you'd like to buy gin from an online retailer, might we be so bold to recommend… ourselves?
Campari reopens the World's Best Bars online
Campari must have read our minds because the drinks giant has spent this week bringing back boozers. And not just any boozers. Three of the world's best bars, all virtually reopened – and you are invited. On the list is Rome's fabulous Drink Kong, Edinburgh's sublime Panda & Sons and Dante in New York, which you might have heard of. Y'know, given it was the number one bar in the world in 2019. Each session let's you take a virtual seat at the bar and spend time with the likes of Linden Pride (Dante), Patrick Pistolesi (Drink Kong) and Iain McPherson (Panda & Sons), who will show you how to mix classic cocktails such as the Negroni and Sbagliato, as well as some signature creations. Two pre-made Campari cocktails from the bars' menus will even be delivered to guests' homes ahead of the night, along with the ingredients to mix another cocktail alongside the bartender. A different bar will open each weekend, beginning with Dante (12-13 June), Drink Kong (18-20 June) then Panda & Sons (25-27 June) and guests will be able to choose from one of three slots – 6pm, 7.30pm or 9pm – each lasting an hour. There's just an intimate eight places per slot and the experiences, including drinks, are priced at £20 per person. "The closure of bars across the UK has had a profound effect on the industry and the livelihoods of those working in it," says Nick Williamson, marketing director at Campari UK, said: "There are also many of us who are missing the experience of going to our favourite venues to enjoy a drink with friends. Although we can't, yet, open the doors in real life, this is the next best thing to being there". If you want to secure your slot, click here. 
The Kyoto Distillery opens luxurious brand home
This week the Kyoto Distillery, Japanese gin pioneers, opened its brand home called 'The House of KI NO BI'. No this isn't on Zoom, Instagram or Facebook, this is an actual real-life place that you can visit now, assuming you can get to Japan. It's located, as you might have guessed, in the ancient city of Kyoto in a traditional machiya townhouse. Though much of the classic look has been preserved, as you can see from the photo, no expense has been spared in its refurbishment with interior design by Douglas Kakuda Croll (us neither, but apparently he's really prestigious) using classic Japanese woodwork and fabrics. The house is divided into a series of rooms or 'ma'. These include a bar offering cocktails, local beers and wines, a shop, an exhibition space, a gin museum and a tasting room, as well as a member's only bar overlooking a Japanese garden. For the moment, the bar will have limited opening times. For more information visit the website. We reckon no trip to Japan will be complete without a visit to 'The House of KI NO BI.'
Penderyn lands former Diageo man Simon Roffe
The Welsh Whisky Company, also known as Penderyn Distillery, has landed quite the coup this week by appointing Simon Roffe as its new director of business development. Roffe brings almost 35 years of commercial and general management in the drinks industry to the table, having worked for Guinness, Diageo, the Fairtrade Foundation and Remy Cointreau. Most recently, Roffe played a key role in launching the travel retail business at Halewood Wines & Spirits, and in the spectacular rise of Whitley Neill Gin. "We are excited to work with someone as experienced and as specialised as Simon. We are all naturally looking forward to seeing where we can take Penderyn with his drive and experience in the months and years to come," says Stephen Davies, chief executive for Penderyn Distillery. "It has been a whirlwind year for our distillery, and with whisky fans far and wide sampling our latest tastes and bottles, there really is no limit to our global progression. Simon has the insight and the passion to really push Penderyn to the next stage of our export plan. Our recent awards successes show that people all over the world are still thirsty for authentic Welsh whisky". Roffe added that he was thrilled to be joining the Penderyn Distillery brand and that it is "already making huge leaps and bounds on the global spirits markets. They are a brand driven by enormous ambition. It's exciting to be working with such an innovative team delivering success after success."
And finally… Aperol's Aperitivo upgrade to 2,000 weddings
If your wedding has been postponed because of the dreaded C-word, you can rest easy knowing that a certain Italian aperitivo has got your back! Aperol is doing what it knows best and giving 2,000 weddings that were postponed at the fate of COVID-19 a free Aperol Spritz for each guest. This is the result of a competition that was initially launched back on Valentine's Day (when you could go out for dinner and drinks, remember that?) for 500 couples, but then the year's events unfolded and Aperol decided to grant the wishes of all 2,000 people who entered! Whether your special day is postponed to later in 2020 or in 2021, you can be sure that you'll have a spritz in your hand and all of this will (hopefully) feel like a distant bad dream. Though if everyone is guaranteed a free spritz, perhaps you'd better bump up that guest list…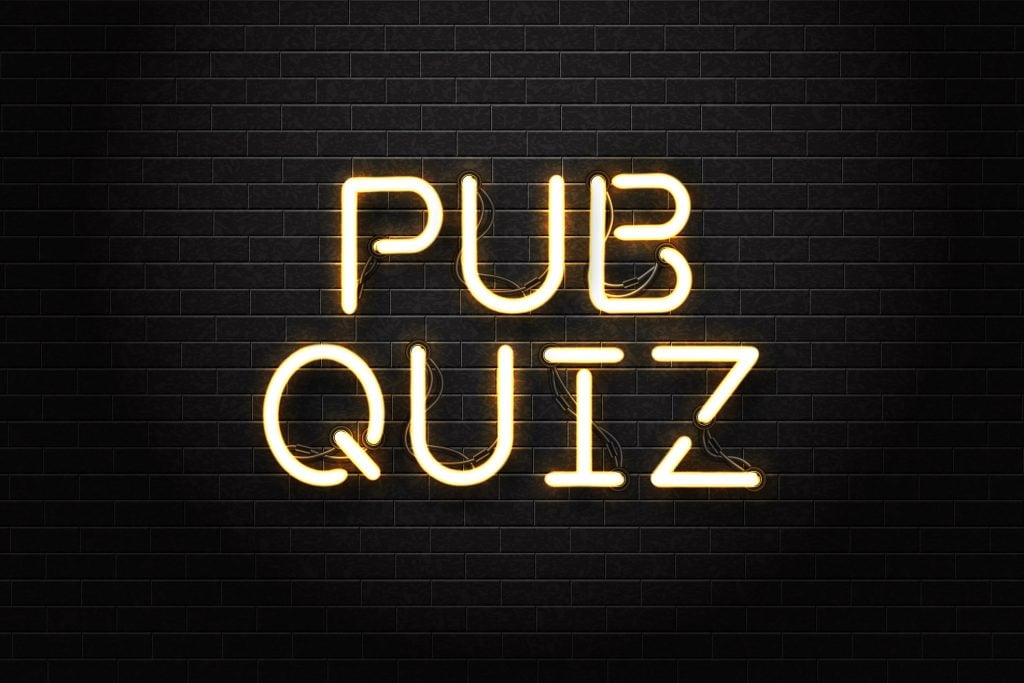 Pub Quiz Answers
1) In 'Pulp Fiction', when Vincent Vega asks "You don't put bourbon in or nothin'?" about Mia Wallace's order, what drink is he talking about?
Answer: Milkshake
2) Which of these grape varieties is not allowed in Châteauneuf–du–Pape? 
Answer: Grenache
3) What was Robert Louis Steveson's favourite whisky? 
Answer: Talisker.
4) In which country does Château Musar make wine? 
Answer: Lebanon
5) Angostura bitters was invented in which modern-day country? 
Answer: Venezuela
6) What was Al Capone's favourite cocktail? 
Answer: Southside
7) What is ordered "on the rocks with a twist" in the 1993 film 'Groundhog Day'?
Answer: Sweet Vermouth
8) In 'Ghostbusters II' which wine do Bill Murray and Sigourney Weaver drink when they have dinner in a fancy restaurant? 
Answer: Château Haut-Brion
9) Which fictional whisky does Gotham City's Commissioner Loeb keep in his desk in 'The Dark Knight'? 
Answer: Clyburn
10) Traditionally, how many 'Men of Tain' made Glenmorangie whisky? 
Answer: 16