Fair warning: this edition of The Nightcap features Rick Astley. If that doesn't make you click through immediately, we don't know what will.
Friday greetings from your very favourite online drinks retailer in the whole wide (and round) world. If you're feeling a touch tired from a long week, then The Nightcap is here to ease you into the weekend. Acquire a cocktail, commandeer a seat and read on, folks.
On the blog this week, Henry had a nose around Kent's Copper Rivet distillery and discovered the historical connection between Scotch, sherry and Talisker. Adam, on the other hand, found out more about the connection between whisky and perfume with Chivas Brothers' Royal Salute. Annie looked into the future of liqueurs with Aelder Elixir's Tom Chisholm, and then scoured the aforementioned round world for the best specialist spirit bars. It was a good week.
And so, on with the booze news!
The Macallan reveals Masters of Photography Magnum Edition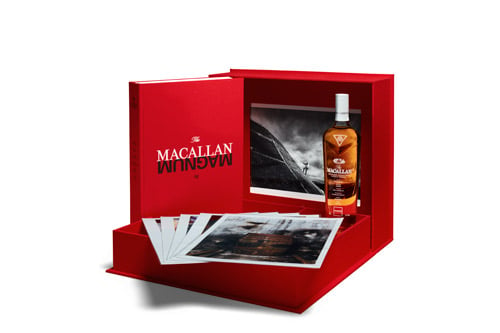 Big news. Y'know. Because it's a big bottle.
Last week we headed up to the Magnum Print Room to check out an exhibition depicting the build project of The Macallan's new distillery. Now we can tell you about Magnum Edition, the next instalment in the brand's Masters of Photography Series, which does just that! The liquid was created by whisky maker Sarah Burgess, who selected a combination of eight casks to represent the six photographers involved in the project. A 'spicy, gingered' cask is said to reflect Steve McCurry's bold style; a 'cask of age' represents Martin Parr's 'oblique' world view; a 'classic' cask with predominant black cherry notes complements Paolo Pellegrin's black and white snaps; while a pair of undisclosed casks capture the familiarity of Mark Power's work. Then you've got an ex-European red wine cask where the rich mahogany hue parallels Gueorgui Pinkhassov's vibrant imagery, a 'delicate' first-fill barrel to depict Alec Soth's spirit of adventure, and a final 'intensely sweet yet classic Macallan' cask to celebrate the 'imagination and brilliance' of Magnum. The expression is presented in a fancy archive-style gift box which also contains a selection of signed prints. Word on price? A weighty US$3,500, with just 2,000 released.
1967 Laphroaig fetches £61k at auction – even with spelling error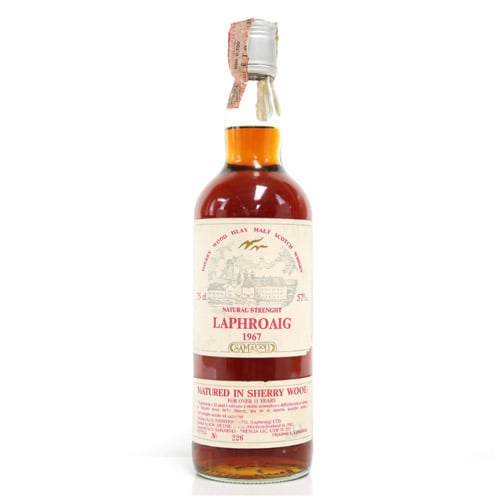 Precious…
Forget what they taught you at school, folks – turns out not spelling things accurately can be both cool AND earn you a hefty fortune. This is what the previous owner of a 1967 15 year old Samaroli bottled Sherry Wood Laphroaig discovered this week when their precious (said in Gollum-style voice) went under the hammer at Whisky Auctioneer. The bottling fetched a whopping £61,000! It had been signed by the late Silvano Samaroli himself, and eclipsed the previous auction record for a similar bottling which reached an auction price of £5,700 back in 2014. Plus, it had a typo on the label – 'natural strenght', anyone?
Chivas and Man U team up for multi-year deal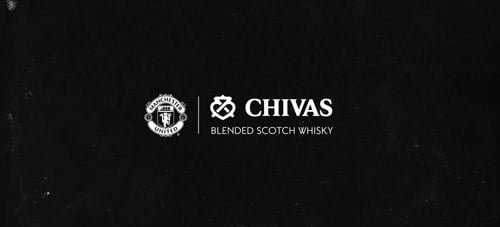 Go team!
Whisky-loving Man City or Liverpool fan? Best look away now. This week, football team Manchester United and blended Scotch brand Chivas Regal inked a deal which will see the Chivas portfolio served in Old Trafford's hospitality suites and fancy branding displayed on perimeter boards and around the stadium. "Manchester United's history is built on teamwork and we embrace Chivas' belief that 'blended is better'," said Manchester United's group managing director, Richard Arnold. Chivas Brothers chairman and CEO, Jean-Christophe Coutures, added: "Blending has been in our DNA ever since James and John Chivas pioneered the art in 19th century Scotland. Partnering with Manchester United was therefore a natural fit; we both firmly believe that great things can be achieved when we come together."
New look for Ailsa Bay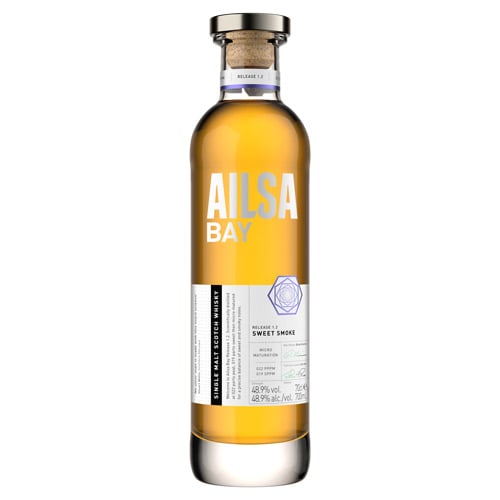 New and shiny!
William Grant & Sons' peated lowland single malt whisky has been revamped! First launched in 2016, Ailsa Bay was created to max out the amount of smoke and sweetness in peated expressions, while dialling back those medicinal notes. Along with a shiny new bottle design (said to reflect the 'boundary-pushing' tech up at the distillery in Girvan), the whisky itself has indeed got smokier and sweeter, with the PPPM (phenol parts per million) up from 21 to 22, and the SPPM (sweetness parts per million) soaring from 11 to 19. "The Ailsa Bay distillery continues to allow us to develop incredible whisky through its ability to create different styles under the one roof," said master blender Brian Kinsman. "This new expression has allowed us to evolve the flavour notes and push the balance in taste, without compromising on the quality of the liquid."
Behold The Woodsman blended Scotch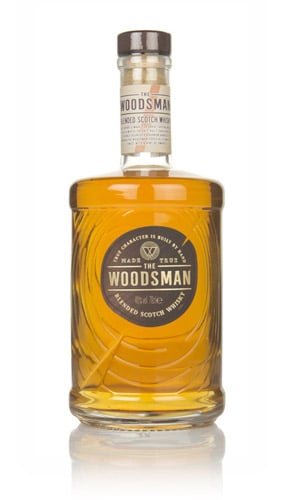 The Woodsman – now available on masterofmalt.com
Last week it was Fettercairn. This week those busy folks at Whyte & Mackay are showing off Woodsman – not Justin Timberlake's latest musical offering, but a blended whisky developed to appeal to a younger audience (of legal drinking age, of course). The liquid has been aged in both new oak casks from Ohio and double-scorched ex-bourbon barrels for a spicy, nutty nose and oaky, vanilla-led palate. Steven Pearson, global marketing director at Whyte & Mackay, reckons it's got a "unique flavour profile and a rich and innovative production story". If you're tempted, we've got bottles right here, priced at £29.10.
All change for Applbaum who moves from Patrón to Grey Goose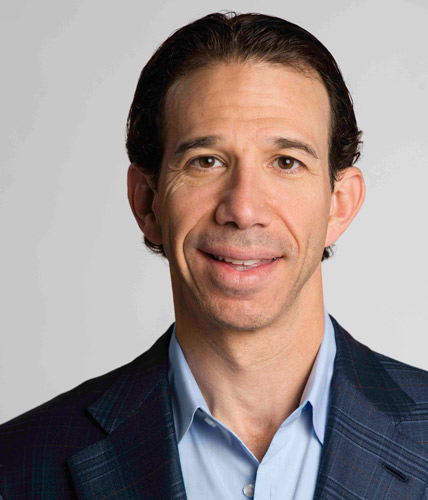 Lee Applbaum!
Remember back in January when Bacardi bought Patrón for US$5.1 billion?! Well, there's been some people movement. Lee Applbaum, the chap who led the global marketing efforts for the Tequila brand, has added Grey Goose vodka to his list of responsibilities and will work as chief marketing officer across both. His job spec includes taking Grey Goose 'to the next level' – expect to see amped up advertising, brand comms, experiential activations and packaging in the coming months. "Grey Goose and Patrón are two iconic brands that stand alongside each other behind some of the best bars in the world," said Applbaum, who was named the 'most innovative CMO by Business Insider. "We can learn a lot from each other, and I look forward to a dynamic exchange of ideas, expertise, and experiences between the two brand teams."
William Grant's Highland Festival returns to London!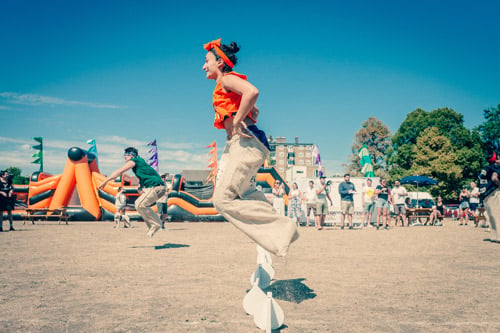 Let's be real though, the ultimate test of skill has always been the egg & spoon race
Bartender competitions generally involve creating and crafting cocktails. Not this one – for William Grant (maker of the likes of Glenfiddich, The Balvenie, Reyka Vodka and Hendrick's Gin) it's more about the school sports day/Highland Games vibe. This year, nine brand teams competed for the Highland Festival title (and a trip to Barcelona) at the tournament in London's Haggerston Park. Games included the tug of war and the sack race, and for hydration there were bespoke cocktails from the likes of noted bartender Rich Wood. Who won? Team Drambuie, led by global brand ambassador, Freddy May. Enjoy Barca, folks!
You wouldn't get this from any other guy...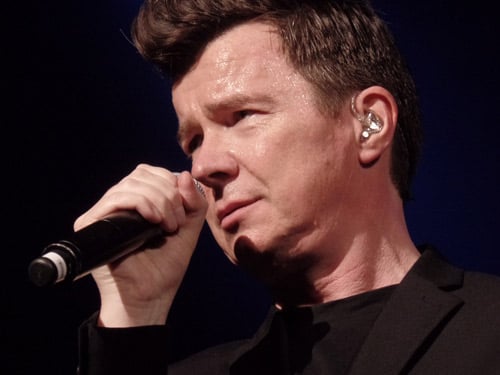 Rick Astley! Photo credit: WJack12
Forget rickrolling – Rick Astley is back with a new venture of interest. And it's not musical. After becoming best pals with Mikkel Borg Bjergsø, founder of Danish beer brand Mikkeller, Astley is going to open a beer bar in London's Shoreditch. It's not the first time the pair have collaborated – last year they released Astley's Northern Hop Lager, a red lager made with a touch of ginger. "I know we are going to have a lot fun and drink some great beer," Astley told NME when he announced the development. Sounds like a good mission statement to us…
Guinness opens first American brewery for 64 years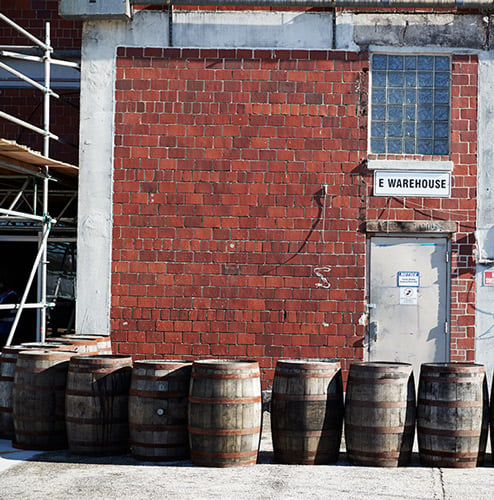 Casks lining up politely to get into E Warehouse. Good job, casks.
2 August 2018 was a momentous day in brewing history as Guinness opened its $80 million Open Gate Brewery & Barrel House in Maryland, 10 miles from downtown Baltimore – the first Guinness brewery on American soil for 64 years. It's big, too: the site will consist of a brewery, barrel house and visitor centre. "I can't wait to see people enjoying the fantastic beer our brewers have made in this historic and beautiful building," said Diageo's Tom Day. "I'm proud that we have created something special and quintessentially Guinness here in Maryland." The black stuff will still be brewed in Dublin but the Maryland brewery will be the home of Guinness Blonde and some new beers especially created for the US market. The brewery has the ability to make experimental small-batch beers, many of which will only be available from the taproom, alongside the more mainstream lines. Sounds like good reason to visit Baltimore.
Copper Rivet creates 'gin nouveau'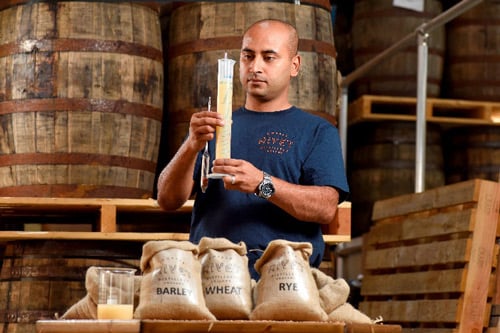 Not just barley, not just wheat, not just rye – but all three!
Copper Rivet will soon be distilling gin made from this year's grain crop, which the team is dubbing 'gin nouveau'. Gin nouveau? Qu'est-ce que c'est? Well it's a bit like Beaujolais nouveau – a wine made and sold in the year of harvest – but with gin. The spirit will be made from this year's wheat, barley and rye crop sped to the Chatham distillery by boat from the Isle of Sheppey. Apparently it will be the first distillery in the country to release products made from this year's crop. "We are one of only ten gin distilleries, out of the 350 or so now in Britain, to make our own base spirit," said Matthew Russell, who owns the distillery with his family. "And as the farms are so easterly and soak up the heat, we believe we will be amongst the first gins to showcase this year's crop." The new grain will be distilled and then rectified in their special still named Janet (see our feature on the distillery). Voila! Gin nouveau.
Wine gums with real wine? Yaaassssssssssss.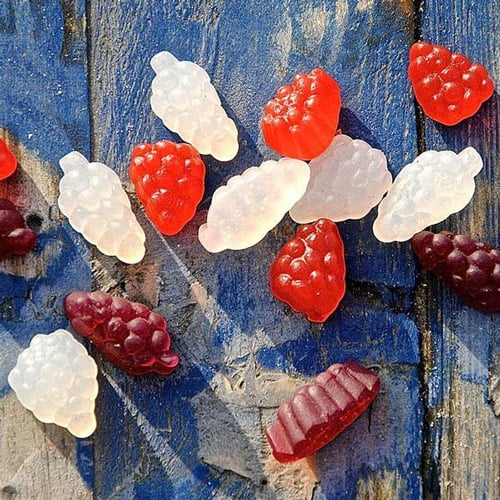 Shaped like grapes, taste like wine
And finally… When you were a child did you eat wine gums because you thought they sounded grown-up? "I'm not having cola bottles, I'm having wine gums because I have refined tastes," you'd say to your friends grandly, or perhaps that was just me. Well it might surprise you to learn that wine gums have never been made with actual wine… (long pause… moves into Jeremy Clarkson voice) until now! Yes, some bright spark has come up with wine gums made with real wine. They're called… (another long pause)… Real Wine Gums! And they come in four flavours: Merlot, Chardonnay, Rosé and Riesling. The price is a decidedly grown-up £7.49 for a box from the Fowndry. So about the same as reasonable bottle of wine, though disappointingly Real Wine Gums don't contain any alcohol. Great for children, not so good for adults. Perhaps we can persuade the manufacturer to launch a properly grown-up version…
That's it for The Nightcap. Have a great weekend, folks!