Sherry cask-finished whisky is nothing new, but just why does the combination work so well, and why have the butts become so important? We investigate the magic of sherry and Scotch…
All whisky lovers know that sherry casks and Scotch go together like Jazzy Jeff and the Fresh Prince, but the term 'sherry cask' isn't as simple as it may at first appear. To get to the bottom of this much misunderstood part of the whisky process, I spoke to Donald Colville, Diageo global malts ambassador, about sherry, whisky, history, and Talisker's super fancy recently launched Bodega Series 40 Year Old single malt.

First find yourself a comfy chair because it's time for a bit of history…
From the 16th century until the 1970s the British drank a lot of sherry. In the nineteenth century something like a third of all wine imported was sherry. It would have been transported in 550-litre (usually European but sometimes American oak) casks known as butts – from the Spanish word botas. The sherry would then be bottled in Britain.
Once emptied, it wasn't worth the money to send these butts back to Spain, so they were easy to obtain cheaply for storing whisky. It was discovered that something magical went on between the spirit, the air and the wine-soaked wood (something like ten litres of sherry would soak into the barrel). Williams Sanderson, creator of VAT 69 blended whisky, wrote in 1864: "It is well-known that whisky stored in sherry casks soon acquires a mellow softness which it does not get when put into new casks."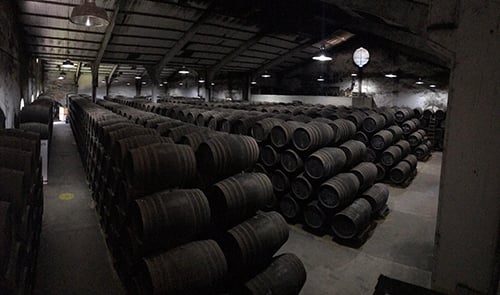 I like big butts…
Panic on the streets of Dufftown
This went on merrily until the 1970s when sherry began to be bottled in Spain rather than London, Bristol or Leith. Then when Spain joined the EEC (as it was then) in 1986, it became a legal requirement that sherry be bottled at source. Furthermore, sherry used to be fermented in oak (often new oak barrels), but in the '70s most of the bodegas went over to stainless steel. The supply of casks began to dry up. The gap was filled by using ex-bourbon casks, but whiskies such as The Macallan relied on sherried oak for its signature flavour and blenders needed sherry-aged whisky to maintain the consistency of their blends. There was panic on streets of Dufftown.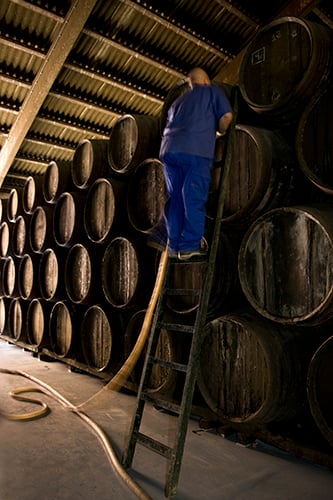 Checking out the solera
You can't have our butts
The obvious thing to do was to go to Spain and buy some butts off sherry producers, but as Donald Colville put it: "Big sherry bodegas don't need to sell their best casks, they don't need to work with anybody because they can use them over and over again." Most sherry is aged in a solera system, a process that blends new and old wines together into a consistent product using a series of casks. Some contain barrels that are over 100 years old, impregnated with decades worth of sherry. They only replace them when they fall to pieces.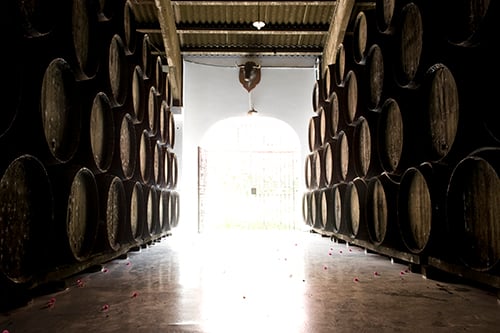 Sherry sleeping
Something must be done
Some bright spark came up with the idea of getting their barrels seasoned with sherry to order. Though this wasn't an entirely new concept, the trade in seasoned barrels really took off in the 1980s. It involved filling a barrel (usually European oak) with sherry for around 18 months before breaking it down and sending it to Scotland. The sherry might then be reused, distilled into brandy or converted into vinegar. Fermin Hidalgo from Bodegas Hidalgo la Gitana told me on my visit earlier this year that seasoning casks is now big business for them.
Diageo does things a little differently. "We've got our own bodega in Scotland," says Colville. "It's a shed in the Central Belt. We buy in bulk from the producers, fino, Pedro Ximenez, amoroso, it's transported over here, stored in these vats and then we use it to season the casks." They don't use butts but "rejuvenated American hoggies", which are considerably smaller (at 250 litres compared to 500 litres) for greater wood exposure.
Wines used for seasoning almost certainly aren't the same as big brand sherries like Manzanilla La Gitana, which is around five years old. They are unlikely to be much older than the minimum two years required and certainly less mature than much of the sherry shipped to Britain in the past. Most of the sherry casks in the whisky industry today are different from those used in sherry maturation, nor are they the same as the old transport casks.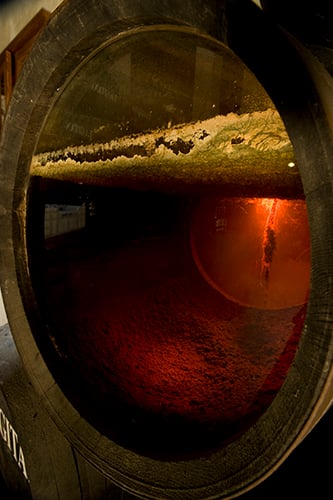 Check out that flor
"The first thing they did was put the phone down on us"
"Back in the late 1800s and early 1900s, they [Talisker] were buying directly from bodegas in Spain," Colville told me. "We found a cask ledger that showed casks we bought. And the very first Bodega that they worked with was Delgado Zuleta."
So when Diageo wanted some authentic ex-solera butts for a "high end, older Talisker", it seemed logical to go back to Delgado Zuleta. But it wasn't quite as simple as that. "We actually phoned up Delgado Zuleta to tell them the whole story and say we wanted to have a partnership. I'm not going to lie, the first thing they did was put the phone down on us," Colville continued. "They didn't want to work with us. So we phoned them back up and spoke to Pelayo Garcia, the main contact we had there, and we explained the historical link. Once they got this concept of the link and the story that was there, they were really keen to work with us. We wanted to bring casks over and basically follow the same route the casks had done before. We put five casks that were hand selected by their sherry master and then from Cadiz in the south of Spain into a container and sailed them up to Scotland. And that's when we actually put some Talisker into them."
Not only are there historical links between the two firms, both Talisker on the Isle of Skye and Delgado Zuleta in Sanlucar are seaside enterprises, both their products famed for their salty tang (which may or may not have anything to do with being made beside the seaside).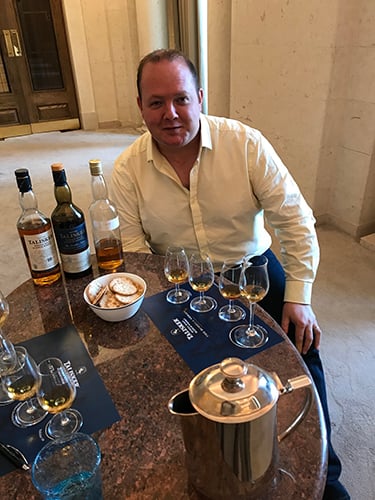 Colville shares a dram with our Henry
A very special Talisker
Colville told me a little about Talisker Bodega Series 40 Year Old. "We took what would have been 40 year old Talisker that had been slowly developing over time in American oak refill casks, so very gentle maturation. But the idea was to reimagine what this whisky would have tasted like from the early 1800s. And by putting this whisky in the cask and secondary maturing it for not long after six months, that's all it was, the intensity of flavour that was delivered into the whisky from those casks was incredible."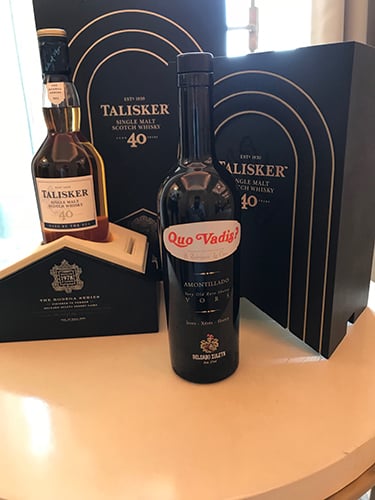 Perfect match
From a standard sherry cask you get a lot of oak character along with sherry. But in a bodega cask there's little wood influence and lots of wine. In this case not just any wine but one of the world's great sherries – Zuleta Delgado Quo Vadis VORS, a fine amontillado of around 50 years old.
I tried the Bodega Series Talisker directly after trying the Quo Vadis and the similarities were striking: I could really smell the sherry on the nose, initially very salty like a manzanilla, and then nuttier and sweeter notes like butterscotch. On the palate it's all about austere dry sherry notes, salt, almond and hazelnut, but a splash of water brings out the Talisker fire, pepper, smoke, chilli and some honeyed sweetness. Colville describes it as "a magnificent, lion-hearted old Talisker".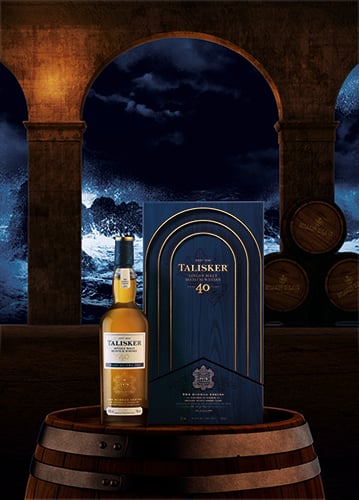 THAT Talisker Bodega Series 40 Year Old – sherry and Scotch is go
So what's next in the Bodega Series? "At the minute there's nothing to talk about because we're still in the process of looking at what the next one's going to be, but the idea is that everything we do will be somehow linked to our history," Colville said. Expect exciting Talisker collaborations with other sherry bodegas in the not too distant future.