Perfume and Scotch whisky may seem like unlikely bedfellows. However, Royal Salute 28 Year Old – Kew Palace Edition, the latest release from the distillery's annual Flask Collection series, demonstrates how the two worlds can harmonise to create something truly unique…
We've previously explored the interesting crossover between perfume and Scotch whisky. The two have plenty in common: both are luxury elixirs, both are crafted by specialists and both attempt to create aromas that become a mode for recalling memories.
That partnership of perfume and whisky has arisen once again thanks to Royal Salute 28 Year Old Flask Collection – Kew Palace Edition. The latest addition to the acclaimed annual Flask Collection range was inspired by London's Kew Palace (the charming former home of George III) and the substantial sensory experience that is its iconic Kitchen Garden, and was created from a collaboration between Chivas Brothers' director of blending Sandy Hyslop and famed perfumer Barnabé Fillion. This is the first time in Royal Salute's history that a master blender has teamed up with someone else to make a new expression.
We spoke to both Hyslop and Fillion about the latest offering from the luxury whisky brand to see what whisky can learn from perfume, what whisky can do to broaden its horizons and what memories the new edition evokes for the pair.
Master of Malt: What attracted you to this project?
Fillion: Having spent years working in the olfactory and perfume world, my experience and approach is very much related to flowers and plants, which is why I felt such a real affinity with Kew Gardens. The creation of Royal Salute 28 Year Old Flask Collection – Kew Palace Edition was also an unmissable opportunity to collaborate with Sandy Hyslop, someone who I've long admired for his unparalleled knowledge and expertise when it comes to creating distinctive and truly special prestige whiskies.
Hyslop: Being able to work with Barnabé was a big draw for this project. Last year's Flask Edition release was a great success, so the benchmark was already set for the 28 Year Old Kew Palace Edition. We knew we needed a different approach that would make this iteration stand out, and Barnabé has been working on the Royal Salute brand as a creative advisor for many years now. The 28 Year Old Kew Palace Edition also provided an opening for the very first collaboration under my tenure at Royal Salute, and it's been an absolute pleasure.
MoM: What's the key to creating a distinct aroma?
Fillion: You know you've created something special the moment it touches and moves you. It could be a classic, faceted or disruptive ingredient, as long as it procures an emotion that you haven't known before. You have to bring the inspiration of a scent to life, giving it all the attention it requires and that's what's key to a distinct aroma.
MoM: After so many blends, what's the key to having original ideas and making sure each blend has its own personality?
Hyslop: We wanted to create something to inspire and excite our consumers, but it had to be rooted in the Royal Salute style because that's what people trust. Creating a new and original blend comes down to experimentation and extensive experience of how tastes, scents, and flavours will work together. That's why Barnabé's input was so important, helping us to embody the scented flora Kew Gardens is renowned for while delivering a bespoke blend that also remains true to Royal Salute's signature style. We're always experimenting and trying new things; different flavour expressions, different cask finishes and more. Limited editions and collaborations like this are particularly innovative in the Scotch whisky category.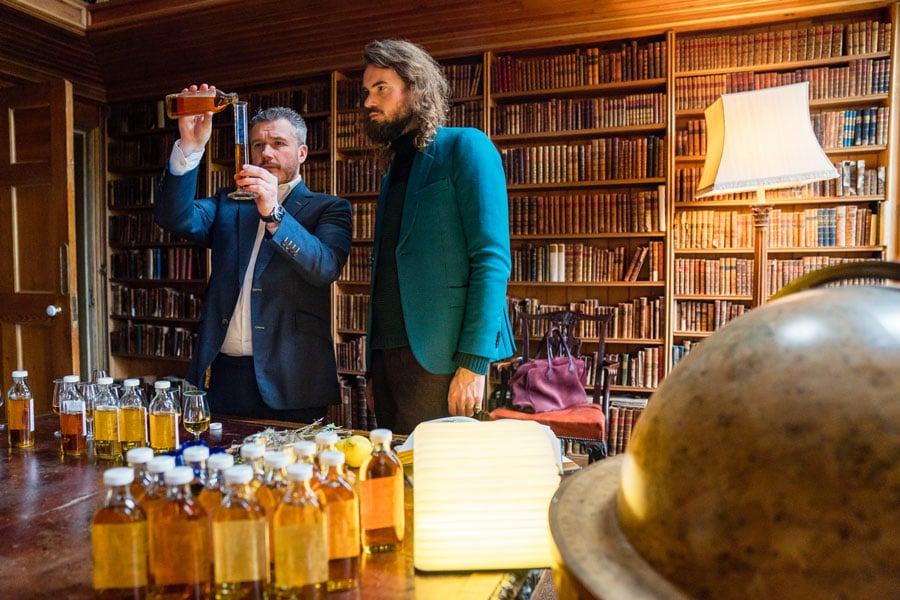 Attempting to find the sweet smell of succes
MoM: What's the challenge when working with whisky?
Fillion: Sandy and I quickly discovered that we have two very different jobs and speak two very different languages in our respective worlds. We used this to our advantage, bringing together our skills to create a new sensorial language and produce something truly unique. For example, even though perfume and whisky have a lot in common, when it comes to nosing scents and expressions I can't say taste has ever been an important part of my job! It was wonderful working with Sandy and seeing how his nosing and tasting go hand in hand to deliver the perfect blend.
MoM: What's the benefit of working with someone from the world of perfume? Did it present any challenges? What can the world of whisky learn from the world of perfume?
Hyslop: I think the biggest benefit we had from working with somebody outside of the whisky industry was the fact we both complemented each other's style. My job as director of blending for Royal Salute is to maintain the family style and ensure the quality and continuity first and foremost. But on this occasion, we wanted to bring a new dimension to the whisky, and that's why Barnabé was instrumental.
It was a fascinating experience working with someone from a very different sphere, but there were also synergies, as both worlds are all about flavours and the senses. Even things like the phrases and words we used to describe the whisky when nosing and blending were so different, which was actually really inspiring. Together, we created a new language and that was certainly a completely new and different experience for me.
Fillion: There is plenty of crossover between the world of whisky and the world of perfume, and the similarities and differences between the two can be found in the art of blending. Time is an absolutely critical component for Sandy, which is unique to whisky and not for perfume. While Sandy plays with maturation to bring quality and add something special to his blends, I need to work with extremely fresh elements, and this is where we can learn from each other. The maturation stages for our ingredients are different, but the process of blending them together is quite similar.
As with perfume, creating the perfect whisky requires the blender to really push their sense of smell to the limits – if you close your nose when tasting whisky, you're not really tasting whisky. Sandy and I have had very different life experiences to build up our flavour memory, but we are absolutely steadfast in our agreement that so much of the tasting experience, and moreover the entire sensory experience, comes from what we smell.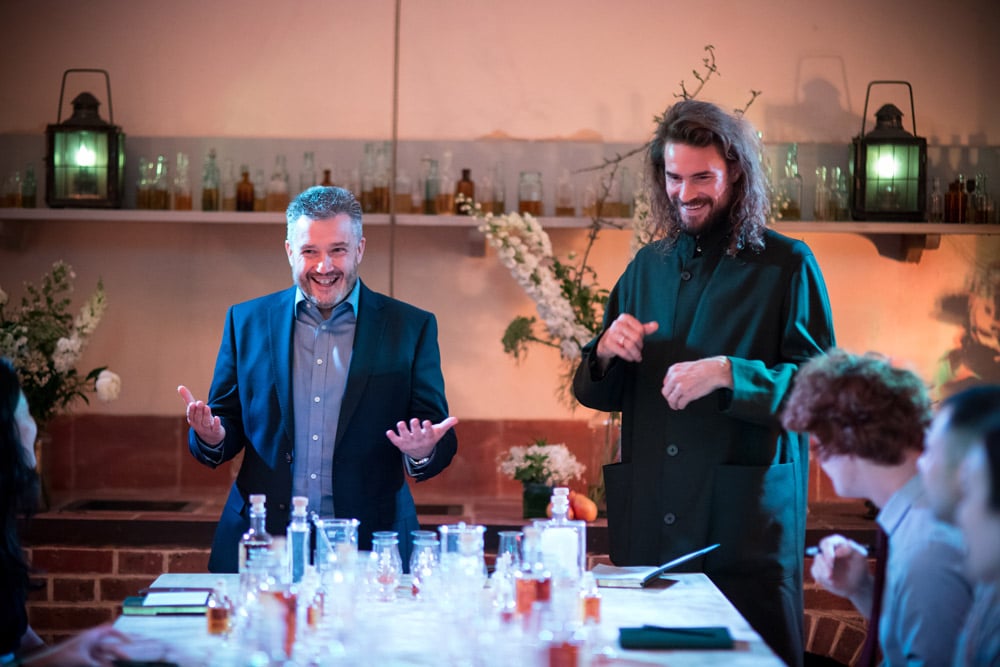 It's all fun and games – and tasty whisky
MoM: Does whisky need to do more to broaden its horizons and seek more input from external industries?
Hyslop: When working on a Royal Salute whisky, my team and I are always looking for different ways to innovate but always keeping within the strict rules related to whisky-making. I have several experiments currently ongoing from special formulations to cask finishes which I monitor on a regular basis to see if there are any opportunities for new and exciting expressions that will complement the Royal Salute family of whiskies.
Fillion has stated previously that the job of the aroma is to transport the individual to past experiences. Does Royal Salute 28 Year Old Kew Palace Edition conjure up any specific olfactory memories for you?
Fillion: Kew Gardens is considered by many as the 'garden of the world'. It's fascinating how much there is to discover and it's a never-ending process which is great. In my opinion, it is without a doubt, the most important botanical garden in the British world, a real atlas, and certainly the most famous to perfumers. Royal Salute 28 Year Old Flask Collection – Kew Palace Edition reminds me of my beginnings in perfumery!
Hyslop: Many flavours conjure up vivid memories from your childhood. When I nose the Royal Salute 28 Year Old Flask Kew Palace Edition, it transports me to my grandmother's house. When I used to visit her, she always had a row of flowering pot plants on her window ledge and some of the flavours in the whisky remind me of the concentrated sweet scent coming from the flowers. Also, the ripe pear notes remind me of some amazing desserts my mother would give me when I was young.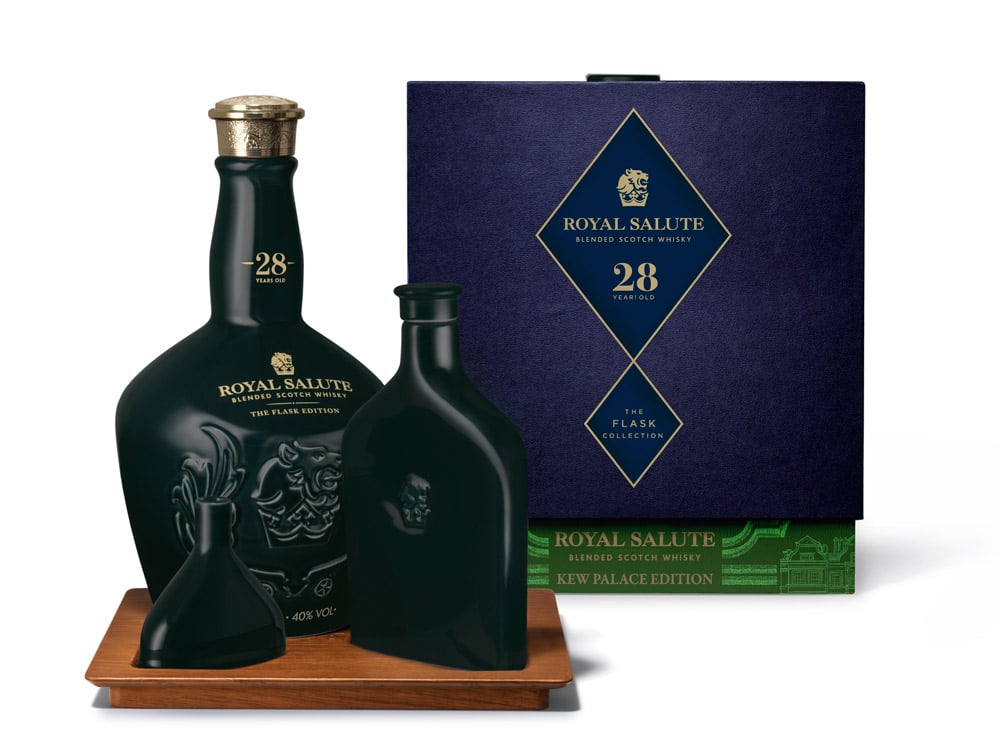 Royal Salute 28 Year Old Flask Collection – Kew Palace Edition
Tasting Royal Salute 28 Year Old Flask Collection – Kew Palace Edition
Royal Salute 28 Year Old Flask Collection – Kew Palace Edition Tasting Notes:
Nose: Intense fruity and delicate floral notes dominate the nose with ripe pear and a hint of aromatic autumnal leaves alongside delicate floral notes of violet. A creamy, caramel quality lingers throughout.
Palate: Rich and sumptuous, with plenty of soft toffee pennies, acacia honey and just a prickle of sherry spice and Islay smoke.
Finish: Deliciously long, smooth and sweet finish with a wisp of smoke.