What do perfume and Scotch whisky have in common? Much, much more than you'd think – as The Macallan Edition No. 3, the newest bottling in the distillery's acclaimed series, demonstrates.
Last night we hightailed it down to luxury London hotel The Connaught (the fourth best cocktail hangout in the world, or so say the folk at 50 Best Bars) to sample the latest release from The Macallan's Edition series. We were expecting a whisky tasting – what we actually got was an eye-opening (nose-broadening?) journey into scent, and its relationship with spirit.
After enjoying a spritz-style welcome drink at the Champagne bar, we were invited into a larger room, ushered in by Sietse Offringa, The Macallan's head of education. "Tonight," he announced, "we'll let you have a peek inside our whisky kitchen."

A guided tasting of The Macallan's 12 year old Sherry Oak, Fine Oak and Double Cask expressions followed, before we were introduced to Roja Dove, master perfumer, founder of Roja Parfums and probably the best-dressed man we've ever seen.
It takes 15 years to train to be a perfumer, so – much like super-experienced master distillers of our world – there aren't too many about. Dove is one of the most highly acclaimed. Fun fact: he once smelled more than 1,000 perfumes in a day. But we're digressing here.
Working closely with The Macallan's master whisky maker, Bob Dalgarno, Dove told us he set about crafting Edition No. 3 using the same formula he would for a perfume – that is, by pinpointing complementary aromas, and balancing these with a "counterpoint" note.
Last year he travelled to The Macallan's Speyside home, where Dalgarno pulled out "around 60 or 80 different whiskies" for him to examine, representative of the "breadth of flavours" the distillery has in its stocks.
"I nosed them and tasted them, and started to hone down the flavours that I loved the most," explained Dove. "From that, I had a very long conversation with Bob, and he found six whiskies that he wanted me to nose and taste. To put context in his work, he looks after 250,000 barrels. This was the mind-blast for me. He knows in his inventory how 250,000 barrels taste and smell. That is remarkable."
The resulting Macallan Edition No. 3 liquid is a combination of six different American and European oak casks: American oak Sherry butts from the Hudosa cooperage in Spain, European oak Sherry butts and puncheons from the Tevasa cooperage in Spain, refill butts from The Macallan, and bourbon barrels and hogsheads.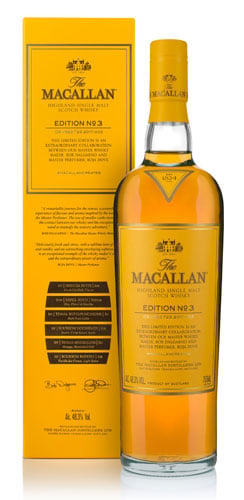 The Macallan Edition No.3 plays on scent
Tasting The Macallan Edition No. 3
It's bottled at 48.3% abv (the .3, apparently, is a nod to the fact that it's the third edition in the series) and as for the flavour profile – well, rather than share our scrawled tasting notes, we thought it better to let Dove describe the whisky himself.
"I said to Bob, 'What I would love for you to be able to do is this: I would like a whisky that when you first drink it, it will be bright and fresh and citrus, because they are words that I would not personally associate with whisky," he detailed.
"I love the very vanillic toffee note that is in The Macallan, but there was a very specific flavour I loved that was like when you make caramel and the butter is just turning into the caramel and you feel its buttery quality.
"But, looking at it as a perfumer, if I only used these type of materials the end effect would be very flat and dull – what you need is something to counterpoint it. So in it he's put this wonderful bitter orange note, and it really is like if you take your thumb and break into an orange and then put your thumb onto your tongue.
"There's a little bit of soft, sweet spice, and then suddenly your mouth just becomes full of apples. Now, when I was very young my grandmother used to take the apples when they were ripe and lay them in little wooden trays, which she used to stack up. The apple that you'll discover is not like when you bite into a crisp apple – it's this almost waxen, rich, soft, ultra-fruity apple taste."
We can assure you that the whisky is every bit as delicious as it sounds. To make the experience all the more intriguing, before embarking on the project Dove was a self-confessed whisky-phobe. In fact, he once told The Macallan's creative director Ken Grier "if we're going to work together, you need to know that I absolutely hate whisky".
"Everyone was wondering whether I'd like it," he continues. "The whisky came, I tasted it, and it's exactly how I wanted it to be. And so I'm incredibly proud to have done this collaboration with a man who is really a genius at his craft."
If you fancy tasting The Macallan Edition No. 3 for yourself, you're in luck. It's a limited release, but we've got it in stock!