128 year old American Bar at The Savoy, one of the most iconic venues in bartending history, was last night named World's Best Bar 2017 – and has immediately topped our must-revisit list.
Where many London bars try to create an air of faux-retro glamour with a bit of velvet upholstery and a waiter in a bowtie, the American Bar is the genuine article. And it can thank its rich history for its sense of style.
You could quite literally write a tome documenting the history of the bar – it opened the same year as the Eiffel Tower was completed (1889, FYI) – and the famous faces that have walked through its doors over the years. We're talking Frank Sinatra and Marlene Dietrich here, none of that Kardashian nonsense.
By the early 20th century, the concept of transatlantic flight had evolved from something completely terrifying to extremely fancy, leading to an influx of fashionable Americans in Britain. In addition to their wealth they brought with them cocktails and country music. We Brits were particularly interested in the former, and responded by opening a bunch of 'American Bars' (0/10 for creativity). Not only is The Savoy's version the last remaining bar of its kind, it's also the oldest surviving cocktail bar in the UK.
Even more pertinent are the legendary figures that once stood behind the bar: inventor of the Hanky-Panky and celebrity bartender of the early 1900s Ada Coleman (you know she would've been slinging drinks on the Victorian equivalent of Channel 4's Sunday Brunch) and her successor, Harry Craddock, who penned bartender bible The Savoy Cocktail Book.
Now under the expert stewardship of Declan McGurk and Erik Lorincz, the cocktail programme is as pioneering as it was all those years ago – and with that kind of old-school finesse that only The Savoy could dish out.
"As the longest surviving American bar in London, one of the most iconic in the world, steeped in rich history, the American Bar at The Savoy is extremely proud to have received one of the highest accolades in the bar industry today," lauded McGurk after his bar took the World's Best Bar award.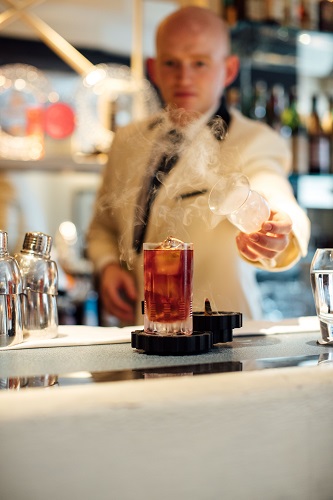 One o' them new-fangled American drinks
We know what you're thinking: 'World's Best Bar aside, where else can I order a decent drink?'
The Americans might claim to have invented the cocktail, but last night at the World's 50 Best Bars ceremony, London reigned supreme. Of the top four bars, three are based in the big smoke: alongside the American Bar, Ryan Chetiyawardana's standout South Bank haunt Dandelyan swooped in at number two, and The Connaught Bar at (shock) The Connaught hotel claimed fourth place, headed up by Ago Perrone.
Here are the top 20 bars, according to the World's 50 Best Bars:
1. American Bar, The Savoy Hotel, London
2. Dandelyan, Mondrian London, London,
3. The NoMad Bar, NoMad Hotel, New York
4. Connaught Bar, The Connaught, London
5. The Dead Rabbit Grocery and Grog, New York
6. The Clumsies, Athens
7. Manhattan, Singapore
8. Attaboy, New York
9. Bar Termini, London
10. Speak Low, Shanghai
11. Little Red Door, Paris
12. Happiness Forgets, London
13. High Five, Tokyo
14. Licorería Limantour, Mexico City
15. Atlas, Singapore
16. Dante, New York
17. Oriole, London
18. Broken Shaker, Miami
19. Candelaria, Paris
20. Himkok, Oslo