What's more exciting than a local whisky distillery? One that makes gin, vodka and an intriguing Port-like wine, too! We have a nose around Kent's Copper Rivet distillery and get to sample some very intriguing spirits indeed…
The building that houses the Copper Rivet Distillery looks like it should be in a piazza in Siena rather than amongst the retail parks of what used to be the Royal Naval Dockyards in Chatham, Kent. A former pump house, it lay derelict for years until it was spotted by Matthew Russell who was having a picnic over the River Medway at Upnor Castle. His family had been looking all over the country for a place to start making gin, but when he saw those Italianate arches, he thought "bingo" (or perhaps "gingo").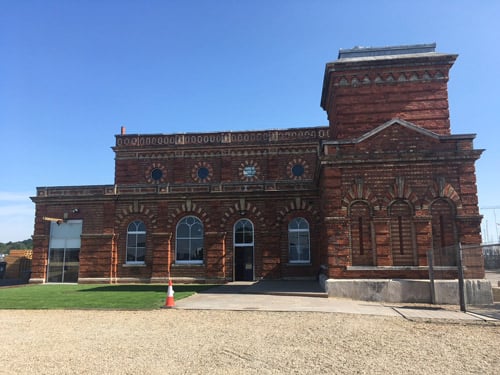 A stunning building (ignore the traffic cone)
Once they had the building, the final piece in the jigsaw was finding someone to make the gin. The family were put in touch with Indian-born distiller Abhishek "Abhi" Banik who was teaching at Heriot-Watt University and had built distilleries for, among others, Ogilvy vodka in Scotland. It was the start of a beautiful friendship.
The distillery opened in 2016. Everything has been designed by Banik and built bespoke. It's been hugely expensive but the results speak for themselves, and Banik is clearly revelling in having so many shiny toys to play with. He took some time out of his busy day to show me around.
Copper Rivet: Local grain and local people
It all starts with the holy trinity of grains: barley, rye and wheat, mostly grown on the nearby Isle of Sheppey. For their single malt, they use a pale ale malt which, according to Banik, has more flavour than distillers malt. He buys it from various maltsters and told me that "we are conducting trials of floor malting versus drum malting to see if we can tell the difference."
At the mashing stage he is aiming for a very clear wort. "A clear wort makes a fruitier spirit. With a cloudy wort you get lots of nutty flavours which I don't want." For fermentation, "we use two different yeasts, and use half the quantity you're supposed to use so that we have a slow fermentation." He won't tell me what types of yeast the distillery uses. "We create all the flavour here," he told me. Banik has all the equipment needed to make beer, he's just waiting for a licence from HMRC: "Previously you could not do brewing and distilling under one roof."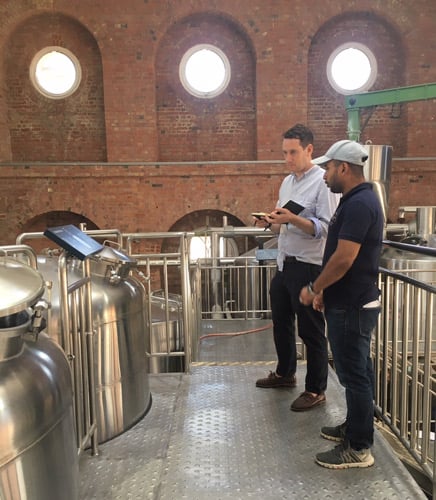 Abhi shows off some shiny toys
The grain isn't the only thing that is local. Copper Rivet is very big on providing employment for the area, especially important in a town that has suffered greatly after the closure of the Royal Navy Dockyards in 1984.
Three still women
Banik designed all the stills and had them made to his specifications by a local engineering firm in Chatham rather than by a specialist stillmaker. "They built them to my design but they do not know how they work," he told me. But here, unlike many newer whisky distilleries, gin isn't a sideline: it's very much part of the long-term plan. "For us the distillery was supposed to be about making gin and then we branched out. Our gin is not a cash cow while we wait for the whisky to mature."
The thing I noticed as I went into the distillery was the enormous column still called Joyce, a symphony in polished copper and steel. Copper Rivet is unusual in making its own neutral alcohol. Most gin distilleries buy it in, but Banik wanted control of every stage of the process. Next to it is a pot still called Sandy. This contains the only non-Kentish bit of distillation equipment, a hand beaten copper swan neck made in Scotland.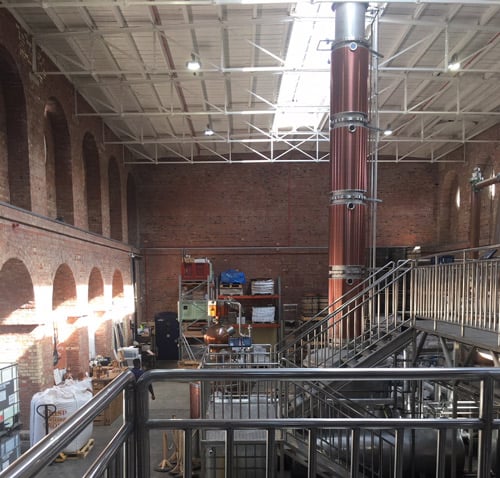 Joyce: Too tall to photograph sensibly
These two stills give Banik flexibility when it comes to making alcohol. No matter what they're making, the wash goes through the pot still to make low wines. According to Banik this makes a more consistent product than putting the wash straight through the column. It also saves on cleaning. Using exactly the same wash, Banik makes a 96% neutral alcohol for rectifying into gin or diluting to sell as vodka, and a 94% grain spirit. He also makes two different single malt spirits: one double distilled in the pot still, and one distilled in the column.
Banik is particularly proud of the final still, Janet. "We are close to getting a patent for Janet; it combines elements of pot and vapour still, limiting the limitations of both," he explained. "The botanicals are in the spirit but away from the heat so it gently extracts volatiles but also lots of flavour."
Janet: Not a robot
It took one year and over 40 trial distillations to perfect the gin recipe. Then Banik had to tweak the recipe again when scaling it up from mini-stills, as Janet makes things unusually citric, apparently.
Son of a Gun!
All this attention to detail makes sense when you try Copper Rivet's products. The gin is excellent, majoring on citrus character but with a good heft of juniper and a beautifully creamy mouthfeel. But I'm particularly excited about Banik's proto- whiskies. There's an area on the distillery floor where the barrels, ex-bourbon and virgin American oak, are kept. Copper Rivet has already launched a young aged grain spirit called Son of a Gun that spends eight weeks in ex-bourbon barrels and is then filtered to remove some of the colour. It smells of banana and malted grain, and on the palate it's creamy, very fruity, with notes of vanilla, cinnamon and pepper. It's so smooth that it would be a great swap for rum in a Daiquiri.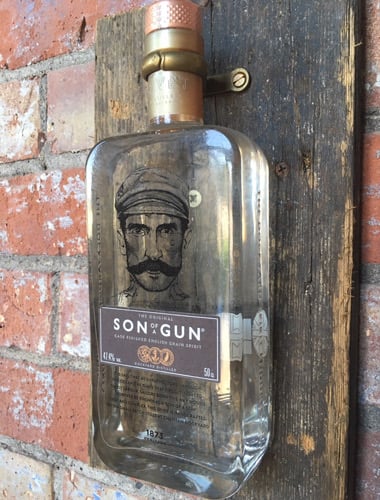 Son of a Gun – available from masterofmalt.com
Banik let me try some of the single malts which have spent about a year in wood. With all of them, the quality of the new make shone through. "We want distillery character," Banik stressed:
Sample 1: Double pot-distilled and aged in ex-bourbon cask. At 58% ABV, it was very spicy on the nose with notes of custard and cinnamon on the palate with a savoury finish.
Sample 2: Double pot-distilled and then aged virgin American oak. At 58% ABV it had a very woody nose, lots of wood tannin on the mouth but plenty of that fresh fruit too and notes of vanilla. It's creamy, long and spicy.
Sample 3: Made using the column malt and aged in ex-bourbon cask spirit, 63%. This was very different showing less wood influence and much more of that floral new make character with a lovely oily texture.
The final thing we tried was like a Kentish "Port" called Cantia after the Roman name for Kent. It involved making wine from damsons. "It's very hard to make damson wine, finding out which yeast to use," Banik said. He doesn't add sugar, instead letting the damsons ferment for a day to extract colour and then he adds Dockyard Gin to stop the fermentation. It's superb, gently fruity with notes of clove and star anise. At the moment it's a vintage product but Banik plans to start a solera of damson wine so he can blend vintages. "I have so much fun!" he said, his face lighting up with glee.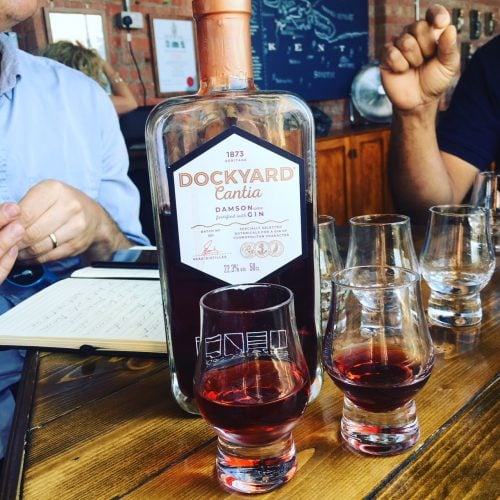 Like Port, but not
You will have to wait until 2020 to try Copper Rivet's whiskies but we've got Son of a Gun, Vela Vodka and Dockyard Gin in stock now, with the Cantia directly from the distillery.