Forget sticky screw-top lids and teeth-rotting syrups – small-batch, foraged, organic and homegrown are the buzzwords of today's liqueurs. We chat with Tom Chisholm, co-founder of Aelder Elixir, to find out why there's never been a better time to stock up your cabinet…
We've probably mentioned it once or twice, but Team MoM hit up a certain little whisky festival called Fèis Ìle earlier this summer – and in the rare moments we weren't Instagramming our way around distilleries, interviewing Scotch whisky legends and stroking fine poochies, we got busy meeting and greeting fellow festival folks.
Folks like Tom Chisholm, one third of Edinburgh-based pop-up dining experience Buck and Birch, which has sought to champion 'Scotland's natural larder' since the concept launched back in 2012. Forget Bucky and battered Mars bars – past menus boast pheasant consomme with apples, prunes, leeks and alexanders; braised game and staggis trifle, with gooseberry jelly and potato foam; and larch sorbet, with a rosehip tuille and pine pollen sherbet.
"The philosophy of Buck and Birch is to showcase the very best ingredients available in the Scottish wilds and reconnect people with the environment," Chisholm tells me when we catch up post-Fèis. This concept extends to drinks – homemade wines, spirit infusions, and a wild elderberry liqueur that would prove so popular, the team would go on to bottle it.
"Aelder Elixir was conceived when [Buck and Birch head chef and chief forager] Rupert Waites was looking for ways to use some elderberries he'd harvested," explains Chisholm. "He decided to elaborate on an old cordial recipe he'd discovered – adding whisky for a bit of warmth for the winter months."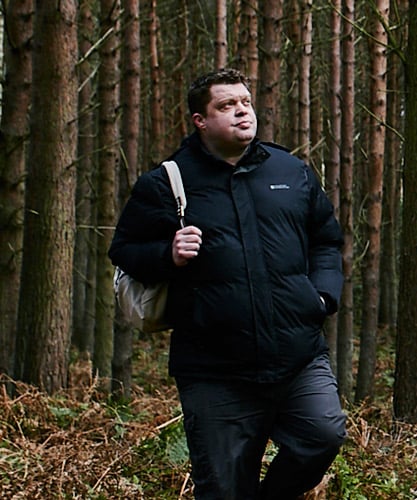 Rupert Waites!
From day one, Aelder was an instant hit with diners. Buck and Birch set about developing the recipe, playing with wild Scottish herbs and spices and experimenting with various base spirits. Eventually the team settled on a blended Scotch whisky that would give the liqueur "a smooth, warming finish with subtle hints of peat and smoke", without overpowering the flavour of the 4,000-or-so berries in every bottle.
Five years on, the 'foraged' element remains integral to Aelder's production process. Wild elderberries are made into a syrup, and then infused with hand-picked botanicals. The mixture is then married with whisky, and each 200-litre batch is bottled by hand.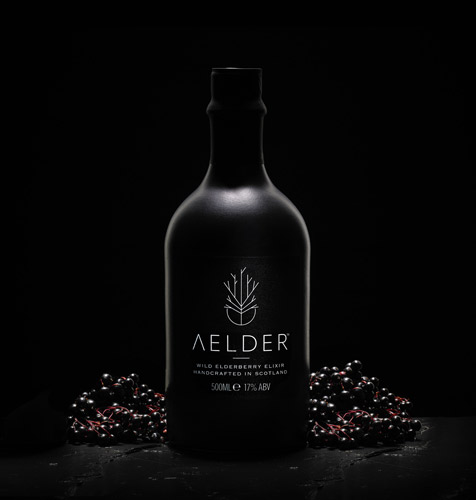 Aelder Elixir
Aelder Elixir is by no means the first liqueur to be formulated according to a chef's sensibilities. In recent years, there been a blurring of lines (and equipment) between the kitchen and the bar, and with this, a surge in chefs, bartenders and even farmers launching their own spirited creations. Back bars have cleared space for the likes of Italicus, a bergamot-forward 'rosolio' aperitivo from drinks expert Giuseppe Gallo; Braemble, a gin liqueur crafted by Edinburgh legends Mike Aikman, Jason Scott and Craig Harper; and British Cassis, a pretty self-explanatory alternative to the French favourite, developed by blackcurrant farm owner Jo Hilditch.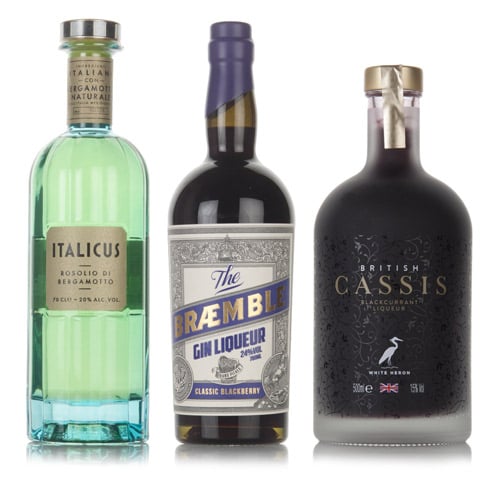 Italicus, Braemble and British Cassis – choices, choices…
"For a while liqueurs were seen as dated and one dimensional – something you would find in the back of your gran's cupboard – but this is definitely changing," Chisholm says. "There are lots of contemporary, sophisticated liqueurs appearing on the market, with a focus on natural ingredients and complex flavour, rather than just overly sweet. Chefs and bartenders have a much closer relationship with their ingredients and the environment than ever before."
The industry is showing far more interest in provenance and locality, and open to sharing knowledge, thoughts and ideas, he adds. One just has to glace at any cocktail menu worth its locally-mined salt.
"We are seeing many [bartenders] dropping traditional back bar staples in favour of local alternatives," says Chisholm. "It's a backlash to the food and drink industry becoming more impersonal, faceless and automated. People want to reconnect with their environment and have traceable ingredients, both in terms of quality and ethics."
It's no secret that we're collectively turning to healthier cocktails and becoming more mindful of the ingredients in our glass. You might think the trend would deter drinkers, putting paid to the success of liqueurs and their (legally-required) sugary goodness – but in fact the team behind Aelder has found the opposite to be true. It seems there's room for a little bit of sugar in a sessionable drink.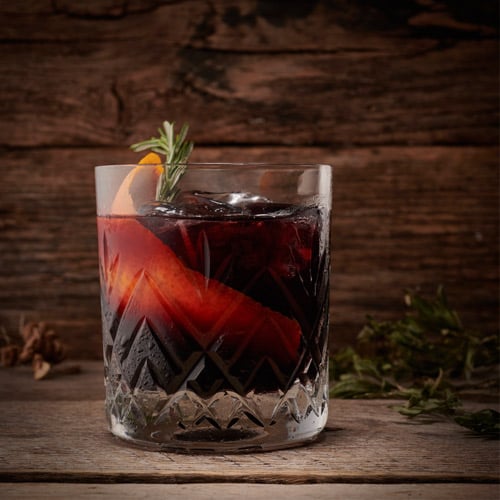 Yummers
"Our primary focus has always been flavour," says Chisholm. "Flavour is undoubtedly becoming more important than ABV these days. The trend for low- or no-alcohol drinks is only set to grow over the coming years, and with an ABV of 17%, Aelder fits nicely into this category."
Bring on the modern liqueurs!