Wild about whisky? Got a taste for Tequila? There's a specialist bar for that. We take a look at the bucket list-worthy haunts around the globe that have made it their mission to master a single spirit…
We love a bit of spirits geekery here at Master of Malt. When bar owners eschew the 'Jack of all Trades' operating formula, delve deep into a single category and share their spirited discoveries with the rest of us, magical things happen.
Whether they've built comprehensive world collections, collected rare and vintage spirits from exotic places, or epitomised their chosen category in a style simply no one else can, you'll leave each venue having learned far more about the liquor in your glass.
Time to book some plane tickets…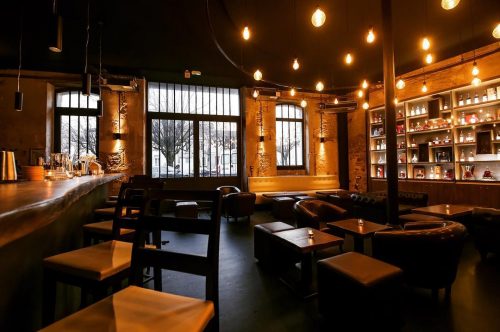 Cosy in Cognac
Luciole, Cognac
14 Place du Solencon, 16100 Cognac, France
If grape-based spirits are your thing, Luciole is an absolute must. Nestled on the banks of the River Charente in the St Jacque district of Cognac, the bar – owned by cocktail maestro Tony Conigliaro – caters for the connoisseur while educating the novice. You can't miss its glorious back bar; a very visual 'who's who' of Cognac, from leading houses to independent producers. On the menu, France's finest is depicted by age statement, vintages, terroirs, crus and brands, or shaken and stirred into 18 brilliant creations. Ask for 'Avignon', a heady mix of Avignon incense, Cognac and Roman chamomile syrup.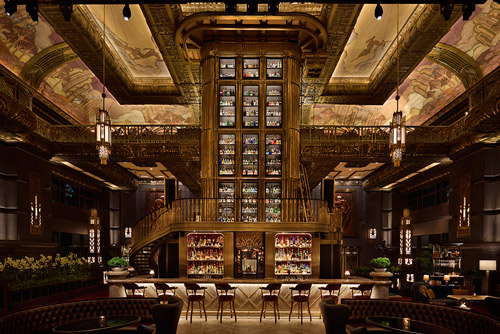 The Atlas Bar looking like something out of The Great Gatsby
Atlas Bar, Singapore
600 North Bridge Rd, Parkview Square, Singapore 188778
Atlas' website describes its gin collection as "one of the world's most diverse and thoughtfully curated physical gin collections" – and we're sure it is – but for the sake of familiarity, imagine your local pub's 'gin palace' on steroids. There are more than 1,000 bottles on display here; among them London dry gins that date back to the turn of the nineteenth century, and modern distillations arranged by country of origin. Should you need another reason to linger, the bar also displays one of the largest Champagne lists in Asia (more than 250, at last count).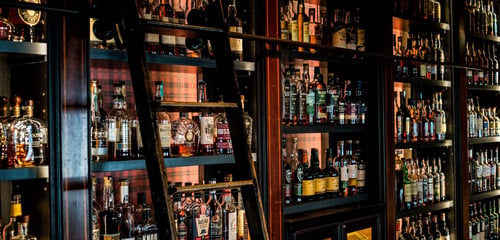 You've got some choices to make…
Seven Grand, Los Angeles
515 W 7th St #200, Los Angeles, CA 90014
Before you enter this boozy theme park, ask yourself one question: 'can I exercise self-control in a room containing more than 700 delicious whiskies?'. If the answer is 'no', scroll on, this sultry LA-based spot is not for you. Indeed, its whisky wall is so vast – packed with various delights from Scotland, Canada, Australia, Taiwan, India, and beyond – bartenders must scale a thick wooden library ladder to reach the bottles. The drinks "menu" is, in fact, a multi-page binder. There are nine twists on the Old Fashioned. Pro tip: If you can get a seat, swing by Bar Jackalope, Seven Grand's exclusive speakeasy-slash-sipping library.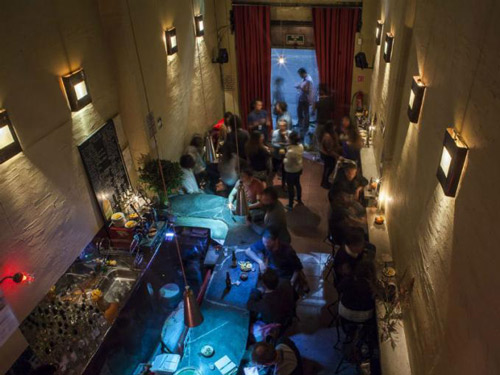 A marvel of a Mezcalaria. Photo: Andrea Mendez
Bósforo, Mexico
Luis Moya 31, Colonia Centro, Centro, 06000 Centro, CDMX, Mexico
Proof, if it were needed, that you don't need to be flashy to be exceptional. Mezcalarias are 10-a-penny in Mexico, so slip past the red curtains at Bósforo to unearth a true hidden gem. The ever-changing mezcal list is a platter of small-batch bottlings sourced directly from distillers, many with handwritten labels. If you find one you love, drink up, because it may not be available tomorrow – or ever again. Plus, we heard that when staff accidentally spill mezcal on the bar, they clean it up by setting fire to it with a candle.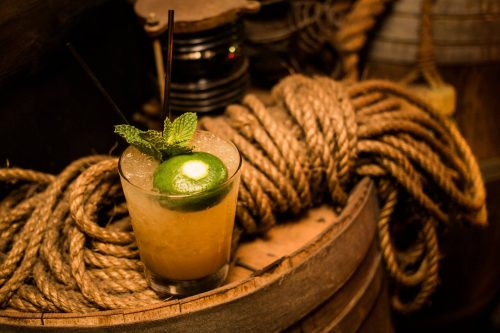 We can't think of a good reason knot to go here! I'll get my coat…
Smuggler's Cove, San Francisco
650 Gough St, San Francisco, CA 94102, USA
There are few bars in the world that have a waterfall, and fewer still that are also capable of serving up a damn good Mai Tai. Smuggler's Cove is one of them. The bar is absolutely bedecked in pirate Tiki kitsch and boasts a selection of more than 550 bottles, many rare and vintage – but if you can tear your eyes away from the walls for long enough to skim through the drinks list, you'll find far more than just your a-typical Zombie or Punch bowl. The team drew inspiration from the corners of the earth and the depths of history to craft the intricate menu, which is a comprehensive rum cocktail education if ever we've seen one. Just don't be surprised your drink arrives in a plastic volcano.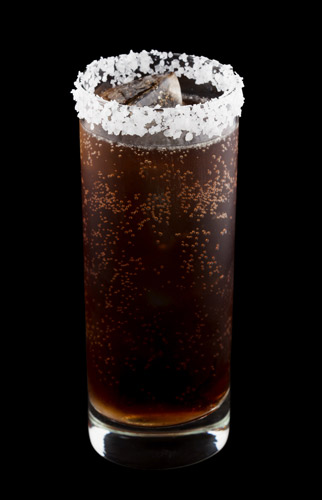 Home of the Batanga cocktail – La Capilla!
La Capilla, Mexico
Hidalgo México, 46400, Tequila
La Capilla – 'The Chapel' – is the oldest bar in Tequila, and it's an essential stop for Tequila fans. If you've ever refreshed yourself with a delicious Batanga [Tequila, lime juice and Coke, served tall with a rim of salt] on a hot summer's day, you can thank bartender and owner Don Javier Delgado Corona. He created the cocktail way back in 1961, and can still be found behind the bar famously stirring his invention with a knife. Visiting the local bar, with its fluorescent bulbs, plastic chairs, and simple plywood bar, is a humbling experience. What better way to enjoy the town's legendary tipple than surrounded by the very same agave farmers and Tequila producers that made it?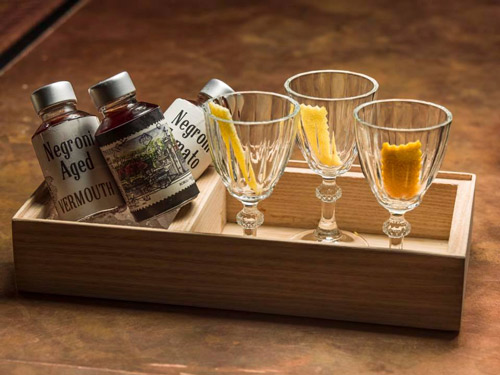 For those of you that like things compartmentalised, this one's a treat…
Odori Vermuteria di Atene, Athens
Skouleniou 2, Athina 105 61, Greece
Aperitivo admirers will be in their element in this stylish vermuteria – which just so happens to be the brainchild of Thanos Tsounakas, Giorgos Kaissaris, Lefteris Georgopoulos, and Manolis Lykiardopoulos, the folks behind neighbouring (and legendary) cocktail bar The Clumsies. Wormwood is the heart and soul of vermouth, and so a botanical theme runs through the bar, which is built around a 'garden in a bottle' concept. Expect lip-smacking vermouth-ified classics and what must surely be the world's most comprehensive Negroni offering, buffered with otherworldly Neapolitan pizza.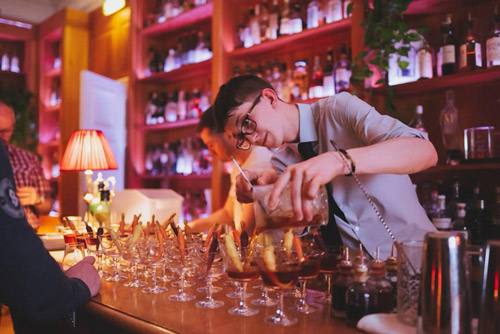 Yes, it does look like these cocktails are being garnished with whole carrots. We reckon that's cool.
The Quaich at The Craigellachie Hotel, Scotland
The Craigellachie Hotel, Victoria St, Speyside, AB38 9SR
This line up wouldn't be complete without specialist Scotch establishment The Quaich, nestled on the banks of the rivers Fiddich and Spey, which is home to more than 900 single malt whiskies. The Craigellachie Hotel was built in the 1800s, and has become as revered and respected as the distilleries that surround it. Legendary whisky writers Dave Broom and Charlie MacLean contributed to the bar's established collection, which contains some real treats, including a complete set of the Glenfarclas Family Cask. Best of all, every single one can be sampled by the glass.
Have we missed your favourite spot? Share the wealth – let us know in the comments below.