Drams in the fanciest house ever, sunshine on Bowmore, and ale and chill in a stunning courtyard. Fèis Ìle 2018 Day Five has been full-on, but with this much fun we wouldn't have it any other way…
Not wanting to jinks it but… the sun is STILL shining on Islay! Unfortunately this means the midges are still biting, but spirits are tip top and the whole island is smiling. Well… the calibre of drams might also have something to do with the last part…
Yesterday's shindig down at Laphroaig put a spring in our step, and while we were there we bumped into the wonderful Helen from the Scotch Malt Whisky Society (SMWS). "Would you like to come up to Islay house and have a masterclass with John tomorrow?" She asked us during the day. "Hells yes!" was our response.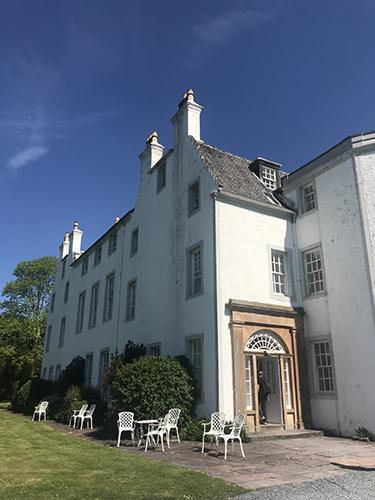 The stunning Islay House
John was of course John McCheyne, the Society's excellent ambassador. So our Day 5 started with something of a welcome detour. We swung our enormous hire car up to the incredible Islay House just before 11 (the scale and proportions are astonishing… and that's just the car). Joking aside, Islay House is a spectacle.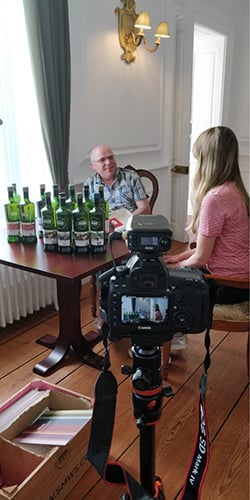 John chats us through the drams
The immaculate lawns of the grand country house are a fitting introduction to the sweeping staircases, cathedral-like rooms and ornate detailing of the cornices and chandeliers that adorn every room. John welcomed us in and introduced us to the line-up of SMWS Fèis bottlings. If you're a fan of young, bold and immensely characterful peated whiskies, we highly recommend you stop by.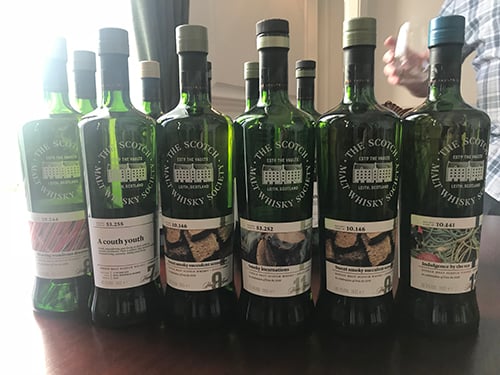 That line-up… remember, the first number is the distillery, the second the cask. Everything is a single cask
We had to depart the splendour of Islay House and sped on down to Bowmore – distillery day number 5 was ON. We arrived just as the rather marvellous band was getting up to speed – classic pop tunes and jaunty folk numbers were all on the set list (we just forgot to get the band's name – doh!). We were immediately mobbed for t-shirts (you can still get one at Kilchoman tomorrow morning, Jura tomorrow afternoon, Bunnahabhain Friday and Ardbeg Saturday, folks – just don't forget to take your selfie!) and then, while jigging along to the irresistible tunes, set about taking in the incredible views. Golden sands of the beach below, jewel-like seas and the rich green of the hills beyond, all shimmering in the warm sunshine… Was this the Hebrides or the Caribbean?!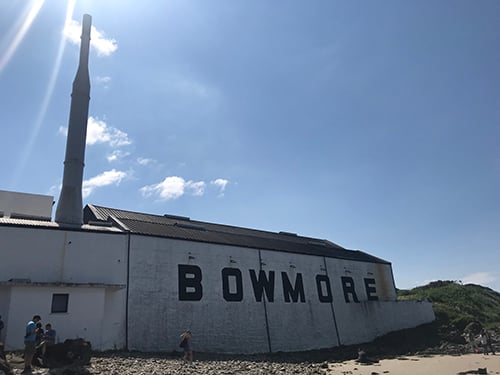 Hello Bowmore!
On entry to the distillery the cunning Bowmore team filtered out the designated drivers (it me) from the day's drammers and apportioned wristbands, tokens, and sample drams to take away appropriately. Jake got the goods in while I sussed out the distillery games (bowling with bungs today) and the EPIC pizza oven. Seriously, if you braved the queue you were in for a right treat. Then we picked our way down the pier and on to that glistening sand. Could there be a better spot for a snack and a dram? Just stunning.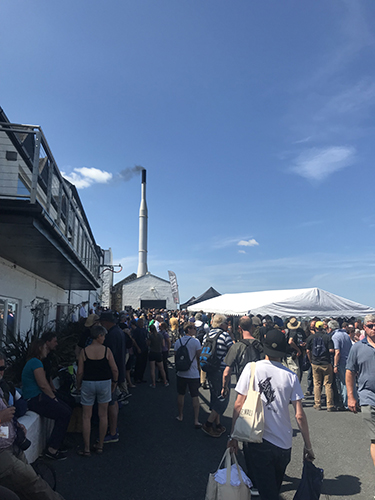 Party vibes in Bowmore
Before we knew it, it was time to whizz Jake off to attend a That Boutique-y Whisky Company tasting on a tall ship with the good peoples of The Whisky Lounge! All aboard for Boutique-y Bunnahabhain 35 Year Old, Bowmore 15 Year Old, Caol Ila 6 Year Old, Williamson 6 Year Old, Octomore 6 Year Old and Islay #2 25 Year Old! Under the able captain, Dave Worthington (former marine engineer as well as Icons of Whisky award-winning brand ambassador!), this was a real treat.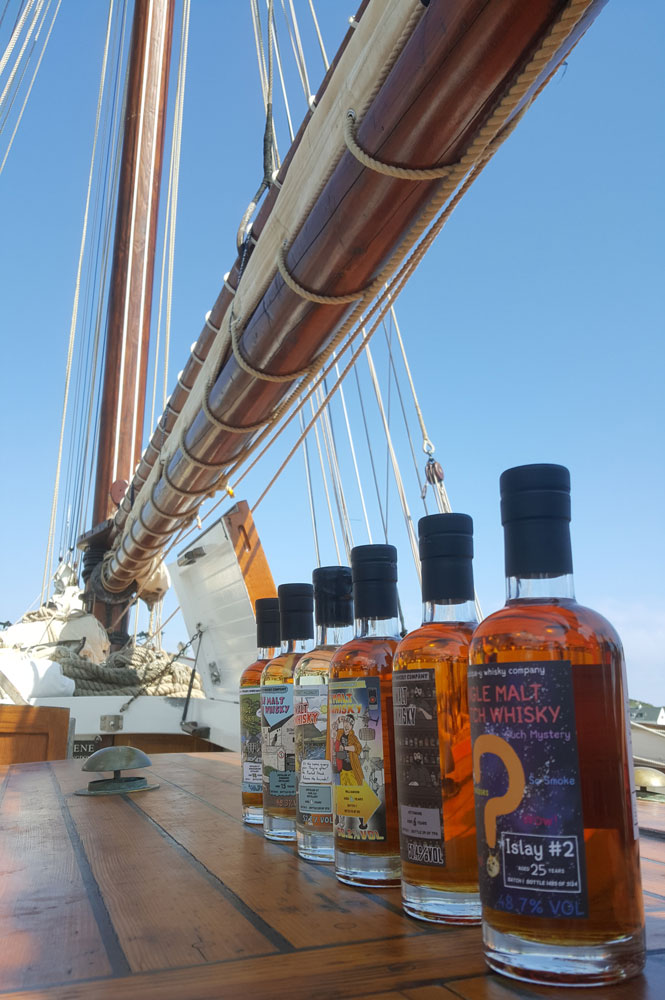 Islay whiskies ahoy!
The rest of us, meanwhile, nipped back to Bowmore to catch up with the site's manager David Turner. Distillery days are hectic for everyone involved and but he kindly squeezed us in, showing us up to the glorious Bowmore tasting room overlooking that stunning bay with a treat in hand – Bowmore 25 Year Old!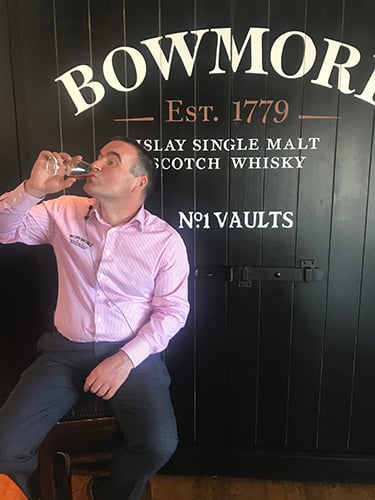 Sharing a dram with David Turner
After a chat (video to follow!) it was time to zoom our way back up the island to Brigend and Islay Square for the Islay Ales open day. If we thought Laphroaig was chill, this was a whole new level of sunny-day relaxation. We discovered another brilliant live band, and there was delicious food and drink galore on offer for the samplers, families and many, many excellent dogs to kick back with (no sightings of celeb pupper Sirius Starlight today though).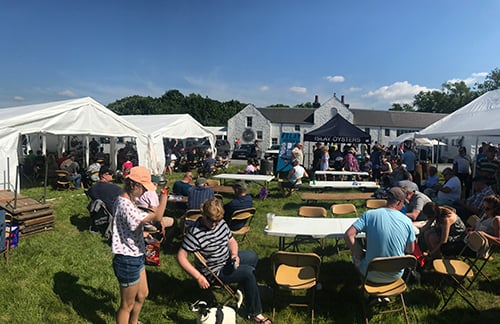 Soaking up the sun in the Square
The ales were flowing (if non-distilled maltiness is your thing and you weren't up at the Square I am sad to say you missed a trick), but there was also junipery goodness on hand too, courtesy of the folks at Lussa Gin. The stand, packed with botanicals and a mock-up still, drew the crowds, all eager to learn about gin production.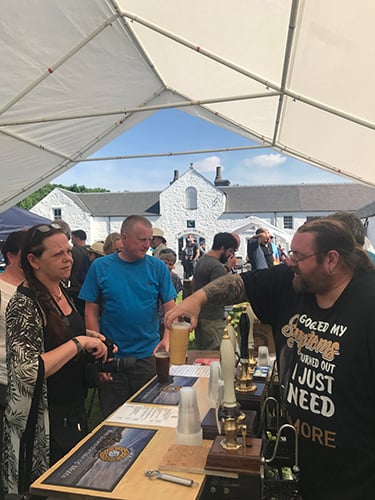 The good people need their ales!
The Islay Boys chaps were present and correct too with their Flatnöse expression and other whisky offerings, while the Ardnahoe shop was also open, with a plentiful cross section of the Hunter Laing portfolio available for tasting. We also grabbed Andrew Laing for a quick chat, who assured me spirit was not far away at all at the site, set to become Islay's ninth distillery from its spot up near Bunnahabhain. All in all, the day had a wonderful village fete vibe – it's an absolute must-visit, so put it on the list if Fèis Ìle is part of your future travel plans.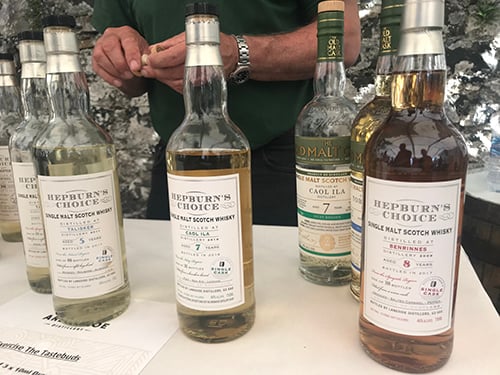 Hunter Laing's Hepburn's Choice. Spirit will flow at Ardnahoe soon..!
I think you'll agree, that's enough Fèis Ìle festivities for one day. We're off to chill with Team Whisky Lounge and savour a Thai banquet…
Until tomorrow, team – enjoy!
—–
Will there be fancy sippers? Can the sunshine hold out another day? And what about more excellent dogs?! We're not sure what Fèis Ìle 2018 Day Five will bring, except a trip to Bowmore and we can't wait!
As if yesterday wasn't enough action (Laphroaig, new distillery chit chat, Lagavulin sing songs) our not-your-average Wednesday (AKA Fèis Ìle Day Five) is set to bring with it even more fun and games.
We're kind-of adapting to Islay time and learning to go with the super-chill flow, so we're keeping it flexible today. Except we know for sure we'll be landing at Bowmore Distillery tomorrow lunchtime with a Q&A with distillery manager David Turner to follow. Keeping an eye out for Team MoM? After your dram and t-shirt? Make sure you're there to get your hands on the goodies!
Can't make it? Make sure you've got at least one eye on our Instagram, Twitter and Facebook throughout the day so you're bang up to date.
And don't forget! Whether you're on Islay for the festival or not, you can win one of our very own Bruichladdich 23 Year Old 1993 – Single Cask bottles. How? Either snap a selfie in your #MoMFeisIle tee and share, or tell us your favourite Islay (or Jura) dram. More info here.
Enjoy!
Don't forget our Fèis Ìle special offers – check out our Flash Sales for more!
Laphroaig 10 – £5 off
Laphroaig Lore – £10 off
Bowmore No 1 – £10 off
Bowmore 26 Vintners Trilogy – £50 off
Once they're gone, they're gone!