Fèis Ìle 2018 is well and truly under way. The sun is spectacularly shining, the drams are flowing, and we've got not one but two chances for you to win a full bottle of something delicious: our very own Bruichladdich 23 Year Old 1993 – Single Cask, no less!
We're back on Islay for Fèis Ìle 2018 and we're not going to lie, we're having a blast. Eight distilleries, eight days, much merriment and some of the finest whisky folk under the sun to share a dram with… it's heaven. And to add to the fun and games, we have not one but TWO competitions to further spread the whisky love!

What's your favourite Islay dram?
Let's start with the contest for those of you not on the island (it was us for a while back there – we know, the FOMO is real). We're sharing as much of the Islay action as we can (check out Instagram, Twitter and Facebook if you haven't already) but it's just not the same. So this one's for you!

Our very own bottle of Islay tastiness: Bruichladdich 23 Year Old 1993 – Single Cask. It could be yours!
Up our sleeves on Islay we have drams of our Bruichladdich 23 Year Old 1993 – Single Cask to share with fellow festival-goers. But we want to know what you're drinking this week, too! Share a snap of your Islay (or Jura) dram with us on Instagram, Twitter, Facebook or Google+ along with your own tasting notes (doesn't have to be complicated!) and the #MoMFeisIle hashtag, we'll pop you in the draw to win one of the two full Bruichladdich bottles! Post before midnight on 2 June and we'll do the rest.
Show us your #MoMFeisIle t-shirt!
Now. If you are one of the lucky ones soaking up the sun on Islay this week you'll know we've not just got drams to give away. These rather handsome t-shirts are making their way into your hands, too!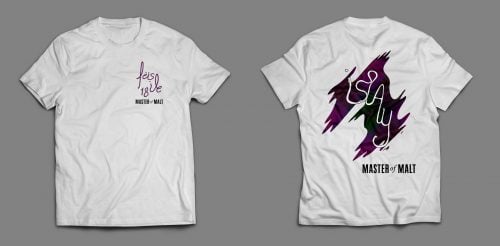 Come and get your t-shirt!
Enjoy the dram and fancy your chances at nabbing that second full bottle of 1993 single cask Bruichladdich? Simply take a selfie on Islay in your Master of Malt Fèis Ìle 2018 tee and post it to Instagram, Twitter, Facebook or Google+ with the #MoMFeisIle hashtag before midnight on 2 June and voilà! We'll announce the winners of both bottles next week. Not got a t-shirt or dram yet? Come and find Team MoM at any official distillery open day and grab the swag. We won't bite!
What are you waiting for? Get posting!