Yes, it's the most wonderful time of year: the season of #WhiskySanta's Super Wishes! These chances to win some incredible bottles of whisky aren't to be missed, and to kick things off, we've got something very special indeed: Woodford Reserve Baccarat Edition!
Update: Congratulations to @RadicalAdam on Twitter, #WhiskySanta granted their wish so we're sending them a crystal decanter of Woodford Reserve Baccarat Edition worth over £1,300! Keep your eyes peeled for he next Super Wish opportunity from Mon 14 November…
Ho, ho ho! Are we feeling Christmassy yet? I've been getting in the swing of things polishing my boots, brushing my beard and grooming the reindeers. We're now all looking spick and span, and ready to deliver boozy goodness, and that includes some super fancy Super Wishes!
'But pray tell, what is a Super Wish?', I hear you cry. Hopefully, you already know that you can wish for any delicious treat on the Master of Malt site, and that I'm granting wishes every single day from now until Christmas Eve! For these additional Super Wishes, I'm giving you a sneak-peek of some extra treats I have in my special sack of pressies…
One lucky person who wishes for the incredible bottle below between now and the end of Thursday will find that their Christmas wish comes true!
So, without further ado, my first Super Wish of the season. I have to say I'm pretty pleased with this one. It's certainly one of my favourites, and I only drink the very best, I am #WhiskySanta, after all. It's…
… the fabulous Woodford Reserve Baccarat Edition!
This is probably the finest and at £1,374.99 certainly the most expensive whiskey that Woodford Reserve has ever released. It consists of the classic pot still American oak-aged Woodford Reserve matured for an additional three years in XO Cognac casks. Now I'm thinking about the rich toasted oak dusted with chocolate and cacao notes, creamy vanilla bean and hints of clove and cinnamon spice over a deep layer of dried fruit and citrus peel. Doesn't it sound amazing! And just when you think it couldn't get any fancier, it comes in a crystal Baccarat decanter. Fancy!
If you want to get your mittens on Kentucky's fanciest, then I suggest you visit the Woodford Reserve Baccarat Edition page. Hit the 'Wish' button, which will help send you on your way to a pre-populated Twitter or Facebook post. Hit publish and voila! You can, of course, wish on Instagram too (just be sure to use the #WhiskySanta hashtag on grid posts, and tag @MasterOfMalt in Stories or the hard-working people at MoM won't see it. And if they don't see it, then it didn't happen.)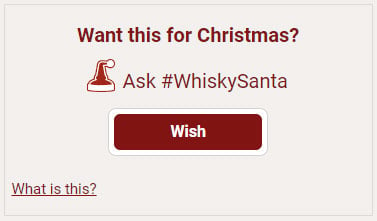 What better way to spread even more Christmas cheer this year? That's the thing that gives me the most satisfaction, after all. Well, that and looking really, really, ridiculously good in red and white. Nobody does it better, and don't you forget it!
That's all for now. Until next Monday… Now, where did I put my portable reindeer polishing kit?
#WhiskySanta