UPDATE: Congratulations to Michael Smith on Facebook, #WhiskySanta granted their wish so we're sending them a bottle of Laphroaig 30 Year Old – The Ian Hunter Story Book 1: Unique Character!
Ho Ho Ho!
Wasn't last week's #WhiskySanta Super Wish a splendid thing? All that lovely Glenfarclas went to one lucky customer @AbsentDave on Twitter, who is now undoubtedly extremely popular. Reminds me a bit of myself, popular that is. Don't worry if you didn't win though, because I have another splendid Super Wish for you today!
It probably doesn't need explaining now exactly what a Super Wish is but in the spirit of Jeremy Paxman wearily reiterating the rules on University Challenge, here's a reminder. These are special, some might say super wishes, above and beyond the normal wishes that I will be granting every day until Christmas Eve.  For these additional Super Wishes, you will have the chance to wish for and win something unusually amazing which you know that I'll definitely be giving away. And this week we've got something very special indeed.
This is named not after the lead singer of Mott the Hoople but another legendary Ian Hunter, the last of the Johnstone family which founded Laphroaig distillery in 1815, who died in 1954.  It's the first in a series honouring the great man who managed the distillery from 1908 until 1944. And what a Scotch whisky it is, a 30 year old single malt matured entirely in bourbon barrels with only 4,800 bottles filled at 46.1% ABV. Laphroaig single malts of this age are magical things, the smoke recedes and is replaced by big tropical fruit and citrus notes. Truly great single malts.
All you young dudes who fancy a crack at this should head over to the product page and hit the snazzy button which is red like Rudolph's nose and has the word 'wish' on it. A box will pop up ready to send you onwards to a pre-populated Twitter or Facebook post and, as long as you remember to hit 'publish' then you've completed your wish! You can, of course, wish on Instagram too (just be sure to tag @MasterOfMalt in Stories, or use the #WhiskySanta hashtag and tag @MasterOfMalt on grid posts.)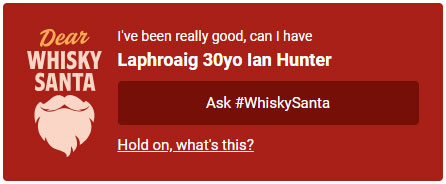 One lucky person who wishes for this incredible Laphroaig between now and the end of Thursday will find that their Christmas wish comes true!
Make sure to get those wishes in by 23:59 GMT Thursday 16 November. That leaves plenty of time to send it out on my sleigh (or a reputable courier service) and safely under your tree! The winner will be announced Friday 17  November. Good luck!