UPDATE: Congratulations to Gerard Hepton on Instagram, #WhiskySanta granted their wish so we're sending them a bottle of Bunnahabhain 40 Year Old!
Ho, ho, ho! Another week has come around which brings us ever closer to Christmas. Which means another I have another Super Wish. And it's a stonker: Bunnahabhain 40 Year Old single malt Scotch whisky. Stonk.
 But before we get into all that, I want to offer my congratulations to Michael Smith who was the winner of last week's amazing Laphroaig 30 Year Old!
But my big sack of presents isn't empty yet. Not by a long way, as this week's Super Wish is the gorgeous Bunnahabhain 40 Year Old single malt whisky from Islay worth £2,250! That's over 5,400 premium mince pies! We know that you love a bit of Bunna, but this is a different level. This is the gold standard. The best of the best. The Timothy Dalton. No, I won't explain that.
If you're not sure how to make your Super Wish, it's easy! Just head to the page and hit the snazzy button which is red like my outfit and has the word "Wish" on it. A box will pop up ready to send you onwards to a pre-populated Twitter or Facebook post and, as long as you remember to hit 'publish' then you've completed your wish! You can, of course, wish on Instagram too (just be sure to tag @MasterOfMalt in Stories, or use the #WhiskySanta hashtag and tag @MasterOfMalt on grid posts.)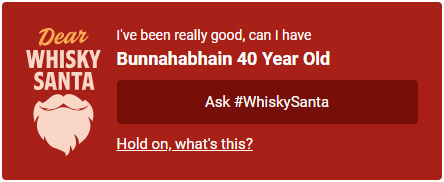 Now, I'm a busy supernatural being so do be sure to get those wishes in by 23:59 GMT Thursday 23 November That leaves plenty of time to send it out on my sleigh (or one of MoM's delivery partners) and get it safely under your tree! It just doesn't stop round here. Of course, it will stop, at Christmas, but until then, get wishing!
#WhiskySanta