If you've opened window #2 of your Drinks by the Dram's Whisky Advent Calendar you'll find you got a sherry-tastic Scotch whisky to enjoy…
One of the great things about your Whisky Advent Calendar is that it lets you tour the world of whisky from the comfort of your own home. Sometimes you'll visit new exotic locations, other times you'll get to explore one of Scotland's many whisky regions, like Speyside, which is home to a huge number of fantastic distilleries. One of those is Benriach Distillery, which is known for creating fruity, malty and sometimes smoky spirit that matures beautifully in a wide variety of casks. And a whisky that demonstrates that exact point is what we've got behind window #2. It's…
BenRiach 12 Year Old – Sherry Wood!
A delightful dram that was matured in a combination of Pedro Ximénez and Oloroso sherry casks, this Benriach bottling has got more sherried deliciousness than you can shake a stick at. Michael Brown, Brown-Forman's Irish & Malts brand ambassador, joins us to tell more all about today's dram and the distillery that made it.
Master of Malt: How would you describe the character of Benriach whisky?
Michael Brown: Benriach's character comes from all over the world thanks to the selection of the eclectic casks that we use. It is very fruit-forward with layers of luscious orchard fruit but also with malt sweetened and spiced oak. Our master blender Dr. Rachel Barrie often says that the Benriach The Original Ten for instance is "Speyside in a glass" and the beautiful creaminess you taste in it makes her think of a "Speyside Patisserie". We also have Smoky Single Malts in Benriach's range which represent a smooth introduction to sweet smoke. Benriach brings a true world of flavour and there is a Benrich for everyone's taste!
MoM: What sets Benriach apart in your view?
MB: At Benriach distillery, we have an unconventional whisky-making heritage producing three styles of whisky: classic unpeated, Highland peated and triple-distilled. Along with our varied cask profiles, it has enabled our whisky makers since 1898 to explore the full flavour possibilities of single malt, creating some of the richest, most multi-layered whiskies in Speyside. This long-standing tradition continues today under the guidance of our Master Blender. Dr Rachel Barrie who has over a quarter of a century's experience and a love of creative whisky which means that Benriach is the perfect place to practise her art!
MoM: This year the brand's core range was refreshed and you adopted a new look. How has it been received?
MB: We have been thrilled to see the very positive feedback from consumers we met in recent virtual shows and live streamings as well as the warm welcome from our trade partners and media. Benriach has huge potential with endless flavour possibilities to still unleash and we cannot wait to release very soon new expressions to complete the core range already available. So more to come, keep your eyes peeled!
MoM: What trends or developments do you think we'll see in the world of whisky in 2021?
MB: Trends are something I tend to steer away from as they come and go and at Benriach we always make our choices based on what casks work with our style of new make spirit. However, what I see happening in the Scotch whisky world as a whole, is a move towards simplifying language and information and talking about whisky in terms of flavours that are more familiar to people, rather than more specific whisky language. For instance, at Benriach, we bring it back to flavour references of a patisserie, from fruit jams and creme patisserie to custards and rich buttery pastries. For me these flavour references allow people to be transported to a time in their life where they remember jam roly-poly and custard or another pudding that really sticks in your mind.
MoM: What will you be drinking this Christmas?
MB: You really can't go wrong with a lovely neat whisky on a cold winter's night and this year for me, I will be reaching for one of my favourites in the new Benriach range, Benriach The Smoky Twelve. It really takes me to the smells of Christmas desserts being prepared, smoked vanilla and orange, rich brown sugar and chocolate notes and a whisky that is such a Christmas treat, the finish just keeps delivering waves of flavour after the first sip. But for a Christmas Highball to serve to family, I will reach for a few easily got ingredients to make an Allspice Highball using Benriach 10 Year Old and spicy ginger beer at its most simple or follow the recipe below and make them as good as your bartender: Combine 50ml of Benraich 10 Year Old, 5ml of Bitter Truth Pimento Dram Liqueur, 5ml of lemon juice, 5ml of sugar syrup and top it with 140ml of ginger beer.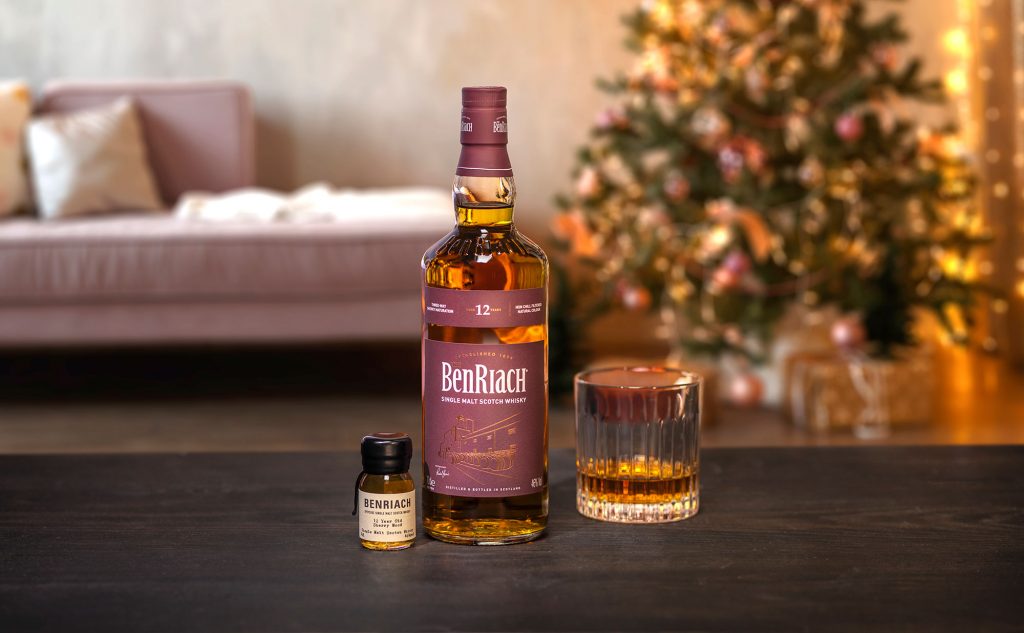 Tasting note from the Chaps at Master of Malt:
Nose: Cooked apple drizzled in crème de cassis, brown sugar and zesty orange.
Palate: Fig, blackcurrant jam, apricot, slowly building Christmas spice and continued vanilla.
Finish: Soft ginger root spiciness.