Star Wars, poetry and spicy memes – these are the things that September is all about. At least, that's what you might think after reading this week's edition of The Nightcap!
September has arrived, and it brings tidings of booze news stories in the form of The Nightcap! Should you be winding down your week, get yourself a glass of something tasty and have a read of what happened since we last greeted you with Nightcap-y gubbins.
As ever, let's have a quick recap of what went down on the MoM blog this week. Our Annie took a deep dive in sake, explored the history of Navy strength gin and rounded it all off with a look at the glory of pre-bottled cocktails. Adam chatted to Balvenie malt master David C. Stewart and apprentice malt master Kelsey McKechnie, then gave us a pictorial guide of Bombay Sapphire's Laverstoke Mill distillery, as well as picking out top choices for a London dry tipple. Henry got the scoop on the return of the GlenDronach Revival 15 Year Old. Oh, and Advent Calendars are back, and ready to pre-order right now if you're a particularly eager beaver.
And on with the news!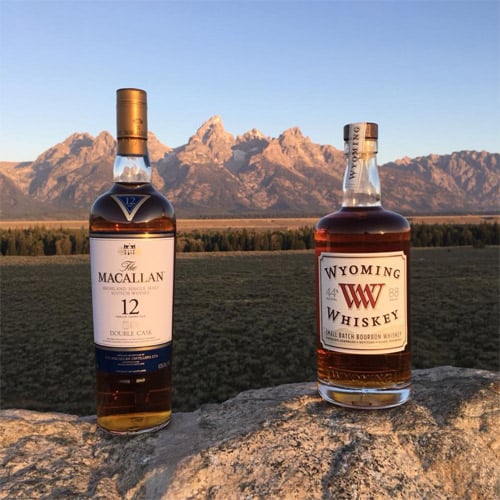 What's more picturesque: the mountains or the bottles?
Macallan moves into American whiskey
The special relationship between Scotch and American whiskey continues as the Edrington Group, owner of The Macallan, Highland Park and The Famous Grouse, amongst others, has struck up a strategic partnership with Wyoming Whiskey. Edrington will take over all the American distillery's sales, marketing and distribution. Production will remain in Wyoming, the company will just have the might of The Macallan behind them. Wyoming Whiskey was founded by fourth-generation cattle ranchers Brad and Kate Mead and their son Sam who began distilling in 2009 and released their first bourbon in 2012. It has since become a cult product. Chris Spalding, president and CEO at Edrington Americas said: "The brand has been acclaimed by national spirits experts who can attest that world class whiskey is being made out on the Wyoming frontier." Brad Mead from Wyoming Whiskey added modestly: "To see Wyoming Whiskey alongside The Macallan, Highland Park, and the entire line-up at Edrington Americas' headquarters in New York is just fantastic, but I know we've earned it."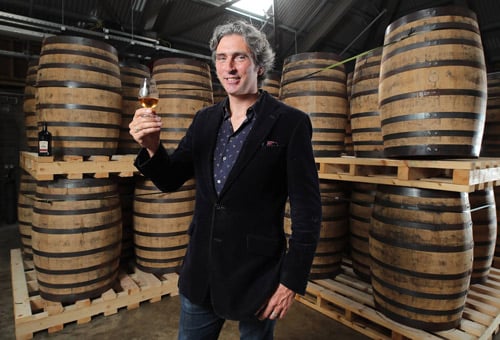 Alex Conyngham!
First barrel filled at Slane Distillery
More whiskey excitement as the first cask has just been filled at Ireland's Slane Distillery. The spirit was made from barley grown on the Slane Castle Estate, located about 30 miles north of Dublin, and filled into a sherry hogshead. Work began on the distillery, a collaboration between the Conyngham family and Brown-Forman (of Jack Daniel's fame), in 2015, and is the first built by the whiskey giant outside America. "This is a very special occasion for my family," said Alex Conyngham, Slane Irish Whiskey co-founder. "We could not have accomplished this much in such a short space of time without the partnership, knowledge, and expertise of Brown-Forman, the talented production team at Slane Distillery and the support of the local community in Slane." You'll have to wait a while for the Slane-distilled spirit to mature, but in the meantime you can sample a Slane Irish whiskey expression made with liquid from other Irish distilleries and then matured using a special triple cask method – virgin oak, seasoned whisky and sherry casks.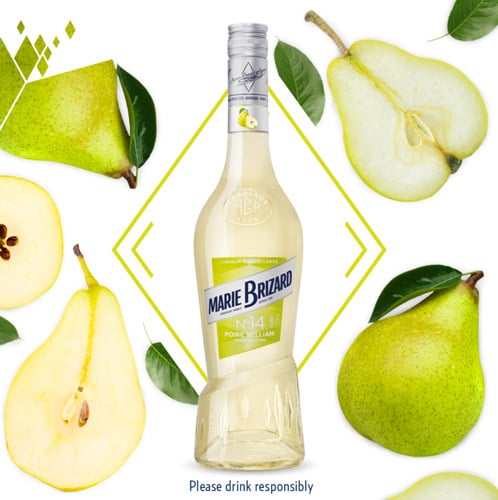 Marie Brizard addresses its lacklustre Q2 sales
Struggling Marie Brizard considers brand sell-off
As reported about a month ago, French drinks group Marie Brizard Wine & Spirits posted its financial results for the first half of its financial year. And it didn't fare too well – sales slumped by a hefty 11.4% during the second quarter. Earlier this week, the group sent out a press release detailing something of a rescue strategy, including a possible plan to sell off some brands. "The Board of Directors has embarked upon a complete review of the Group's brand portfolio with the objective of considering a project to sell some of the brands," the statement reads. "The goal of such a sale would be to cover all or part of the losses expected in 2018." The press release goes on to mention that this won't affect the brands that contribute most significantly to the company's net sales. Keep your ear to the ground if you're in the market for a new booze brand…
A very stylish bottle for the upcoming Allt-á-Bhainne Single Malt
Chivas Brothers launches Allt-á-Bhainne's first official whisky
In a move that will apparently 'push conventional boundaries in a bid to attract a whole new generation of drinkers', Chivas Brothers has unveiled the first official whisky from Speyside Scotch whisky distillery Allt-á-Bhainne. The expression was created to entice both experienced single malt fans looking for something a bit different and new drinkers alike. Allt-A-Bhainne began distilling whisky in 1975, however liquid from the distillery has largely been used in Chivas Regal blends. The new Allt-á-Bhainne Single Malt Scotch was crafted to marry together two key styles; smoky peat and the fruity sweetness of the Speyside region. The result is said to offer soft red apple, honey and gentle peat notes, and was bottled at 40% ABV. "We know that whisky drinkers have evolved. They are becoming more adventurous with their repertoire and want to try something new," said Richard Clark, Allt-A-Bhainne master distiller. "That's why we've decided now is the perfect time to launch Allt-A-Bhainne." The new release will be available to purchase from MoM Towers (that's us if you're new) very soon, so keep those eyes peeled…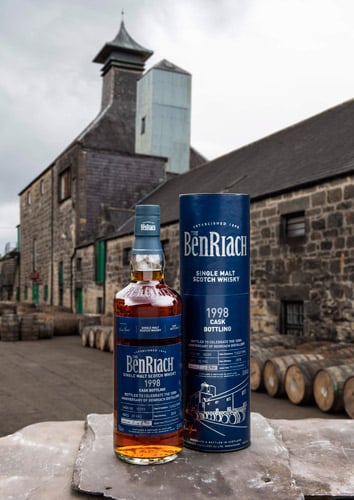 That's how you celebrate a big birthday
BenRiach celebrates its 120th birthday with a special whisky
To celebrate the 120th anniversary of the BenRiach distillery in Speyside, Master Blender Rachel Barrie has delved into the murky depths of… cue dramatic music… Warehouse 13 (dum dum daaaaaaaaa!) to find a suitably grand whisky. She chose Marsala Hogshead Cask No.10299 from 1998, distilled 100 years after the distillery opened, which has now been bottled and is on sale exclusively at the distillery for £220 per numbered bottle, signed by Barrie herself. We travelled up to BenRiach last week and Stewart Buchanan, Global Brand Ambassador, gave us a little of the elixir to try. We were suitably impressed but the really tough judges were three now-retired men who worked at the distillery in the 1950s, 60s, and 80s who had been invited along to celebrate the anniversary. Fortunately they also thoroughly approved of the new whisky. Phew! One of the trio, Norman Green, who worked at the distillery in the 80s, told us that he was "delighted to see it working. It's a classic distillery".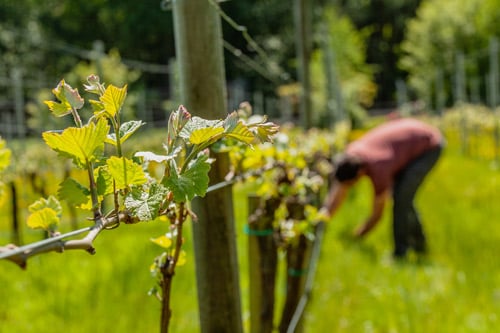 [Insert Marvin Gaye reference here] | Photo Credit: Plumpton College
Sunshine brings bumper year for British wine!
You may have noticed that the weather in Britain was a little warm this summer (but not for the three days when I went to Brighton. It pissed it down the whole time and we ended up spending most of our days in the two penny arcades). I digress. However! The Met Office has just confirmed that this summer was officially the hottest on record – bad news for lawns but good news for English and Welsh vineyards. The WSTA (Wine and Spirits Trade Association) described the weather "as near perfect growing conditions" and added that "with the good weather looking set to continue into October there seems little to stand in the way of both a bumper harvest and high quality grapes for wine makers." Which means look out for the magic '2018' number on English wine bottles in due course and you won't go wrong.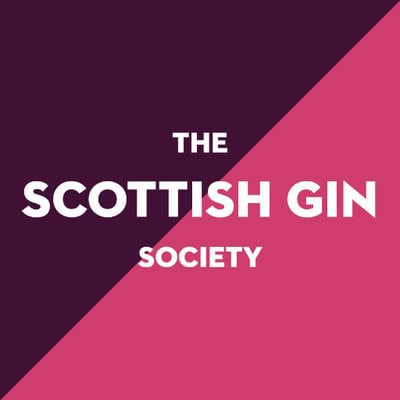 Memes are at the centre of a controversy for the Scottish Gin Society
Facebook posts cause furore for Scottish Gin Society
The Scottish Gin Society (SGS) and the Advertising Standards Authority (ASA) didn't quite see eye to eye regarding posts appearing on the SGS Facebook page earlier this week. The ASA upheld 10 complaints made about posts, ruling that they encouraged excessive drinking. This included a post featuring a picture of a G&T alongside the caption "Shut up liver, you're fine! Gin?", which has since been deleted. The SGS has put up a response to the situation on its blog, reiterating that since it's a "…not-for-profit organisation, who are not funded by distillers or producers we do not sell, or make money from, promoting Scottish Gin," and since many of the posts were re-posts of memes or links to external articles, it feels "…that these should not fall under ASA remit". "We completely support responsible drinking, but if this is justice then I am a Long Island iced tea," a spokesperson even told the BBC.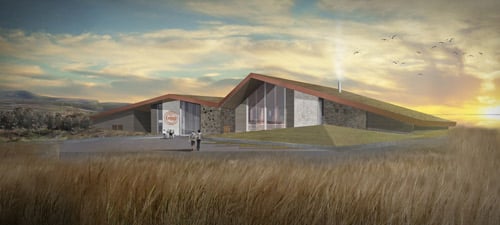 The future Lagg distillery
Fancy yourself a poet? Isle of Arran Distillers wants your help
In news that would warm Robert Burns' heart even more than a good dram, Isle of Arran Distillers wants to celebrate the Spring 2019 opening of its new Lagg Distillery with an official poem. To find such a verse, the brand has launched a competition! Entrants must capture the Isle of Arran's history, landscape or spirit, be that whisky or otherwise. All poems must be submitted by 14 December and the winner and two runners up will be announced on Burns Night (i.e., 25 January 2019). "The judges and I are very excited to read the work that is inspired by the island and the 'Arran Waters'," said Euan Mitchell, Isle of Arran Distillers' MD. "Who knows, we might uncover the next big literary talent!" He added that it was fitting to reveal the winner on Burns Night. "At the Isle of Arran Distillers, we are proud to be the only whisky-maker to have a dram that's officially endorsed by The World Robert Burns Federation." The winning entry will take pride of place at the new distillery, and will be published in Scottish Field magazine. The stakes are high people! Interested? Send your work to Kenny Smith at ksmith[at]scottishfield.co.uk with the subject 'Isle of Arran Distillers – Poetry Competition'. Who knows, you may even end up being talked about in the same company as Burns himself… Tim'rous beasties need not apply.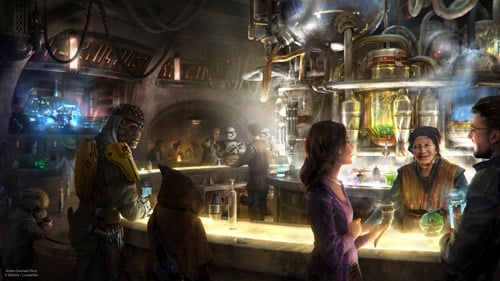 Hopefully Figrin D'an and the Modal Nodes will play here some day…
Disneyland to open Star Wars Cantina bar
And finally… we didn't think we'd ever be mentioning Disneyland on the MoM blog, but here we are. In 2019, Star Wars: Galaxy's Edge will open at Disneyland Resort and Walt Disney World Resort, giving visitors the chance to experience all manner of Star Wars-themed attractions. Y'know, like fly the Millennium Falcon, watch Stormtroopers miss every shot with their blasters, get freaked out by how tall wookies are. That sort of thing. Galaxy's Edge will also be home to Oga's Cantina, which will be serving actual drinks with actual booze in them (to people old enough to drink, of course). This will be the first time that alcohol will be served at Disneyland, and the drinks are sure to have some sort of ridiculous Star Wars-y twist to it, which is always fun. Just leave your droids outside and try not to bump into Ponda Baba. That Aqualish has quite a temper.