Pre-batched cocktails have experienced something of a glow-up in the last few years. Forget 'shaken or stirred?', we'll take ours bottled, please. Here's why you should, too…
When you consider our collective obsession with theatricality, traceability and quality ingredients, on the surface the bottled cocktail phenomenon almost presents itself as an anti-trend. But delve a little deeper and you'll find that the concept offers all three by the bucketload.
Once a cardinal cocktail sin, the stigma long associated with pre-made tipples has dissolved, and bartenders alike have welcomed the challenge of turning batched ingredients into bar-worthy serves. James Law, co-founder of London-based tonic, seltzer, and soda maker the Longflint Drinks Company, says a "huge shift in quality" is enticing drinkers to the burgeoning pre-batched category.

"We joke that '1000 crimes have been committed in the name of putting cocktails in bottles' – there have been some real shockers over the years," he says. "But the work from Ryan Chetiyawardana in London and Dave Arnold in the States among others has helped move [bottled cocktails] from a slightly embarrassing convenience product that gets hidden behind the bar to a show-stopping centrepiece."
Away from the bar, the trend makes professional cocktails more accessible at home, says Steven Roennfeldt from Australia's The Bottled Cocktail Company. "People seem to love the simplicity of serving them, it's only a matter of refrigerate, pour and garnish – it's so easy," he enthuses. "They can spend more time relaxing or entertaining rather than mixing drinks."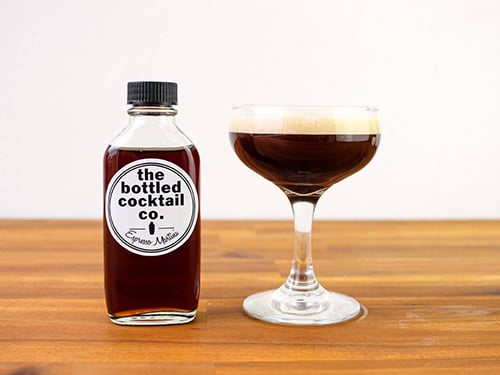 The Bottle Cocktail Co's Espresso Martini
So, how does the production process differ from making the same cocktail in a bar setting? For the most part, the answer is, surprisingly, not much. The underlying principle is still the same – mixing ingredients, achieving balance, reaching optimum flavour and dilution, says Roennfeldt. "It's just on a larger scale."
Of course, not every producer is as considerate. "The tendency for bottled cocktails can be to use generic, mainstream or entry-level ingredients for reasons of RRP targeting and margin," The Handmade Cocktail Company's Adam Wyartt divulges. However, he's quick to add that these iterations "can give good results and definitely serve an occasion". (Maybe a supermarket dash en route to a picnic?).
"What we do, however, is look for the best ingredients we can find for the recipes we want to create," Wyartt continues. "For example, our Old Fashioned uses seven-year-old rye whiskey and a similarly-aged sour mash bourbon, as well as two different types of bitters – so we go down very much the same route a bartender would look to develop their preferred go-to Old Fashioned recipe."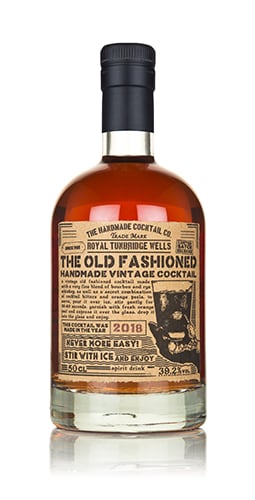 Old Fashioned goodness from the Handmade Cocktail Company
That's not to say pre-batched isn't without its own unique set of challenges. Like finding a recipe that retains as much 'bar fresh' flavour as possible, both after opening the bottle and over time in bottle, says Wyartt. "That comes down to choosing good, well-made ingredients with robust flavours that will last. Producing in small batches, as we do, is also a key part of that."
For Roennfeldt, the biggest challenge is in overcoming perceptions that a bottled cocktail won't be as tasty as a freshly-made serve. In fact, he says, the opposite can be true – particularly with especially boozy serves. "When it comes to spirit-forward cocktails, they often lend themselves to batching and blending – the flavours meld and develop over time and actually improve the cocktail."
While we love a classic cocktail as much as the next guy, bottled cocktail producers certainly aren't carbon copies. The category is also a hotbed for innovation, as Longflint's Law attests. Rather than trying to "recreate the classics, like Porn Star Martinis or Mojitos", the team has opted for an altogether different approach.
Take the Hibiscus, Gin Tonic: cold-brewed whole hibiscus flowers blended with a science-y house-made tonic designed to "accentuate the acids you find in pear and apples as opposed to citrus fruit", and married in a bottle with East London Liquor Company's London Dry Gin.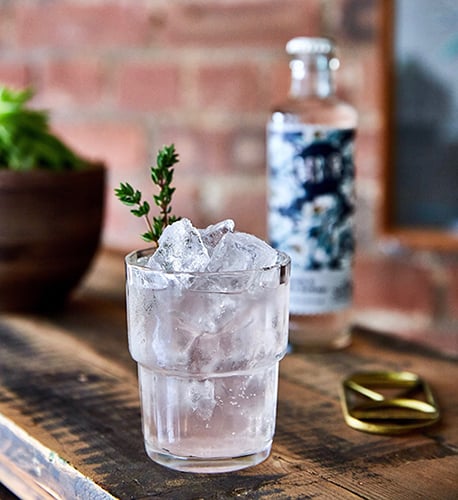 Rhubarb & Vodka Seltzer from Longflint
"If you start from a position of familiarity, it's highly unlikely you'll meet someone's expectations," Law says of the Longflint approach. "We've attempted to create brand new drinks. Our Hibiscus, Gin Tonic is recognisable as the classic G&T but so far removed that it creates a brand new experience."
So, what's next? For Law, the move to cans will be the Next Big Thing, "just like how all the best craft beer is now canned", he says. "It creates issues, though; canning is fiercely complex when you're using natural ingredients and juices."
Wyartt predicts "no let-up in numbers of launches", with a focus on "mainstream recipes albeit with twists to offer points of difference". "'Make it yourself at home' should continue to grow as well with more adventurous and diverse ingredients," he adds.
The pre-batched cocktail train shows no sign of stopping. We say pop some ice in that glass and climb aboard.