Rejoice, whisky fans! Much-loved expression GlenDronach Revival 15 Year Old is making a much-anticipated return. We travelled up to Scotland to taste the new liquid – and it was well worth the trip.
July 2015 was a black month for Scotch whisky lovers. Just over three years ago, it was announced that GlenDronach's 15 year old Revival single malt was being discontinued. Aged in oloroso and Pedro Ximénez casks and first launched in 2009, The Revival had become a cult whisky among the cognoscenti. There were whisky-scented tears all over the internet when the distillery's owners, the BenRiach Distillery Company, announced its demise citing lack of maturing stocks. But you can now dry those eyes as we can exclusively reveal that GlenDronach Revival 15 Year Old is back!

We visited the distillery last week. After a walk through the woods by the nearby village of Forgue to try a whisky which we are not allowed to mention (to be revealed shortly) followed by a hard day's tasting in the dunnage warehouse, master blender Rachel Barrie led us out into the night. The only light came from the still house where a saxophonist was playing (I don't think he's always there) and then Rachel revealed the real reason for our visit: The Revival revival. She apologised for keeping fans waiting so long but "it was more important to get it right than get it out there". The whisky itself was bloody marvellous, so aromatic that it bordered on menthol, sweet, fruity, complex and impossible to resist another glass.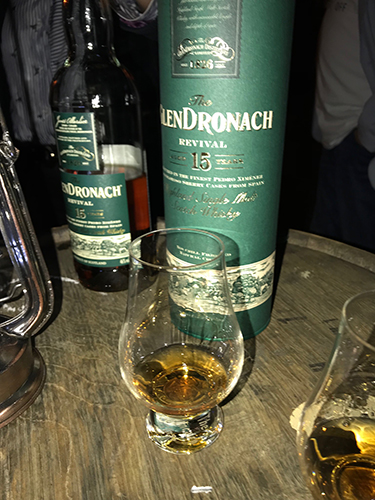 We know the photo's NOT great… we were super distracted by the deliciousness
GlenDronach has a chequered recent history. Mothballed from 1996 to 2002, it was reopened under Pernod Ricard ownership, sold to the Benriach Distillery Company in 2008 and then bought by American whiskey behemoth Brown-Forman in 2016. Rachel Barrie was brought in as master blender in 2017. But there's also continuity in the form of Alan McConnochie, distillery manager since 2008 (see video below), and the very traditional distillery itself with its copper mash tun that looks like a steampunk flying saucer, wooden washbacks and copper stills. Not to mention the stocks of maturing whisky.
GlenDron[e]ach from the sky!
But as the Revival hiatus has shown, there are gaps in the inventory. Keen mathematicians among you will note that GlenDronach produces an 18 year old whisky but made no whisky between 1996 and 2002, therefore for the time being, the 18 year old is significantly older that its age statement. Now looks like a good time to stock up on GlenDronach.
And if it's the revived GlenDronach Revival 15 Year Old you're after, bottled will hit MoM Towers shortly. Keep an eye on that crucial New Arrivals feed!
Alan McConnochie, GlenDronach distillery manager, talks us through a day in his life up in Scotland, the deliciousness of GlenDronach Cask Strength – Batch 7, and let's us know all about his go-to dram…