Friday the 13th might be unlucky for some, but not if you follow the world of booze! It's been an action-packed week, and we have the glorious highlights right here, right now. It's The Nightcap!
Happy Friday, folks! The weekend is here and it's time to celebrate with something tasty. Perhaps a delish and straightforward dram. Or, as Beam Suntory was highlighting when we stopped by this week, a Highball in all its glory. Or a G&T, Daiquiri, Margarita… the possibilities are endless. And now we're distracted.
So. The tumultuous week that was. England tumbled out of the World Cup (at the semi-final stage so we're still pretty proud here at MoM Towers), Brexit was back in the headlines (did it ever leave?!), and the astonishing Thai Cave rescue came to a successful close (huge respect to the rescue team, and of course we remember Saman Kunan, the brave diver who tragically died while saving others).

It's also been busy over on the blog. On Monday we had a chat with WhistlePig master blender Dave Pickerell as we launched WhistlePig FarmStock Rye Crop No.002 whiskey exclusively in the UK. Then we revealed the winner of our competition to win tickets to The Open, thanks to our pals at Loch Lomond.
On Tuesday, Annie gazed into a cocktail crystal ball with Shervene Shahbazkhani, head of brand advocacy at Bacardi Brown-Forman, to see what we'll all be drinking, before she caught up with the Empirical Spirits folks on Wednesday, a team of intrepid distillers literally at the forefront of spirits production. An inspiring bunch indeed.
On Thursday we explored the sensational (but often overlooked) world of spiced rums. The category has grown up a LOT, and the new generation of releases are less lip-smackingly sweet and far more sumptuously striking than ever.
Rounding off the week's action, Henry shared a dram with Brian Ashcraft, author of Japanese Whisky: The Ultimate Guide to the World's Most Desirable Spirit, who selected his faves from the warehouse shelves at MoM Towers. Need a handy guide to something tasty? You're welcome.
Phew. With that done, best crack on with the rest of the week's news. Let The Nightcap continue…
Team MoM chat bourbon tariffs on BBC Radio 5 Live!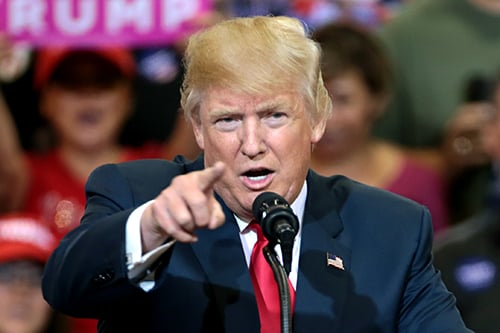 The man himself. Image: Gage Skidmore
We don't just report the news here at Master of Malt. Sometimes we're on it, too! And this happened yesterday when UK national radio station BBC 5 Live got in touch looking for people to join a debate on Donald Trump's business policies. Regular readers of the Nightcap (and general news) will know that the US administration's move to hike tariffs on steel and aluminium imports resulted in retaliatory steps from the EU and China. As a result, tariffs on whole load of imported American-made products, including whiskey, were raised by as much as 25%. We don't think this is good at all. So we told the world! You can hear our editor, Kristiane Sherry, discussing it all with 5 Live Drive host Sarah Brett right here:
What do you think about the tariffs? Let us know in the comments below.
World Records Alert: The Lakes Distillery's Genesis sells for £7,900!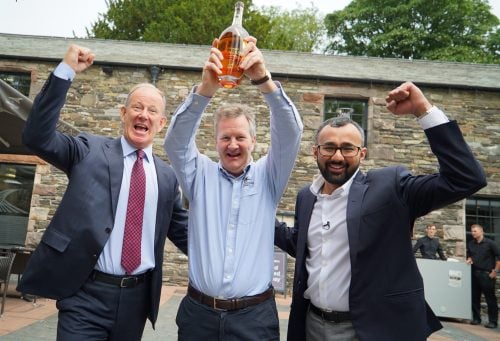 Team Lakes is happy
The world records for the most expensive whisky from a new distillery, and the most expensive bottle of English whisky sold at auction have been officially broken, people! The first bottle of Genesis single malt whisky from Cumbria's The Lakes Distillery sold on Tuesday for a whopping £7,900, which surpasses the previous new distillery record of £7,100, which was held by a Scottish maker. The whisky itself is really quite interesting: it was first matured in ex-oloroso hogsheads, before a period of further maturation in American and European oak. These two components were then married together in orange wine casks from Spain's Andalucía region, before being bottled at cask strength. The 99-bottle batch averaged a price of £900 each, with each safely nestled inside a bespoke rosewood presentation box, individually numbered and hand signed by Dhavall Gandhi, The Lakes Distillery's whisky maker. "This is a historic moment and the success of the auction and the interest in Genesis demonstrates that The Lakes single malt whisky is a credible alternative to whiskies from the world's established distilleries," said Paul Currie, The Lakes Distillery founder.
BrewDog gets Portman Group ticking off for 'Pink IPA'

The vertical distillery in all its glory
Cast your minds back to 8 March and International Women's Day. Remember BrewDog launched Pink IPA and marketed it as 'beer for girls'? Well, Portman Group, the UK's booze watchdog, received two complains from the public that the phrase could appeal to under 18s, and sided with the complainants. While the group said in a statement that it "recognised that the product was intended to be ironic" and that it was designed to generate discussion around gender equality, they "believed that this was open to misinterpretation". "The ruling by the Panel sets an important precedent around the use of the terms 'girl' and 'boy' on alcohol labels," said John Timothy, secretary to the independent complaints panel. "While we recognise the distinct purpose of the campaign by BrewDog was to draw attention to an important social issue, producers still need to make sure that there is no way that their products could be misinterpreted as appealing to children." You've been told!
Orkney Distilling's opens new artisan distillery and visitor centre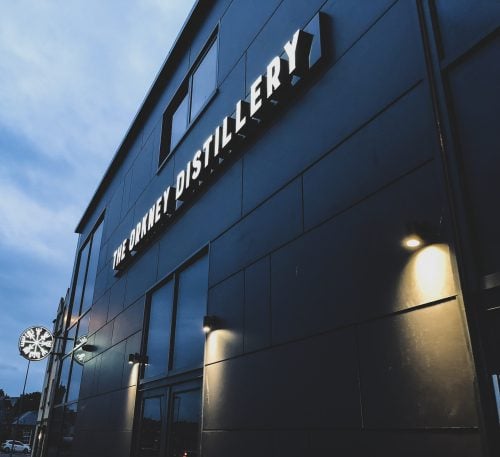 A fancy new distillery on Orkney
Hurrah – there's a new distillery for us to visit up on Scotland's Orkney Islands! Orkney Distilling has officially opened the doors to its new home after two years of planning and construction. The two-storey facility, which has created six local jobs, is situated on Kirkwall's historic harbour front and incorporates a gin and coffee bar, shop and events venue. Visitors can tour the production area and discover how gin is made. It's the realisation of a dream for Orkney Distilling's husband and wife partnership Stephen and Aly Kemp, who created Kirkjuvagr Arkh-Angell and Harpa gins. "We're incredibly proud of our new home and can't wait to share it with the local community, and the many visitors who come to Orkney each year," said Stephen. "Although our gin branding very much reflects the Norse heritage of Orkney, we've created a contemporary atmosphere within the distillery and visitor centre. That merging of the old and new, blending tradition and innovation, is unmistakably Orcadian in its approach, and something we've strived for with our gins too."
BenRiach's Rachel Barrie receives honorary doctorate!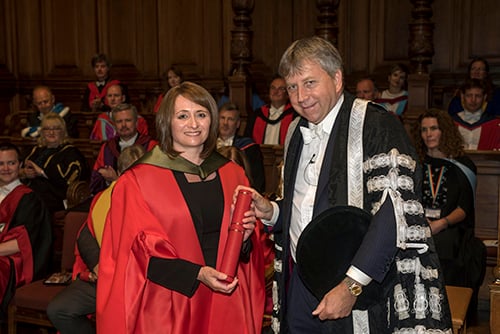 Alllll The Nightcap congrats to Rachel!
Huge congrats go out to Rachel Barrie, master blender across BenRiach, Glenglassaugh and The GlenDronach, this week – she's received an honorary doctorate from the University of Edinburgh! She was recognised for her expertise and services to the whisky industry during a ceremony on Monday when she became an honorary Doctor of Science – the first female master blender to do so. "This is one of the proudest moments of my life," she said in a statement. "My quest has been to unlock a deeper understanding of the distillation, maturation and provenance of Scotch, to develop and nurture richness of character and taste and celebrate it with the world; it's a great privilege to be recognised in this endeavour." Dr. Andrew J. Alexander from the University of Edinburgh School of Chemistry, added: "Rachel Barrie's creativity, sensory perception and mastery of analytical chemistry have undoubtedly widened and deepened the appreciation of Scotch whisky around the globe. The University of Edinburgh is tremendously proud to honour Rachel for her achievements."
Isle of Arran launches The Explorers Series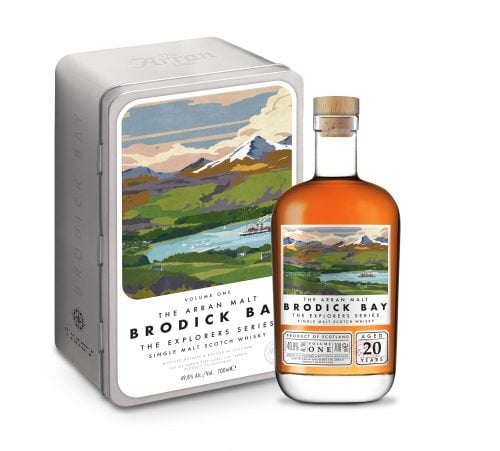 Shiny new thing from Arran
Isle of Arran Distillers this week revealed news of another limited-edition series, this time inspired by the distinct landscape of the beautiful island. The Explorers Series follows the hugely popular Smugglers Series, launched in 2015, and the first release is Brodick Bay, paying homage to the bay on the east coast of the Isle of Arran, backed by dense woodlands and guarded by the island's highest peak, Goat Fell. The 20 year old whisky has been matured in both bourbon barrels and sherry hogsheads before it was finished in oloroso sherry butts, sourced directly from Bodegas Tradicion in Jerez de la Frontera, Spain. The resulting liquid is said to offer layers of intense fruit, treacle laced fudge, dark chocolate raisins, soft oak and hints of pink pepper. "This first release is a very complex and multi-layered whisky, which was a conscious choice to reflect the diversity and charm of the island," said Euan Mitchell, Isle of Arran Distillers managing director. "We want to give whisky lovers something that is unlike anything else, because to us, there's nowhere like the Isle of Arran." It carries an RRP of £130 and is due into MoM Towers shortly!
Tequila hits the small screen thanks to Netflix and Salma Hayek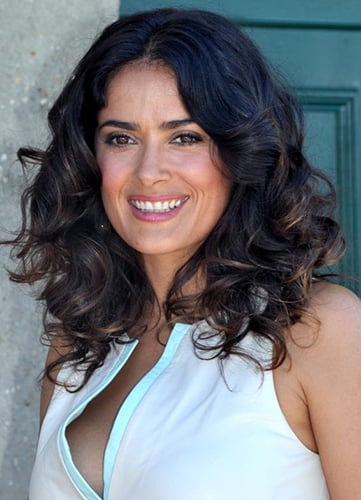 Salma takes on Tequila. Image: Georges Biard
Like Tequila? Love tellybox dramas? Well, Netflix has your back. It has just backed a new original drama series produced by actual Salma Hayek's production company, Ventanarosa Productions, and it's set in the world of Tequila (yes, it's an actual place in Mexico). Centring on the powerful world of Mexican billionaires, Monarca tells the story of a multi-generational family business empire that was built on a Tequila company. Sadly the agave spirit won't take a starring role as the series will mostly focus on the battle that ensues when a member of the family decides to fight the dirty system her family helped create. Still, the show should function as a perfectly good excuse to get some friends round and share some delicious Mexican tipples, be it sotol, mezcal or Tequila! "I'm extremely excited to partner with Netflix and to be working with amazing Mexican talent in front of and behind the camera," said Hayek. "We are proud to show Mexico as a vibrant, sophisticated and culturally rich nation fighting to control its own destiny."
Bacardi and Lonely Whale kick start #TheFutureDoesntSuck campaign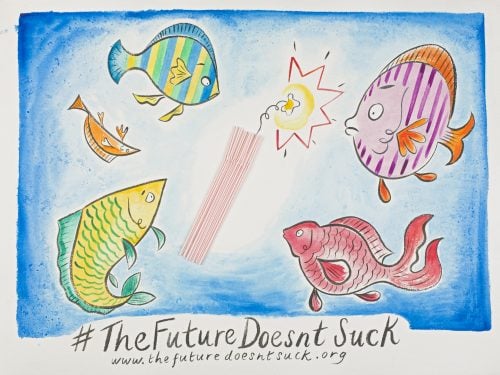 The future is now, folks
Encouraging news from Bacardi Limited and non-profit Lonely Whale now. The duo has teamed up for new campaign #TheFutureDoesntSuck with the aim of cutting single-use plastic and eliminating one billion single-use plastic straws by 2020. The announcement comes with a Bacardi commitment to remove non-essential, non-recyclable single-use plastic waste from its global supply chain following a review. It's trying to get consumers to jump on board, too, and proceeds from its Casa Bacardi music event ticket sales will also be donated to the cause. The campaign kicks off in London with initiatives to follow across North America in the coming months. "I believe through collaborations like this one with Lonely Whale, where we can bring society and business together, we can make impactful change to ensure #TheFutureDoesntSuck," said John Burke, chief marketing officer for Bacardi. If you would like to join the global campaign, visit thefuturedoesntsuck.org.
English sparkling winemaker beats Champers to top award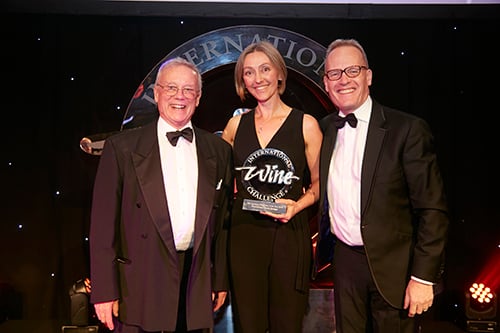 Take that, France – you might be in the final, but we've got the fizz award! (Cherie Spriggs with Charles Metcalfe and Tim Atkin from the IWC)
On Tuesday evening, Cherie Spriggs, head winemaker at Nyetimber, snapped up a very special award. She took home the Sparkling Winemaker of the Year trophy at the International Wine Challenge. This is notable for two reasons: Spriggs is the first woman to win this award, and she's also the first wine winemaker working outside Champagne to take home the spoils. It's about time too: women and sparkling wine have a long history with illustrious names such as Barbe-Nicol Clicquot (or Veuve, widow, as she is better known), Louise Pommery and Lilly Bollinger filling the annals. Spriggs' recognition is further proof, if proof were needed, that English sparkling wine has emerged as a serious competitor to Champagne (she's Canadian, but shhhhh). It's been a bumper year for Nyetimber, a pioneer of Champagne-style wine production in England. Its wines won a total of three trophies and four Gold medals at the International Wine Challenge this year. Might be time to crack out the Champagne, sorry we mean English sparkling!
That's no cube…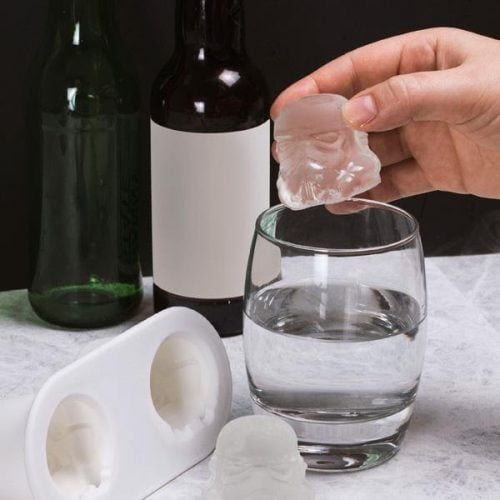 Stormtrooper ice cubes? You'd be Darth not to
And finally, if you find the lack of excitement at your cocktail parties disturbing, here's something that is certain to wow your guests: Stormtrooper ice cubes! They cost £9.99 from The Fowndry and the moulds are based on the original sculpts designed by Andrew Ainsworth used in the first Star Wars film way back in 1977. (So we assume they may even be pleasingly asymmetrical?) Simply add water, freeze and you have two giant and rather sinister looking ice cubes. Perfect for when the weather gets Hoth (sorry, their pun not mine.) Which reminds me of a joke from Family Guy: "I don't why they call it Hoth, they should call it Coldth."
And that's The Nightcap done for another week. Have a good one, team!