To most people, oysters, chicken stock and katsuobushi are ingredients. To Lars Williams – former head of R&D at Noma, one of the world's most influential restaurants – they're botanicals. Forget everything you think you know about booze: at category-defying distillery Empirical Spirits, nothing is off-limits.
If a distillers' rulebook exists, Lars Williams hasn't just thrown it in the bin – he's set the whole thing on fire. The grain-to-bottle distillery he shares with fellow Noma alumni Mark Emil Hermansen wasn't solely built to bottle. The entire set-up, designed and built by Williams, was imagined in the kitchen.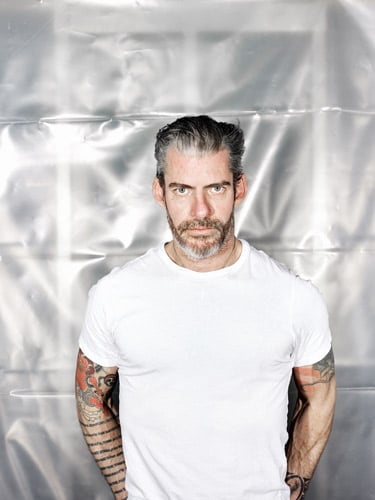 Lars Williams!
"Coming from a chef's perspective – where you spend so much time forging relationships with farmers, producers and foragers to get the best possible product and take great care every step along the way to produce layers of flavour on top of each other – the way [distilling] is often done made no sense to me," Williams explained during a tasting at east London bar Super Lyan. "We're rethinking every step of the process and approaching it with a cook's sensibilities."
This begins with Empirical's base spirit. The team sources barley from biodynamic farms around Copenhagen. On it they grow Aspergillus Oryzae, essentially making koji (the beginning of the sake-making process), and then ferment it for around one week with Belgian Saison yeast. They distill the resulting mix in a 500-litre 'closed system' still at around 15 degrees celsius – far lower than the 85 or 90 degrees our favourite spirits are usually subjected to.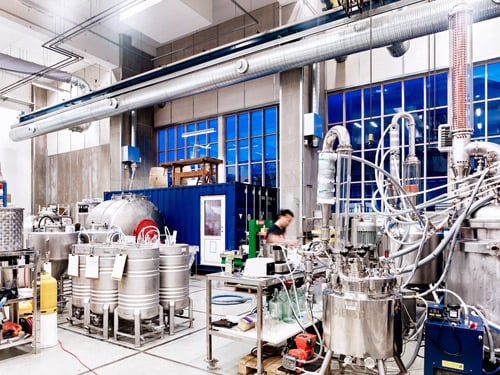 The Empirical Spirits HQ
"It that allows us to really get a very different profile from both the base ferments and also any botanicals that we put in there," Williams said. "If we put in pine needles or lemon verbena [for example], we can get that fresh herb quality out the other end instead of having the boiled spinach flavour you would get if you actually boiled them."
The 'closed-system' set-up essentially means no aromas escape. Williams likened it to the smell of chicken stock filling your home as you make it. "All that beautiful smell is loss of flavour which you could actually be encapsulating in your chicken stock," he said. "Our stills allow us to do the same thing, we don't blow out any flavour into the atmosphere."
Most spirits producers cut their distillation four or five times to split the foreshots, heads, heart, and tails. Empirical cut theirs 50 times. This serves two purposes. Firstly, quality control: the team can isolate and remove harsh parts of the run, resulting in a 'softer' alcohol. Secondly (and far more fun): flavour stretching.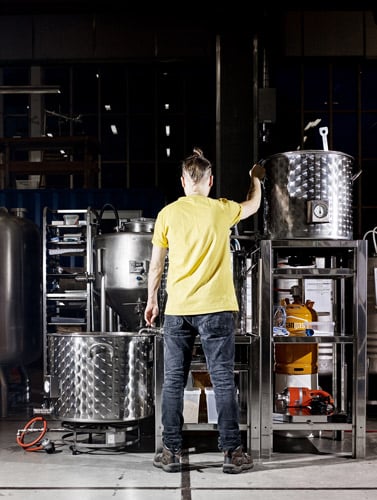 Busy doing the booze makin'
"It allows us to take a flavour and literally stretch the flavour across time and then cut it into different pieces," explained Williams, who pointed to a tomato spirit the team is working on. "[Imagine] you have a beautiful sun-ripened tomato plucked out of the fields and you bite into it like an apple – we're able to take that experience and stretch it into a long ribbon and cut it into little bits.
"At first you get the flavour of the skin and then the seeds, the pulp, the juice and the kind of greenness that's associated with the surface of the tomato. We can choose how much of each part of that flavour that we want. It allows us to have a lot of control and construct what's in my head of biting into the perfect tomato."
We sampled five spirits at the tasting – scroll down for more information on those – but Empirical is unlikely to put out a 'core range'. "The idea of having one spirit seems so dull to me," Williams said. "We're thinking about having three to four spirits that change seasonally. In my head, what you want to drink in the winter is very different to what you'd want to drink in the spring or summer."
Not only does this allow Empirical to make the most of seasonal produce – the most recent being wild beach roses – it also opens up scope for experimentation. Among them, 'chicken skin whisky' and an oyster and gooseberry spirit called Anne Bonny Blend. The latter, Williams says, was particularly fun to create.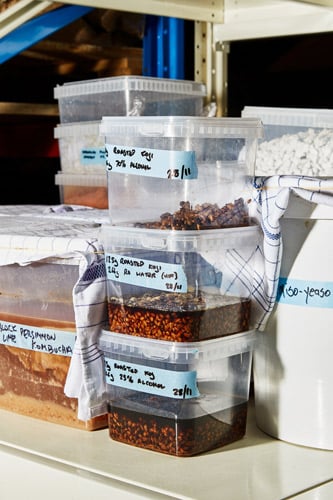 Ingredients ready for the booze makin'
"We distilled a French oyster and I wasn't happy with that, so we distilled a Danish oyster, and then a Swedish oyster…," he explained. "Because of the way we separate the cuts during distillation, I had 150 cuts of oyster flavour. So I was able to select different pieces of all those different flavours and recombine them into the picture I had of the perfect oyster in my head."
It's sheer brilliance. At the moment, the team is experimenting with various tea macerations (complete with condensed milk kombucha), a roasted buckwheat and smoked barley spirit, and mosaic hops. Rum made with African fruit is on the cards. Later down the line, Williams intends to explore grains, yeast strains and production methods, with a focus on terroir.
"We want to be able to showcase the farmers that we're working with," he added. "The grains are going to taste different, as grains do, from year to year, and that's something that we prefer to showcase rather than hide. The fact that we could have alcohol as vintages like you have in wine just makes complete sense to me."
Here's a little about the spirits we tasted at Super Lyan…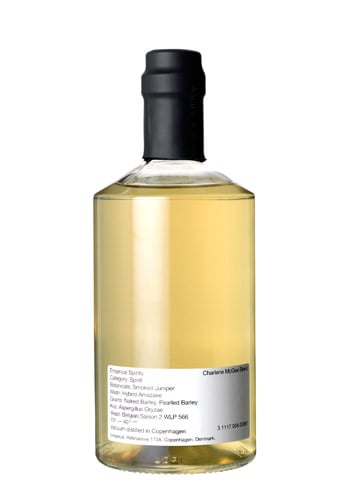 Charlene McGee Blend – 40% ABV
A smoky spirit named after Drew Barrymore's character in Firestarter. Williams names all the spirits, FYI. The base spirit is macerated with smoked juniper (incidentally, the juniper smoked with juniper wood), distilled and rested in oloroso sherry casks.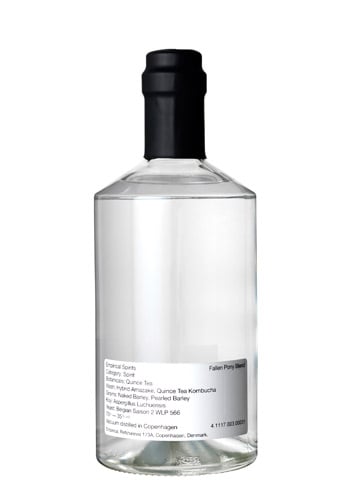 Fallen Pony Blend – 35% ABV
A sweet spirit made with quince tea as a botanical. The team also creates a quince tea kombucha, top blend with the distillate before bottling. The name? The story of a My Little Pony that can't deal with being a child star in her later life and falls into disrepute, said Williams.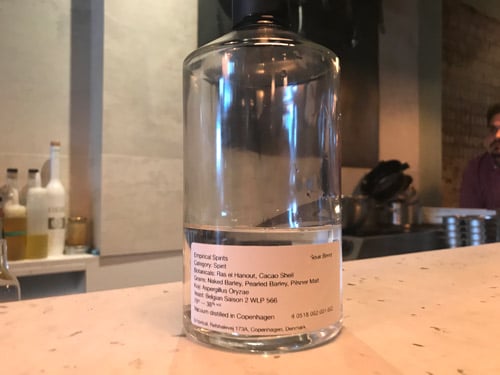 Souk Blend – 38% ABV
Made with Ras el Hanout, a Moroccan spice, and cacao shells. "The cacao shells are a by-product of coffee production," explained Williams. "They're difficult to use in a culinary world, they have a really great smell and flavour."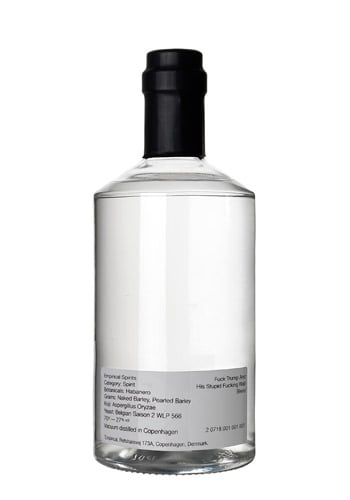 Fuck Trump And His Stupid Fucking Wall – 27% ABV
A mild, sweet and complex wine-spirit-hybrid that contains a kilo of habaneros in every bottle. To balance the sweetness of the habaneros, the team made a habanero vinegar, distilled it, and then blended the two afterwards. Why no spicy? "The spiciness is from the capsicum, which is too heavy to distill," explained Williams.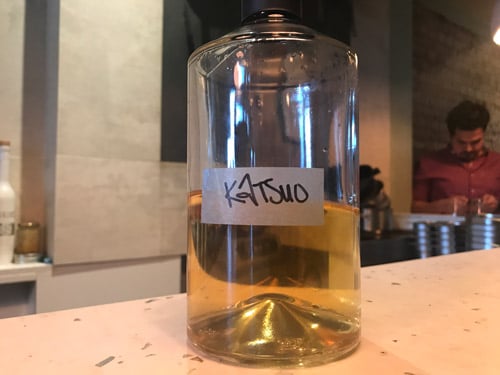 'Katsuo' Cask Strength – 56% ABV
If you're not already familiar, katsuobushi is dried, fermented and smoked skipjack tuna. After distillation, the team rests the umami-rich, smoky liquid in a Cognac cask to "give a little sweetness and body to it and mellow out a bit of the fishiness that was still in there when it came out of the still," said Williams. It's unnamed, because they've made so little of it.