We welcome February with stories of distillery reopening progress, new Glenmorangie deliciousness, and whisky coming to the big screen. Time for The Nightcap!
Greetings to all from your favourite pals at Master of Malt, and welcome to another edition of The Nightcap – our weekly round-up of all the booze news from the week that was. It's a bit like a neater version of someone taking all the interesting stories about all the tastiest drinks, loading them into a cannon and firing them at your PC/phone/tablet/eyeball computer. Is our lack of a cannon the only reason we aren't doing this in that way? Maybe!
Here's what's been happening on the MoM Blog this week. Annie checked out some nutrient-rich (and protein-packed) serves from JJ Goodman and explored the ongoing rise of Japanese gins. Our newest writer Jess had a look at Allta, the most recent Private Edition bottling from Glenmorangie (more on that later). Adam helped you get prepared for Valentine's Day with a selection of lovely treats. Kristy had a nose around Glenglassaugh, and then looked at the crucial training aspects of cocktail-making. Henry checked out Kingsbarn's first commercial whisky launch, gave us the background on The Bramble cocktail, and offered up some tasty drinks recommendations for all of you watching the Super Bowl this weekend.
Now. On with the news!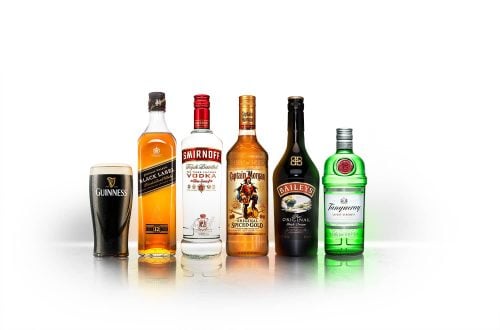 The likes of Tanqueray and Johnnie Walker came through for Diageo
Gin and Tequila send Diageo profits soaring
It was a good week for the bean counters at Diageo! The world's largest spirits group released its results for the six months to 31 December, with net sales climbing 5.8% to £6.9 billion, and operating profits soaring 11% to £2.4bn. The biggest winners? Gin, which saw reported sales shoot up by 28%, and Tequila, which rocketed by 29%. Seems like we've all got a thirst on for Gordon's, Tanqueray, Don Julio and Casamigos. Rum, however, had a challenging time of things, with sales slipping by 3%. Scotch, by far Diageo's largest spirits category, climbed by 7% (although declines were registered in Europe), with Johnnie Walker performing particularly well. "These results are further evidence of the changes we have made in Diageo to put the consumer at the heart of our business, to embed productivity and to act with agility to enable us to win sustainably," said Ivan Menezes, Diageo's chief exec.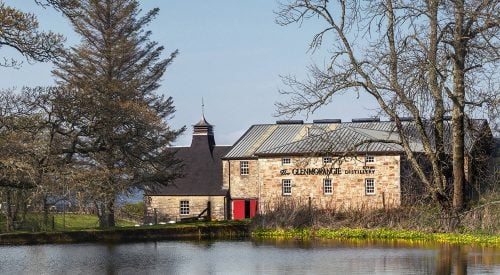 Glenmorangie was one of LVMH's top performers
Glenmorangie owner celebrates 'record' results
Diageo wasn't the only one toasting tip-top financial results this week. LVMH Moët Hennessy Louis Vuitton, which has the likes of Glenmorangie, Ardbeg, Belvedere and Hennessy in its stable, posted €46.8 billion in revenue for 2018, 10% up on the previous year. The Wines & Spirits division comparatively under-performed, growing 1% on a reported basis to €5.14 billion over the year. That said, profit was up 5%, and an "exceptional harvest in terms of both quantity and quality" boosted proceedings. Hennessy performed well in both the US and China, while Glenmorangie and Ardbeg "grew rapidly". And, if fizz is your thing, you'll be pleased to know that the LVMH Champagne business performed "remarkably well".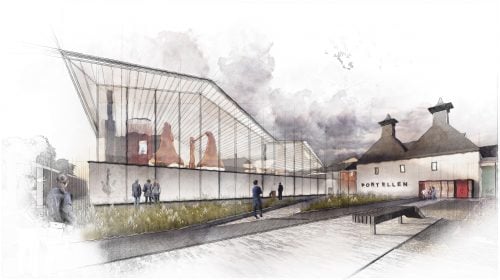 An artist's impression of Port Ellen
We have news re: Port Ellen's revival!
Plans for the revival of Islay's Port Ellen were revealed this week. Understandably, the distillery is intrinsically tied to the community, so locals and former employees are very much included in the plans. Port Ellen has been on one heck of a journey since it first opened in 1824, with its first closure and demolition in the 1930s. It was rebuilt in the 1960s only to be closed and partially demolished again in 1983. Only the kiln building and seafront warehouses survived, and these will be restored in the project, alongside a stunning new stillhouse. There will be two pairs of copper pot stills – replicas of the originals – installed in order to recreate the original spirit character. This new renovation will see a blend of past and future, as there will also be a second pair of smaller stills piped in to produce alternative spirits. These new stills pay homage to the remarkable John Ramsay, the original owner of Port Ellen and pioneer of many techniques and equipment that influenced not just that distillery, but the whole Scotch whisky industry – for example, the spirit safe. He was also one of the first people to import sherry and Madeira casks to mature the spirit, and where would we be without those?! Although we won't be able to expect any tasty whisky for a long time, it's great to see this historic distillery returning to life.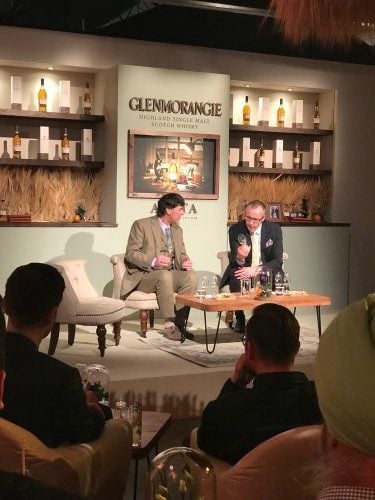 Dr Bill Lumsden and Brendan McCarron with Glenmorangie's Allta
First taste of Glenmorangie's wild new Private Edition, Allta
Allta means wild in Gaelic, a reference to that fact that the 10th Private Edition is made from barley fermented with a yeast discovered in a field near the distillery. This week we attended the launch event hosted by Dr Bill Lumsden and Brendan McCarron, aka, "the Two Ronnies, only not funny". Their words not ours! Back to the whisky though. Allta tastes very different from the 10 Year Old. It's herbal and spicy on the nose. In the mouth, it's peppery, with a spicy almost rye-like flavour, creamy texture with notes of toffee, yeast and vanilla, and a finish like a digestive biscuit. The yeast, however, isn't the only difference: Allta is bottled at a much higher strength – 51.2% ABV – and the oak treatment is quite different, mainly second-fill and refill ex-bourbon casks. Afterwards, Dr Bill told Master of Malt how Glenmorangie is far more experimental than any of the "C word" [craft] distilleries. "We've done all the innovation; the difference is they have to bottle it." He went on to say, "some of the new whiskies are terrible", though declined to name names.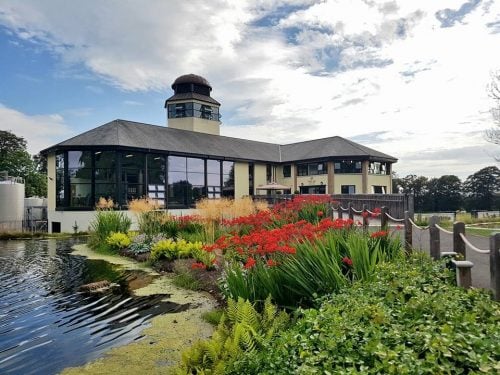 The Royal Oak Distillery, which Illva Saronno retained
Walsh Whiskey and Illva Saronno end joint venture
Irish whiskey player Walsh Whiskey and Italian drinks group Illva Saronno have ended a joint venture partnership, a move that sees the Writers' Tears and The Irishman brands split from the Royal Oak Distillery in County Carlow. In an announcement, both parties said "the Irish and Italian directors differ on how to develop the combined business into the future". The Walsh Whiskey team has taken full control of the brands and the Walsh Whiskey name, and have confirmed supply is unaffected. Meanwhile, Illva Saronno has taken on the distillery, aiming to turn it into a "centre of excellence" in Irish whiskey, producing malt, pot and grain under one roof. We're excited to see what happens next!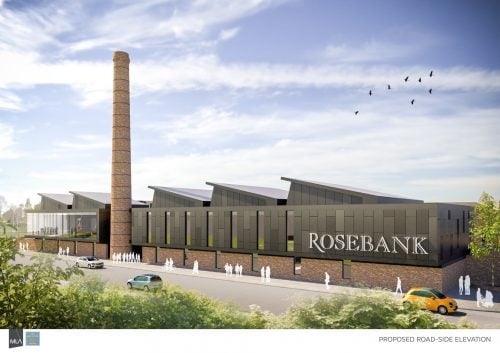 An artist's impression of Rosebank Distillery
Rosebank Distillery's planning application approved!
Back in October 2017, Ian Macleod Distillers announced its decision to rescue Rosebank Distillery, one of the great 'lost distilleries' of Scotland. And work on the £12 million project is now expected to begin faster than you can say 'Scotch whisky' as the planning application has been approved. Hurrah! Situated on the banks of the Forth and Clyde canal, the distillery was closed in 1993. The revived Rosebank will retain the famed chimney along with other historically significant buildings, while the distillery itself will sport a contemporary design and make every effort to be as energy-efficient as possible. There will be three new stills built to the exact same specifications as Rosebank's original stills, which were stolen in 2008 by copper thieves – scoundrels, the lot of 'em. Managing director Leonard Russell stated: "We will strive to replicate the unique Rosebank style by once more employing the techniques of triple distillation and worm-tub condensers, for which this iconic Lowland single malt is famed." A new Rosebank Visitor Centre is also in the offing, so the full history of this iconic distillery will be available to all. It will be open to visitors in late 2020, and we can barely contain our excitement!
Whisky comes to the big screen thanks to Scotch: The Golden Dram
Just how did Scotch whisky become the spirit of choice around the globe? A new documentary film that will premier at the Glasgow Film Festival in March will attempt to answer that question. Scotch: The Golden Dram, Andrew Peat's revealing documentary, was shot entirely on location in stunning Scotland and charts 500 years of the 'water of life', uncovering the history of the craft and how it has grown into an industrial and cultural phenomenon. Featured in the film is the Cinderella tale of legendary master distiller and veteran of over 50 years, Jim McEwan, as well as other big names in the Scotch industry such as Richard Paterson, Dr Bill Lumsden and Ian MacMillan. Director-producer Andrew Peat (a fitting name for the director of a Scotch whisky film) said of his feature-length documentary debut: "The heart of our film is the characters, the men and women who produce Scotch whisky, from the barley farmers to the bottle makers. And you can literally see the passion and joy and pride they have in their work and this world-renowned product. They share their amazing stories, and some very humorous anecdotes. It's a very educational film (you learn the entire process of whisky making), but at the same time it's a film of the heart." Scotch: The Golden Dram is on general release from 8 March and will be screening a the Glasgow Film Festival on March 1, which includes a Q&A. Ahead of its cinematic release, Munro Films has launched a trailer, so pour yourself a dram, settle in and get watching!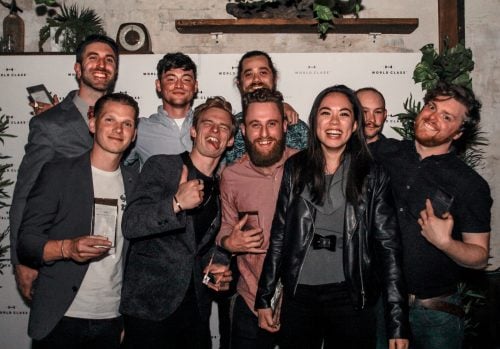 Diageo Reserve's World Class is back!
Diageo Reserve's bartender competition World Class returns
If world-renowned bartender competitions engaging in a UK-wide studio tour is your kind of thing, then you'll love this. Diageo Reserve's World Class is back and is promising to be bigger and better, with all-new content, exciting challenges, an even bigger pool of bartenders, and a focus on community. The series of training sessions, created to educate and inspire bartenders, will be delivered in the UK by a number of brand ambassadors, including Jack Sotti, Jason Clark, Ali Reynolds, Kate Jackson, Jenna Ba and Joe Tivey, as well as a collection of the renowned bartenders, drinks professionals and creatives. A number of studios sessions will also take place, each centred around a different spirit in the Diageo Reserve portfolio and inspired by the spirit's production, history or ethos. Modules for the year's national training drive include 'Tech Tonics', 'Science of Smoke', 'Single Ingredients' and 'Tartan Tiki', with two modules specifically tailored to this year's World Class competition entry challenge, due to open in March with in-bar judging in May. Diageo Reserve World Class brand ambassador Jack Sotti commented: "2019 marks a step-change in the World Class programme. Now in its 11th year, we've seen an array of personalities share their talent whilst participating in the competitions and have watched the competition develop year by year, each time tapping into today's trends and cocktail culture. We can't wait to hit the road to start recruiting and spreading the word for yet another exciting World Class year, this year kicking the competition off with a series of challenges encompassing everything which makes up today's bartending scene."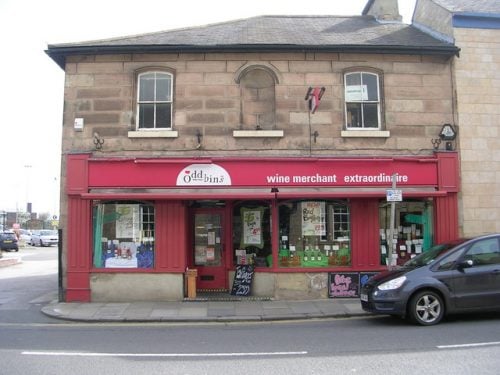 Worrying times for Oddbins
Oddbins calls in the administrators . . . again
Now some somber news: wine merchant chain Oddbins is in financial trouble and has called in administrators, Duff & Phelps. This much-loved institution, which has been going since the 1960s, was a pioneer in Australian and Chilean wine, single malt whisky, and craft beer. As well as expanding Britain's palates, its chaotic and colourful shops were training grounds for much of the country's drinks trade and press (including your humble features editor, Henry.) The company was hit by a combination of a general decline in the high street, a weak pound, and rising rents. A disappointing Christmas was the final straw. Parent group European Food Brokers (EFB) released the following statement: "The deterioration of the High Street, combined with the continuing economic uncertainty surrounding the withdrawal of the UK from the EU, has resulted in an unsustainable, tough physical retail market." The chain previously ran into financial troubles in 2011 but was rescued by Whittalls Wine Merchants (part of EFB) which relaunched the company as a much-slimmed-down chain. Oddbins currently has 45 shops. EFB went on to say: "We will endeavour to continue to operate all stores as a going concern while options are assessed for the business, including a possible sale. All businesses continue to trade until further notice." Worrying times for Oddbins' employees and sad news for the British drinks trade.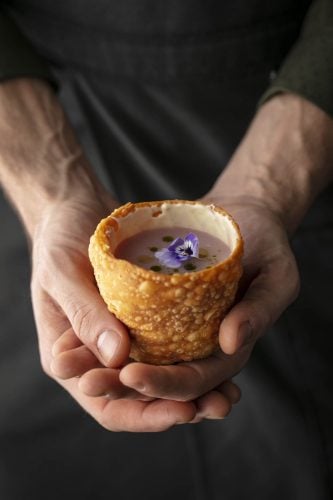 This cocktail is sustainable and sublime!
And finally… is this the world's most sustainable cocktail?
We hear a lot about sustainability in the drinks business these days. And too bloody right; the bar world can be incredibly wasteful. But one venue has come up with a cocktail that takes recycling to a whole new level. It was invented by Marco Sangion at Quaglino's Bar in London, as part of its 'A Science of Sustainability' cocktail list. Everything in it is made from leftovers, like the vodka infused with purple carrot peel, cordial made with mandarin skins, and mint stick oil made from the usually-discarded stems of the plant. But the pièce de résistance is the cup in which all this worthy deliciousness is served. It's made from pasta which means that you can eat it once you've finished the cocktail. How sustainable is that? Just don't try to do the same in a normal bar. The results won't be pretty.
That's it, good night, and happy (and sustainable) boozing!