Until recently, few modern-day distillers have been interested in exploring Japan's unique natural larder. Now, gins bearing the country's native botanicals adorn back bars the world over. We take a moment to appreciate the burgeoning Japanese gin market…
"Gin has been made in Japan before, let us not forget that the Japanese were making western-style spirits 100 years ago," says Marcin Miller, who co-founded The Kyoto Distillery with business partner David Croll, "however, I'm pretty sure no-one had – or has, other than us – built a distillery specifically to make top quality gin."
Armed with years of experience working with super premium spirits – the duo are the brains behind Japanese whisky specialist Number One Drinks – Miller and Croll established the distillery on the island of Honshu back in 2015 with the intention of creating "something that is instantly recognisable as a gin – that is to say, juniper-led – but with a distinct Japanese accent".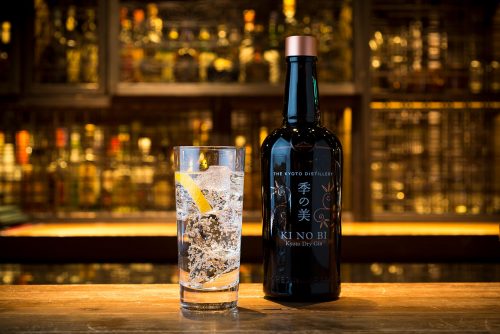 Ki No Bi Gin, in all its glory
"We spent six months prior to our production licence being granted – the first ever for spirits in Kyoto – researching the fruits, herbs and spices which are indigenous to Japan," Miller says. "Initial formulations had too many botanicals so we pared it down to 11; less is more and each botanical has a role to play."
One year later, The Kyoto Distillery released its flagship gin, Ki No Bi. Made from a rice-based spirit, the bottling "is all about local collaboration," explains Miller. "The bottle, design, packaging and constituent elements including rice spirit, water and botanicals, are all down to relationships with local farmers and craftsmen," explains Miller.
Of the botanical recipe Ki No Bi – which include yuzu, hinoki wood chips, bamboo leaves, green sansho, lemon peel, and gyokuro (green) tea – only juniper and orris root are imported. The lemons, for example, are from Hiroshima; the green tea from neighbouring Uji. The team is currently "in discussions" with the University of Kyoto's agriculture department about growing their own juniper.
When it comes to production, the botanicals are split across six different categories – base, citrus, tea, herbal, spice and floral – and macerated in rice spirit before being distilled individually. An intricate, laborious process that captures the team's "obsession with making the best gin possible".
The Kyoto Distillery helped pioneer Japanese gin production
"At The Kyoto Distillery we have a philosophy of kaizen; we strive for incremental improvement at all times," Miller explains. "That can apply as much to the cartons as the liquid itself. We also apply the concept of konwa: creating harmony through blending our six distillates together."
It wasn't long before domestic producers sought to ride Kyoto Distillery's wave. Within a year, Japanese drinks giants Suntory and Nikka had clambered aboard the botanical bandwagon, sending their own bottlings (Roku Gin and Nikka Coffey Gin, respectively) around the world. Domestic shochu and sake producers began to turn their hands to gin distilling, many championing hyper-local botanicals with mixed results.
As Miller rightly points out, "there is a wealth of difference between on the one hand building a distillery to make the best gin you can and on the other repurposing your shochu, liqueur or whisky stills to make a quick buck."
Back in Blighty, independent distillers were already merging the best of Britain and Japan. The Cambridge Distillery were first to do so; distilling juniper, shiso leaf, sesame seeds, cucumber, sansho and yuzu individually at low temperatures to blend the "world's first" Japanese botanical-infused gin back in 2014. Others followed suit, bringing a distinctly different proposition to the UK's gin market with Japanese-inspired London Dry bottlings.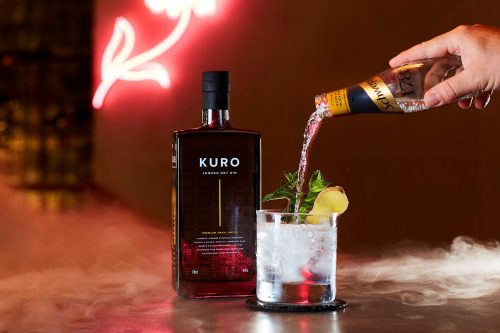 Kuro Gin, a Japanese-inspired London Dry Gin
"Many of the true Japanese gins on the market today are produced by whisky distillers, so they are very much commercial decisions rather than organic cultural choices," says Craig Fell, co-founder of Kuro Gin. "We were looking to produce a premium British gin, but it just turned out that ours was inspired by a Japanese experience."
After returning from a snowboarding trip in Hakuba, Fell sought to capture the "essence of the mountains" in Kuro's botanical choices, which include silver birch bark, spruce needles and bamboo. Production-wise, the London Dry bottling is distinctly British; produced in a 300-litre copper still at Langley Distillery in the West Midlands.
Japan's pulling power lies in its "beauty and diversity", Fell says. "You have thriving, cutting-edge cities, beautiful serene landscapes, warm sandy beaches and an incredibly well-preserved history. It could become one of the most diverse ranges of flavour profiles for gin".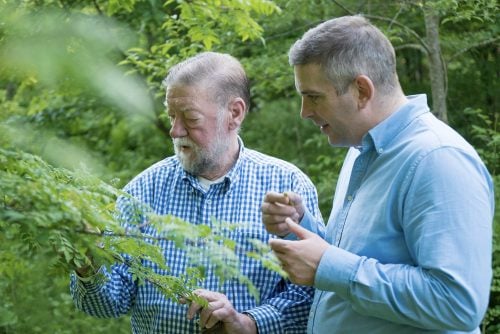 James Nicol and Kokoro inspiration, Uncle Nic
The marriage of Japan and juniper is a family affair for James Nicol, managing director of Kokoro Gin. His uncle, the founder of a 50-hectare woodland trust in the Japanese Alps, has spent the last 30 years buying and restoring ancient forest near his home in Kurohime.
The forest is home to more than 59 endangered species, along with "many exciting and unusual botanicals", says Nichol. Produced by London's Thames Distillers, Kokoro is made using sancho berries sourced from the site (10% of the profits from each bottle go back to the woodland).
"We hand pick them very early in their season, when they're most fragrant," Nichol explains. "They have a terrifically complex flavour, citrus-led with a gentle spiced finish which makes your tongue tingle. It's the perfect botanical for a London Dry gin."