Glenmorangie has unveiled Glenmorangie Allta, the 10th release in its annual Private Edition series of pioneering whiskies.
This is the story of a love affair between Scotch whisky and humble yeast. Or, perhaps not as humble as we thought. Glenmorangie's director of distilling, whisky creation and whisky stocks, Dr. Bill Lumsden is brandishing the potential of yeast in the latest Private Edition's rich, fruity release – Glenmorangie Allta (Scottish Gaelic for 'wild', pronounced 'al-ta'). Not only does it mark the 10th anniversary of the Private Edition series, it's also the distillery's first expression created using wild yeast.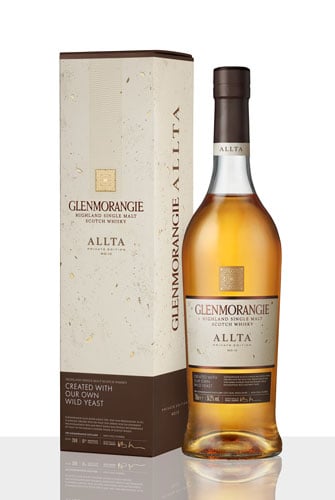 Glenmorangie Allta Private Edition
Recalling a story told to him by the late whisky writer and journalist Michael Jackson about a unique 'house' yeast Glenmorangie was said to have possessed, Bill began exploring the effect of yeast on the flavour of whisky. Behold, years later in the Cadboll barley fields near the Glenmorangie Distillery, he discovered
Saccharomyces diaemath
(a species of wild yeast unidentified until that point) which, to great joy, could be used for creating whisky. The yeast was cultivated, and when the barley was ready, Dr. Lumsden brought it all together. It turns out this yeast created an exceptionally fragrant spirit, which he then transferred into ex-bourbon barrels to further showcase the fruity character given by the yeast.
Though in previous years Scotch whisky distillers would have used their own 'house' strains of yeast, many distillers began using a particular strain of Saccharomyces cerevisiae which is particularly useful if you want to make alcohol with a neutral flavour.
Glenmorangie Allta is, in the words of Dr Bill, "a worthy whisky with which to mark the Private Edition's 10th anniversary". It showcases the power of yeast and "opens up compelling possibilities for the future of Scotch whisky." A testament to Glenmorangie's creativity – yeast will be overlooked no more! So that's what Bill meant when he tantalised us last August with hints to a "very innovative thing which has never before been done in the Scotch whisky industry". It all makes sense now!
Keep an eye on our social channels this evening – we're heading up to London to taste Allta, and we can't wait!