Part of the trio of Scotch whisky distilleries sold to Brown-Forman in 2016, Glenglassaugh is a treasure trove of sweet-yet-seaweedy drams matured by the sea. We stopped by to have a nose about.
Located on the edge of Speyside, almost equidistant between Inverness and Aberdeen, Glenglassaugh is a distillery with a chequered history but a bright future. It was built way back in 1874 and has changed hands many times, even enduring periods of closure – unfairly overlooked in favour of its rivals in the Speyside epicentre further west. After 22 long years (its longest silence) its potential was spotted by Dutch investor Scaent Group in 2008 who snapped up the site and reopened it shortly after. Billy Walker's The BenRiach Company took the reins in 2013, before American whiskey giant Brown-Forman, thirsty for Scotch whisky, acquired Glenglassaugh, along with BenRiach and GlenDronach, in 2016.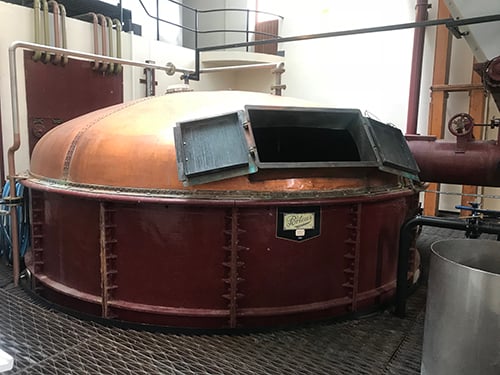 That's what a 102-year-old mash tun looks like
When we sent the drone up high in the sky above Glenglassaugh, it was easy to see the distillery's appeal. The traditional buildings are set close to the spectacular Sandend Bay, the location propelling Glenglassaugh to the top of distillery visit bucket lists. And when we were there, the rain even held off!
Glenglassaugh's core appeal though is of course, its whisky. But with a relatively recent 22-year hole in production, building any sort of logical range has proved challenging. Now, 11 years on from when Scaent saved the day, cask finishing-focused expressions have appeared including Pedro Ximenéz Sherry Wood Finish and Port Wood Finish. There's both peated and unpeated, too. Glenglassaugh truly is back in the game!
Glenglassaugh's pair of stills
And who better to give us the full low-down than distillery manager Alan McConnachie? We quizzed him on the distillery, its character and what's coming up next.
Appetite well and truly whetted? Got a Glenglassaugh dram in hand but bursting to get behind the scenes and discover the distillery for yourself? We're one step ahead of you. If you can't make it up to Scotland (or if you're just super-impatient), fret not. We took our VR kit for a spin around the distillery so you can experience it too. Click, drag your mouse around for a closer look, and enjoy!
Enjoy, folks!