Last week, we met with Isabella and William Wemyss, the brother and sister team behind Kingsbarns Distillery in Fife, for the launch of Dream to Dram, the duo's first commercial single malt Scotch whisky release.
There can be few new distilleries as beautiful as Kingsbarns. It's set in rolling Fife farmland and housed in a converted 18th century farmstead, complete with a dovecote that looks like a wee castle. The Wemyss (pronounced Weems) family is old Scottish nobility with its seat at a proper castle nearby called, naturally, Wemyss Castle. This part of Scotland attracts visitors from all over the world to the home of golf, St Andrews Links. As William Wemyss put it, "We're bringing together golf and Scotland's other great export." He means whisky, not shortbread.
William and his sister Isabella are clearly geared up for tourism: there's a very impressive visitor centre, a café (try the sausages rolls), and their very own gin distillery which produces Darnley's Gin, named after Mary Queen of Scots' notorious husband. The idea for a Fife whisky began in 2010 with an email from Doug Clement, a former pro golf caddy, to William Wemyss saying that they should open a distillery. At the time, William joked, "we couldn't spell the word washback." So they brought in some experts. Jim Swan consulted on creating "an early-maturing spirit" and the distillery was designed by Ian Palmer from Inchdairnie, with stills from Forsyths of Rothes.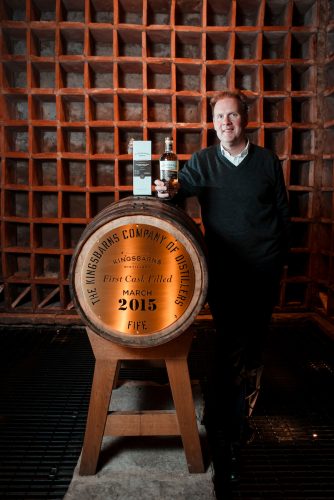 William Wemyss with Kingsbarns Dream to Dram
Everything is geared up to produce a fruity, pure spirit, from the unpeated local barley to the two types of yeast used (for all the whisky geeks out there, they are Anchor and Safwhisky M1). Fermentation takes between three and five days and, according to Peter Holroyd, the distillery manager, the two yeasts produce lots of "fruit esters". When it comes to distillation, he takes a very narrow cut from the 4,500 litre spirit still to ensure a light, clean spirit with no heavy elements.
Kingsbarns has produced around 10,000 bottles of this first commercial release, Dream to Dram. The whisky is just over three years old. 90% was aged in first-fill ex-bourbon casks from Heaven Hill in Kentucky, and the rest in STR (shaved, toasted and charred) American oak Portuguese wine barriques. According to Isabella Wemyss, these wines casks still have a lot of wood character to give. There is also some spirit ageing in sherry casks, Port pipes, and ex-Islay casks.
Isabella is in charge of whisky maturation and blending (something she knows a fair bit about from her work with the Wemyss Malts range), while her brother William looks after the sales and marketing side. On a busy afternoon with the distillery packed with journalists, whisky business types and local bigwigs, we managed to get ten minutes with her: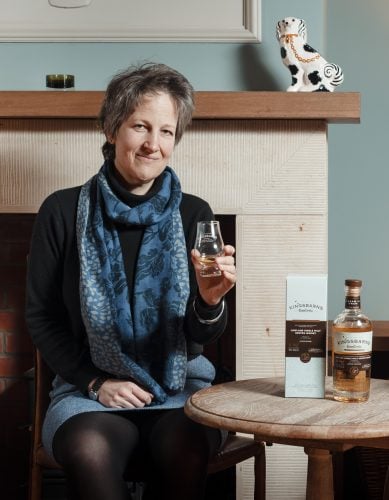 Say hello to Isabella Wemyss!
Master of Malt: Could you just tell me a little bit about your background before you got into whisky?
Isabella Wemyss: I trained as a lawyer. I worked in the tea trade for a while. I actually am responsible for our tea from Kenya [the family own a tea plantation as well as a vineyard in Provence]. I pick up lots of roles within the business – so it's not just whisky, but it is largely whisky.
MoM: Does being a lawyer help in any way with having that kind of mind, that kind of exactitude?
IW: It helps in the analytical side, and when I went and actually did the distilling diplomas I could understand the technical side of it, and I found that really helpful. It's all scientific and I've got no science background at all, but law and science, funnily enough, are sort of quite similar.
MoM: Can you just tell me a little about the Wemyss Malts range. Did you buy in whiskies or new-make spirit?
IW: We started buying in mature whiskies. Part of my role was buying in casks and actually, many of the ways I learned about spirit and wood was learning about different kinds of spirit and how they interacted with the different kinds of wood all over Scotland, and buying different whiskies. And then in the last probably eight years, we've started filling other people's spirit into our own casks. That's also been a journey of matching the cask to the spirit type.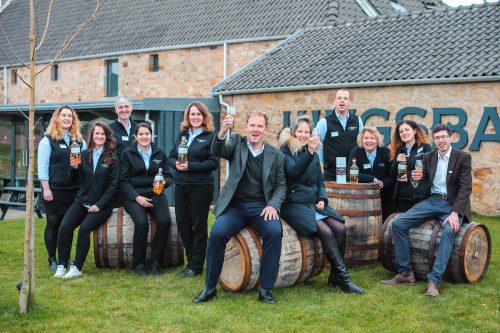 The Kingsbarns team celebrate launch of the brand's first single malt whisky
MoM: Fantastic training, for this.
IW: Yes, it was great. Because you could see the way different types of spirits and different styles interacted with the different casks.
MoM: Did you always want to have your own distillery?
IW: Yes, we'd always thought about that from almost the word go but assumed it was very much a dream for a long time. And I'm glad we actually had that time in the industry to make contacts, to learn about it, to build up distribution, and just to have the background. So that when we did this, we had the right experience to do it.
MoM: And so when did you start your own distillery in earnest? When did the diggers move in?
IW: Gosh. Well, we've been open three and a half years, so it was about an 18-month build I think, so four and a half, or five years, it must have been, at a guess. Yes, it was about five, six years. Call it six years.
Peter Holroyd, the distillery manager
MoM: Jim Swan was involved, wasn't he?
IW: Yes, he was involved at the start. So he helped us design the spirit and he gave me a lot of advice to begin with, from the wood type. And then he died, actually not long after we started, but he certainly helped us get going.
MoM: You've just released your first single malt. Do you have anything else in the pipeline, as it were?
IW: Yes, we've got a plan going forward for different releases at different ages but it's a surprise when they come.
MoM: So there may be an age statement at some point?
IW: There will definitely be an age statement at some point because I'm actually filling casks against a plan which goes out 25 years ahead. Because you have to choose your casks now for what you're going to fill in 25 years' time which is rather nerve-wracking!
MoM: So you're clearly thinking very long term about it. How do you feel about the future of Scotch whisky, because obviously at the moment it's on something of a high?
IW: It's on a high, but we're very much at the craft distilling end. So that's where a lot of the growth is.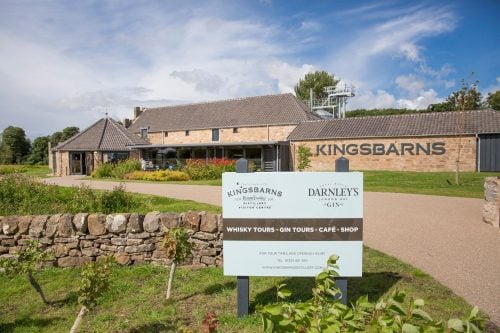 The beautiful Kingsbarns Distillery
MoM: There's quite a lot of distilleries that have opened, do you think there's a chance that there may be too many at some point?
IW: It's difficult to tell the future. I mean, I hope we're in the right space, that we're true to our origins. We are there, I would say, before the pack. And we have already a background in the industry.
MoM: Right, that must help. And do you have a lot of visitors? Because you've got such a great visitor centre here.
IW: We do have quite a lot of visitors over the year, obviously particularly in the summer with the golfing and St Andrew. It's more of a visitor season than at the moment.
MoM: And finally, I really enjoyed the single malt. You would probably drink it neat, but could you mix it? Do you have a favourite way of serving your malt whisky that isn't just neat with a bit of water on the side?
IW: For me I'm afraid it's water. It brings out the different flavours and some of the complexity of the spirit.
Thank you, Isabella!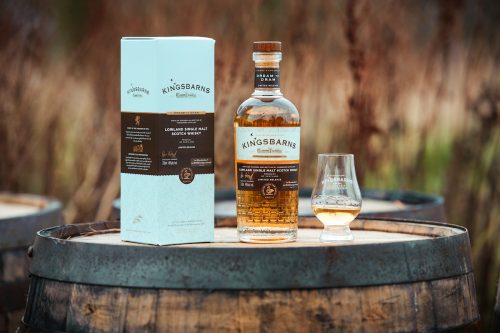 Kingsbarns Dream to Dram Single Malt Lowland Whisky
Kingsbarns Dream to Dram Single Malt Lowland Whisky 46% ABV – tasting notes:
Nose:
You can really smell those first-fill bourbon casks. There's vanilla and creme brulee plus lots of new make character, tropical fruit, and quite pronounced alcohol.
Palate:
Smooth texture, sweet cereal notes, light and fruity, with some roasty coffee notes.
Finish:
Banana bread, of all things.
Overall:
Light, fruity and sweet. Clearly lots of potential here.