Our very own features editor Henry Jeffreys has released a book! The Home Bar is full of all kinds of envy-inducing, Insta-worthy abodes, but also some really rather straightforward cocktail ideas, too. We chat to him about all things at-home drinking.
If you're anything like us, mixing cocktails for friends at home goes one of two ways. Something miraculous could happen where you actually have the ingredients, ice, enough kit and the time, and the Negroni comes out almost as it's supposed to. Everyone appreciatively oohs and aahhs, but there's that lingering, sneaking suspicion that a pre-bottled offering might have been better. Then there's option 2. The most likely option. It looks like a sticky mess, questionable glassware and a total lack of balance. And that's the best you can hope for even when you've got enough ice in.
But it doesn't have to be that way! Henry's book The Home Bar presents a third option: cocktail recipes you can actually make at home along with glorious images of other people's home bars. It balances aspirational with our inherent need for nosiness, while actually giving some top tips for at-home cocktail success. And it looks the part, too. (We also reckon it would make a fabulous last-minute Christmas gift if you're listening, #WhiskySanta!).

Henry usually wields the dictaphone here at MoM Towers, but we took the opportunity to put him on the spot to chat The Home Bar, the secret to easy at-home drinks, and gossip about who has the best home bar…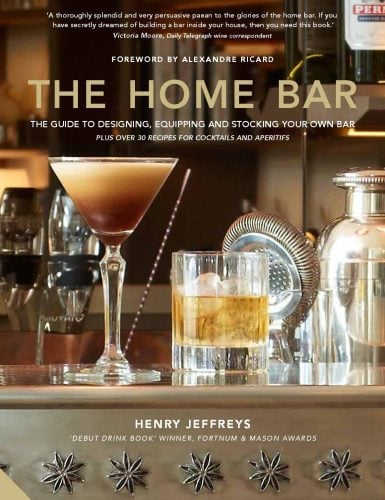 The Home Bar in glorious technicolour!
Master of Malt: Henry, you've written a book! Where did you get the inspiration from for The Home Bar? How did it all come about?
Henry Jeffreys: Well I suppose to put it very baldly it was the publishers who approached me. Alexandre Ricard of Pernod Ricard fame has an amazing home bar at his house and decided that he wanted a book about it. And being a powerful man in the drinks industry, he made it so! And so the publishers got in contact with me and thought 'he likes booze, he likes history (because there's quite a lot of history in the book), and they thought I'd be a good person to write it! But then it's something I've been interested in for a while. My grandfather had a home bar, he had this amazing cupboard with this huge Hogarth-type print on it. You opened it up and it was a drinks wonderland. It was a different age really, before people just drank red or white wine. My grandparents generation was all about cocktail, brandy and sodas and things like that. I feel that those kind of drinks are coming back.
MoM: So did you get to have a nose around loads of other people's bars?
HJ: Yeah a few – mainly drinks trolleys though, because I didn't actually find that many people who had anything as lavish as Monsieur Ricard. A friend of one of my neighbours has this amazing 1960s mid-century cabinet and opens out and there's a light and things like that. So in England that's what most people have; to find a fully equipped proper bar is quite unusual.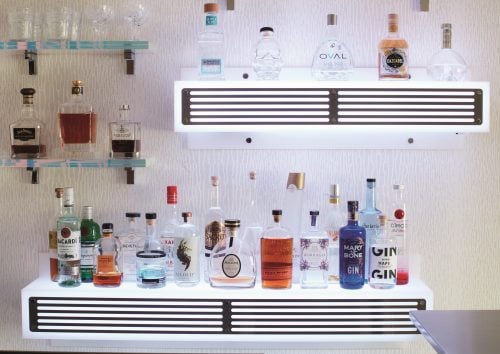 A fancy home bar design by a company called Quench
MoM: Do you think The Home Bar takes more of an aspirational look at at-home drinking, or is it practical? How many ideas and recipes could we actually replicate at home?
HJ: All the recipes are totally replicable at home – they're all ones that I could make, and I'm not a trained bartender. And there's lots of practical tips about knives and ice and things like that. And also about how, if you don't have much of a bar, how to make it look nice with nice linens and attractive bar furniture. But then there's also loads of really aspirational stuff; Tommy Hilfiger's bar and Nicky Haslam's bar. So there's lots of 'wow, that would be nice' but there's also lots of slightly more down-to-earth stuff.
MoM: You've got all the celebs! And of course you visited lots of people from the drinks industry to see their home bars. Whose was the most envy-inducing?
HJ: Obviously Alexandre Ricard's was bananas, as you'll see from the book. I mean, I don't know how much it cost, an awful lot of money! Alessandro from Dukes [the renowned Mayfair bar] has a really cool drinks trolley at home, which has just got everything you want on it. I just wish we had more space – I live in a really small flat so I spend my whole time going to charity shops, finding things and then measuring up and realising that there's no amount of remodelling that could get a proper bar into our house.
MoM: But a drinks trolley though…
HJ: That's the one to go for. But also, while writing the book, I kind of realised that a home bar is a kind of – this sounds a bit pretentious! – is a state of mind! It's about showing off and making drinks for your friends, so it could just be a tray with a decanter and an ice bucket. That's the most important thing, it's basically saying to friends, 'what do you want?'.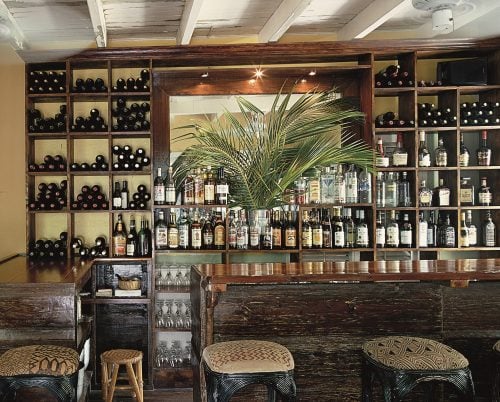 A Harbour Island bar in the Bahamas designed by India Hicks. We can dream.
MoM: People are drinking more and more at home, what do you think is behind that?
HJ: I don't really know! I'm drinking more at home but maybe that's just getting older! This is a huge generalisation – I think some people are going out less. But also I think people are rediscovering all these classic drinks and then deciding they want to make them at home. And to make them at home properly. It helps if you have all the equipment, and if you don't want to spend your whole time in the kitchen a bar comes in useful because then you can talk to all your guests whilst knocking up the drinks.
MoM: It's quite daunting to make cocktails at home though. You think, 'but I can't, I'm not a bartender, I don't know how to do it'! What's your advice?
HJ: The first thing I would say is that making cocktails is more like baking than it is cooking. So exact measurements really, really help. Before you start experimenting, try and follow a recipe and measure everything out exactly. The other thing is ice – use loads and loads of ice, much more ice than you think you really should. It's very important that things are very cold and they don't get too diluted. So follow the recipes; if you make a slapdash Martini or a bad Manhattan, it'll put you off for life.
MoM: Ice is a really interesting point. Not many of us have access to decent ice storage; we just buy a bag of cubed ice and shove it in the freezer. Did you learn any ice tips or tricks from the people who you visited and their home bars?
HJ: Yes. What I learned is that supermarket ice is terrible because it's got a little punt in it. It melts very, very quickly and it breaks very easily so you get lots of dilution. The best thing to do is get an ice tray and use that with holes as big as possible. And become an ice bore. Every time you go past the freezer empty the ice out, put it in plastic bag and fill it up again. Do that every time you're near the freezer and you'll have loads of really good ice! And use filtered water. It sounds really boring, where I live, you can taste the tap water in the drink. Or you could get a dish, like a plastic cup, fill it with water and freeze it. Then you can go all kinds of Basic Instinct and start stabbing it so you get big chunks of ice! Don't buy ice from the supermarket, make it yourself.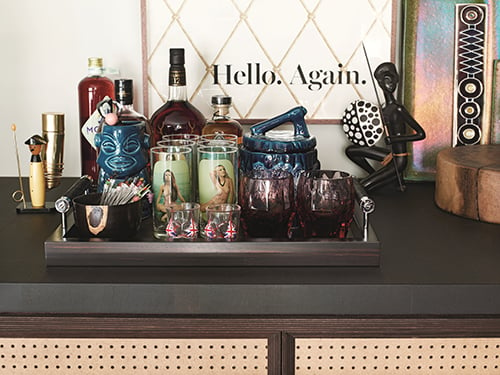 Sometimes a beautifully organised tray is enough, as evidenced by interior designer Hubert Zandberg in his Berlin apartment
MoM: Very good point. When you were looking at people's houses, could you tell anything about them from their bars or trolleys?
HJ: Well, if there was lots of dust on them you could tell that they didn't make a lot of drinks! So sometimes you'd have people with these amazing trolleys or bars but with a bottle of Advocaat or something from 1972. In fact, a bottle of Advocaat was normally a sign that they were of a certain generation! But a lot of the ones I saw had a lot of really nerdy stuff on them, bitters made by small companies in Portland, Oregon, or vermouth made in Australia. You could sort of how nerdy people are about drinks by looking at their bar.
MoM: If someone wants to kick off their own home bar or trolley, what ingredients or spirits are really good starting points?
HJ: I think you need a good gin, a good ordinary gin like a Beefeater or a Tanqueray. Then you want a bottle of bourbon or rye, great for Manhattans. You need a bottle of Italian vermouth, red vermouth, so sweet Martini Rosso, that kind of thing, and then a bottle of white vermouth, French vermouth, Dolin, Noilly Prat. A bottle of Campari, and Angostura Bitters and orange bitters. You can make so much with those.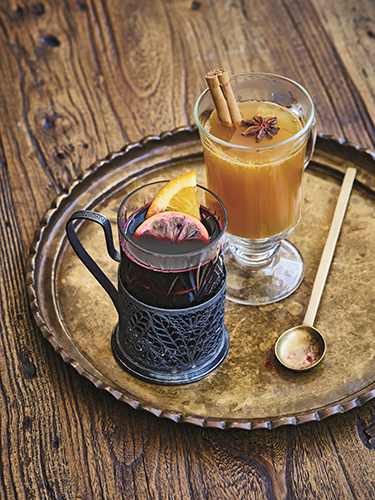 You too can concoct drinks as gorgeous as this mulled wine and cider!
MoM: What's your favourite cocktail to make at home?
HJ: I love an Old Fashioned, because I love whisky and it's so much fun. It's basically sweetened whisky with some bitters, ice and a bit of orange peel. But you can make it with rum, you can make it with Cognac. But also I love a Negroni or variations like a Boulevardier. I've got a very nice Christmas cocktail where I put Port in a Negroni instead of red vermouth and it's so good!
MoM: And how important is the cocktail kit? What are the essentials you need, and how could you use the stuff you've already got at home?
HJ: You don't need very much. You don't, for most cocktails, even need a shaker because you can make Martinis in a jug. I would say the most important thing is a measuring device, so a jigger is very useful. If you really want to do it properly, a little glass measuring jug with a scale on the side is brilliant. You don't need a bar spoon, you can just use a tablespoon. But then the right glasses are really important. You really need a Martini glass if you're going to have a Martini. It's nice to have some tumblers for an Old Fashioned, some highball glasses.. But you don't need very much specialist equipment, you don't need a special knife, you can just use a kitchen knife for most things.
MoM: Apart from your Christmas Negroni with Port, what else are you drinking this festive season?
HJ: I'm drinking a lot of whisky and sodas at the moment, which is my grandparents' drink. I make them with a bit of orange peel and an orange bitters. It's much more refreshing than a Gin & Tonic! But I also love Champagne cocktails as well, they are really festive. There's a classic one with a sugar cube and bitters but also a French 75, which is gin, lemon juice and Champagne. It really works.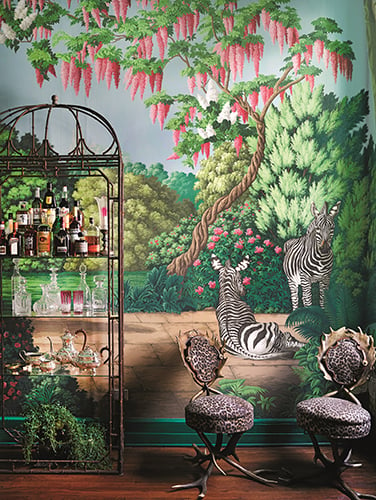 A collaboration between American designer Ken Fulk and wallpaper company de Gournay. It's called 'Madame's Magical Menagerie.' Obviously.
MoM: And a good place to round off is to return to the resurgence of classic cocktails. Why have we got so nostalgic for good drinks?
HJ: I think it's a kind of a rebellion. These things are cyclical so our parents saw things like brandy and soda and Martinis as very, very old fashioned. And even home bars themselves; when I was growing up if you saw someone with a home bar you'd think of Only Fools and Horses! But now it's like, 'well why wouldn't you want to have a bar?!'. It's really down to fashion, I think.
You can buy a copy of The Home Bar right here. Feeling inspired to get mixing in your kitchen? Check out our bargain Negroni Bundle (it even comes with a nice tumbler!) and simple Christmas serves are yours!