We've got some star power on the blog today folks as Boutique-y Dave returns to tell you all about a new range from That Boutique-y Whisky Company: the Cinema Series. We'll let him take it from here. Lights, camera, action! 
It goes without saying that we here at Boutique-y think whisky and rum are pretty magical. So much more than mere "drinks", we believe that the contents of a glass can transport us through time and space to far-flung locations seen and unseen, places familiar, historical, contemporary, out of this world or down the street, altogether new or hitherto unimaginable. 
Well, we also love cinema, film, the movies, and the experience that goes with it: popcorn, sticky floors, Betamax, VHS, laser disc, Blu-ray, streaming… all of it. Like great whisky or rum, cinema is so much more than moving pictures. Films are stories that unite us, shared cultural experiences that creep into our subconsciousness and transport us through time and space to far-flung locations seen and unseen, stories familiar, historical, contemporary, altogether new, or hitherto unimaginable. 
This is Boutique-y Cinema Series: The headliners
Our headline whisky lineup is pretty impressive, with 14 movie references to get through. It's a collection of both Scotch and world whiskies. Seven Scotch single malt whiskies (one teaspooned), a Scottish single grain, malts from Australia, Sweden, India, and Italy, and then two rye whiskies (huzzah!). One from the US, and one from Finland. 
Phoebe then had the brilliant idea of setting me homework; to watch every movie before recording today's video. I'm afraid I just didn't have the time for that, so I quickly read the synopsis for each of them.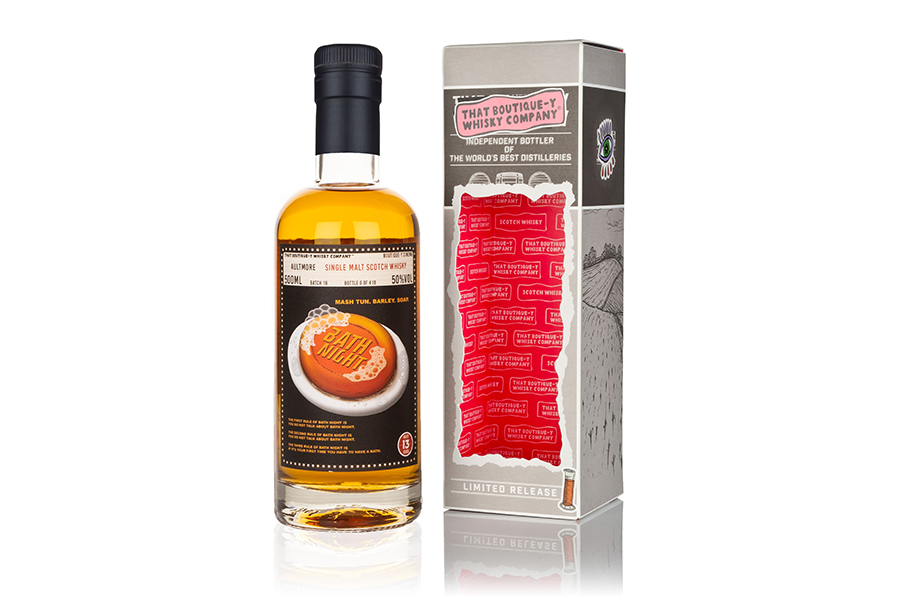 Aultmore malt has always been revered by blenders as the perfect whisky to build up a blend. Our 14-year-old had spent 11 years in a refill bourbon cask until we got our hands on it, and Dr. Whisky (Sam Simmons himself) had this re-racked into a first-fill bourbon in 2019 for reasons that can only be disclosed in the secrecy of 'Bath Night.' 
Recommended movie for watching while sipping this whisky: Fight Club.
Nose: A soft oiliness; peanut oil perhaps? Panettone, macaroons, grist, digestive biscuits. Followed by some citrus notes; grapefruit and lime. 
Palate: Pilsner lager with a wedge of lime, summer grasses, and a little green tea bitterness. I like this!
Finish: Medium length, chalky, grassy, with some pepper lingering. 
Balblair is amongst the oldest distilleries of Scotland, beginning in 1790 (although there is evidence of an even earlier start). Although now a single malt with its own brand, the majority of the whisky made goes towards the blended Scotch industry. Our 11 Year Old comes from a single bourbon barrel, that was distilled in June 2011 and we've bottled it at natural cask strength. 
Recommended movie for watching while sipping this whisky: The Angels Share.
Nose: All the bananas! Green bananas, foam bananas, and there's even some banana custard! Vanilla with a pinch of pepper, and some caramelised apple. Delightful! 
Palate: Sweet and creamy. Vanilla custard, white chocolate, Chai Latte, green banana, a little herbal, and a good pinch of pepper. 
Finish: Sweet, white chocolate with the cracked pepper lingering. I really like this!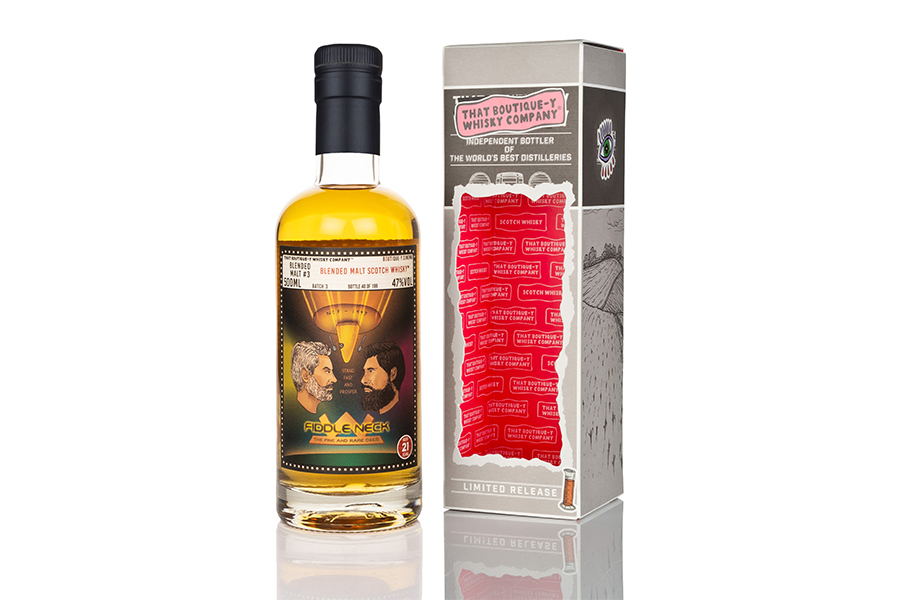 A new batch of this 'tea-spooned' Speyside whisky is a delicious 21 Year Old. 'Tea-spooning' is not a recognised classification for bottling, but is still common within the industry, and you will see casks labelled with their brand names; Burnside, Westport, Wardhead, and others, in warehouses, but always as a blended malt. 'Tea-spooning' was started in the 1980s by William Grant & Sons. 
Recommended movie for watching while sipping this whisky: Star Trek – The Final Frontier.
Nose: Fruity! Stewed apples and plums, green melon, chalk, honey, and a hint of beeswax too.
Palate: Tasty! Green apples and juicy greengages initially, then orange barley water. Honey and beeswax come across in the palate too. 
Finish: Medium length with some spicy orange barley water, and a little herbal. Cracking stuff!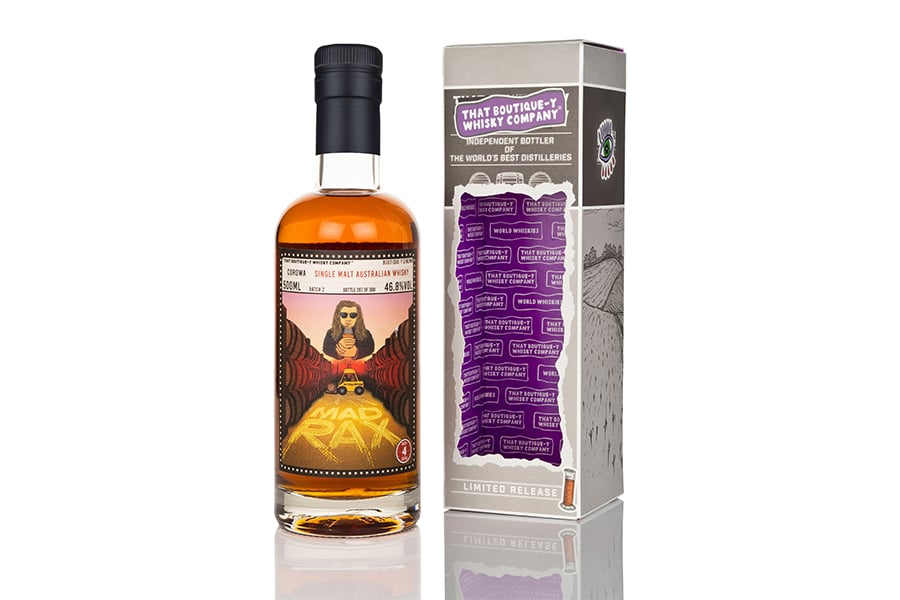 Our second cask from Australia's Corowa distillery is a 4 Year Old Single Malt Whisky, that's matured in Muscat cask. Muscat vines have been cultivated in Australia for about 100 years. Several different types of Muscat grapes are grown as wine grapes and several different wine styles have been developed ranging from crisp dry whites, rich late-harvest sweet wines, and the unique and world-renowned fortified Liqueur Muscats. 
Recommended movie for watching while sipping this whisky: Mad Max.
Nose: Bitter chocolate, molasses, Medjool dates, figs, with hints of white pepper, flint, and wild fennel
Palate: Big, bold, and fruity! Dried fruits; raisins figs, dates. Malt loaf, and a mineral spice with a hint of ginger too. This is really tasty! 
Finish: Longer than I was expecting, with that mineral flinty spice and some bitter chocolate nibs.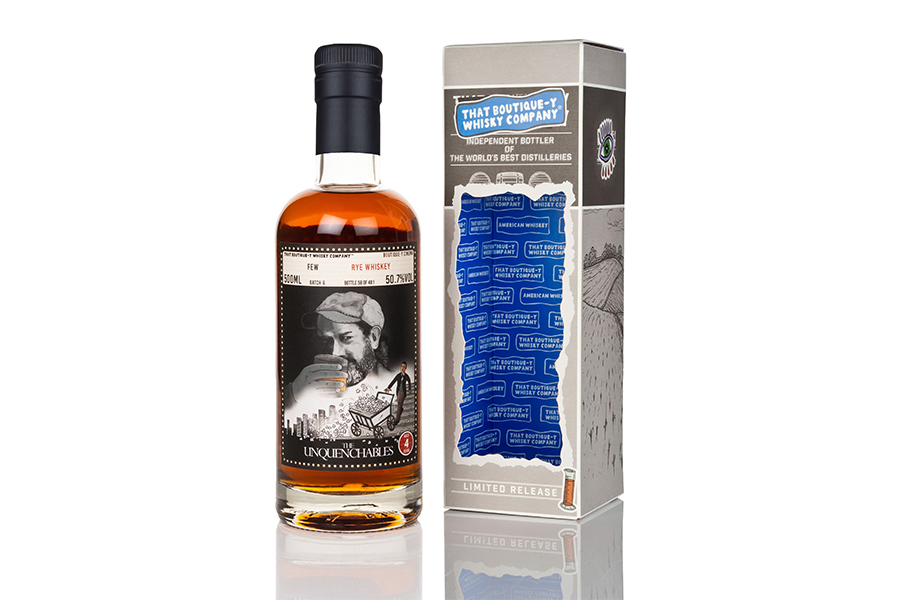 A Few Rye was the first non-Scotch release from Boutique-y Whisky, so it's great to have another batch of their award-winning rye whiskey in this series – I'm a huge fan of their Rye. This is a four-year-old straight rye whiskey using their standard mashbill, however, this has been finished in a Finnish rye whisky cask from Kyro – a rye cask exchange program perhaps? 
Recommended movie for watching while sipping this whisky: The Untouchables.
Nose: Like a fruity rye loaf; packed with prunes, apricots, and raisins. There's vanilla, brown sugar, cinnamon, and oak. Hints of butterscotch, citrus zest, and pepper too. 
Palate: Buttery rye, bread, raw grains, dried fruits, and some honey. Hints of citrus, baking spices, and that oak too.
Finish: Long with a peppery warmth, and some brown sugar. D – Lish – Ous! 

The Glen Garioch distillery may well be Scotland's first licensed distillery. Varying dates are given as to the founding of the distillery, but all are predated by an article in the Aberdeen Journal on 1 December 1785, which announced the first distillation of spirit at the site. This is OLD SCHOOL Glen Garioch, distilled in 1988, from when the distillery was floor malting their own malt and using highland peat. 
Recommended movie for watching while sipping this whisky: Inglourious Basterds.
Nose: Wow! This is waxy. Overripe apples, green bananas, hints of camphor, chalk, perhaps a little piney, and some fresh bread dough. 
Palate: Just sublime! That waxiness comes across to the palate too, mulled cider, with dried peel, apricot compote, and white pepper. 
Finish: Long, fruity, honeyed, and a little peppery spice. Just a hint of peat reek at the very end too. Oh, my… I think I'm welling up!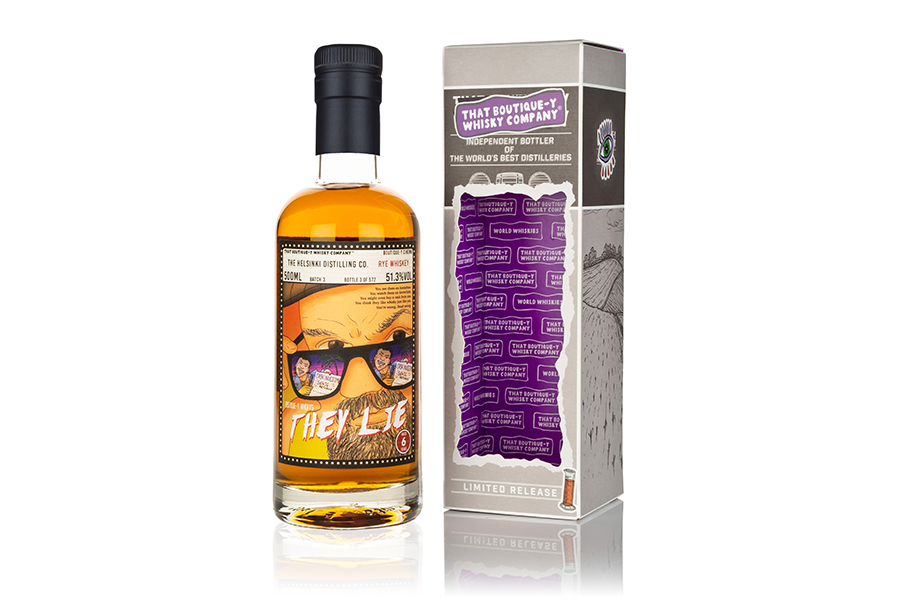 I've been really impressed with the whisky coming out of Finland, and it's not just me. The whole of the Nordics is being recognised by whisky critics as a place to watch. This, our third batch, is a six-year-old, from their 70% malted rye, and 30% malted barley mashbill, that has been matured in an ex-Oloroso cask. 
Recommended movie for watching while sipping this whisky: They Live!
Nose: Fig rolls, dried cranberries, blackcurrant jam on rye toast, dark chocolate, and raisins. I'm already a believer!
Palate: Rich and mouth-filling, and a beautiful balance of fruit, malt, and spices. Figs and blackcurrants leading, Maraschino cherry liqueur. Deeper more intense freshly baked rye bread notes, and malty chocolates. Herbal spices with a hint of liquorice let you know this is rye. 
Finish: Long, drying, with the herbal spices and Maraschino cherries.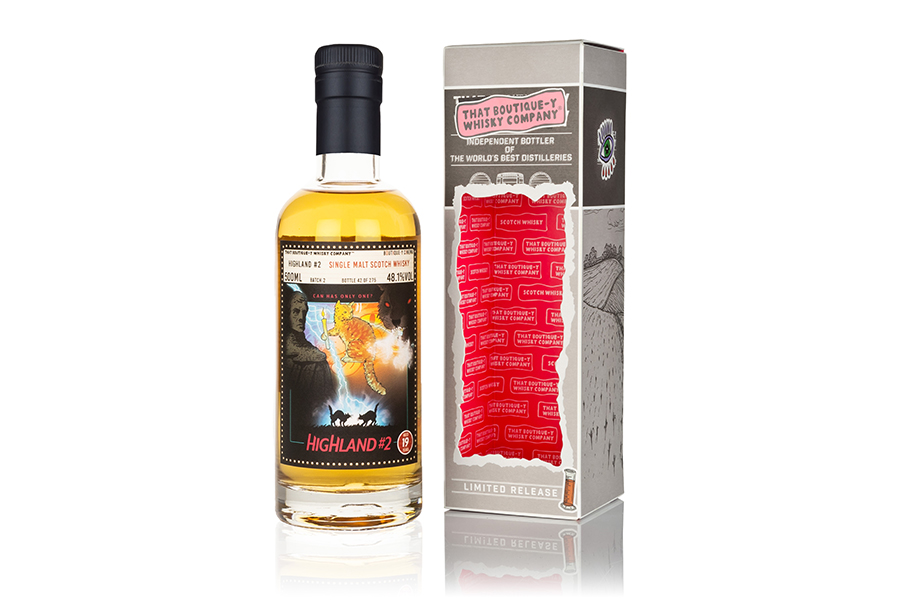 This is a 19 Year Old single malt from a Highland distillery that we are unable to name. It's our second release, the first was a custom bottling for a big supporter of Boutique-y Whisky in Canada; Kensington Wine Market in Calgary. While we are not able to name the distillery on our label, being That Boutique-y Whisky Company with clearly recognisable labels gives us an opportunity to have some clues as to where this could have originated from… 
Recommended movie for watching while sipping this whisky: The Highlander.
Nose: I'm seeing the colour green nosing this! Lots of green fruit: Sour apples, green melon, fresh limes, green banana, sharp Kiwi fruit. There's a hint of flint too. 
Palate: A little waxy paraffin, sour apple sweets, candied lemon peel, a little olive oil, black pepper, and fresh ginger.
Finish: Long, spicy, and drying.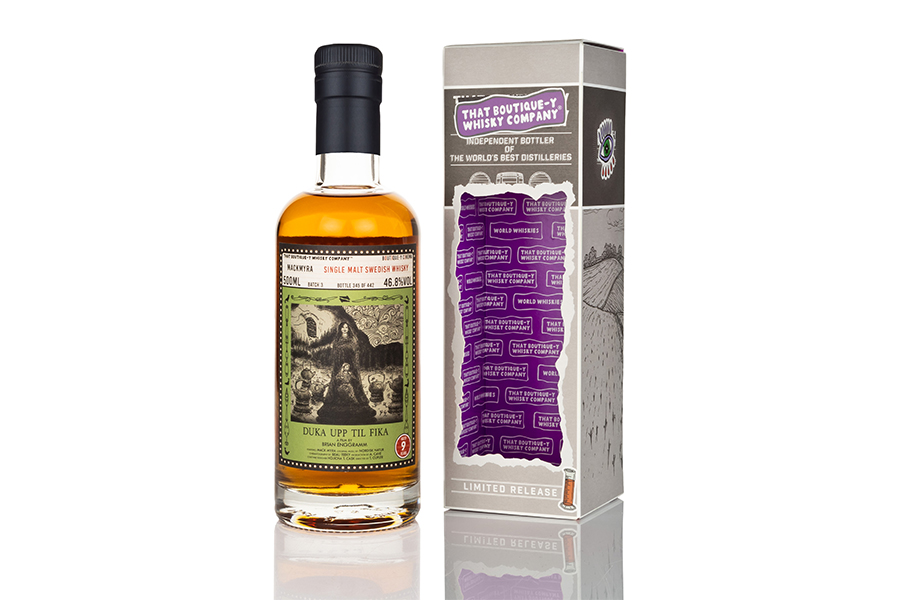 Now this is something very interesting for the original 'Nordics' distillery; Mackmyra was founded in 1999 and has really led the way in the Nordic whisky scene. This is a 9 Year Old Swedish single malt that has spent time in a cask that has been seasoned with Hojicha Green Tea. Hojicha is a Japanese green tea that originated in Kyoto 100 years ago. Unlike traditional green teas, Hojicha is roasted after the leaves are steamed. 
Recommended movie for watching while sipping this whisky: The Seventh Seal.
Nose: Signature Mackmyra notes of banana and pear initially. This is quickly followed by an earthiness of petrichor, and some fresh cedar notes. 
Palate: Fresh and fruity. Light and nimble. A tropical fruit salad of papaya, not fully ripe banana, and hints of coconut, vanilla, and caramel flavours, with some chilli spices. 
Finish: As the spiciness fades some sweet, drying, herbal green tea notes come through.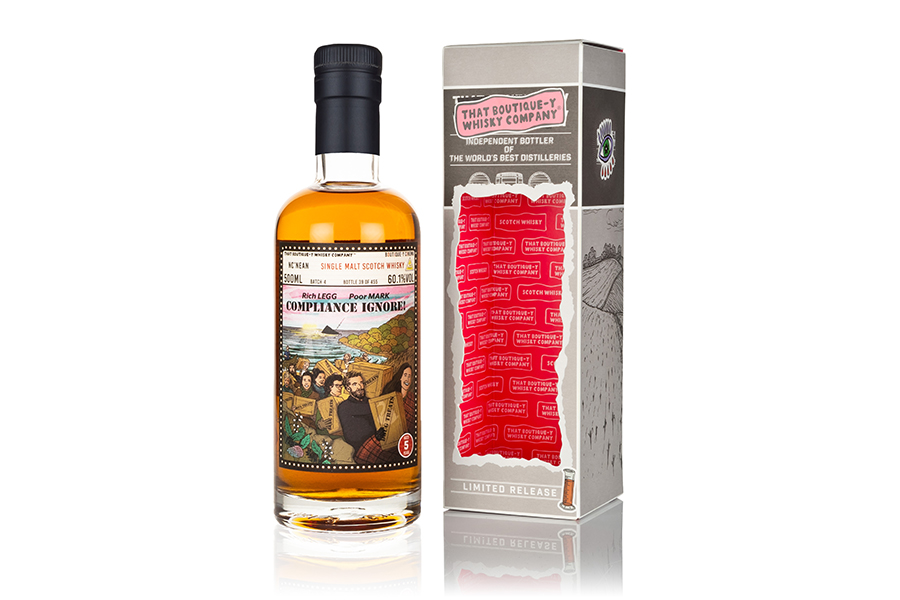 Nc'nean is one of the new wave of Scottish farm distilleries. Founded in 2017 by Annabel Thomas, on her family's farm at Drimmin, on the Morvern Peninsula in the Western Highlands.The farm distillery was designed by the late distilling consultant Jim Swan to produce a light, fruity and estery spirit. Our 5 Year Old Nc'Nean is from a STR (shaved, toasted and re-charred) red wine cask, and bottled at natural cask strength. 
Recommended movie for watching while sipping this whisky: Whisky Galore.
Nose: Sweet and fruity; Nectarines, peaches, ripe apples, and some green banana. Sweet shop sweetness too; foam bananas, Fruit Salad chews. Fragrant with honey, British summer hedgerows, lightly floral, with some gentle spices. 
Palate: Sweet peaches and vanilla custard, ripe grains, summer grasses, a little aniseed, and liquorice – Liquorice Allsorts, and allspice. 
Finish: Shortish, with not a great deal of complexity, but still sweet and fruity.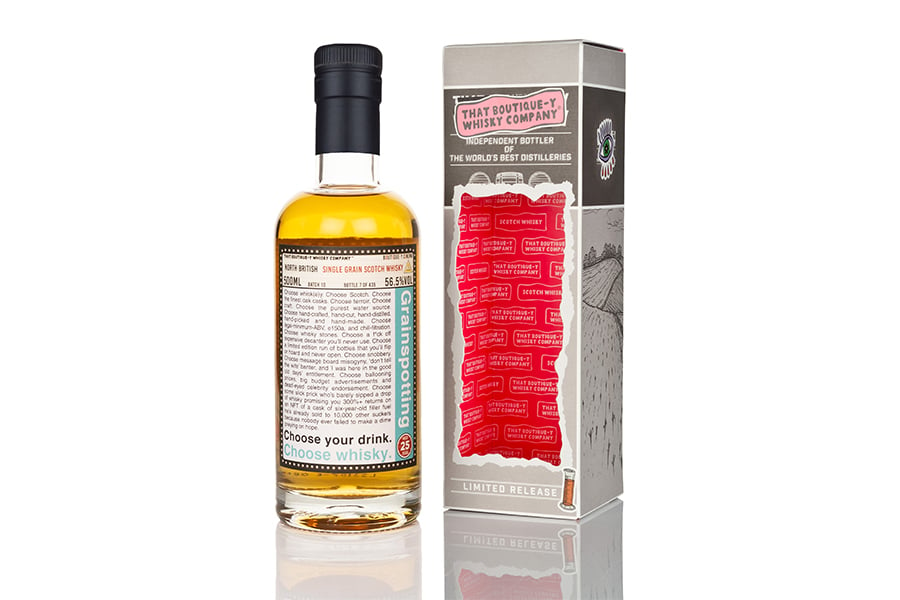 The North British distillery is the third largest of Scotland's seven grain distilleries. The distillery was founded in Edinburgh in 1886/7 by several well-known men who wanted to maintain their independence from DCL Its name comes from the railway company that served the distillery. It's also known as the NB locally. 
Recommended movie for watching while sipping this whisky: Trainspotting. 
Nose: A delicious medley of dried tropical fruits; coconut, banana, papaya, and pineapple. There's a green herbal note too; banana leaf perhaps?
Palate: All of the dried tropical fruits continue onto the palate, accompanied by some white chocolate, and chilli heat. 
Finish: The finish is short and sweet, with a little peppery warmth. This is moreish!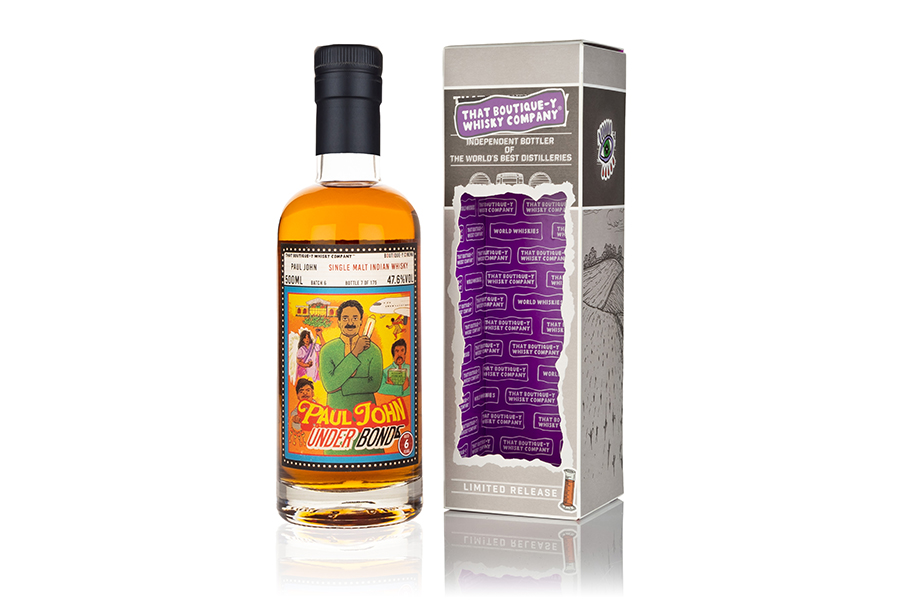 An Indian single malt whisky from the Paul John distillery, located in tropical Goa. Paul John Distillery uses six-row barley that is sourced from the foothills of the Himalayas. The high fibre and protein content in six-row barley, offers a distinct tannic character to the spirit. 
Recommended movie for watching while sipping this whisky: From Russia With Love.
Nose: Oily, sooty smoke is the first thing that you notice. Bitter dark chocolate, with a hint of mint, alongside some charred wood and salted caramel. 
Palate: Oily and mouth-filling. Big chocolate cake notes, hints of dark cherry, spicy black pepper, and oak, with wood smoke too. 
Finish: Long, with lingering wood smoke.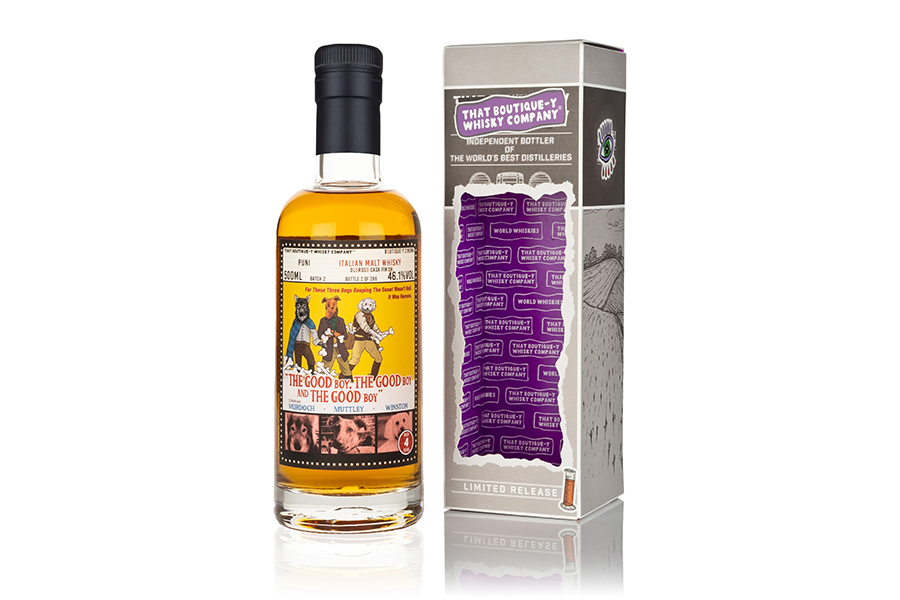 PUNI is the first Italian whisky distillery, located high in the Italian Alps, in an environment well suited to growing cereal crops. The distillery takes its name from the local river, Puni. Their striking distillery design, a 13-metre tall red brick cube is unusual, as is the combination of three malted cereals in their mash bill recipe. This release uses their three malt mashbill, and has been matured in an ex-bourbon barrel and finished in a Pinot Noir cask, which we've then finished in a sherry cask, so this is a fruity little number 
Recommended movie for watching while sipping this whisky: The Good, Bad, and The Ugly.
Nose: Malty, Digestive biscuits topped with blackcurrant jam. More sweet notes follow, with hints of wild strawberries and some nutty, woody spices. 
Palate: The malty biscuit notes are followed by a fruity sweetness, nicely balanced with some woody spices.
Finish: A medium-length finish with some chilli chocolate.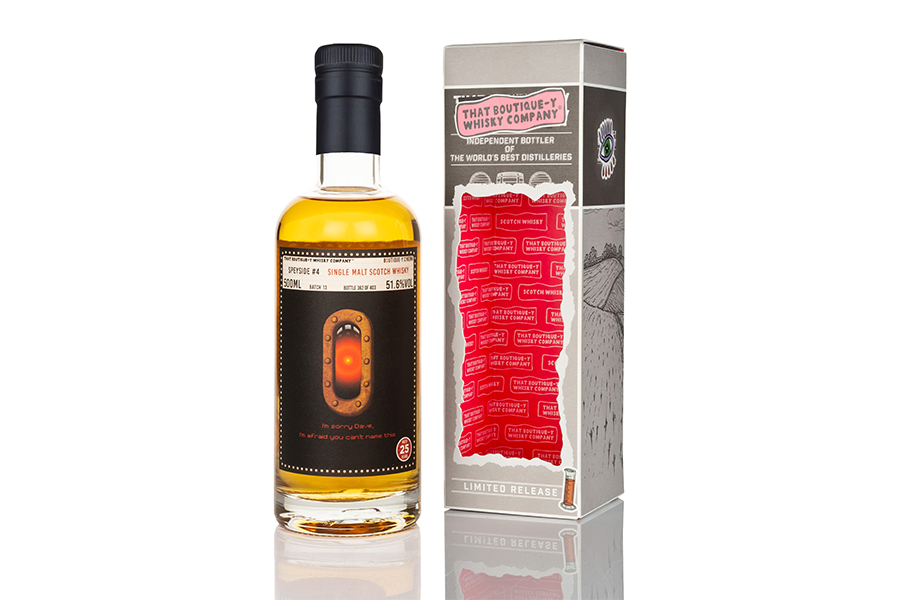 Another batch from this secret Speyside distillery that allegedly started it all! This is a 25 Year Old from an ex-Bourbon barrel that was laid down in October 1997. There are 46 Speyside distilleries so are you feeling lucky? Punk? Oops wrong movie reference 
Recommended movie for watching while sipping this whisky: 2001 A Space Oddity.
Nose: Bright and summery. Barley, vanilla, crisp apples, ripe mango, and a little honey. Floral with honeysuckle and some lemongrass. 
Palate: Really lovely mouthfeel with creamy vanilla, apple sauce, honey, lemon curd, some peppery spices, and bitters too 
Finish: Long and peppery, spicier too, leaving a drying aftertaste; slightly tannic. 
Super Scotch whiskies 
Every themed release is accompanied by some bangin' Scotch whiskies and we certainly won't be disappointing with this release, even though our headliners include eight Scotch whiskies. The small Scotch selection has four single malt whiskies from Speyside, three of them bottled at natural cask strength, and a new batch of 52 Year Old 'Bottled Too Late' Auld Alford's. 
Auld Alfords Spirit Drink – 52 Year Old Batch 2 50cl
Glenburgie 27 Year Old – Batch 13 50cl
Glenrothes 25 Year Old – Batch 12 50cl
Speyside #3 8 Year Old – Batch 1 50cl
Speyside #7 9 Year Old – Batch 1 50cl 
Cinematic Boutique-y Rum 
Plus there's more from That Boutique-y Rum Company. Here's Peter Holland to explain the five new  releases:
Working with That Boutique-y Drinks Company is always cool; We've got amazing liquid and we lean on an educational angle, but we don't forget that having fun is really important. And this Cinema release is a fantastic opportunity to offer a nice counterpoint to the recent geeky look at the Aussie Rum Scene, with an exercise in connecting rum and the movies! Honestly, it's never a dull moment.
When I heard the context of the theme, my mind ran immediately to the 'monster' eum from Jamaica that I'd been waiting to release for a while now. The detective story surrounding the case of Tencane, was an easy pull. I have to give my buddy Simon a shout-out for the Independence Day connection to our Foursquare bottling, and I know I'm showing my age with my Wes Craven connection to our Haiti bottling. The Casa Santana bottling is a deep-cut connection between the singer-songwriter of the same name and the use of a song in a cult movie. I may have stretched that one a bit, but it does give me a chance to get my Boutique-y Whisky brother, Dave, onto a Rum label for the first time.
And we'd love to hear what connections our fans have as well!
Casa Santana 6 Year Old – Batch 5 50cl
Foursquare 12 Year Old – Batch 7 50cl – SOLD OUT
Haiti 18 Year Old – Batch 4 50cl
Secret Distillery #11 15 Year Old – Batch 1 50cl
Tencane 14 Year Old – Batch 1 50cl
The Cinema Series wrap up
So, grab yourself some overpriced popcorn, settle down, make yourself comfortable, gaze in wonder at these amazing new labels from the ever-talented Emily Chappell, and try some fabulous whisky with some very tenuous cinema pairings. 
Cheers! 
Boutique-y Dave x