Stauning has been defying expectations, ripping up the rule book and making tasty booze for nearly 15 years now. As the brand launches officially in the UK, we talk to co-founder Alex Munch about the distillery's unique production process, why Stauning is not an imitation of Scotch whisky and more…
A doctor, a butcher, a teacher, a helicopter pilot and four engineers walk into a bar. They realise there's no Danish whisky to order and they decide to do something about it. 
No, that's not a joke, but the story of how Stauning Whisky came into existence. Founded in May 2005, it's the oldest whisky distillery in Denmark and has spent the last fifteen years nobly flying the flag for its country's whisky, impressing critics, award show judges and consumers alike.
For these reasons I was delighted to learn that the brand's whisky was set to arrive at the shores of MoM Towers (I'm picturing a Viking longship carrying Danish whisky) and even more excited when I heard that Alex Munch, one of the co-founders and current CMO of Stauning, was happy to provide a virtual tour of the distillery and explain how these Nordic mavericks came to make great whisky.
A little history… 
First, a little history. Scandinavia has been one of the most exciting whisky-producing regions for some time. The love for the spirit has always been there, as has the knowledge and passion for distillation, with Aquavit and brands like Absolut Vodka and Bareksten Gin. It was only a matter of time before great whisky came along. The likes of Smögen, Mackmyra and High Coast have already put Sweden on the map. But Stauning has been at the forefront of this revolution too. 
Named after a small village in the western part of Jutland, Stauning's began life as a true craft distillery, operating out of a slaughterhouse owned by the butcher of the group. Barley was sourced from a local farmer and peated on a grill in the smokehouse, the cold store was used for floor malting, the grist was minced in the meat grinder, fermentation took place in an old picking vat and distillation occurred in two small wood-fired pots stills. Despite a bank suggesting they open a bakery instead, the founders decided there was sufficient promise in their spirit to expand. Money was raised to buy a farm and they turned it into a small distillery in 2007.
You would think this would be the point to ditch the malt MacGyver approach and upgrade the equipment, but no. "What started as a necessity in the abattoir became the bedrock of our philosophy," says Munch. "The locally-grown grain, the experimental floor-malting, the small direct-fire-heated stills, this was the secret behind the character of our whisky. It had terroir, it was Nordic". This approach and the continued quality of the spirit attracted Diageo, which acquired a minority stake in 2015. Around £50 million of investment later and by 2018, Stauning was able to open the doors to Denmark's first purpose-built distillery.
How Stauning whisky is made
Humble beginnings and a no historical context to dictate what Danish whisky should be meant that Stauning has embraced its innovative side. Each step favours unusual equipment and unlikely techniques, all while embracing the provenance of its Danish home. Stauning sources rye and barley from farms within 9-12 miles of the distillery. Stauning peats about 25% of the grain it uses and, again, sources it locally from three different suppliers, one being a neighbourhood peat museum. The peat is described as being Highland in style, more sweet and floral than the medicinal kind you'll find in Islay.
There are two buildings dedicated entirely to floor malting, using malt turning machines designed by the team and made by a local blacksmith. "We spread 10 tonnes of barley or rye out, then a spraying mechanism adds water to wake the cereal up. Vertical rotating arms gently rotate the grain to ensure even absorption. This means the steeping and germination both take place on the floor," Munch says.  "We made them originally so we did not need to turn the malt on the floor by using a shovel and get monkey shoulders! Several other distilleries have actually asked us if they can copy our process, and we've said yes".
Stauning also has its own method and equipment for mashing. Back in the farm days, the team built a washing machine-like device and when scaling up, found a piece of giant machinery in the Netherlands that would imitate the technique. "We mix the grain and water in a large vessel, which is then pumped to a vertical filter drum, where the liquid is drained off (and pumped to washbacks), and the wet grain is moved into a second vessel. Water is added to this vessel and mixed with the grain, then it's pumped to the filter drum where filtration happens again" Munch explains. "The liquid is then pumped to the washback and wet grain back into the first vessel where a third lot of water is added so the final filtration can take place".
Fermentation at Stauning occurs over a long three-to-four days using a dried strain of Danish yeast, favoured for its ability to create fruity, honey and cereal notes. The spirit is then transferred to 24 small copper pot stills, 16 wash stills and eight spirit stills each at 2,000 litres capacity. In the previous distillery, 1,000-litre stills were used and Stauning was keen to retain the same character, so this unusual set-up and process of double-distilling its whisky using direct fire were retained. "It adds a very special character to this whisky. It becomes nuttier, more full. Imagine if you roast a chicken and compare it to boiling it," Munch. "You get the same Maillard-type reaction. It's different to what you'll see at most distilleries today". 
Every whisky is matured in three on-site warehouses (two more are on the way) and bottled without chill-filtration. No regulation or history to follow allowed Stauning to be expressive with its wood policy. Ex-bourbon and new virgin American white oak casks are favoured, but mezcal, Cognac, calvados, Moscatel, Madeira and vermouth casks have been used too. All the whisky you'll taste is around three to five years old, but Stauning defies convention again by electing not to use age statements. "We bottle on flavour, not age. We put the distilling date and bottling date, not a number. The year for us is not important"," says Munch. 
What's inside the bottles now is not what was envisaged back in 2005. Then, the ambition was to create smoky drams inspired by a love of Islay whisky. "Back then we didn't know anything about whisky, we needed a place to start. We discovered Ardbeg from the 70s which was the most interesting we tried. We knew we had to have smoke, but things progressed and we enjoyed making rye whisky more," Munch explains. "Today we favour flavour rather than chasing a profile. We are changing, expanding and evolving every day".
As Stauning continues to experiment with different grains, yeast strains and longer fermentations, the goal is always to perfect the product and create something distinctly Danish, rather than mimicking another country's style. "We try to make our own whisky and our own flavours. Stauning Whisky is not Scottish or Irish whisky. It's a Danish and a Nordic product," Munch says. "We appeal to curious drinkers on the hunt for innovation in whisky-making and new flavour experiences". Having tasted the range, I think they're doing a smashing job. You can purchase all three Stauning whiskies here. Skål!
The core range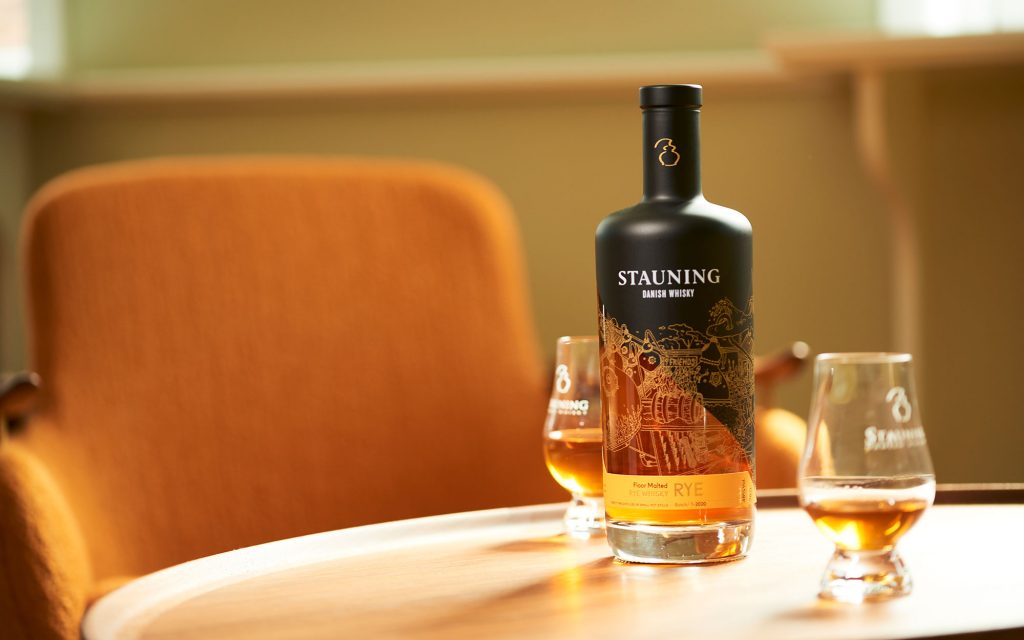 First up is Stauning Rye, which is made from a combination of local rye and barley and matured in new American oak barrels before it was bottled without chill-filtration at 48% ABV. "We think it's pretty special and it's different from other ryes you'll taste. It's not got the spicy, dusty American profile", Munch says. I concur. It's a fruity, rich and mellow sipper and, for my money, the whisky from the range you should try first as it's got the most distillery character (which is nutty and full for fruit, orchard and citrus) present.
Nose: A buttery, creamy and full-bodied nose begins with sweet aromas of marmalade, cinder toffee, floral honey and vanilla. Notes of freshly baked rye bread, salted popcorn, peanut butter and hot cocoa (made with dark chocolate) with marshmallows add complexity among beautifully fruity notes of stewed apples, cherry, lemon peel and Conference pears as well as a rich, aromatic note of stem ginger.
Palate: There's some classic, slightly drying winter spice initially and a little black pepper bite but waves of fruit and dessert notes add balance. Spiced apple chutney, fresh red cherries and orange peel emerge among vanilla pod earthiness, tea loaf and caramel and some hints of bitter lemon and charred oak smoke.
Finish: Salted cashews, freshly cracked black peppercorns, more rye bread and plenty of toffee linger.
Recommend serve: Stauning Whisky Sour. Make by adding 50ml of Stauning Rye, 20ml of lemon juice, 10ml of sugar syrup and 10ml of egg white into a cocktail mixer with ice. Shake well for 15-20 seconds until the mixer is cold then strain the drink into a lowball glass and garnish with a lemon peel.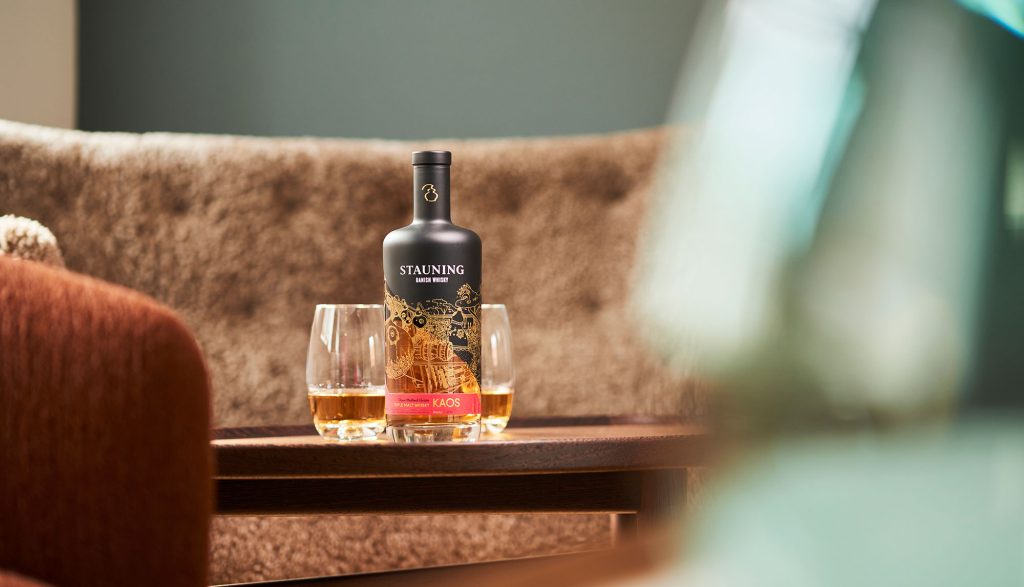 KAOS is essentially everything Stauning does in one bottle. It's made from a combination of single malt, malted rye and peated whisky, which were matured in heavy charred virgin American oak barrels and first-fill Maker's Mark casks before being bottled without chill-filtration at 46% ABV.  The name came from the former prime minister, Thorvald Stauning, known as the founder of the modern welfare state in Denmark, who used the slogan "Stauning or Chaos" ("Stauning eller Kaos" in Danish) for his reelection campaign in 1935. "It's a very special whisky, there's no category for it in the world. It's been a struggle to enter it for competitions!" says Munch. "The next batch will change as we've introduced heather-smoked barley. We found when we combined it with peat it gives the whisky something extra". KAOS is very tasty and balances nutty, sweet and spicy flavours expertly. The peat is measured, so this would make for a good beginner smoky whisky too.
Nose: Through a hint of oaky tannins and fresh gingerbread there's vanilla, orange boiled sweets and salted caramel. There's a combination of lemon peel, sweet orchard fruits, mostly pears and maritime notes that are reminiscent of Caol Ila, but the unmistakable rich and creamy rye influence adds an interesting contrast. With time comes more smoke and sea (a bonfire on a beach) as well as hints of Chocolate Cornflakes and a little dried fruit.
Palate: It's a really tasty, balanced palate full of nutty, sweet and spicy goodness. First, there's toffee popcorn, stewed apple, whipped hazelnut cream and a hint of black wine gums, with chocolate orange, sweet tobacco, black pepper, nutmeg and a prickle of woody tannins in support. 
Finish: More cooked orchard fruit lingers with baking spice and liquorice.
Recommend serve: Stauning Kaos Manhattan. Add 50ml of Stauning KAOS, 25ml of sweet vermouth and two dashes of Angostura Bitters to an ice-filled mixing glass. Stir for 15-20 seconds before straining into a Coupette, then add a Maraschino cherry and serve.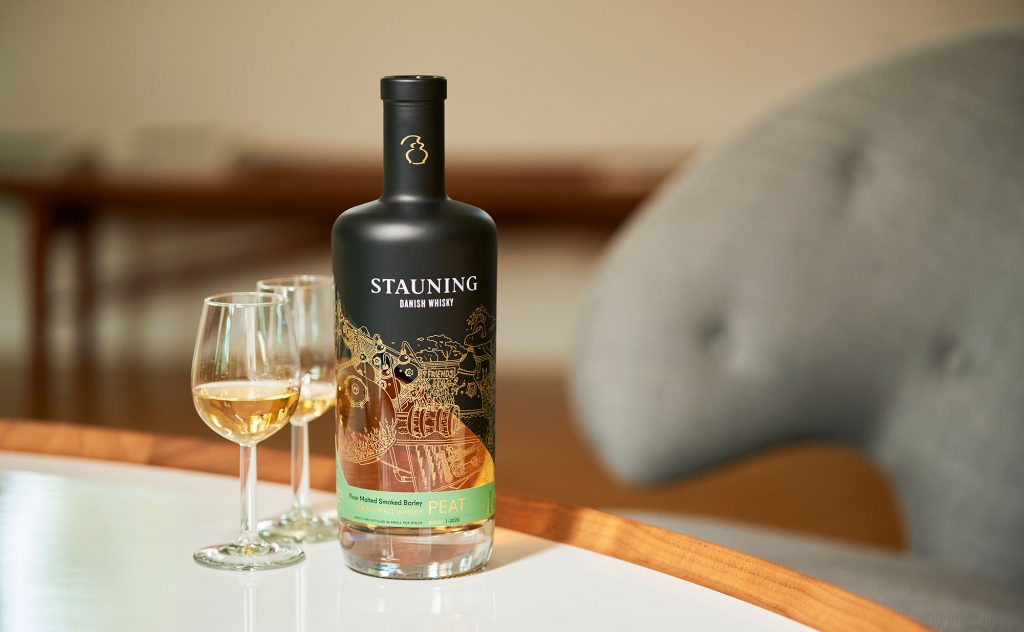 The brand's final expression in the core range was crafted using peat excavated at Klosterlund before it was matured in first-fill Maker's Mark casks and bottled without chill-filtration at 47% ABV. It's comparable to Highland Park whisky with its light and sweet smoky profile and, once again, the peat is balanced well so it doesn't overwhelm the distillery character.
Nose: Robust, but refined smoke fills the nose from a measured amount of floral, sweet peat. Notes of Granny Smith apples, salted caramel and vanilla blend with the floral freshness of chamomile, bittersweet orange marmalade and a bracing sea breeze element. Conference pears, new leather, honey and toffee pennies add depth underneath with helpings of cinnamon pastries and damp wood.
Palate: A cooling, delicately sweet wave of honeydew melon begins what appears to be a mellow palate, before a raft spicer, smoker notes take things up a gear. There's black pepper, floral peat, damp grass and charred oak initially, before grapefruit peel, toffee apples, salted popcorn and more marmalade add depth. There are some fresh herbal tones underneath, rubbed peppermint leaves mostly, as well as sea salt, honey-roasted nuts, a little clove and honeycomb chocolate.
Finish: Succulent citrus lingers with flickers of spice and a coastal, smoky note that's akin to having a BBQ on a beach (with the odd oyster for good measure)
Recommend serve: Stauning Peat Penicillin. Create by muddling three slices of ginger in a cocktail shaker, then add 60ml of Stauning Peat, 25ml of fresh lemon juice and 25ml of honey syrup. Fill with ice and shake until chilled, then double strain into an ice-filled rocks (or lowball) glass and garnish with candied ginger.