Sunday 15 April is the 105th day of the year – aka Glenfarclas 105 Day!
To celebrate with our friends at the distillery, we're taking 10.5% off Glenfarclas 105 Cask Strength just for today (geddit?!)
That's £5.14 off a bottle of the superb cask-strength whisky you lot describe as 'absolutely beautiful', 'well-crafted' and 'boss stuff'!
It's that magic time of year again, pals! The 105th day of the year is upon us (we know, how is that possible?!), and the perfect way to mark the occasion is to pick up a bottle of Glenfarclas 105 Cask Strength.
We've been big fans of this exquisite Speyside sherry bomb for quite some time, so need little excuse to crack open a bottle, pour a dram and savour the creamy, nutty, amazingly fruity, silken joy that is Glenfarclas 105. But today we have one regardless!
The family-owned and run Glenfarclas Distillery is renowned for its wood management programme, which sees it almost exclusively use ex-sherry casks for maturation. Glenfarclas 105 is a classic example of sherry-influenced Scotch whisky – It's divine!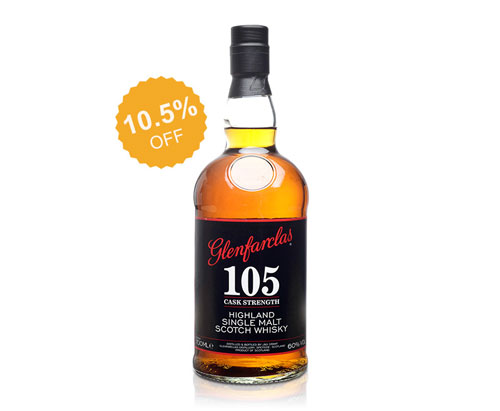 10.5% off Glenfarclas 105 Cask Strength today!
Bottled at 60% ABV, Glenfarclas 105 isn't just a tasty drop – bang for buck, it's one of the classiest around. And with £5.14 off the usual £48.95 price just for today, you are in for an absolute treat!